I've decided to cover the former cruise liner Queen Mary, the WWII-era cargo ship Lane Victory and the Los Angeles Maritime Museum in one post. I certainly didn't visit them all in one day, but there wasn't enough material to sustain a full post for each.
Queen Mary
Type: Cruise Liner-turned-hotel
1
Location: Long Beach, California
Rating: 3/5, Some neat bits, but way too expensive for what you get
Price: $27 for normal adults
Queen Mary is a major attraction in the Long Beach area, with a hotel, restaurants, and the like. I'm ignoring all of that, and treating this just as a museum ship.
First, the good. One of the engine rooms is open and pretty well-done, although a bunch of stuff was removed to get access, so you don't get quite the same impression of you do on other ships. If you like engines, do the Full Steam Ahead tour on Iowa instead. There are a lot of other preserved/recreated spaces which are done reasonably well, from recreations of old staterooms to the infirmary and bridge.
Now, the bad. For what it is, it's way too expensive. Tickets are more than Iowa, for a ship that's not nearly as nice. And the parking rates are rapacious. If you're there more than half an hour, you pay the daily rate of $18. I ended up in a different garage to bring the cost down, which meant I had to hurry back to avoid going over my time, and it was a bit of a walk. I saw the whole ship, but I was moving pretty fast.
And I wasn't thrilled by the overall experience. She's the wrong color and entirely too lightly armed, and she's so deep in the mud she's legally a building.4 And frankly, the whole experience was a bit too sterile and heartless. Unlike most museum ships, Queen Mary is run by a profit-making enterprise. There's nothing wrong with profit, but it didn't feel as alive as ships run on passion.
Lane Victory
Type: Preserved WWII Cargo Ship
Location: San Pedro, California
Rating: 3.5/5, A pleasant hour, but not amazing
Price: $7 for normal adults
Lane Victory is the polar opposite of Queen Mary. Small, off the beaten path, and actually still (sort of) operational. She's close to Iowa and has free parking, which makes a visit easy.
Unfortunately, the visitor experience isn't great. Lane Victory is suffering from the curse of most museum ships, insufficient funds and labor for everything that needs to be done, and it shows. The signage is not fantastic, and the fact that she still sails occasionally5 means you get a weird mix of historic and modern in some places. Also, there are lots of spaces mostly off-limits, although I sort of wandered into the Electrician's Office (which says something about how the ship is set up) and he showed me around the engines and boilers. But that was using the museum ship network, and shouldn't be taken as typical.6
Don't get me wrong. Lane Victory is worth seeing, and I hope they get her back to sea. I'd like to be onboard for that when it happens. Her crew was very nice, and I enjoyed visiting. It's worth going if you still feel up to seeing another ship after visiting Iowa, but if you're traveling for a museum ship, I'd recommend Jeremiah O'Brien instead.8
Los Angeles Maritime Museum
Type: Maritime museum focused on LA's nautical history
Location: San Pedro, California
Rating: 3.5/5, Pretty good for the price
Price: $5 for normal adults
The LA Maritime Museum is just down the road from Iowa, and I visited during a break on a tour guide shift. It's a small museum, but it has some very nice models of ships with connections to LA9 and a lot of exhibits on various aspects of local history, like fish canning and commercial diving. There's also a historic tug out back, although I wasn't able to go aboard. Outside, along Harbor Boulevard, there's a 16" gun taken off New Jersey around the time of her Vietnam deployment and a nice memorial to merchant mariners in WWII. Overall, it's a good way to spend an hour if you haven't worn yourself out on the armored stairmaster next door. But I wouldn't leave Iowa early to check out the maritime museum.
The museum closed for renovations in 2021, and has since reopened. I really should go back one of these days and see if anything has changed.
US Submarine Veterans WWII National Memorial West
Type: Memorial to the those lost in the submarine service in WWII
Location: Seal Beach, California
Price: -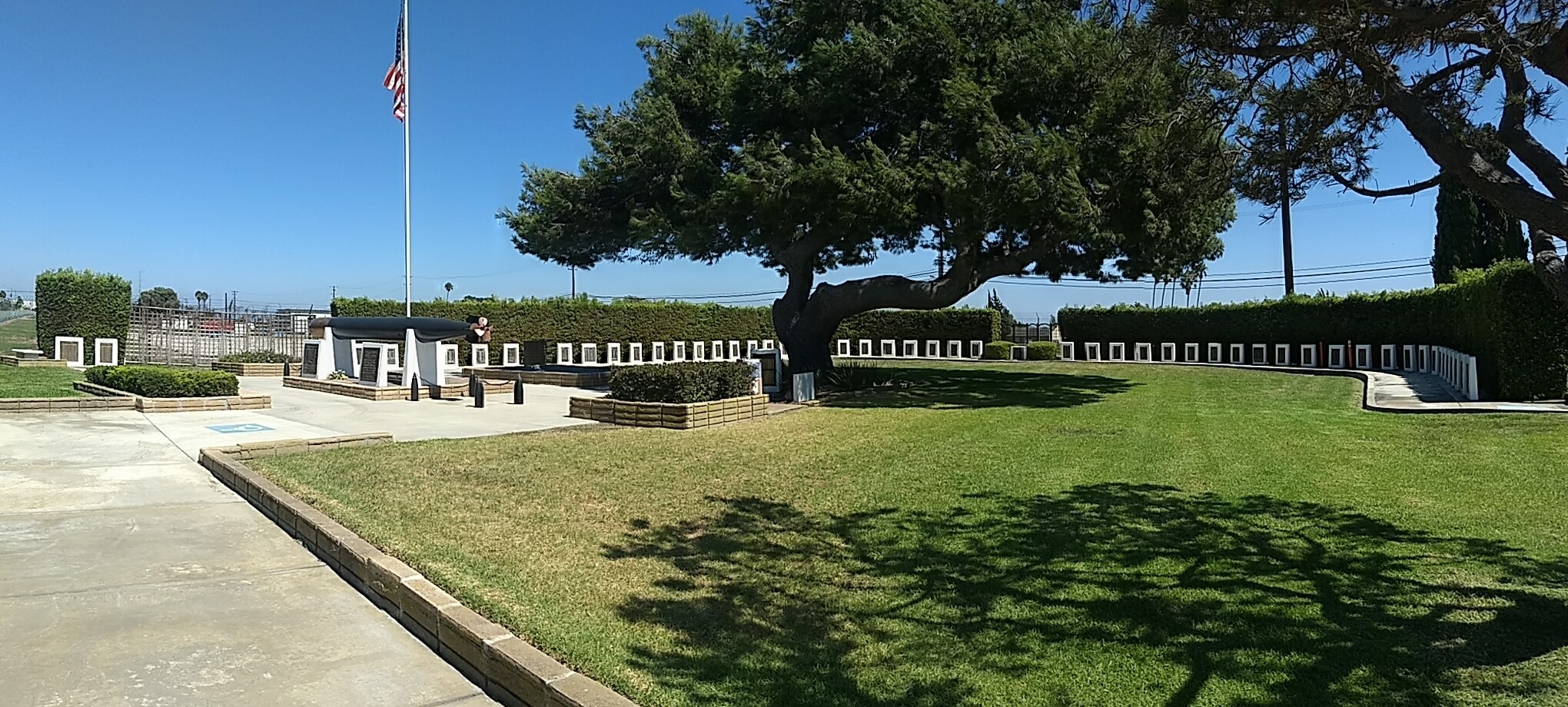 This is a small memorial on the grounds of Naval Weapons Station Seal Beach,11 but accessible to the public. There's a marker for every one of the 52 submarines lost during the war, each of them listing all of the crew who remain on Eternal Patrol. It's sobering to see the cost of the ultimately successful American submarine campaign against Japan's commerce.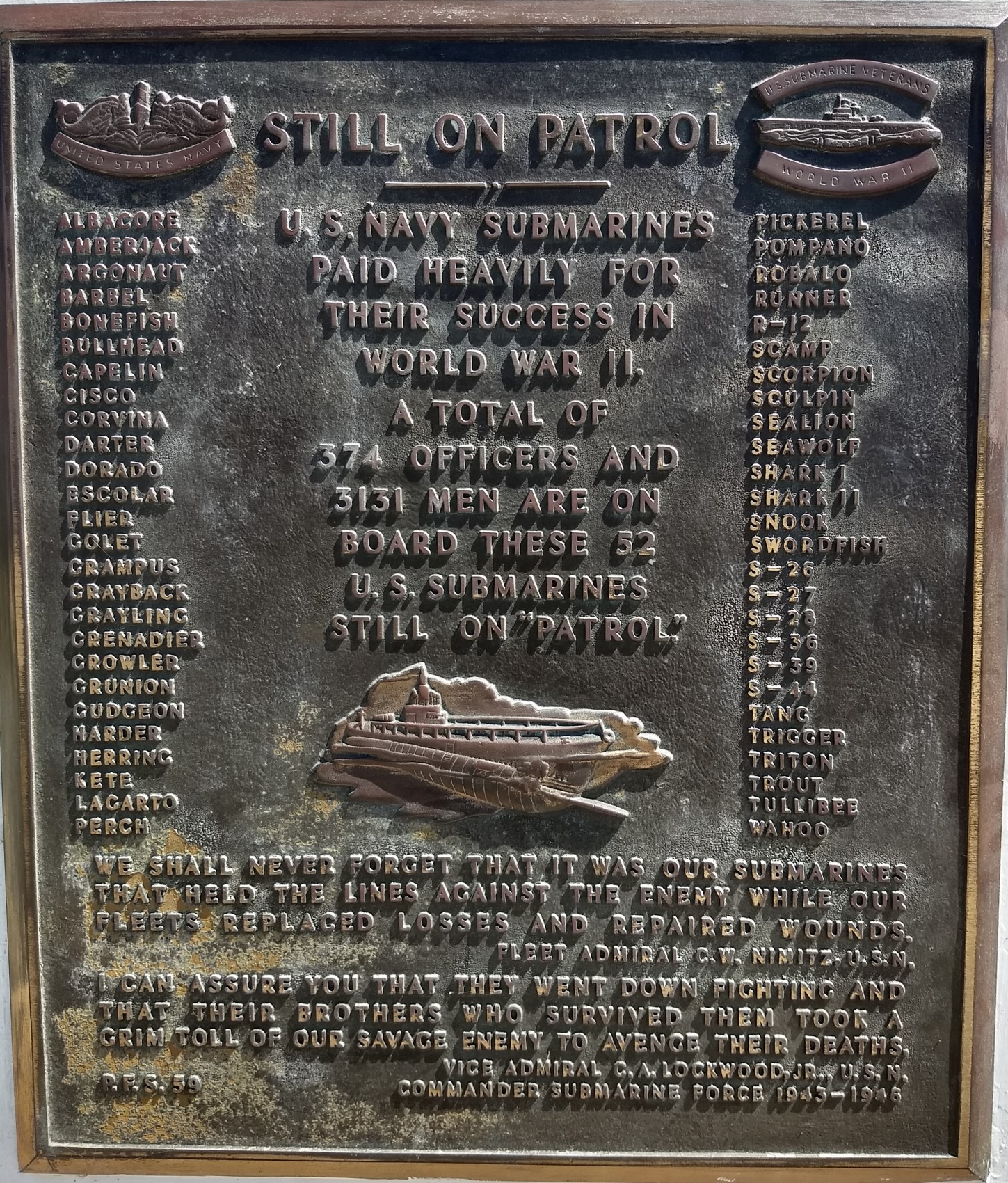 ---