Gentlemen,
We are at a crucial juncture. Not in the war against Austria, which continues to go well with their recent defeats at Sirte and at the Second Battle of Sibenik. But in ship design. We have recently developed the technology to mount three turrets on the centerline of a ship, opening the way for us to reduce in importance the secondary batteries of our ships. Exactly what form these ships will take is still an open question, however.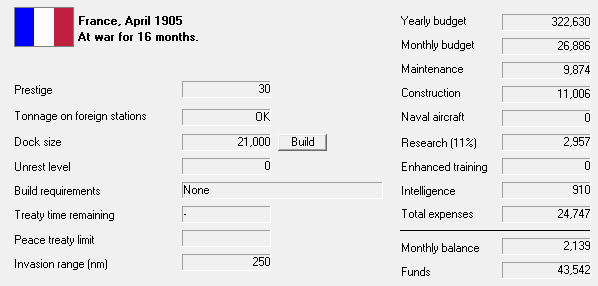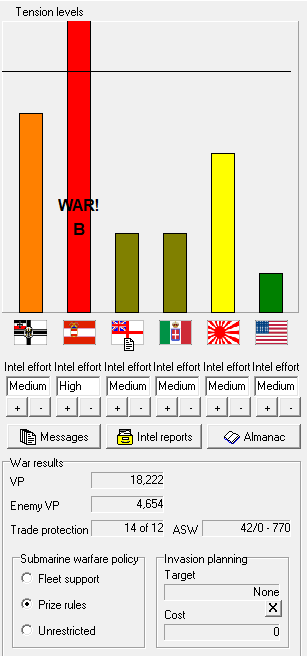 An Editorial from Le Figaro:
Why do the Austrians continue their hopeless struggle? Repeatedly, we have smashed their fleet. At Second Sirte alone, we sank 10 ships. And yet, they have only offered peace deals that leave them in control of Norway. They cannot continue this forever. Our blockade will strangle them sooner, rather than later, and France will never be short of sailors to man our ships and send their fleet to the bottom. Soon, our current ships will be joined by new vessels that will be the envy of the world. Then Austria will have no choice but to capitulate, and we can face the real threat, that of Germany.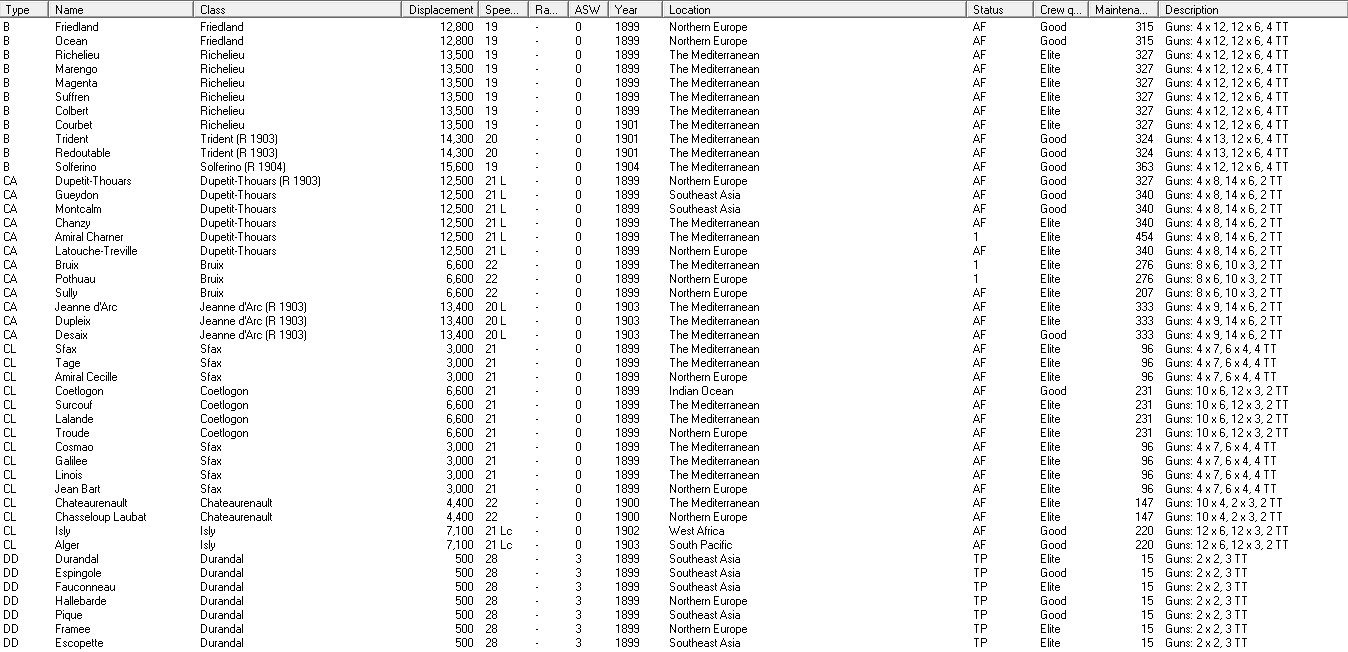 An Editorial from Le Temps:
While no true Frenchman can fail to welcome the recent victories over the Austrians, the conduct of the war so far leaves many unanswered questions. Why is our fleet standing bravely between the Austro-Hungarian Navy and the Royal Navy? The English have the largest Navy in the world, and yet they have not seen fit to deploy it, even to guard Gibraltar. Our greatest losses in this war, two cruisers, were both lost off our Atlantic coast. We cannot accept this from our nominal allies. We will fight their war, and they will probably insist that Norway be made their protectorate at the end of it all. Will our government have the courage to resist?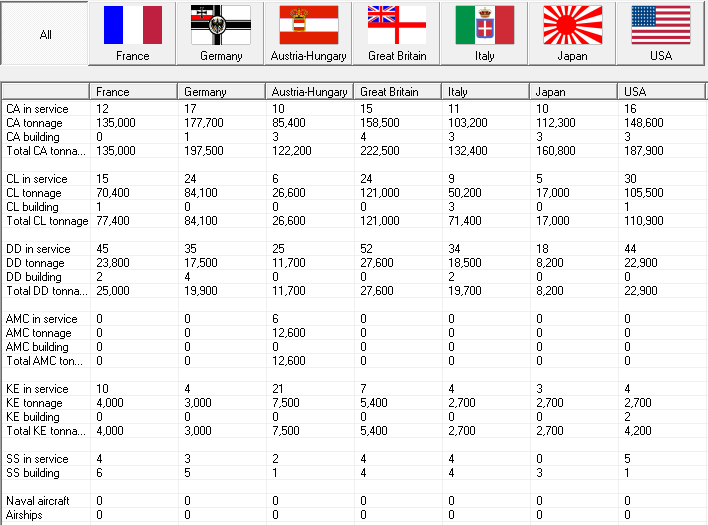 August
Enemy dominates the seas around Senegal, Middle Congo, -80 VP. 15" gun (-1 quality) researched. 5 ships sunk by raiders. AH is building a coastal battery. UK laid down a BB, and apparently all-big-gun ships will be known as "irresistibles" in this universe. Italy lays down a CL. Japan increase naval budget, orders a CA from an Austrian yard. AH commissions AMC, 3 KE. UK commissions KE, US a DD. 210 VP for blockade of the enemy.
Convoy defense action off Corsica. 3 of our Bs and two from the UK are covering a convoy, along with three CA and various light units. Unfortunately, our initial course takes out of position, but we manage to get between them and the convoy before they can do any mischief. Their force has three B and 3 CA, so we attack. We close range, and manage to disable one of their CLs. Unfortunately, we don't have a speed advantage over them, and are unable to lame any of their bigger ships before darkness falls and we lose contact.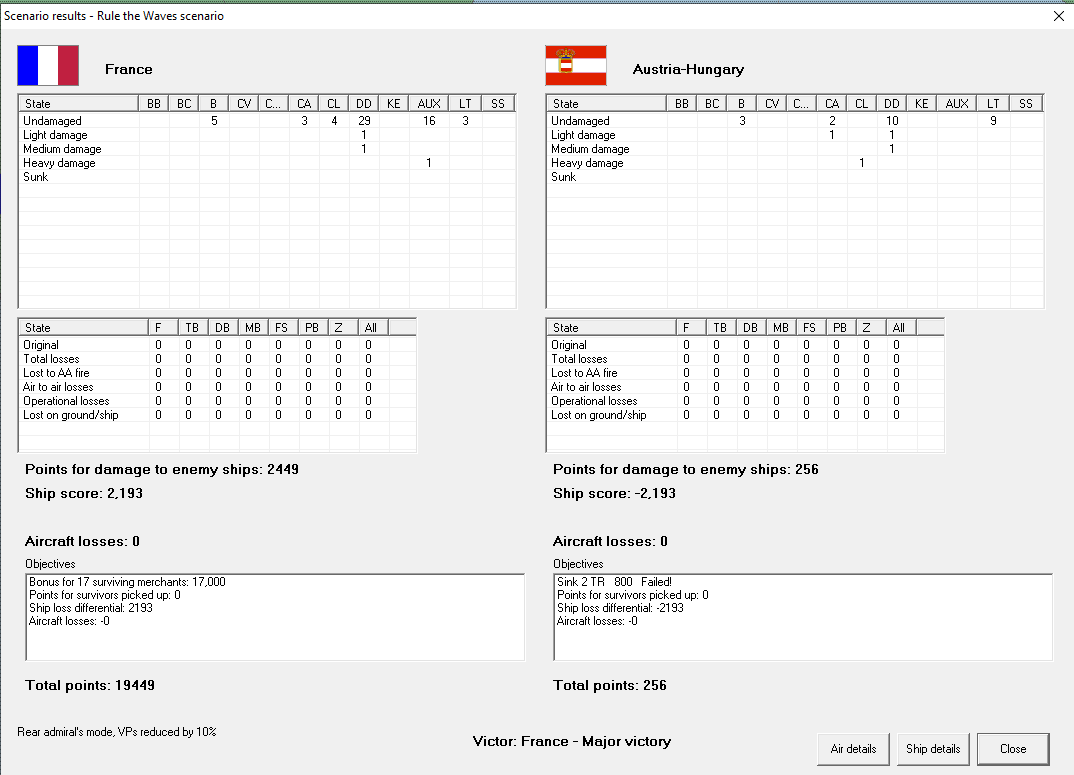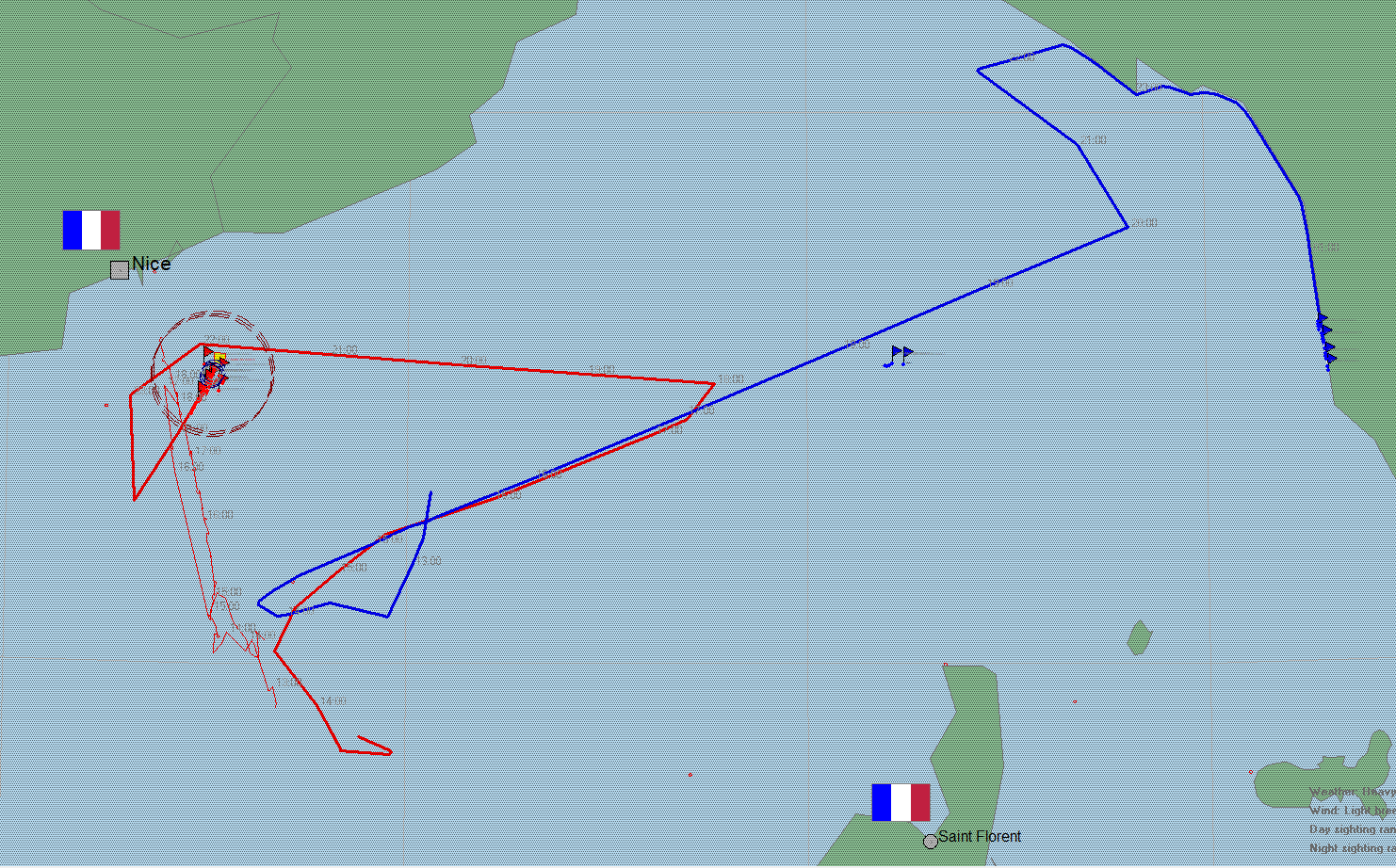 One of the ships in the convoy was heavily damaged, but they all survived, giving us a major victory. +1 Prestige, 1371 VP for us, 52 for them.
September
10 ships sunk by raiders. Research priorities are changed to emphasize shells, ship design. AH is building several coastal batteries. Italy now has 13" guns. The rest of the messages were lost when I had to reload the game to clear an error.
The Austrians find another one of our convoys, this one in the central Mediterranean, in the darkness. This promises to be a messy situation, as their destroyers are almost mixed in with the convoy. Our battleships manage to break free from their destroyers and find their two battleships, then set about trying to engage them. Rudder damage forces one to circle, and we pounce, pouring shellfire into it. It finally is brought to a halt, and torpedoed three times before it sinks. Dawn breaks, and we find the convoy stalked by destroyers, who quickly scatter.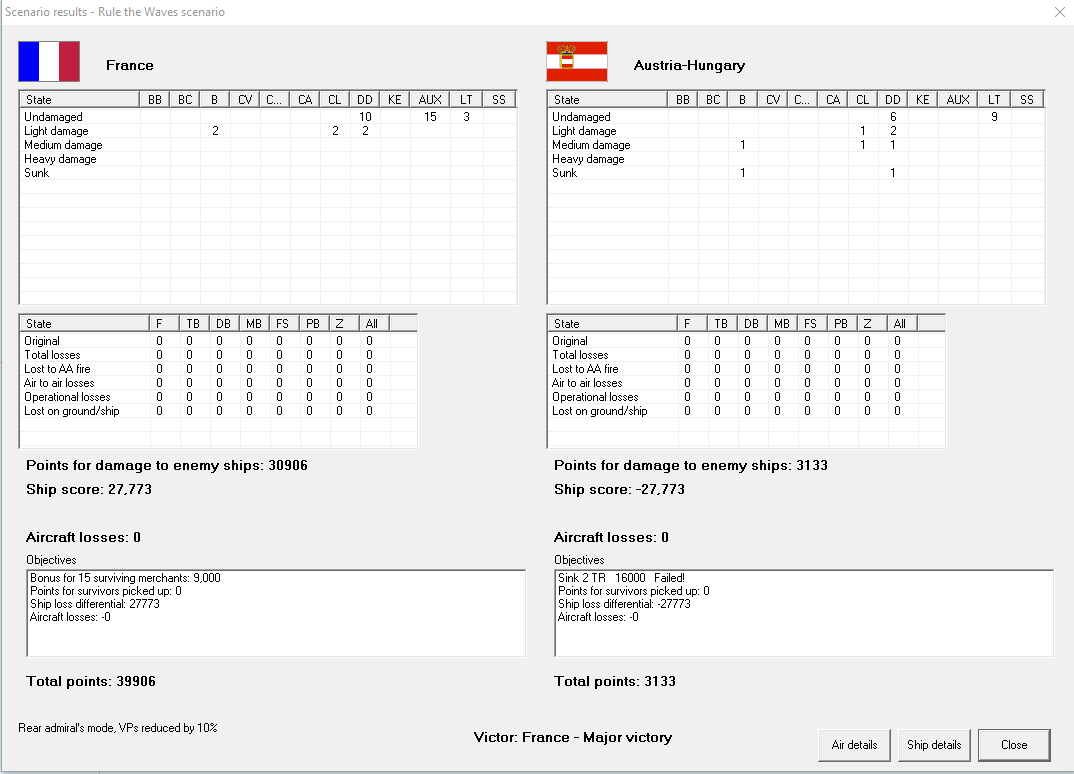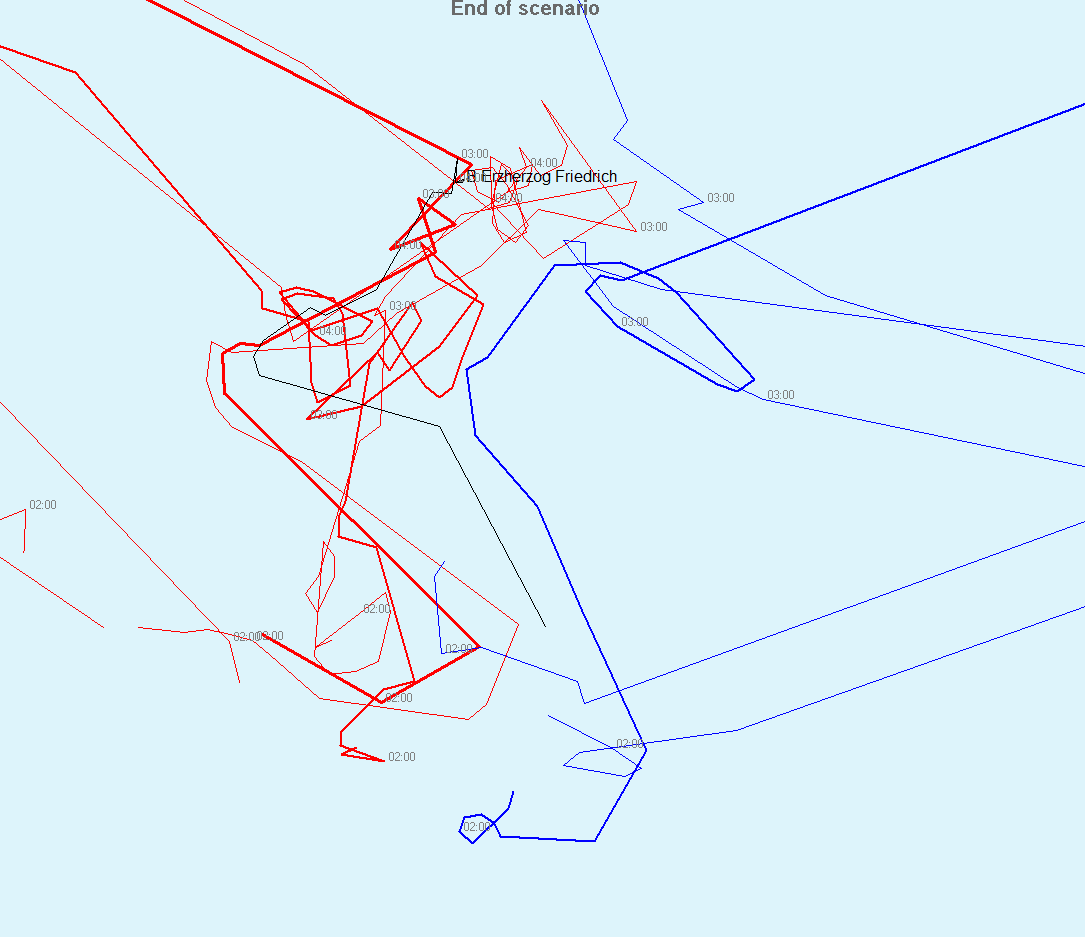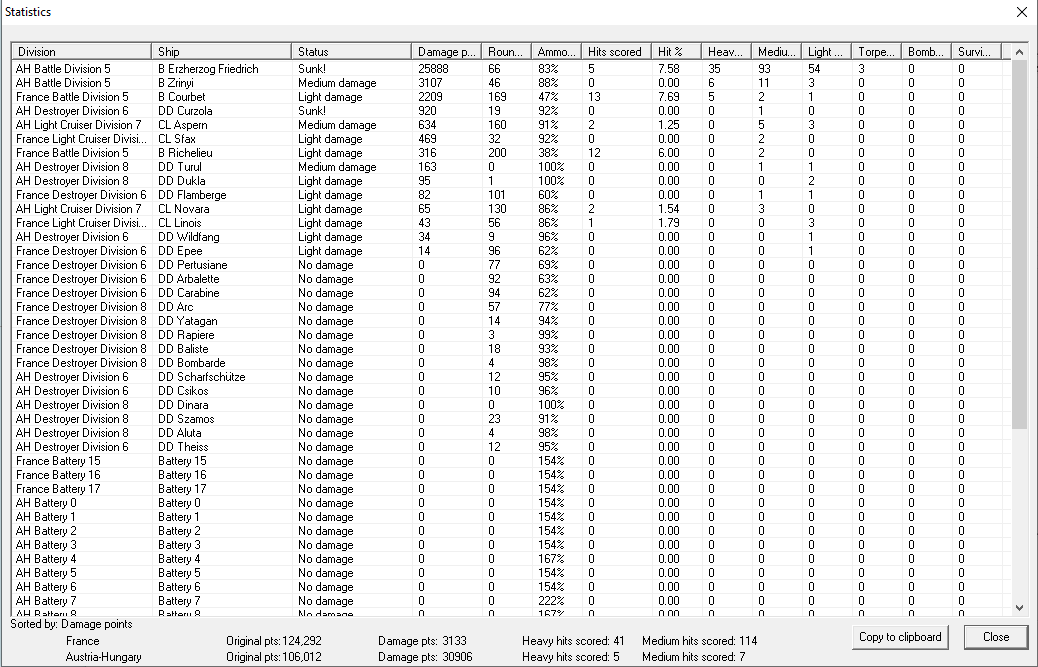 The end is an overwhelming victory, known as the Battle of Sirte. +1 Prestige, 2607 VP for us, 301 for them.
October
B Trident finishes reconstruction. 3 DD commissioned. 14 merchant ships sunk by raiders. Italy and the US lay down CLs. Steel shortages delay one of our BCs. 2 KEs finish working up. AH commissions AMC, US commissions 2 KE. 250 VP for blockade.
Coastal raid on western France. Our CAs spend most of the time in the dark, groping for their ships, which we don't find. They sink a single merchantman. Overall, a minor victory for us, 198 VP to 94 VP.
November
4 submarines and DD Massue commission. The Army is asking for more resources, but we argue that we can win the war. (Practically speaking, our operations are doing a lot more good than theirs are likely to.) Breakthrough: Basic weight control. 9 merchant ships sunk by raiders. Germany, US and AH lay down Bs. Germany commissions a KE. 240 VP from blockade.
Somehow, they find yet another convoy. This one is escorted only by a pair of CLs and some destroyers. We avoid contact, which ends up handing us a major victory thanks to the survival of all merchant ships. 826 VP for us, 0 for them.
December
4 submarines laid down. Breakthrough: Gyroscope. 13 merchant ships sunk by raiders, 1 by submarine. Germany is building a 9" battery, AH is building 10" and 11" batteries. US laid down CA. Germany commissions B, CA, KE. Italy commissions KE, Japan commissions 2 B, US 1 B 2 DD. 250 VP for blockade.
Attempted cruiser action in the Adriatic, but both forces miss each other, and nothing happens. 0 VP for either side.
January
DD Stylet commissions. Austria attempts to get a treaty and fails. 3 DD finished working up. 11 ships sunk by raiders. UK laid down 1 BB, Germany 2 DD, Japan 1 CA. 250 VP for blockade.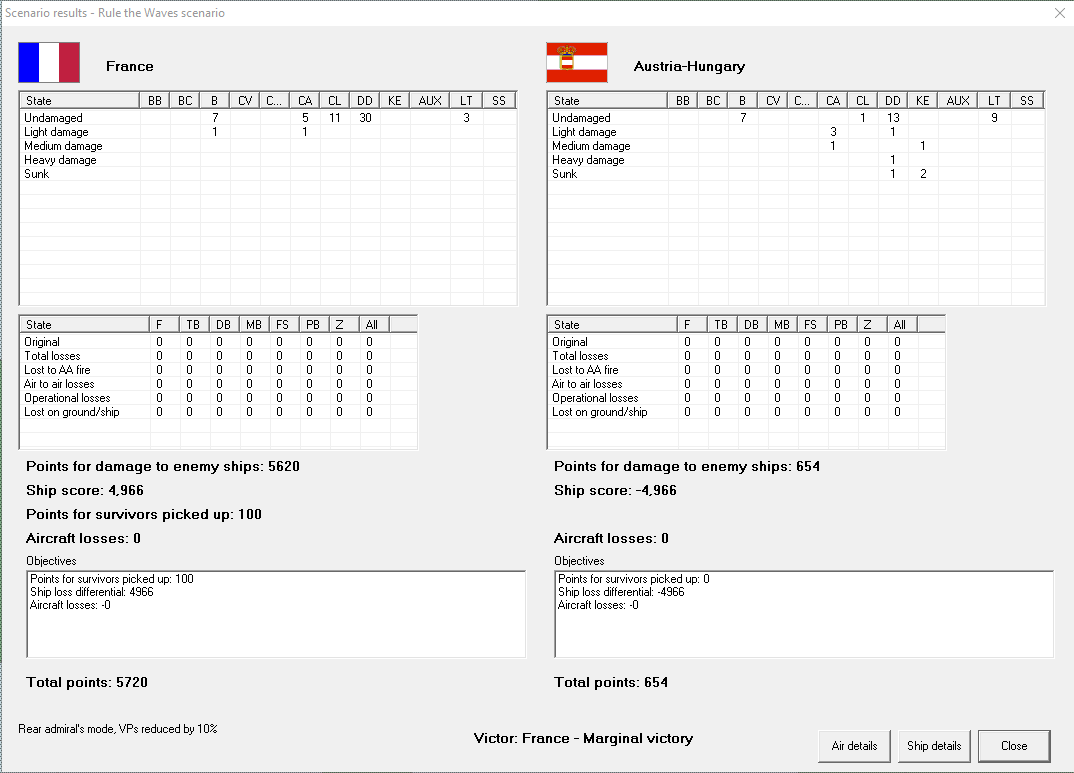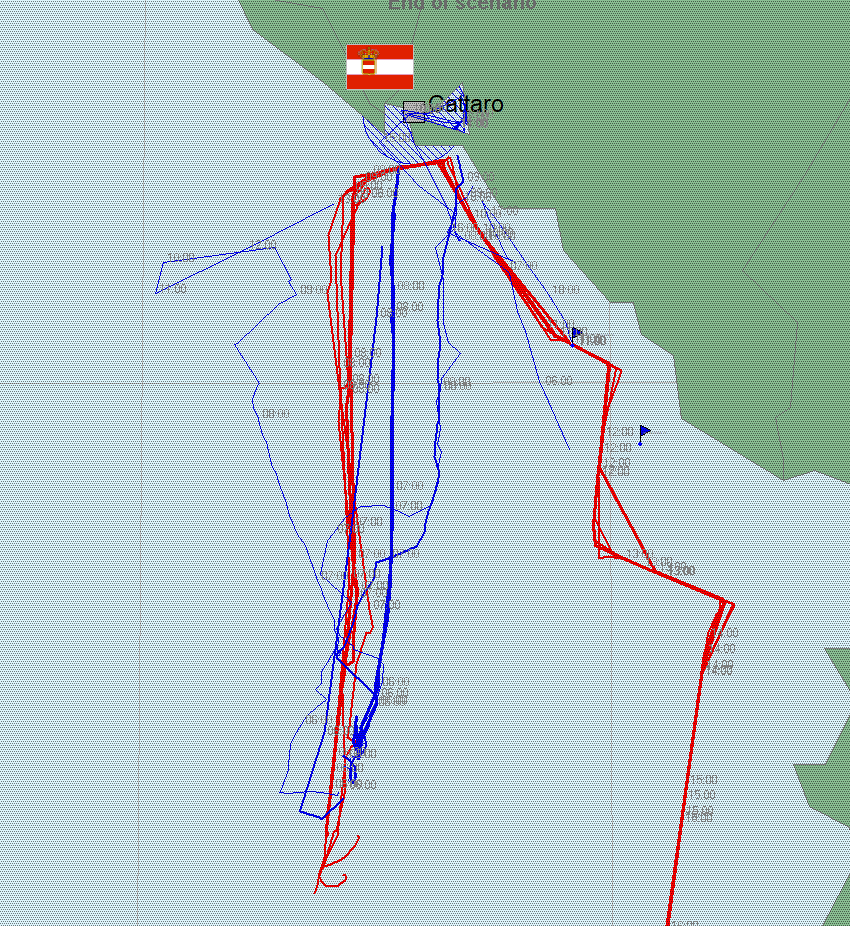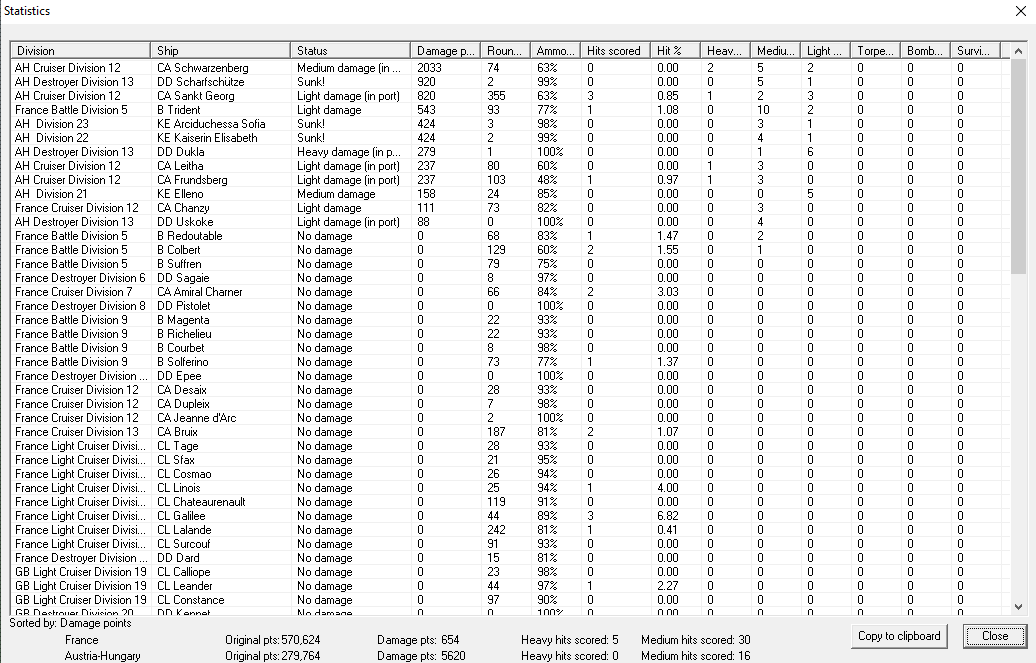 Major fleet battle in the Adriatic. Their CAs blundered into our fleet before they turned north to run to their base at Cattaro. We did some damage, but didn't manage to sink anything other than a destroyer before they entered port. On the way out, we run into three KEs, two of which we sunk.
February
The Army offensive is halted in a bloody stalemate, and the enemy gains 100 VP. (This is why I don't give resources to the Army. There isn't enough VP in the balance to make it worthwhile.) 2 destroyers commission. Breakthrough: Improved turret design. Austrian CA raider interned at neutral port for lack of fuel. 17 ships sunk by raiders. Germany and Austria-Hungary are investing in coastal batteries. Germany also lays down a DD. UK commissions a CL and a DD, US a CA. 230 VP for blockade. Delays effect two BCs, but one DD is going to be ready a month early.
Raid on enemy coastal shipping. Core force of 3 of our CAs and two from the UK are in the Adriatic. They encounter 3 enemy CAs. As usual, they turn to run for home, but in this case, they do a bad job of racing for Sibenik, and we end up driving them off. In the run north, four destroyers are sunk. The battle degenerates into a melee, with our superior firepower showing clearly. One of their CAs makes it into Sibenik, but the other two are pounded hard. One is lamed early on, then torpedoed and sunk. The other tries to make a break, but is blocked, even colliding with one of our CAs in the process. She too is eventually brought to heel. After taking several torpedoes, she goes down, and we withdraw. On the way out, we encounter two merchantmen, run them down and sink them.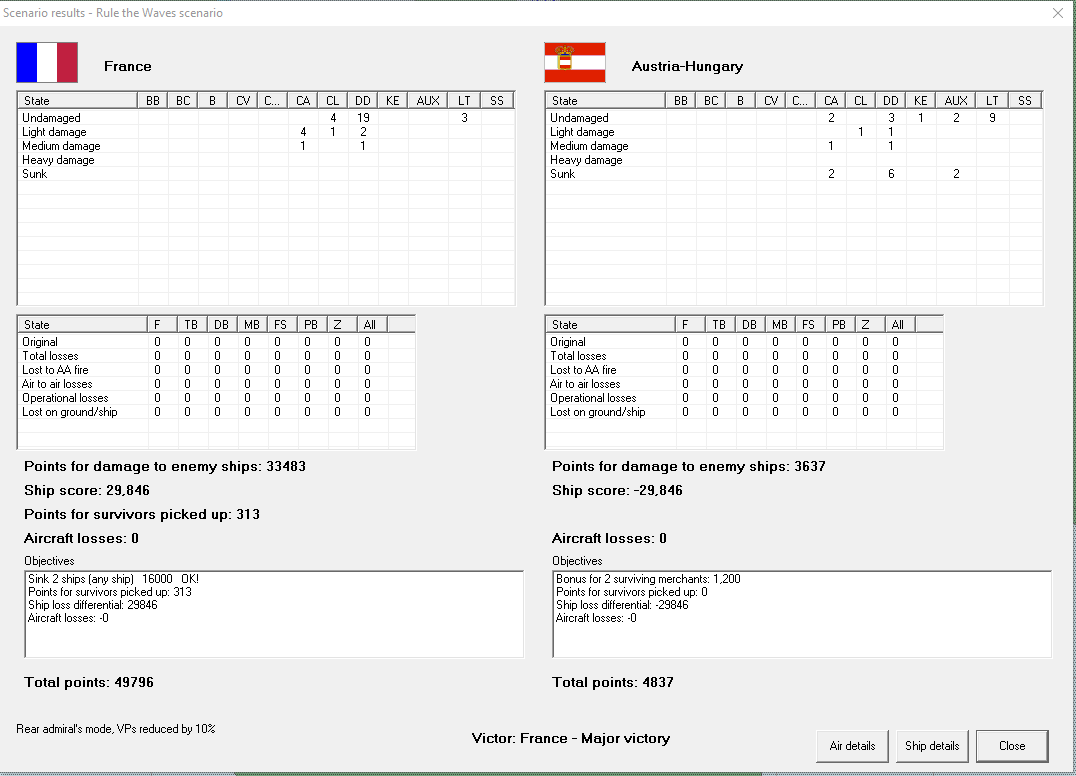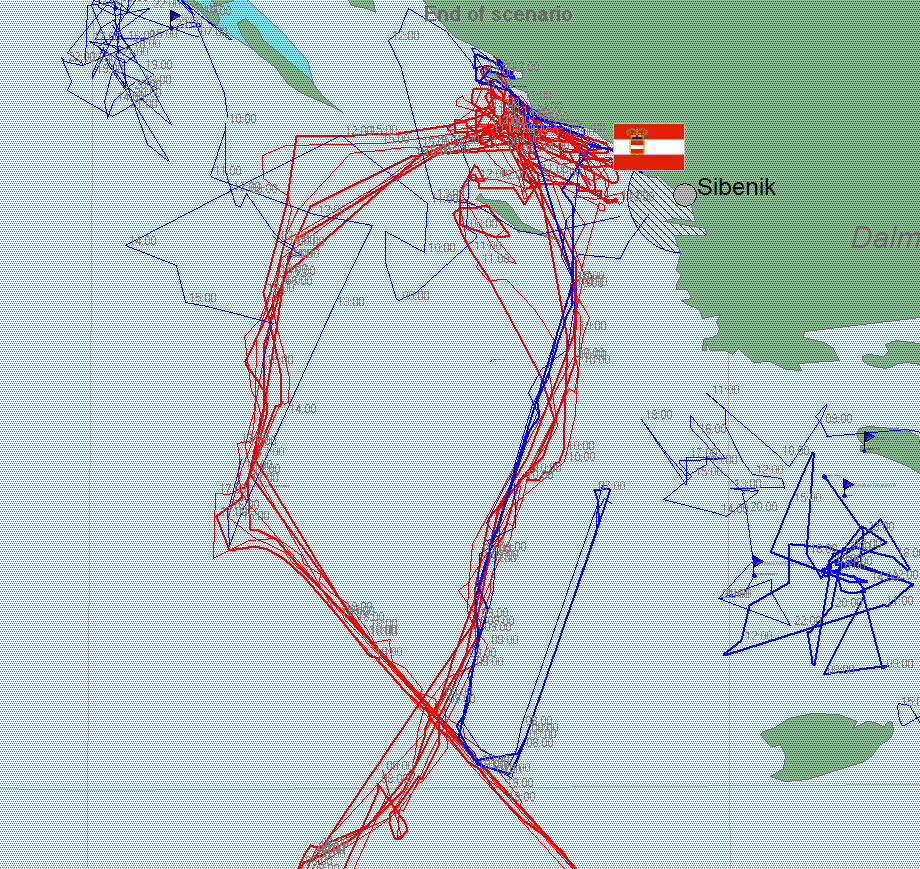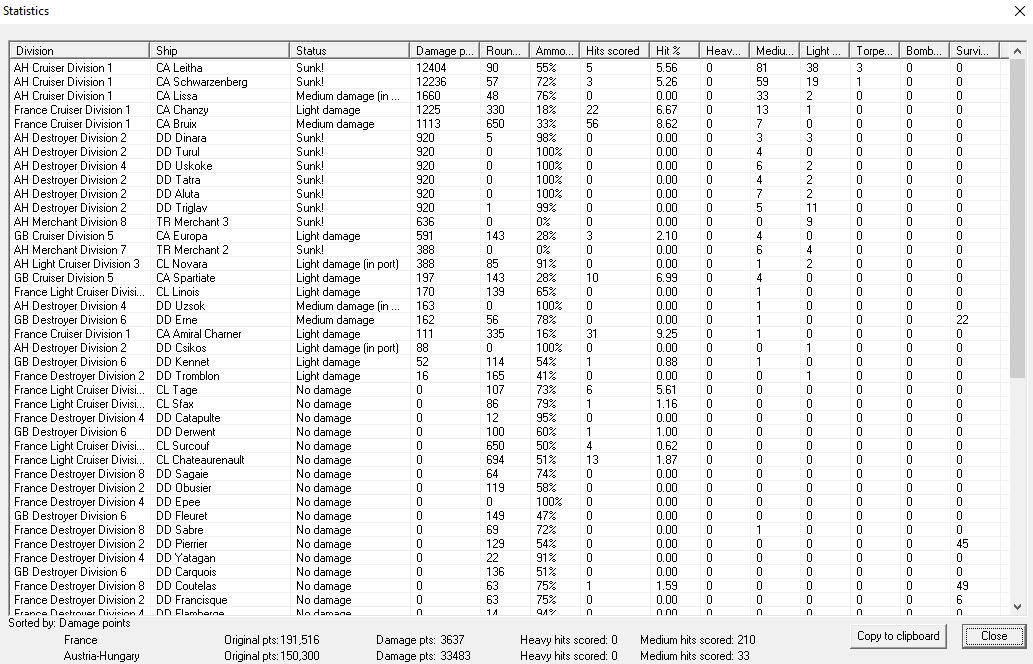 The final toll? We suffered no more than medium damage to a couple ships, while they lost two CAs, six DDs and 2 merchant ships. The Second Battle of Sibenik was a major victory, +1 Prestige. 3190 VP for us, 425 for them.
March
Development begins on a new destroyer. It's a variant of the Obusier, with an extra pair of 2" guns. We buy quality 1 3" guns from the British, allowing us to improve the firepower of our destroyers. Breakthroughs: Quality control, 3 centerline turrets. 8 merchant ships sunk by raiders. Germany lays down a B and a DD, AH lays down a CA. US lays down a BC. AH commissions 2 CA, Germany 1 CA, Italy 1 CL and 1 KE. 210 VP for blockade.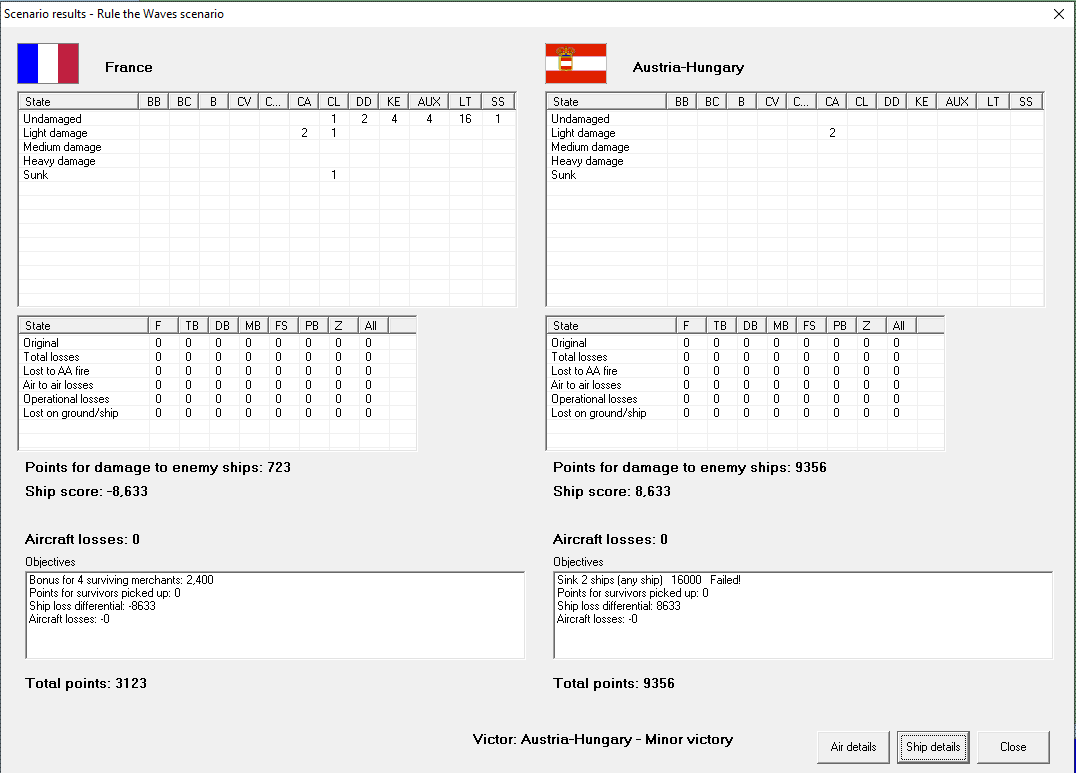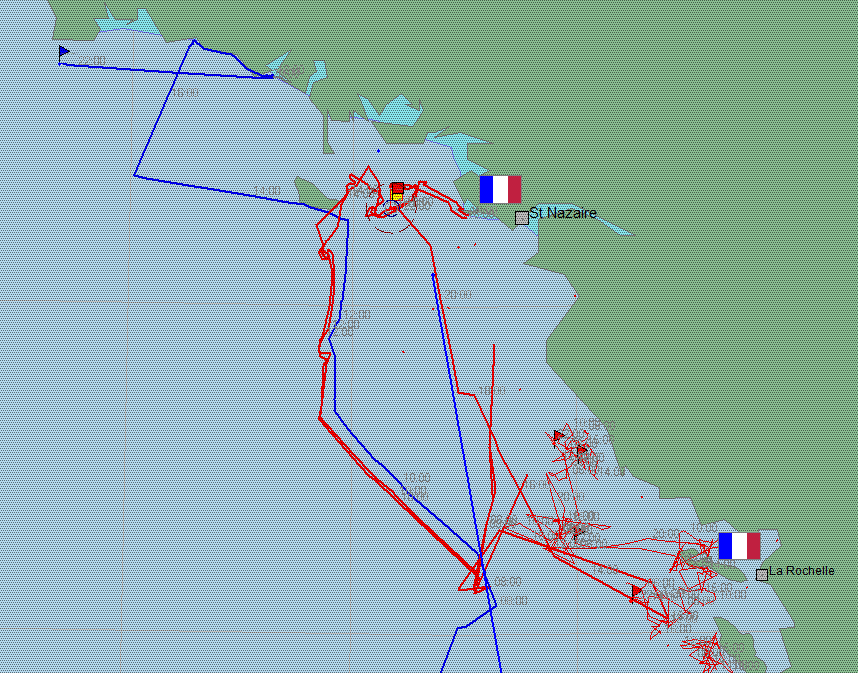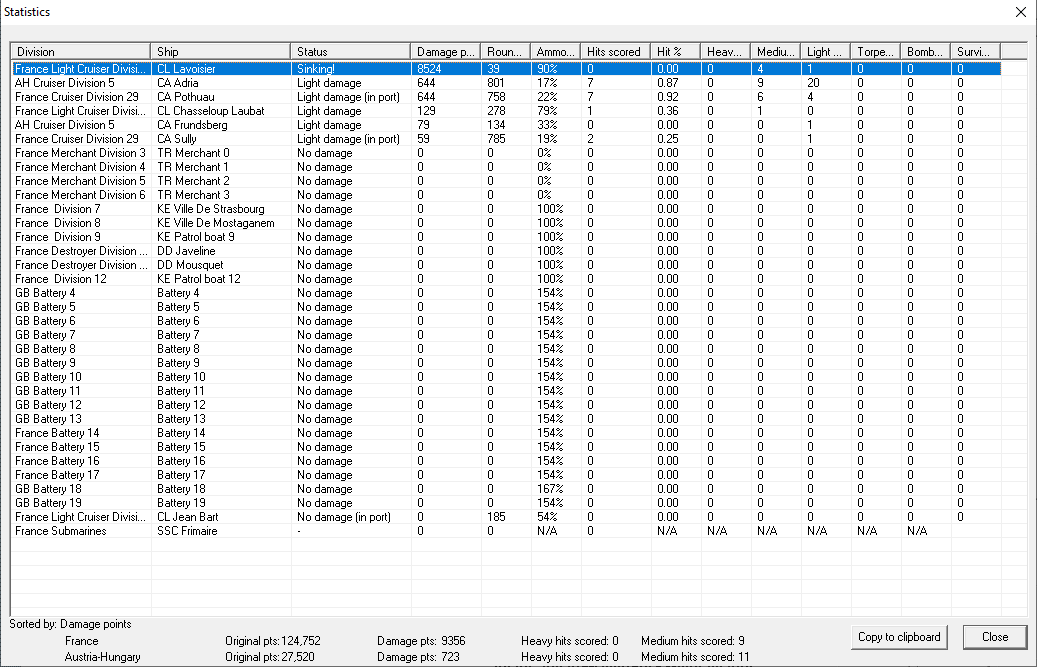 Enemy coastal raid on western France. 2 CLs encounter a pair of enemy CAs, and decide that it's probably better not to try to fight them. However, they encounter a trio of AI-controlled CAs (of ours) and manage to rope them into the action. The CLs then flee, as they're both damaged and on the small side for our CLs. One of them sinks despite this, the only loss of the battle. But it's an Sfax, which are generally terrible, so I don't mind too much. Minor defeat, 730 VP for them, 301 VP for us.
The rapid pace of technological development has left us in need of new ship designs, too. We've prepared sketches of new Irresistible-type battleships, battlecruisers, and destroyers, as recent weight savings in that type have let us open up new frontiers in design.
BC-05-V.png|A BC design focused on speed, with armor based on the current BC design. 26 kts is possible with the loss of a turret.
I expect to be extremely busy over the next weekend, and on vacation the week after that, so there will almost certainly not be a game update next week, and we might miss two weeks. Sorry.