Gentlemen,
The past year has gone well for us. We were able to continue our construction program, commissioning 4 DDs and 2 CLs, as well as making substantial progress on our BCs and BBs. We remain just ahead of the Germans in terms of budget, and renewed international tensions have allowed us to break even financially. We have also made several important technological advances, most notably the development of depth charges. As a result, we have begun refits to all of our 600-ton destroyers to convert them into ASW escorts.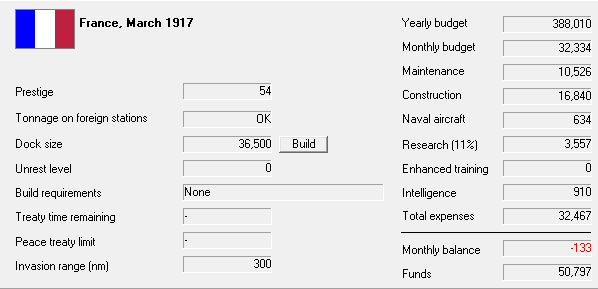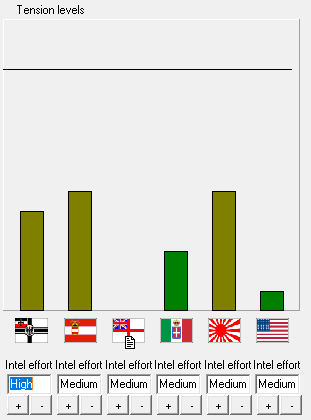 We are only a few months away from completion of Nancy and Nantes, so now is the time to think about replacements for them on the slipway.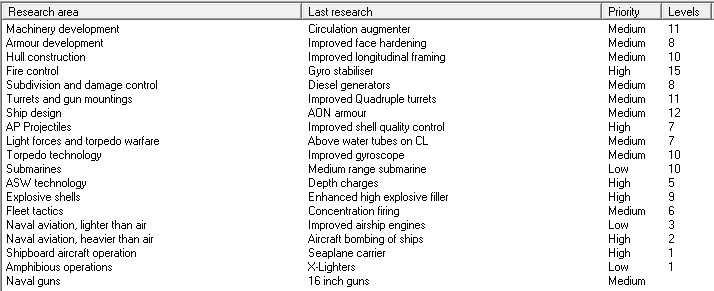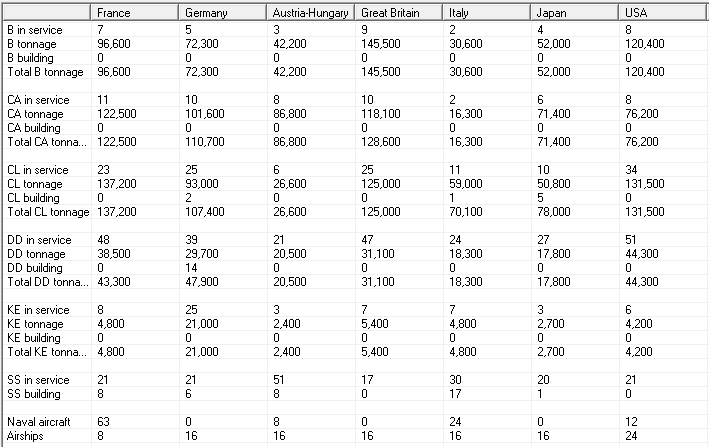 March 1916
Battleships Trident, Redoubtable, Friedland and Ocean scrapped. CL Jean Bart begins conversion to AV. Breakthroughs: Ladder shooting, Medium range submarine. US laid down an AV. Many nations are scrapping ships.
April 1916
AV Linois finishes reconstruction, 2 DDs commission. Fighter Breguet 54 selected to replace Potez 45. Germany commissions 3 KE, US 1 BC, UK 1 CL, Italy 1 CL, Japan 1 BC.
May 1916
2 DD commission. Germany lays down 4 DD, commissions 1 KE. AH commissions CL.
June 1916
Great Britain has crushed the rebellion in Zanzibar. CL D'Entrecasteaux commissions. We refuse to participate in a peace conference held in the Hague. Germany commissions 3 DD, Italy 1 CL, US 2 DD.
July 1916
CL Destrees commissions into the navy. We agree to sell the British quadruple turrets. Breakthroughs: Improved shell quality control, depth charges, Aircraft bombing of ships. Germany lays down 2 DD, commissions 1 BB, 2 KE. UK commissions 1 BC, US 3 DD.
August 1916
Rebuilds of Mosqueton class DDs into escorts begins. AV Jean Bart finishes her reconstruction. We recommend the government increase our budget to ensure peace. Germany lays down 1 CL, 3 DD, commissions 1 DD, 1 KE. US commissions 1 CL, 3 DD.
September 1916
Rebuilds of Carquios class DDs into escorts begin. We extend our security arrangement with Great Britain. The Breget 54 enters operational service. UK lays down a BC, Germany commissions 1 BC, 2 DD, 1 KE, AH 1 BB, 1 CL.
October 1916
We steal plans for American BB Arkansas, currently under construction. Germany lays down 1 BB, 3 DD. AH and Italy lay down AVs. UK commissions BC, Germany KE, US 4 DD.

November 1916
2 DD finish reconstruction. One of our agents is caught in Japan, and we make him a national hero. Germany lays down 1 CL, 2 DD, commissions 4 KE, 7 DD. UK commissions 1 BB, Italy 2 AV, US 2 DD.
December 1916
The Obusier class DDs begin reconstruction. 5 DDs finish reconstruction. Our spies get hold of the plans for BB Ise, currently under construction. Breakthroughs: Horizontal turbines, Improved airship engines. Germany lays down a BB, as does the UK. Germany and US each commission 1 DD.

January 1917
1 DD finishes reconstruction. Germany lays down 1 BB, commissions 1 KE.
February 1917
We sell High Capacity Pumps II to the US government. Germany lays down 1 BC, Italy 1 CL. US commissions 3 DD.
RTW2 will take a break next week, but will return on 1/3.