Gentlemen,
The war with Italy drags on. We continue to blockade their coast, but they are so far defiant. The good news is that we have recently commissioned the Rouens and laid down the new Saint Louis class battleships, as well as receiving the first seaplane carriers anywhere in the world. We have also begun to build a land-based air force, which will help our forces find and destroy the Italian fleet soon enough.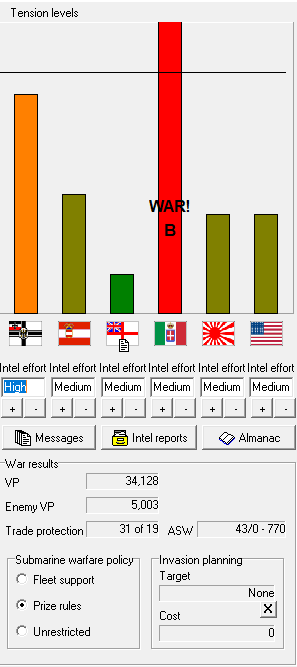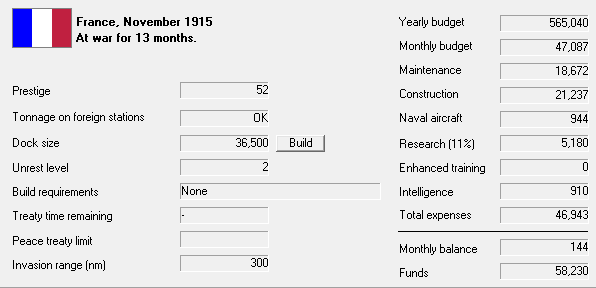 Tensions with Germany remain very high, but we have done what we can to avoid war, so far successfully. The Italian fleet has refused to come out, but we have sunk several of their raiders. We are considering threatening Sicily in the hopes that the Mafia will intervene and force the Italian government to come to terms.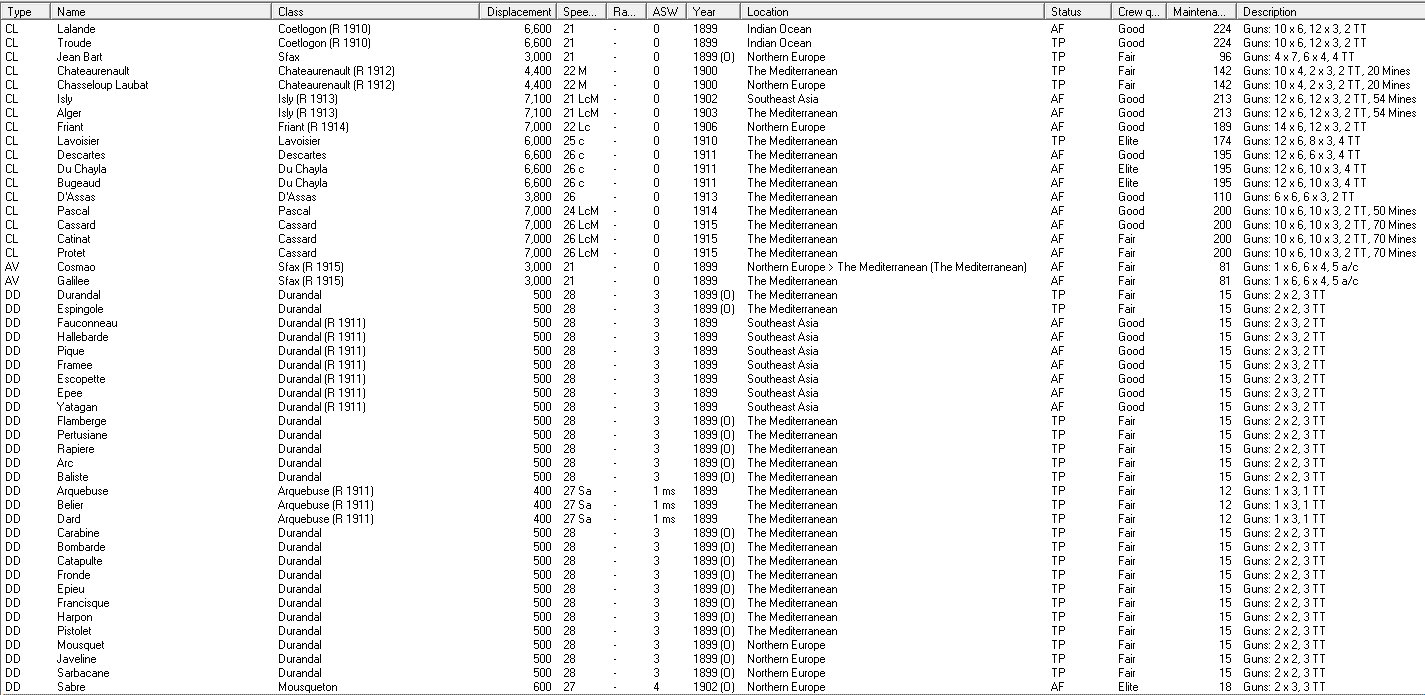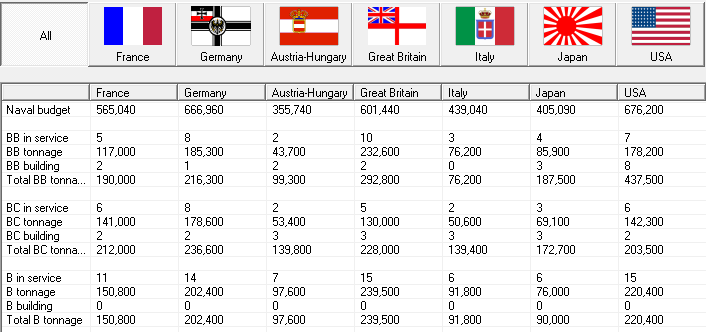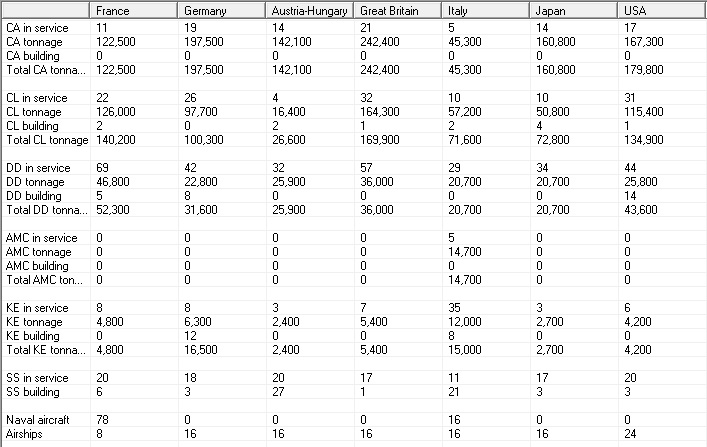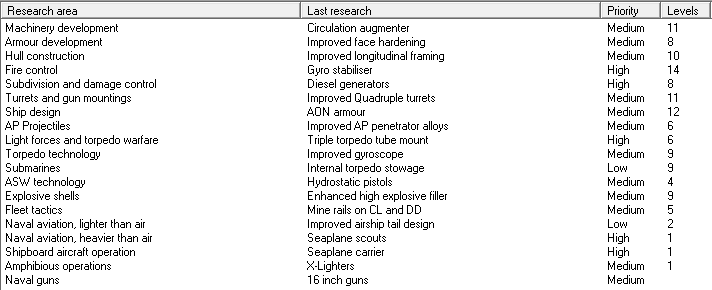 May 1915
Design work begins on BB Saint Louis. CLs Protet and Catinat are commissioned. BC Lyon delayed one month to allow fitting of better fire control. Breakthroughs: Circulation augmenter, X-Lighters. Italian DD Artigliere sunk by a mine. Enemy subs sink 4 merchant ships, our sink 2. 230 VP for blockade. Germany lays down 2 KE, Italy lays down 3 KE. Italy commissions 8 KE, Germany 1 BC.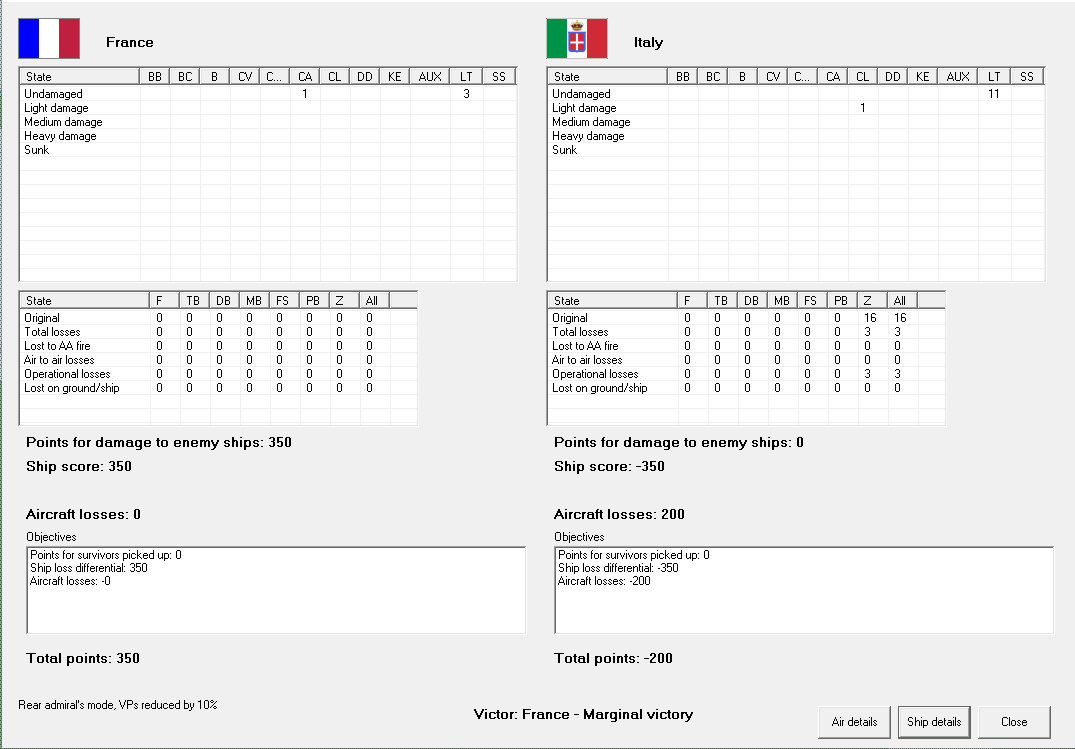 The Italian Navy declines a cruiser action off Brittany, giving us 675 VP. (To the Admiralty: SEND SOME SHIPS TO GIBRALTAR.) Instead, CA Chanzy intercepts an Italian raider in the Eastern Med. The CA intercepts an old CL, and eventually brings it into range. After several hours of long-range pounding, the CL escapes due to its superior speed. Marginal victory, 63 VP for us, 0 VP for them.
June 1915
BC Rouen delayed one month to allow fitting of better fire control. Breakthroughs: Improved face hardening, Seaplane scouts. SSC Coulomb torpedoes and damages an Italian BB, but another SSC is sunk by an Italian AMC. We sink one of their subs as well, and both side's subs sink a pair of merchants. Their surface raiders sink 5 merchant ships, too. Germany lays down 3 DD, AH 1 BB, Italy 2 AMC and 1 KE, Japan 1 CL, US 2 DD. Germany commissions 1 BB. 240 VP for blockade.
Convoy defense off Norway, which the Italians decline again, for 750 VP. (GIBRALTAR!) Instead, we get an interception near Gibraltar with CLs Du Chayla and Linois (an unmodernized Sfax), a truly odd pairing. The ships exchange fire before darkness falls and the Italian CL escapes. The battle is essentially a draw, with 0 VP for us and 18 VP for them.
July 1915
Construction begins on airbases at Saint Florent (Corsica), Brest and Dunkerque. We commission 2 SSC. Breakthrough: Improved gyroscope. New Gun: 11"(+1) We agree to buy the Potez 45 fighter, produced as a private venture. We sink an enemy merchant submarine, while our subs sink one of their freighters. Our anti-raider patrols prove effective, and no ships are sunk at all. Germany lays down a KE and BC, Italy an AV and 3 KE, Japan a BB, the US a BB and 4 DD. AH commissions a DD, Italy 1 BC, 1 KE, 1 AMC, the US 1 BC. 210 VP for blockade.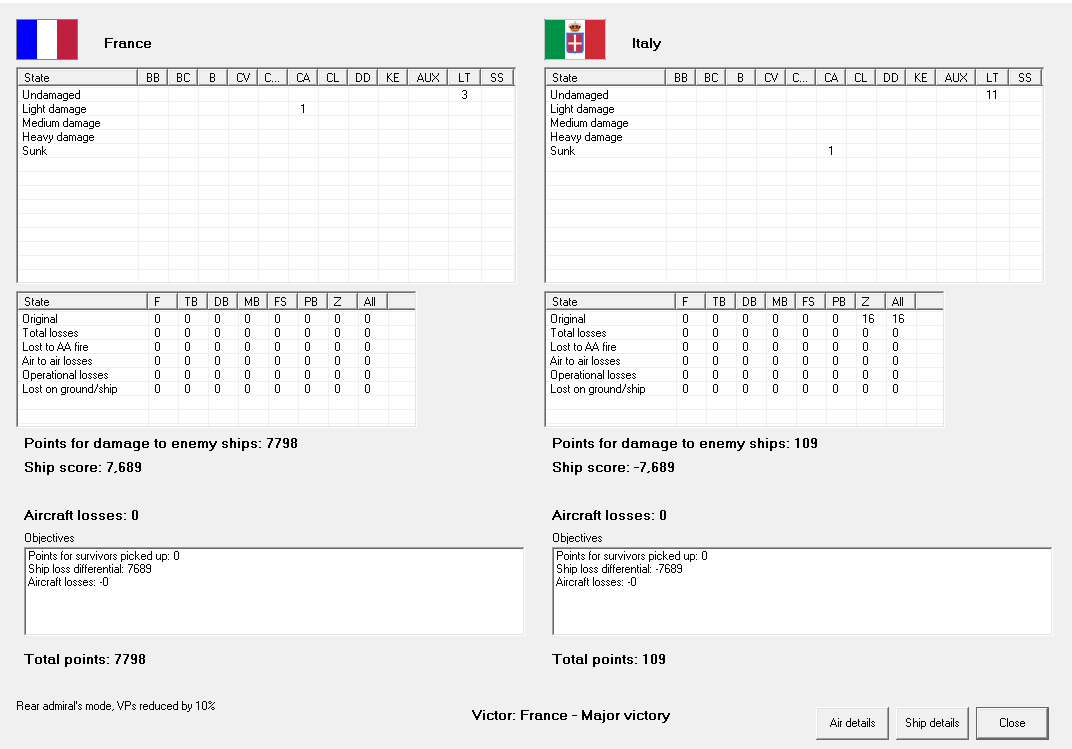 CA Chanzy intercepts another Italian raider, this one near Gibraltar. It turns out to be an Italian CA, and the two ships quickly begin to trade fire. We gain the upper hand, but darkness falls, and we briefly lose contact with them before reestablishing it at close range. The enemy ship is torpedoed and goes down. Major victory, 627 VP for us, 30 VP for them.
August 1915
We complete construction of our airbases in France. BC Lyon commissions, but is found to have trouble reaching her design speed. Breakthrough: Enhanced high explosive filler. The Liore et Olivier LeO.48 is selected as our new floatplane scout. Our subs sink 3 enemy merchants, while their surface raiders get a pair of our ships. The disruption of the blockade is causing unrest in Italy. Germany lays down 2 DD, as does the US. Italy lays down 3 KE, and commissions 1 KE. Japan commissions BC. 220 VP for blockade. BB Saint Louis is updated with latest machinery and armor, giving slightly more reserve weight. Flying boat squadrons created at Dunkerque and Brest.
Italy declines to attack a major convoy near Sardinia, giving us 7750 VP. Instead, CL Linois intercepts a raider in the eastern Med. Unfortunately, it's a CL, who escapes the slow Sfax. The battle is a draw, with no VP for either side.
September 1915
BC Rouen and 1 SSC commission. The Potez 45 enters service. Both side's subs stay in port, but their raiders get 5 of our merchants. BBs Saint Louis and Charlemagne are laid down. Germany lays down 2 KE and 1 DD, US lays down 4 DD, Italy lays down 1 AV, Japan lays down 1 CL. Germany commissions 3 KE, UK commissions 1 BC, 2 CL. Italy commissions 1 AMC, 2 KE. US commissions 1 BB, 1 CL. 240 VP for blockade of the enemy, and we are getting rumors of war-weariness among them. Construction of an airbase at Tunis begins. CL Linois is converted to an AV, to stop it slowing down raider interceptions.
Italy declines a fleet battle in the Straits of Sicily, giving us 1650 VP. Instead, CL Linois, now paired with CL Protet, intercepts a raider. It turns out to be an AMC, which is swiftly sunk. 274 VP for us, 0 VP for them.
October 1915
Construction of our airbase in Corsica completes. 3 DDs and 1 SSC commission. AVs Galilee and Cosmao finish their reconstructions. Breakthrough: Diesel generators. Our new LeO.48 floatplanes are ready for operational service. Our subs bag one ship, but their raiders get 9 somehow. 250 VP for blockade. Germany lays down 2 KE, 2 DD. Japan lays down 1 CL, US 1 BC and 2 DD. Germany commissions 1 KE.
Italy declines a cruiser battle, giving us another 3840 VP, and we instead pounce on a convoy near Sicily with 2 BBs and screen. Unfortunately, we don't make contact, and despite them losing one destroyer to unknown threats, they end up winning, 747 VP to 234.
March 1916
Gentlemen,
We are victorious against Italy once again! Our latest war has been concluded in a satisfactory manner, and even Germany, seeing our strength, has backed off somewhat in their provocations. We are now faced with the difficult task of deciding what to do during the peace, as our budget has fallen precipitously. Even with the recent scrapping of the bulk of the Durandals, we are still faced with the need for further mothballing and probably suspension of some or all of the build program. We can also look at cutting back our aviation activities.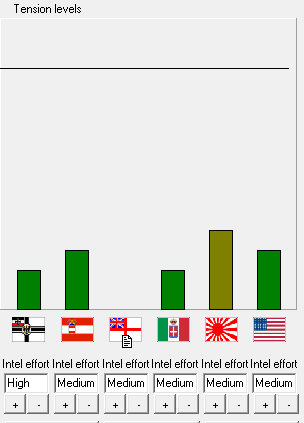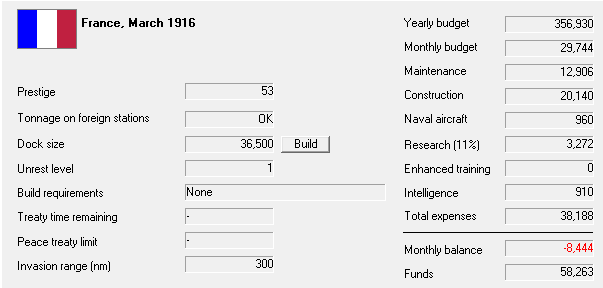 A particular issue is the fate of the capital ship program. Our accountants suggest that we cannot keep all four vessels currently building under construction without truly drastic cutbacks elsewhere. We could suspend one of the Nancys for a while and hope our budget recovers, suspend a Saint Louis, or even cancel Charlemagne entirely. The cost of keeping her suspended until the Nancys commission will be approximately half of what we have already invested in her construction, and we will presumably be able to lay down another new vessel at the same time, which will be able to take advantage of the technologies developed in the intervening months. However, if the budget recovers more quickly, we will be able to take advantage of our existing investment, and we have a very healthy funding balance which opens up the option of deficit spending, particularly when the lighter units currently under construction commission.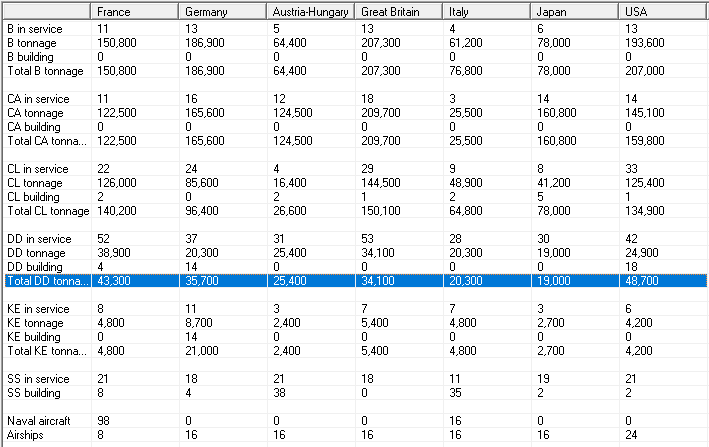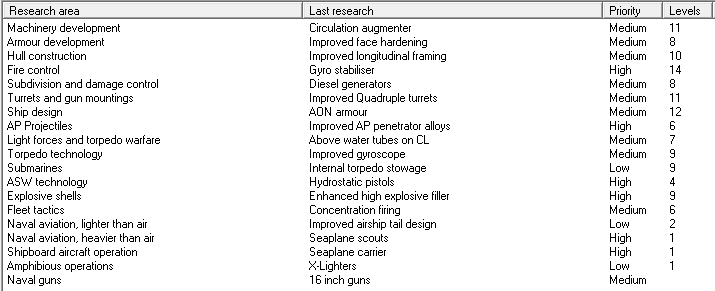 November 1915
Widespread demonstrations are reported in Italy! Our subs sink 2 merchants, while their subs sink 1. Their raiders, however, get 6. Germany lays down 5 DD, 2 KE; Italy 1 AMC, Japan 1 BB. Italy commissions 4 KE. 210 VP for blockade of the enemy.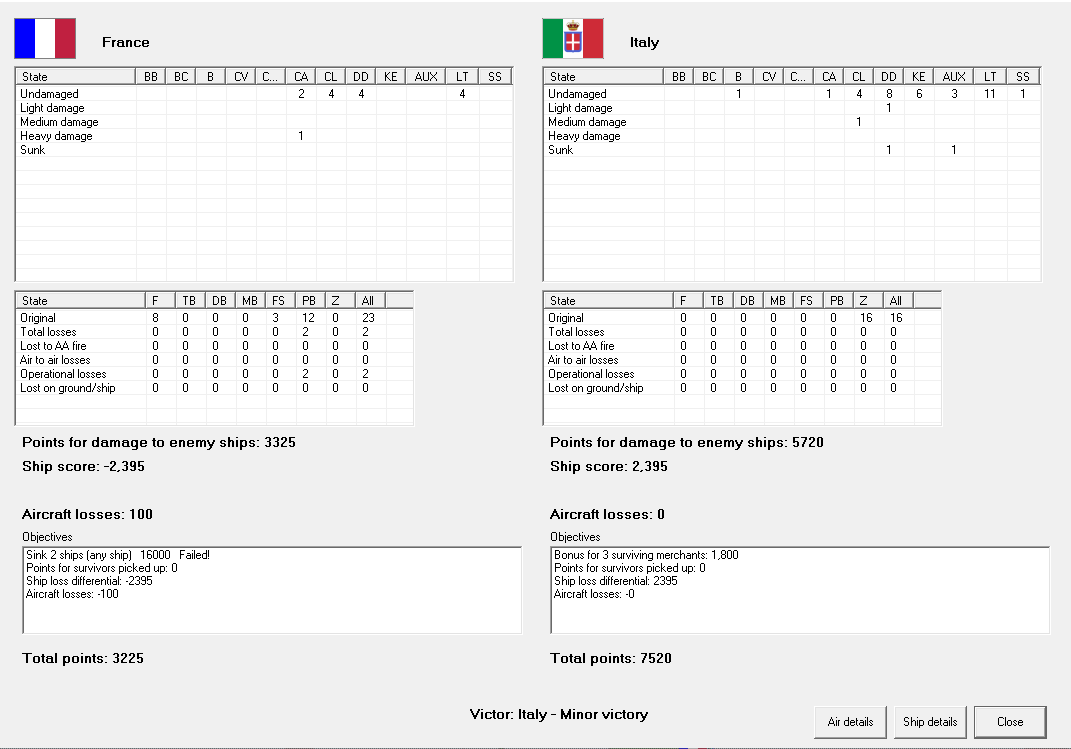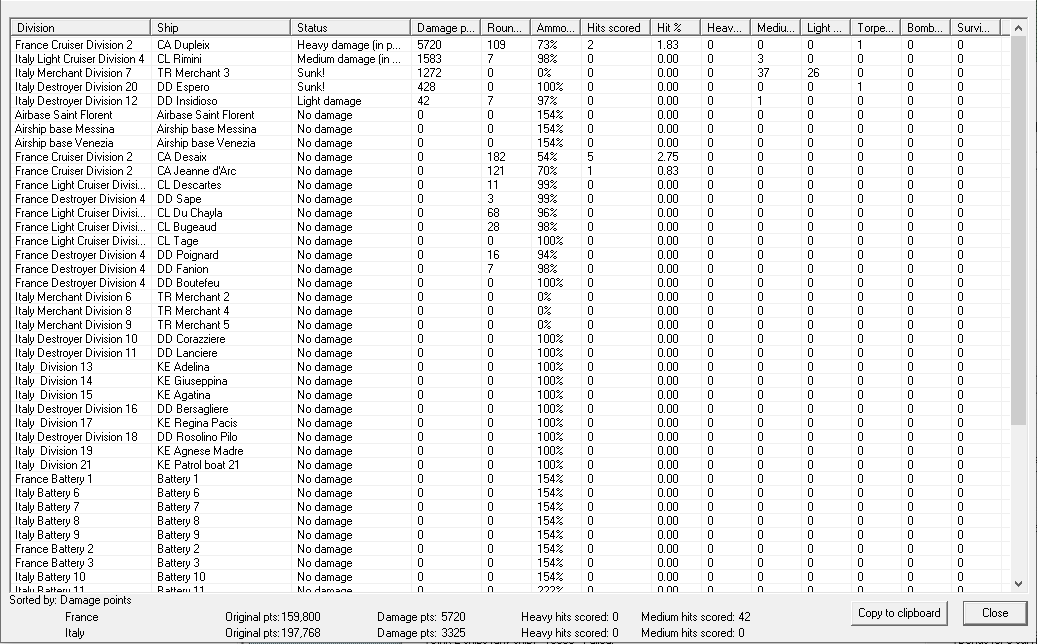 We launch a major raid on Italian coastal shipping near Genoa, led by the three Jeanne d'Arc class CAs. Airplanes from the CAs and Saint Florent quickly locate a number of ships, and an Italian cruiser task force is swiftly encountered. They turn for home, outrunning our relatively slow CAs, but a merchant ship is overtaken and sunk. CA Dupleix strikes a mine, and has to turn for home, arriving badly damaged and barely afloat. A destroyer is encountered, but evades in the darkness, sinking later on. Enemy minor victory, 308 VP to 609.
December 1915
More demonstrations in Italy. DD Cimterre commissions. Our subs sink 1 merchant and lose one of their number, while their subs bag 3 and their raiders 2.
Italy declines to defend a convoy near Sicily, giving us 4805 VP, as well as a cruiser action off the Italian boot, for another 675 VP.
January 1916
Construction of our airbase in Tunisia finishes. Breakthrough: Above water tubes on CLs. Our subs sink 3 enemy merchants, while we suffer no losses. Germany lays down 1 KE, Japan 1 BB, US 3 DD. Italy commissions 1 KE, 1 BC, Germany 1 KE. 220 VP for blockade.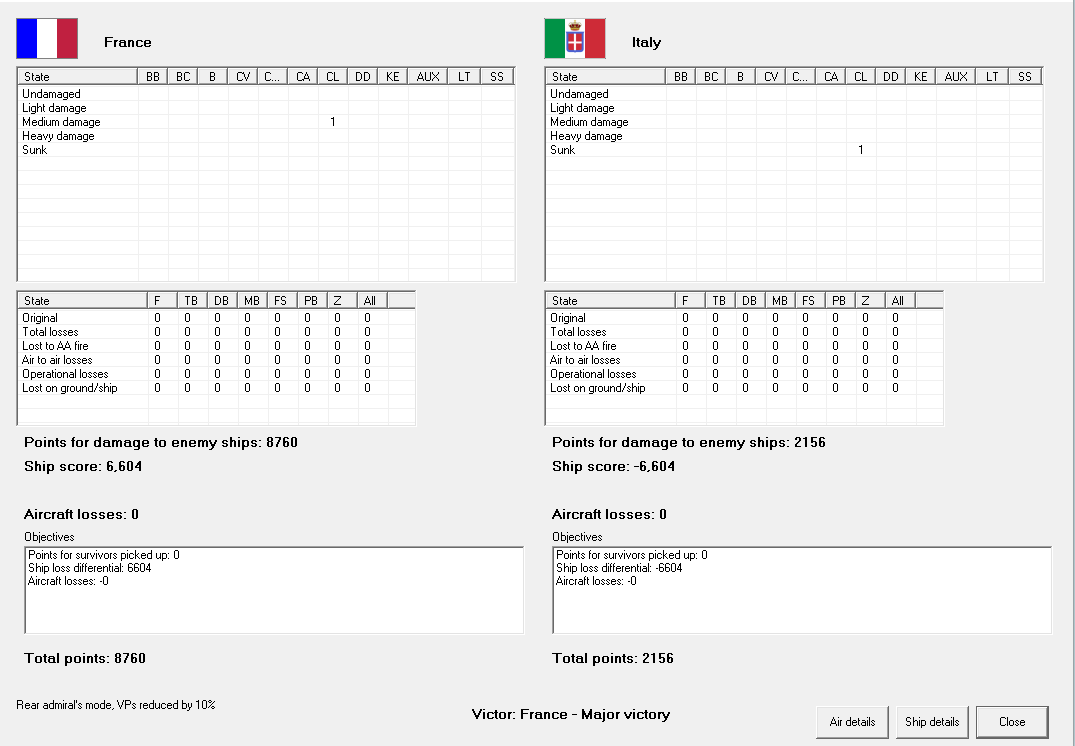 CL Surcof encounters an Italian raider off Congo, eventually pounding the enemy CL into rubble after a long battle thanks to superior gunnery. Her accuracy was three times that of the Italian ship. Major victory, 692 VP for us, 226 for them.
February 1916
We commission 2 SSC. A peace is concluded, with exceptionally favorable terms and a large war indemnity. Breakthrough: Concentration firing. Dewoitine develops an improved version of the D.41 flying boat, with significantly improved speed and range. Japan lays down a BB, Italy commissions a BC, Germany a KE, the US a BB. The remaining unmodernized Durandals are immediately ordered scrapped.