Inspired by some conversation in the comments, I decided to compile a comprehensive list of sunk battleships. Criteria for inclusion on this list are: the vessel must be a pre-dreadnought or dreadnought battleship or battlecruiser,1 and have been lost due to either enemy action or accident. Ships that were scuttled do not count unless in sinking condition,2 nor do ships sunk as targets. I have attempted to include ships whose attempts to sink were interrupted by the harbor bottom, even when they were subsequently put back into service, but it is likely that I missed one or two of these. These ships are denoted by asterisks. All told, I managed to get 90 entries, although one ship is on here twice.
An explanation for some of the column headers: I've used date laid down as the best proxy I can for the age of the design, because launch date can vary greatly depending on how the building goes. Some of the ships were extensively refitted before their loss, but I wanted to keep my data relatively clean, so I ignored that. Main and Secondary Causes were things that, in my view, led to the ship being on the bottom. Main Cause is the best answer I can come up with for "why did the ship actually sink?". Secondary cause is either the reason the main cause happened (in the case of internal explosions) or something that contributed significantly to the ship's loss, either by setting up the conditions for the main cause3 or as a major source of additional damage.4 This is inherently somewhat subjective, but I wanted to have reasonably consistent data instead of a paragraph on each ship to capture all of the nuances. Overall, I'm pretty happy with the result. Delivery is the source of the attack, particularly for torpedoes. Op? is to denote ships that were operational as warships at the time of loss, as opposed to battleships that were being used as barracks, targets, or some other non-warship function.
Of course, I wasn't just going to collect a giant pile of data without doing some analysis on it, although if you'd prefer to do your own, I've attached my spreadsheet here for you to play with.
The obvious first question is what actually killed battleships. If we just take the Main Cause field here, the results look like this: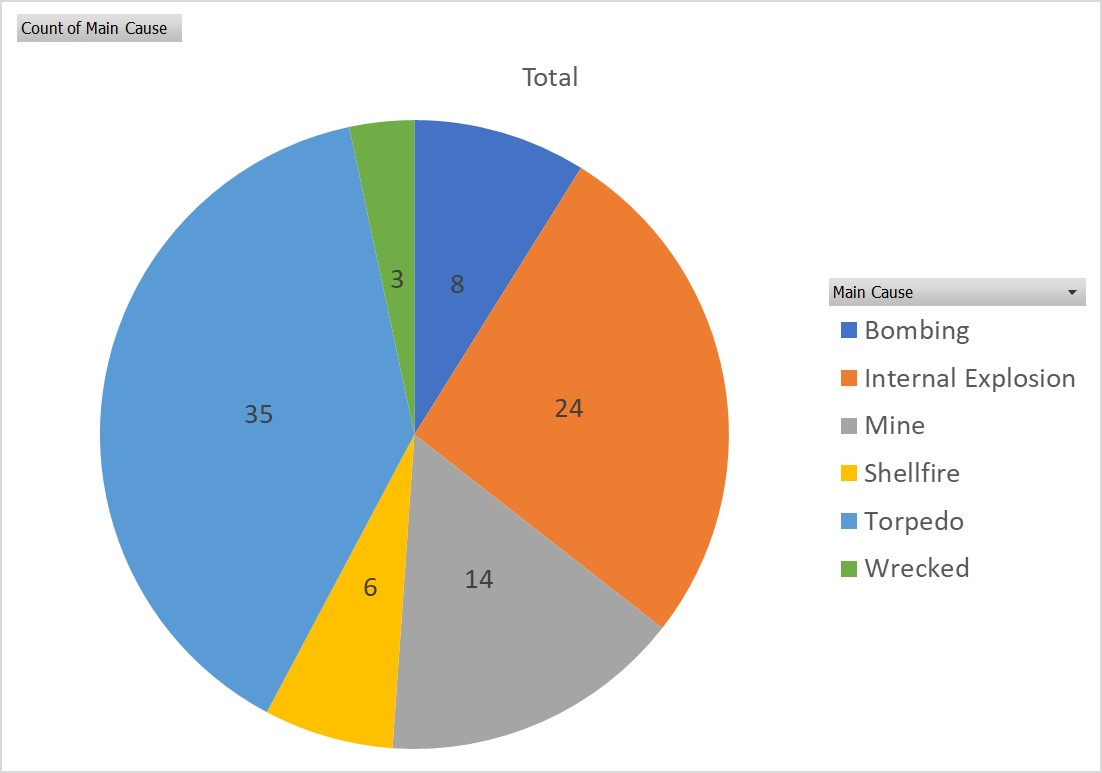 The kills are overwhelmingly dominated by torpedoes and internal explosions, with mines in third and all other causes making up 19% of the total. This isn't particularly surprising. Ships only sink when too much water gets in, and shells and bombs are not particularly good at letting it in, while wrecks were rare. But at the same time, this particular coding scheme obscures as much as it reveals, so I set up another column based on the root cause of the loss instead of the final cause (visible in the attached spreadsheet):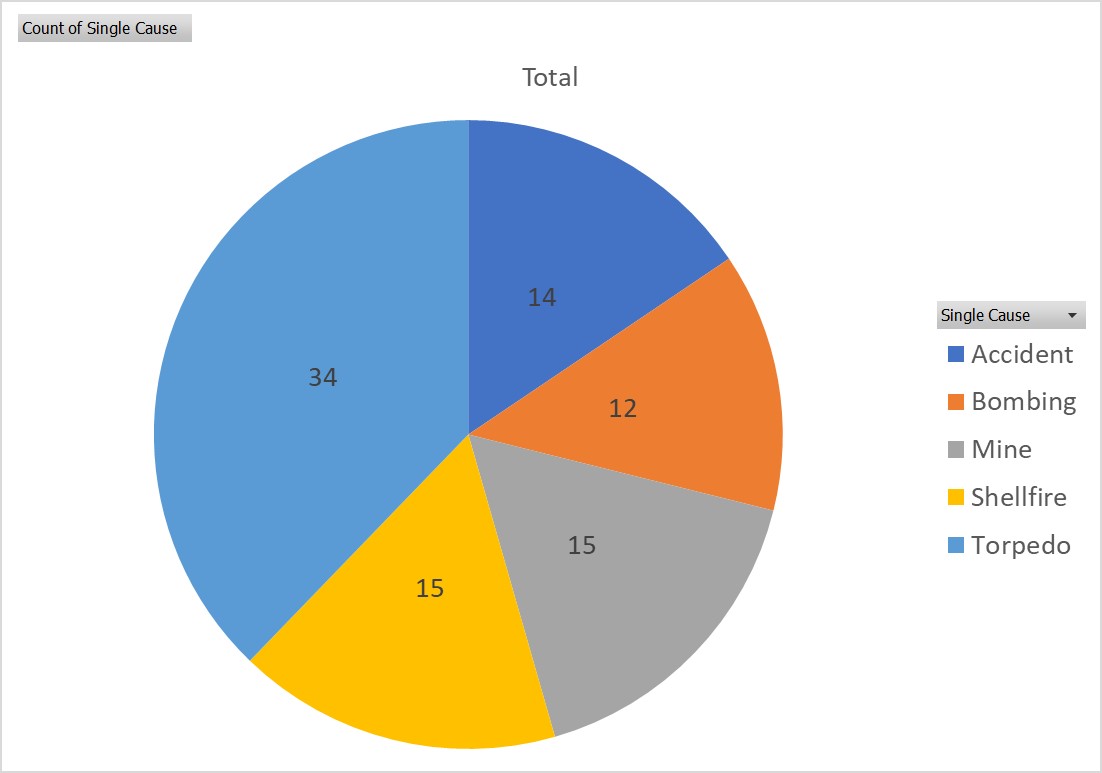 While torpedoes still dominate, shellfire is now tied with mines for second. The gains come mostly from internal explosions, but also a few ships scuttled due to extensive gunfire damage. Accidents and bombing took most of the rest of the internal explosions: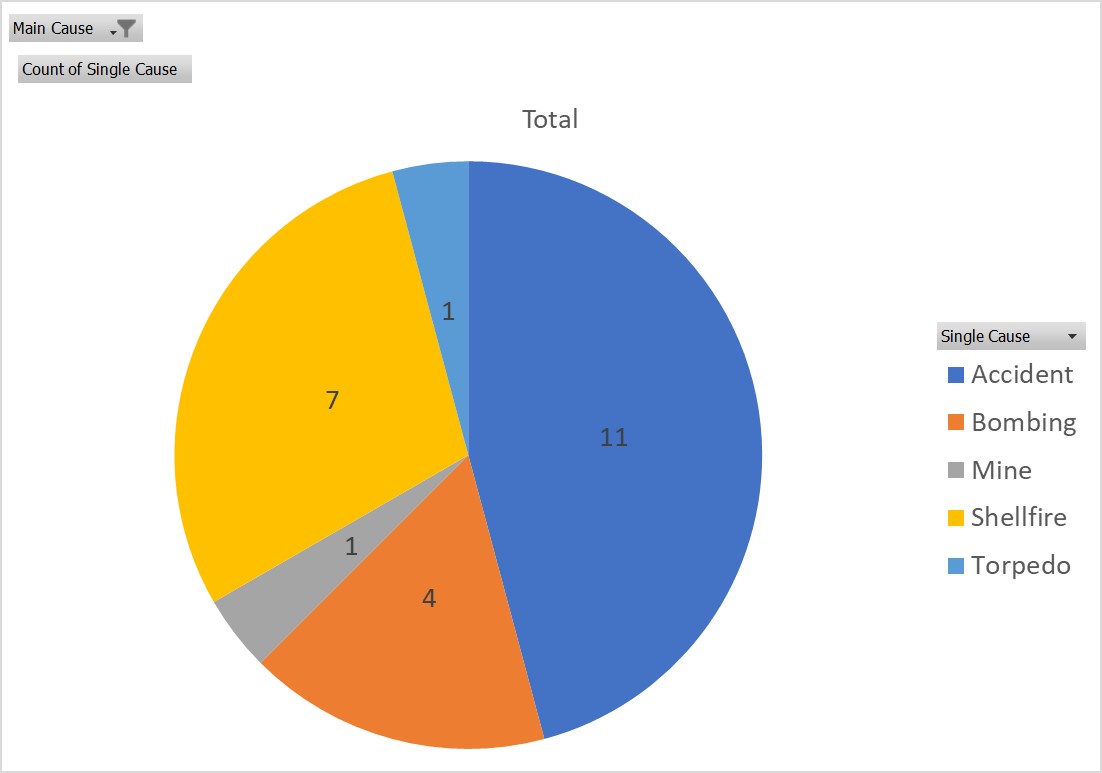 At this point, it's probably worth being more specific. For the following charts, I'm filtering off non-operational ships, as well as ships lost to accidents. This reduces the dataset to only 69 losses, but those are the ones we actually care about.
So underwater damage is the overwhelming cause of loss for these ships, either torpedoes or mines. But torpedoes in particular can come from many different sources, so I made another field to look more specifically at what sort of platform dealt the fatal blow, regardless of method. Small is a small (non-capital) surface ship, to distinguish them from Capital Ships: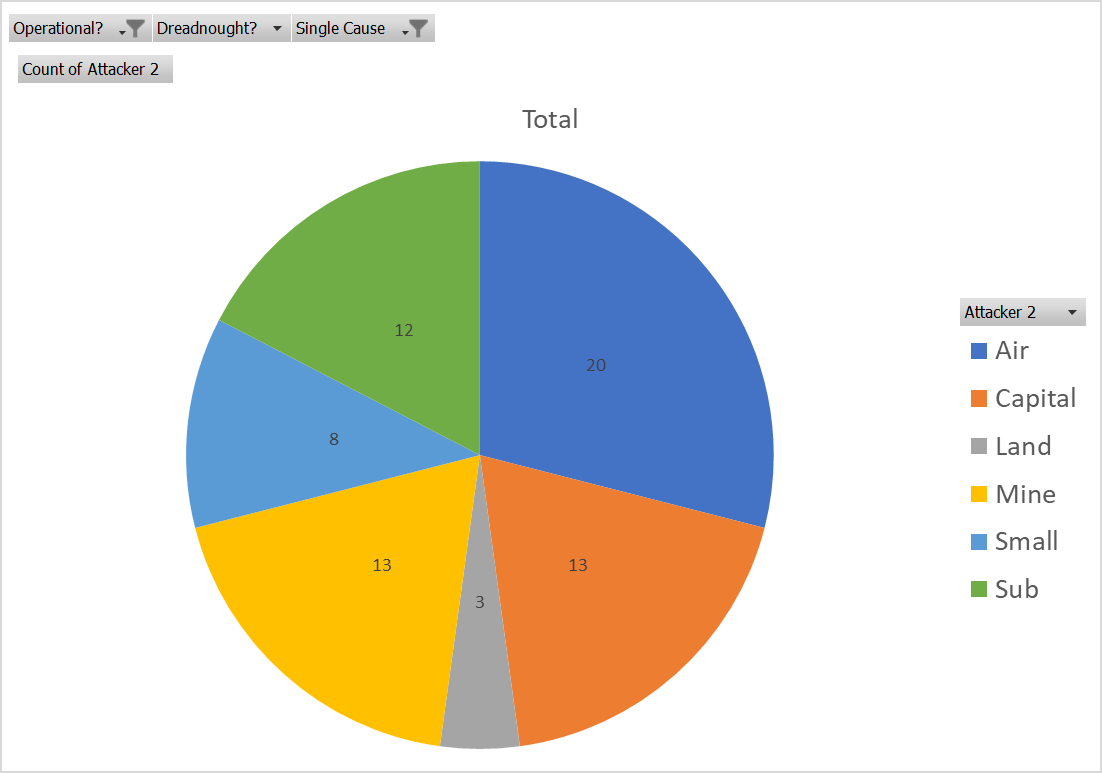 This suggests that rumors of the capital ship's pointlessness are greatly exaggerated. Capital is tied with Mine for second place behind Air, and has a much higher proportion of vessels sunk while at sea, as opposed to in harbor.
Another interesting chart is cause of losses by year. There's a definite shift away from gunnery and towards torpedoes and air attack, but not as radical as you might expect over the battleship's war service:5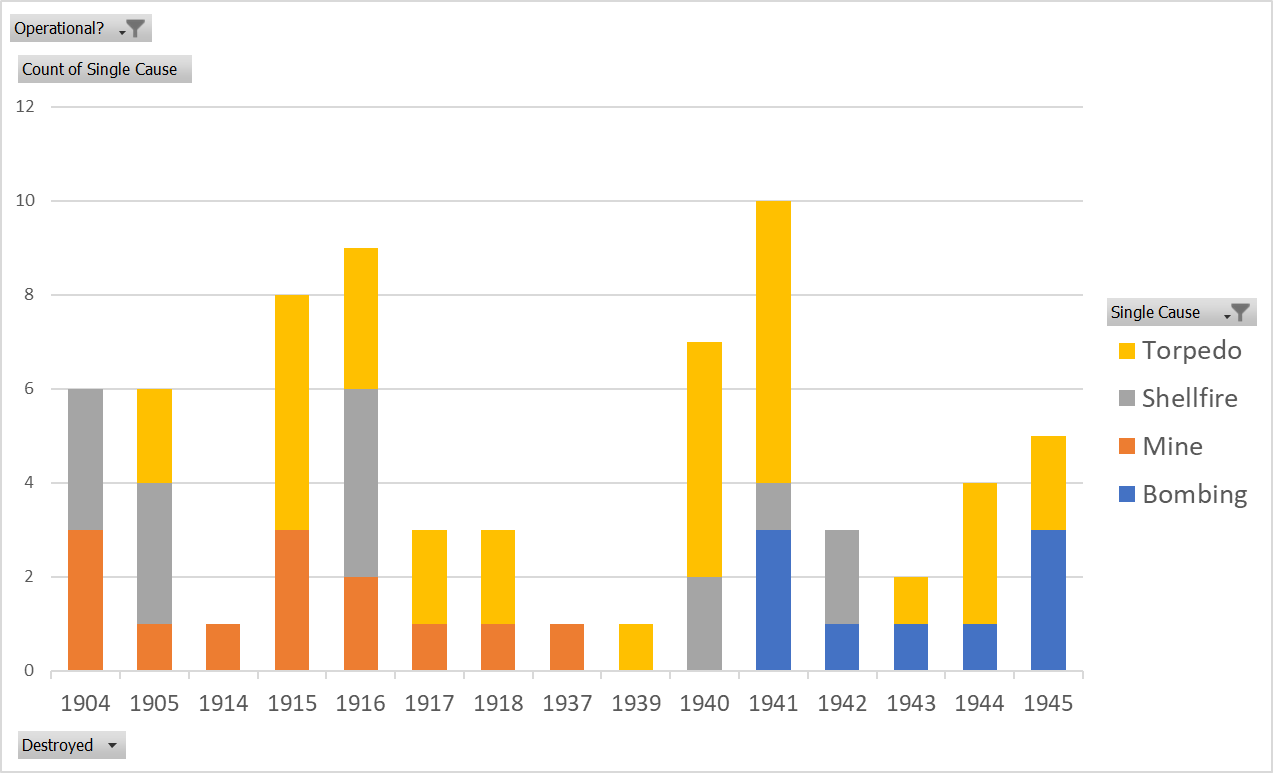 Lastly, it's worth looking at how ships fared by year laid down. I've split this into separate charts for pre-dreadnoughts and dreadnoughts to make it easier to read:
Unfortunately, this is heavily confounded by when the ships were sunk and the methods of attack common then, so the apparent trend towards greater relative resistance to shellfire is in fact illusory.
I'm sure this data has much more to give, but I also think that I've done enough for now. At the very least, this should give a better idea of what actually killed battleships, and what didn't.
---