Space has been an important source of military capabilities for the last 60 years, and it is only growing more critical. I've touched on several aspects of military spaceflight in the my writing where they've interacted with other subjects, but it seems worth taking a look more specifically at the history and development of military spaceflight, and the various systems in use, both in the past and today.
But we need to start with a very brief introduction to spaceflight and orbits.1 Getting into space itself isn't that hard. It's 100 km straight up, which means that, neglecting air resistance, you need to be going about 1,400 m/s to get there, or about Mach 4. But you'll barely brush space, then come straight back down, which generally isn't what you want. And that brings us to orbits. The basic insight behind an orbit is that if you go sideways at the right speed, the Earth's surface will fall away below you at the same rate you're falling, allowing you to fall around it forever. If you're in Low Earth Orbit (LEO, altitude below 2,000 km or so) then this is around 7.5 km/s, and you can expect to go around Earth every 90 minutes-2 hours. At higher altitudes, gravity is lower, and you don't need to go as fast. For instance, at an altitude of 35,786 km, you only need to go about 3 km/s, and the orbital period is exactly one day. This is called Geostationary Orbit, because a satellite in this orbit stays stationary relative to the Earth's surface, an extremely useful property we will come back to later.
If you go faster than the speed required for a circular orbit, then the surface falls faster than you do and you gain altitude and lose speed. If you're slower, then the reverse happens. And eventually, you'll be in the spot where the other trade is going on. As a result, all orbits form an ellipse, endlessly trading speed and altitude. Or at least almost all orbits being discussed here. If the bottom of the orbit is too low, the atmosphere (and possibly the Earth's surface) will mess up the rest of it. This is often of extreme military relevance, but is out of scope here. If you go really fast (escape velocity, about 11 km/s in LEO), then you'll leave Earth's gravity entirely, and end up orbiting the sun. This is rarely of military relevance.2
But orbits are just a neat trick until you put something useful in one, and the most obvious thing to do is to send up a camera and take a look at what your enemies are up to as it flies overhead. If you did this within the atmosphere, they would be well within their rights to shoot you down, but if you're in space, then anything you can see is fair game.3 So we can just set up the orbit so that it goes over the place we want to look at, and then we'll get a look every couple hours, right? Unfortunately, orbital mechanics are not so kind, and we run into two related problems. First, as the Earth rotates, the orientation of the orbit remains fixed in space. If a satellite is in a 2-hour orbit, it will find that after it completes one orbit, the point below it is 30° west of where it was at the start of the orbit. Or to put it another way, the satellite's groundtrack moves west at 15° an hour. Second, physics dictates that the plane of the orbit has to pass through the center of the Earth, so you can either spend all of your time over the equator or accept that you'll be at an angle to it. The angle at which the orbit crosses the equator is called the inclination, with an equatorial orbit having an inclination of 0°. Conveniently, the maximum latitude (both north and south) that an orbit passes over is equal to the inclination. The resulting groundtrack looks like a sine wave, shifted westward with each orbit. As a result, a satellite can generally pass over a given point no more than twice a day, and it won't reach any point higher than its inclination.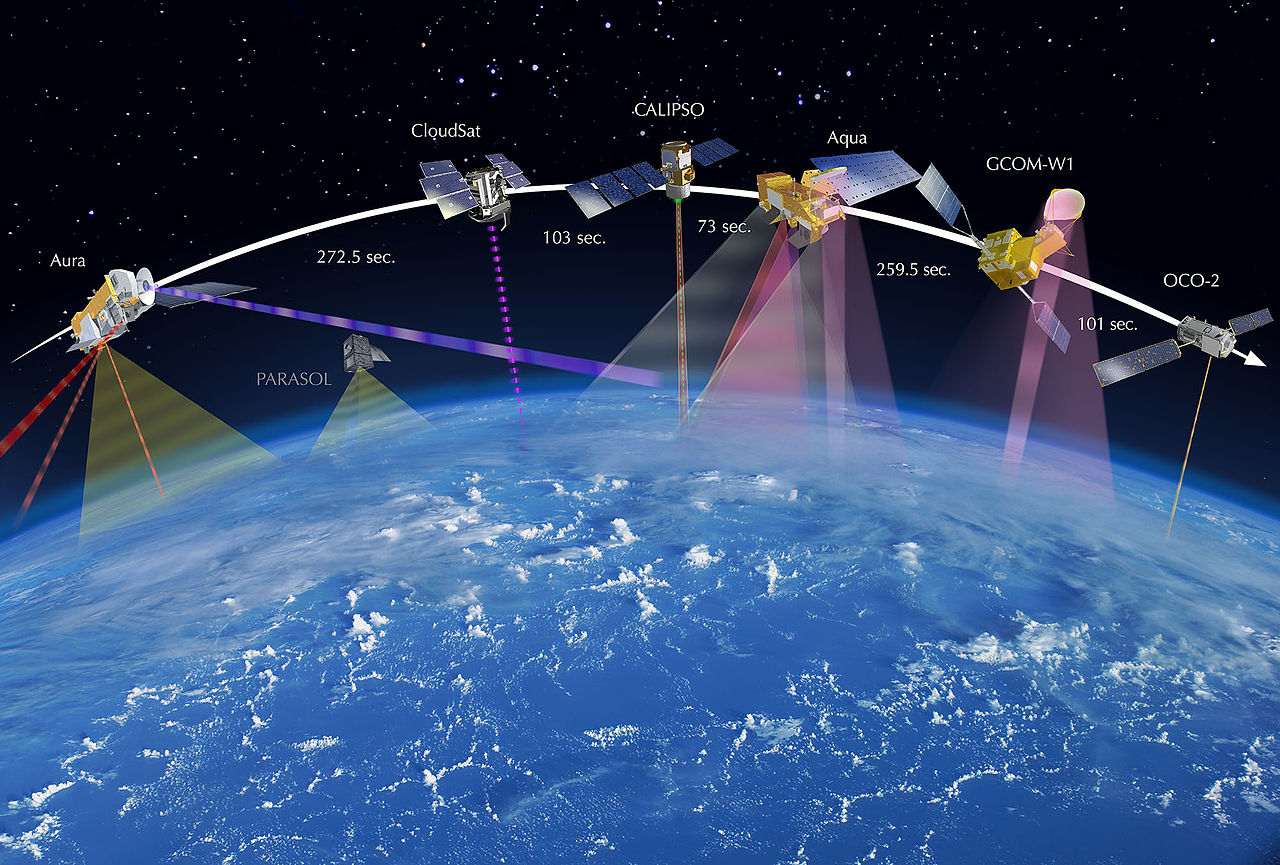 All of this leads to a simple conclusion: if we're going to spend a ton of money putting a fancy camera in space, we probably want to be able to see lots of places, which in turn means a high inclination. And at this point, we get a fun trick of orbital mechanics. There exists a specific type of orbit, known as a sun-synchronous orbit, that uses witchcraft so that the satellite passes over the equator at local noon/midnight (or any other given time pair) on each orbit, and the inclination for this orbit is between 97° and 100°, depending on altitude.4 This is very useful if you're trying to use a camera, as it means you see all of the interesting bits of Earth's surface and you have consistent lighting conditions on each pass. Typically, these orbits are either set up for 10:30 AM/PM passes5 or for dawn/dusk passes, depending on exactly what the satellite is doing.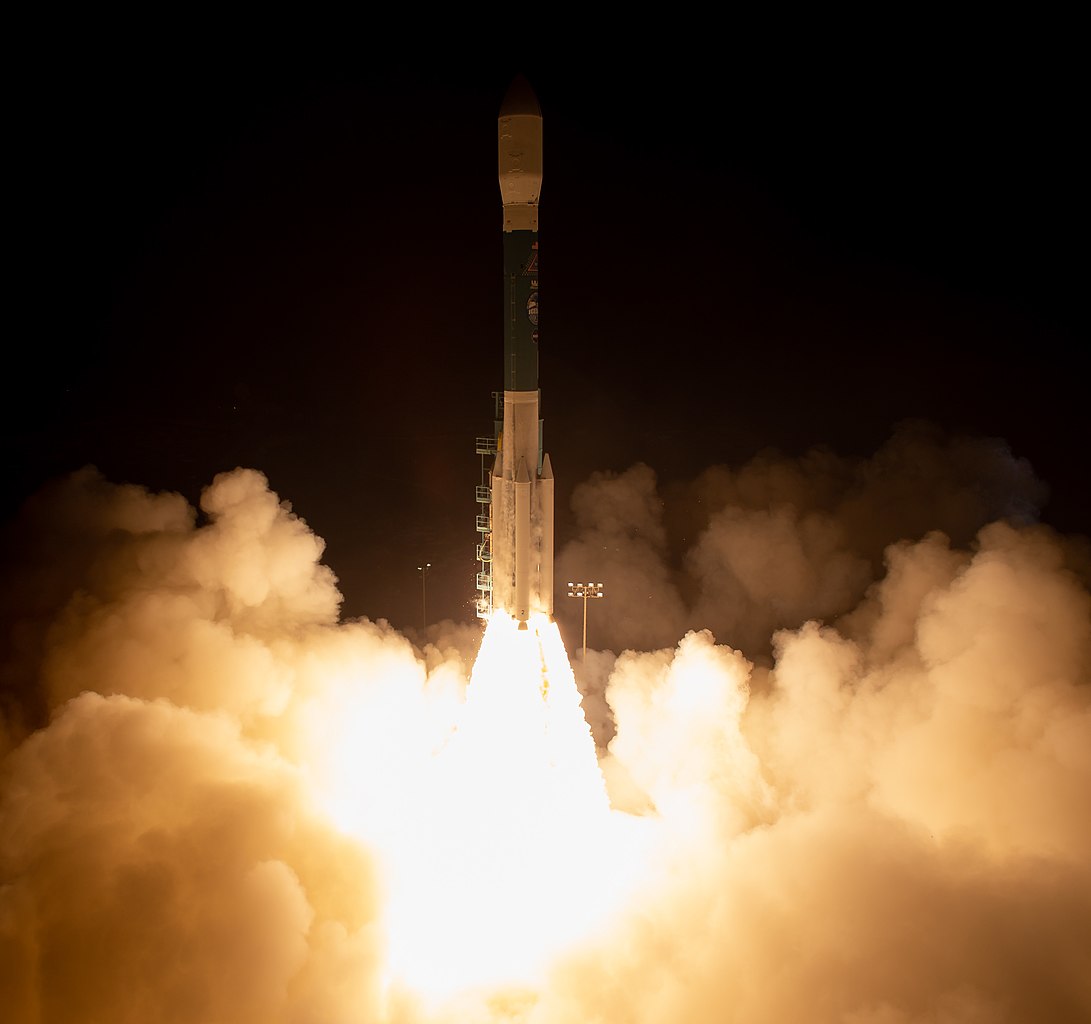 Of course, it's also worth noting that satellites don't magically appear in orbit, much though we might wish them to. Instead, we have to strap them onto giant rockets, which we call boosters because it sounds cool. Almost all early boosters were based on ballistic missiles, and one of the reasons that Sputnik so panicked the West was that any rocket capable of placing a ton of satellite in orbit could also place 5 tons of nuclear weapon on a trajectory for Washington or New York.6 The biggest problem is that even getting something into LEO requires about 9.5 km/s7 of delta-V,8 and for complicated rocket science reasons, it's hard to get a single rocket to give you more than 6-7 km/s of delta-V. The solution is staging, where you build a small rocket that can give the satellite 5 km/s of delta-V, then mount that on top of a bigger rocket that has 4.5 km/s of delta-V. When the big rocket is used up, you throw it away and light the small rocket.
But this is all quite wasteful, and so rocket scientists have to be experts at shaving off delta-V where possible. One good place to get it is from the Earth's rotation. If you want to go into an orbit with a relatively low inclination, you take off going east, and the closer to the equator you are, the faster you start off going. This is why the main US launch center is at Cape Canaveral, which is fairly far south and has a big stretch of water to the east for rocket bits to land in without harming anyone other than some fish, and shaves about 500 m/s off the required delta-V. The problem comes if you are trying to get into a polar orbit, because in that case, the Earth's rotation doesn't help you much. Also, for Cape Canaveral specifically, taking off into a polar orbit involves overflying either the Carolinas (who we like) or Cuba (who will complain if we drop rockets on them). So American rockets going into polar orbits launch out of Vandenberg AFB, near Los Angeles, where they can fly south over the Pacific. But regardless of where the launch is, getting into a polar orbit takes more delta-V than an equatorial orbit, which in practical terms means that a given rocket can carry less payload there. For instance, an Atlas I could put about 5600 kg to a 28° 185 km orbit from Florida, but only 4800 kg to a 97° 185 km orbit from Vandenberg. Note that higher orbits also require more delta-V, with a consequent reduction in payload. For instance, our Atlas I could only put about 1040 kg in geosynchronous orbit.9
This account of the basics of spaceflight may seem a bit abbreviated, and with good reason. There are lots of people who have done extensive work on explaining this, and it didn't seem like an area where I had a lot to add, so I stuck to what was strictly necessary to understand the stuff I'm trying for here. If you want more, I can recommend here for orbits, here for rockets, Atomic Rockets for general Sci-Fi stuff and Wikipedia's various pages.
But with all of that out of the way, we can finally turn to the main thrust of this series, starting with a look at the eyes in the sky that are recon satellites.
---