A great deal of ink has been spilled around nuclear strategy, and most of it has vastly overcomplicated the issue. The most basic principle is that nuclear weapons raise the cost of war to the point where it is completely obvious that there is no way that war could pay. Note that the importance of nuclear weapons here is more in perception than in reality, because while through most of human history, war was very profitable, by the start of the 20th century, the destructiveness of military force had reached the point where a war would cost more than you could gain unless you got very lucky. Both world wars showed this quite clearly,1 but millennia of cultural memory of war paying (because, among other things, the cultures that did war were the dominant ones) meant that this wasn't particularly clear.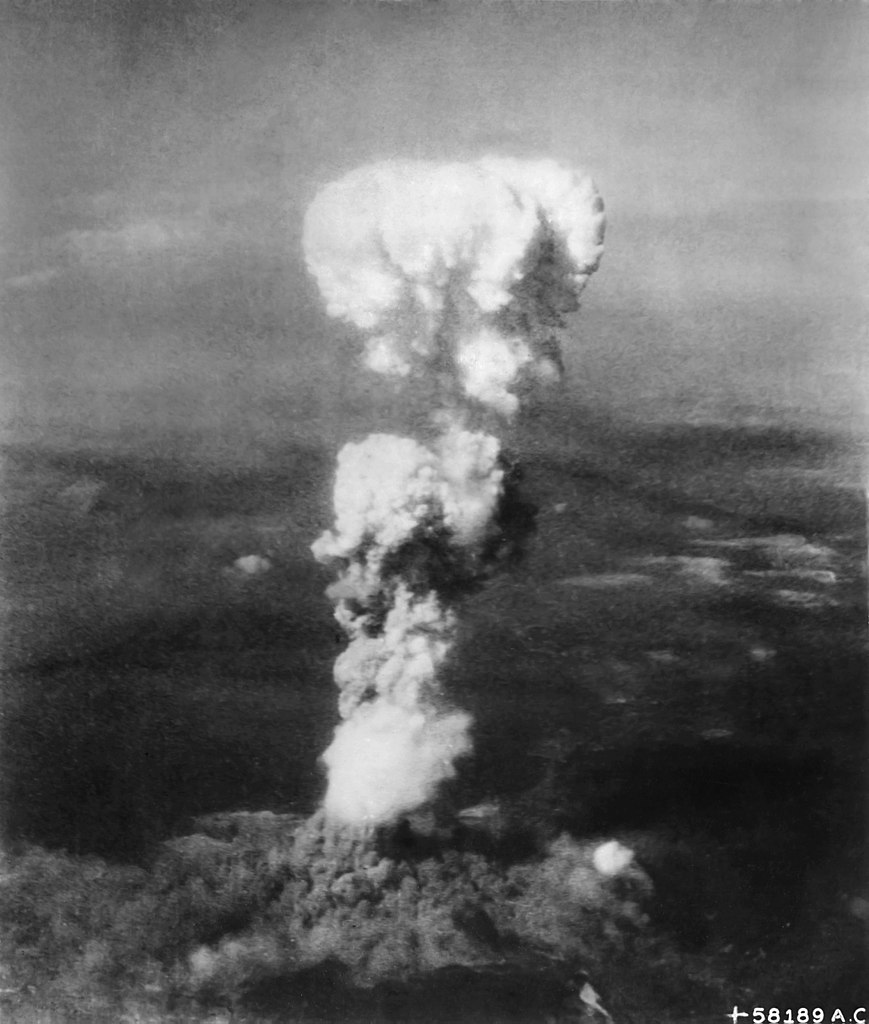 Nuclear weapons short-circuited all of this. Their destructiveness is unquestioned, and if they are likely to be involved it's extremely hard to make the case that war will pay, even to yourself. This is the major reason we are currently experiencing the longest period of great-power peace in recorded history. So long as nuclear weapons remain in play, there's a very strong incentive for even the most reckless regime to not push things too far. This is deterrence, and Bret Deveraux has laid out a fair bit of the history here.
But there's still a gap between the theory of deterrence and putting it into practice. For starters, simple possession of a nuclear weapon isn't enough. You need to be able to deliver enough nuclear firepower that the other side gets the message that fighting a war with you would be a bad choice under their logic, even if they were to strike first in an attempt to take it out. Exactly what this means is going to vary widely depending on who you are deterring, best illustrated by a few examples.
First, we'll take a look at the world's newest nuclear power, North Korea. They're a minor country directly facing down the world's leading military and economic power, which is historically a terrible place to be without a very strong patron, which they don't have. The alternative is nuclear deterrence. So long as the possible cost to the United States of doing something about North Korea is greater than the cost of not doing something, we'll leave them alone. And when the cost in question is a nuclear weapon over a major American city,2 then the US is going to be very reluctant to act. Nor does the downside have to be assured for the deterrence to work. The US Ground-Based Midcourse Defense system is primarily aimed at a North Korean attack, and intercept tests so far are successful about 50% of the time. But with only 44 interceptors and the possibility of a broader system failure, the President isn't likely to gamble on that keeping American cities safe unless he has to. The obvious move for the US is to try to take out the ICBMs before they launch, but North Korea has made this much more difficult by making its missiles road-mobile and hiding them in a large underground tunnel complex.
The end result of all of this is that the President is extremely unlikely to intervene in North Korea. Even if the probability of a warhead reaching an American city is in the single digits, that's still a massive downside risk, to say nothing of the far more certain risks brought on by a more conventional war. But note that in all of this, there is no way that North Korea comes out on top, and no real reciprocity in the level of destruction involved. The United States would survive without New York or Los Angeles. North Korea would survive primarily as a series of glowing craters.
But what about the opposite end of the spectrum? The US, at the height of the Cold War, built its nuclear arsenal around deterring a very different foe. First and foremost, Soviet leadership had to care far less about public opinion than did American leaders. When the American nuclear buildup began in the late 1940s, Stalin still ruled in Moscow, and he would have been perfectly capable of sacrificing a few cities to get what he wanted. So the American arsenal needed to be able to not only hurt the Soviet Union, but to cripple it economically and militarily. And while none of Stalin's successors were as ruthless, there was always the risk that a new Stalin would emerge. Beyond that, cutting the American arsenal would be seen, both internally and externally, as soft on Communism, so it declined slowly from its peak in the early 60s through the late 80s, when it then plunged thanks to the end of the Cold War.
But the details of the arsenal and how it would be employed varied wildly over the four decades between the invention of thermonuclear weapons3 and the end of the Cold War. Eisenhower, the first President to deal with this problem and an experienced General who knew virtually all of the key players on both sides of the Iron Curtain, was quick to recognize the basic logic of deterrence. He also saw that the Soviets would realize it as well, and that the most important thing he could do was to set up the United States for a long conflict, which meant keeping military spending as low as possible while still preventing the Soviets from expanding.
To accomplish this, he rolled out a "New Look", and a strategy where the US would respond to any attacks by the Soviets or their proxies with "massive retaliation" at a time and place of their choosing. This was against the background of the recently-concluded Korean War, which had been very costly, and where the use of nuclear weapons had been rejected. Eisenhower planned to prevent a repeat not through massive garrisons and conventional forces, but by promising that if the Soviets stepped too far over the line, we would attack them directly. The exact line was left ambiguous, giving the US the freedom to respond without actually destroying the world, and the policy worked to keep the Soviet bloc fairly quiet throughout the late 50s.
The only real loser from the "New Look" was the US Army, which had seen deep cuts while funding flowed to the Navy and particularly the Air Force's Strategic Air Command, the primary organization tasked with carrying out the "massive retaliation". Even the forces that remained were restructured to optimize them for the atomic battlefield and equipped with large numbers of tactical nuclear weapons, intended to make it clear that attacking them would inevitably lead to nuclear war. Many within the Army were displeased with this, most notably General Maxwell Taylor. Taylor became a prominent critic of massive retaliation, which he believed would be unable to cope with Soviet incursions that didn't warrant an all-out nuclear war, and his ideas were welcomed by an up-and-coming politician by the name of John F. Kennedy.
Kennedy's defense policy was almost directly opposed to Eisenhower's. While Eisenhower had realized that the destructiveness of nuclear war would tend to cool heads, Kennedy and his administration believed that a nuclear exchange was almost inevitable without careful management from above. "Massive retaliation" was replaced with "flexible response", a strategy that cut nuclear forces and rebuilt the Army for limited conflicts in the Third World. To implement all of this, Kennedy relied on his Secretary of Defense, Robert McNamara, a man whose career had primarily been spent as a manager in the automotive industry and who thought he could run the DoD the same way. The results were immediate and disastrous.
Kennedy, despite still having a massive advantage in strategic forces, repeatedly negotiated as if he had the weaker hand, and Khrushchev was quick to take advantage, attacking the West over the status of Berlin, which was becoming an increasing problem for East Germany as their population fled through the city. Kennedy more or less invited Khrushchev's preferred solution, built as the Berlin Wall, a major departure from his campaign rhetoric about "rolling back" communism. Khrushchev then tried another offensive, deploying ballistic missiles to Communist Cuba. Kennedy reacted far more violently than the situation warranted, bringing the world to the brink of nuclear war over a Soviet deployment that merely matched the US deployment of Jupiter missiles to Turkey before a solution was finally agreed. Both sides would withdraw their missiles, although in practice submarine-launched missiles quickly replaced them.
Kennedy's team then turned their eyes to the latest front, Vietnam, where for most of the next decade they would use the strategic theories developed to "manage" a nuclear war to manage a conventional war into a US defeat. So concerned were they with not escalating that they forgot to win, repeatedly restricting the target lists and backing off of anything that actually hurt the other side. It was only after American public opinion had firmly turned against the war that Richard Nixon, who had learned strategy from Eisenhower, took the handcuffs off American forces and twice forced North Vietnam to the negotiating table.
But the debacle in Vietnam had given the Soviets the chance to gain the upper hand, both in their strategic arsenal and in conventional forces in Europe, the later exacerbated by serious morale and discipline issues in the US military during the late 70s. This was almost the problem that massive retaliation had been intended to solve, but there was little political will for it, thanks to wide acceptance of the logic of mutually assured destruction. Instead, it was hoped that tactical nuclear weapons could provide the edge NATO needed to stop the Soviet hordes, and that this could somehow be done without escalating into an all-out nuclear war. The Soviets, secure in their conventional superiority, adopted a so-called "no first use" policy in 1982, and pressured NATO to do the same. The Western nuclear powers wisely refused to take the bait, despite considerable Soviet propaganda efforts.
The late 80s saw the conventional balance in Europe swing in NATO's favor, thanks to the widespread adoption of new digital technologies that the Soviet Union's sclerotic economy simply couldn't match. Most notable among these were the new smart weapons, which gave the capability for a single airplane to take out a hardened target, a capability previously only available through the use of tactical nukes. Soviet attempts to rebuild their economy to respond to this, and to other economic attacks like Reagan's Strategic Defense Initiative, ultimately undermined the system and brought down the USSR.
Many aspects of this have clear parallels to the situation we face in Ukraine today. NATO obviously has the upper hand in conventional forces, and is held back from intervening by the fear of nuclear retaliation, a problem the Biden administration has so far dealt with clearly in the mold of Kennedy, more focused on their fear of what the other side will do than on making them afraid of what we will do. This is best shown by their repeated statements of what they won't do, providing clear space for Putin to maneuver in, and things like cancelling previously-scheduled military exercises for fear that they would be seen as "escalatory". A better policy would be ambiguous but also assertive, making Putin wonder how far he can push us. For instance, a statement like "We stand ready to respond to any use of weapons of mass destruction against our friends with nuclear weapons" is both ambiguous and assertive. There's no clear commitment to nuclear war if Putin gasses Mariopol, but it also doesn't rule out responding to a nuclear attack on Ukraine the way that restricting the guarantee to our formal allies would. China would undoubtedly take notice of our assertiveness and be far less likely to take action against Taiwan, which has been the beneficiary of this kind of strategic ambiguity for decades. The ultimate destructiveness of nuclear war means that Putin should be as scared of us as we are of him, but that can only happen if we are willing to act more like Eisenhower and less like Kennedy.
---
1 The last great power war where the victor might have considered the war to have been a good idea in retrospect was the Russo-Japanese War (1904-1905), although even there Japan essentially bankrupted itself and had to settle for a lot less than what it wanted. The Sino-Japanese War is on firmer ground for this prize. The only potential exception involves seizing natural resources from a much weaker country, e.g. Iraq's invasion of Kuwait, but the world has decided not to tolerate that either. ⇑
2 North Korea accidentally-on-purpose showed a "nuclear targeting map" on a TV broadcast, with targets identified as Washington DC, San Diego, Honolulu, New York, San Francisco and Shreveport, LA. All but New York and San Francisco are the places where the people who would be planning a war against North Korea live, and perhaps more importantly where their families live. Shreveport is home to Barksdale AFB, home of Global Strike Command. And yes, North Korea has exactly six mobile ICBM launchers, and is unlikely to get more now that China has cut them off. ⇑
3 The hydrogen bomb was in many ways as revolutionary as the pure-fission atomic bomb, although the two were so close together that they tend to blend together in retrospect. As the reign of the atomic bomb was so short, I will ignore that era for the sake of compactness. ⇑