Gentlemen,
Europe has been at its most peaceful for at least a decade over the last year. This is probably good for us, but it's been bad for our budget. We have only been able to resume construction on the cruiser Forbin, and propose to resume work on Brennus and suspend Charles Martel to ensure that all three ships of the Devastation class finish while still reasonably modern. The upside is that other nations have also been forced to suspend ships, and we are a clear second in the race for the new vessels.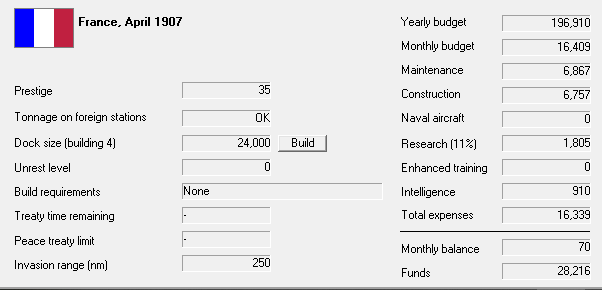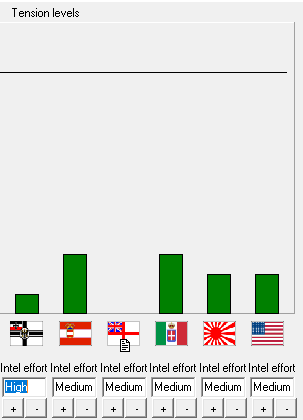 Beyond that, things have been quiet. We've refitted most of our battleships and armored cruisers with improved fire control, and research continues to go well, with the development of main battery wing turrets, cross-deck firing, and improved 14" guns.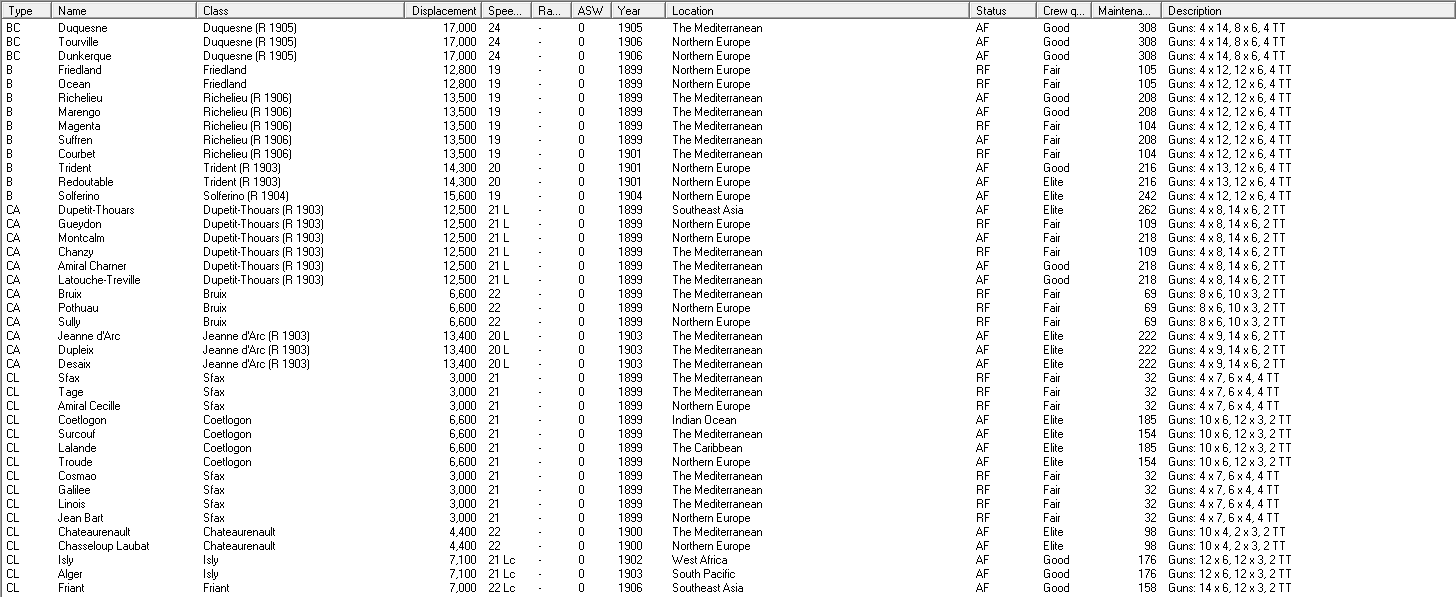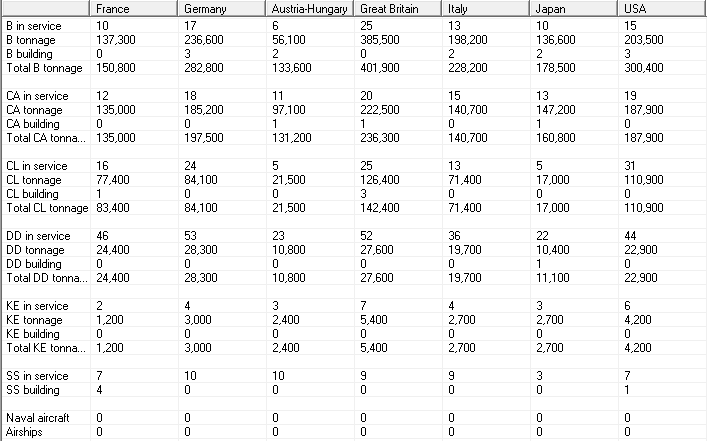 April 1906
Breakthrough: Small tube boilers I. Germany commissions a DD, Italy a CL.
May 1906:
BC Dunkerque finishes working up. We've gotten ahold of the blueprints for Austrian CA Leitha. Germany commissions 2 DD, UK a CA, Italy a CL, US a CA and a CL. A-H is building larger docks.

June 1906:
CA Gueydon enters refit. Improvements in productivity boost our industrial production, but not enough to let us restart any ships. We've stolen blueprints for US B Rhode Island. Germany commissions 5 DD, UK a B. US is building larger docks.

July 1906:
Bs Marengo and Richelieu and CA Admiral Charner finish reconstruction. We initiate a shooting competition to improve gunnery, won by CL Surcouf. Many nations halt construction of ships due to financial difficulties. Germany stops a BB, A-H a CA, the US a BC. Germany commissions a DD, Italy a CL.
August 1906:
Bs Courbet and Suffren and CA Montcalm enter refit. A new round of dock expansion is ordered. Breakthroughs: Torpedo protection I, Improved compressed air supply. A-H has laid down a BB, Japan a DD. Japan commissions CA. US has halted construction of a B.
September 1906:
We buy the technology for main battery wing turrets from Japan. We pass up the opportunity to create tension with Britain over the theft of ship design secrets. This is something we would only do to preserve our alliance with them.
October 1906:
CA Gueydon completes reconstruction. Japan commissions 2 DD. A-H has suspended a B, Italy a BB, US a B.
November 1906:
Bs Courbet and Suffren finish reconstruction. Britain commissions BB Irresistible. Japan commissions a CA.
December 1906:
The surge in tension finally gives us enough funds to resume work on CL Forbin. B Magenta enters reconstruction. Spies steal plans of Austrian BB Erzherzog Ferdinand Max. Germany commissions B.

January 1907:
CA Montcalm finishes her reconstruction. Breakthrough: Automatic range transmitter. Italy commissions B, CA, US commissions CA.
February 1907:
Breakthroughs: Improved annealing, Improved AP cap. A-H has halted construction of B, BB due to financial difficulties. A-H commissions 2 CA, UK a CL, Japan a DD.
March 1907:
B Magenta finishes reconstruction. We deny a Japanese request to buy improved turret mountings. Breakthrough: Better 14" guns (Quality 0). A-H and Italy commission CAs, Japan a DD, US a B.
---
April 1908
Gentlemen,
The last year has seen little change in the international situation. Tensions with Germany, Italy and Austria have slowly increased, but there has been no substantial changes. Britain has commissioned two more Irresistibles, and the US has barely beaten us as the second nation to build one. Devastation will commission in July if everything stays on schedule. However, we have two more that will follow the first by a year, while they have no other ships under construction.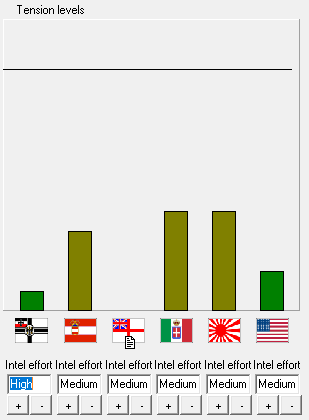 We are about to have at least one slot for further construction, and do need to decide on a construction plan. We could lay down another capital ship, or work on our smaller units. In particular, we haven't laid down any destroyers in the past two years, and could probably do with a new design.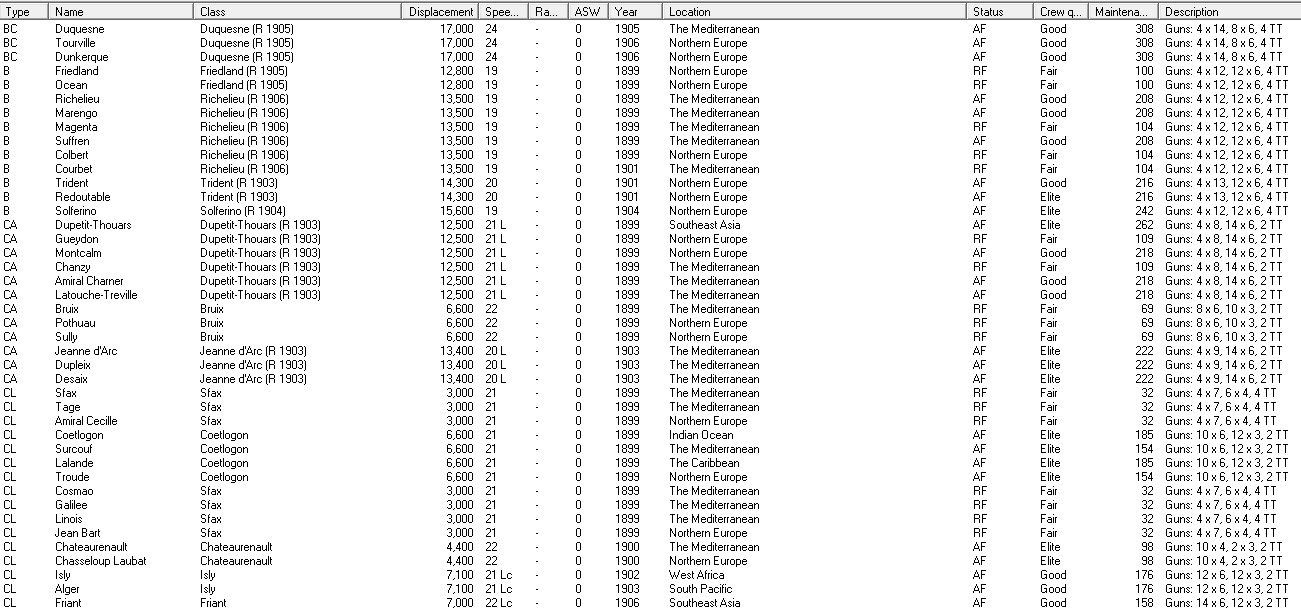 April 1907
We insult Italian shipbuilding, leading to an increase in tension with Italy. Unfortunately, this doesn't really help our budget for some reason. Breakthrough: superimposed X turret. Japan commissions a CA, the UK a BB.
May 1907
We sell the US the rights to improved AP caps for enough for two months of construction on a Devastation. Germany and A-H each commission a B.
June 1907
We refuse to sell Italy small-tube boilers. The UK lays down another BB and commissions 2 CLs. Japan commissions a DD and lays down a BC.
July 1907
New docks are completed. B Colbert finishes her reconstruction. We turn down an Italian request for fire-control technology. UK lays down a BB. Germany, Japan and US all commission Bs, UK a CA.
August 1907
B Friedland begins reconstruction. UK lays down another BB. US and Japan commission Bs.
September 1907

Improvements in productivity boost our industrial production. Our spy steals the plans for German BB Westfalen, currently under construction. Breakthrough: Explosive sweeps. UK commissions BB, CL.
October 1907
Construction of CL Forbin suspended to free funds for resumption of BC Marseille. Italy tries again to buy naval technology, and is again rebuffed. Breakthrough: Coastal submarine. UK lays down another BB, US commissions 2 B.
November 1907
B Friedland finishes reconstruction. Italy tries to buy explosive sweeps, and we agree, hoping to pour the cash into warship construction. US lays down 4 DD.
December 1907
B Ocean begins reconstruction. Breakthrough: 9' rangefinder. UK lays down 3 DD, 1 BB. US lays down 2 DD. Germany, US and A-H each commission 1 B, A-H also commissions 1 CA.
January 1908
Japan lays down 2 CL.
February 1908
An Austrian fishing boat blunders into a restricted area, and is sunk by one of our ships. We refuse to apologize, raising tension with Austria. Somehow, this has no effect on our budget. Breakthrough: Improved rolled shipbuilding steel. Germany is reported to have secretly increased naval expenditures, and commissions BC Von der Tann. Italy also increases their naval budget. US lays down 1 DD.
March 1908

B Ocean finishes her reconstruction, ensuring that all battleships, battlecruisers and large heavy cruisers have the latest fire control. Our spies steal plans for Italian BC Lepanto. An agent of ours is caught in Japan, and we make him a national hero. This raises tension, although our budget stays stable again for some reason. Germany lays down a BB. Italy commissions a B, US a BB.