Gentlemen,
So far, the war is going very well. Despite continued trouble from Austrian submarines and raiders, our policy of pursuing big, powerful battlecruisers has been amply justified by recent victories off Syracuse and Sirte, each of which resulted in the destruction of an Austrian battlecruiser. Only three vessels of that type remain in their service now. Moreover, our recent foray into the Adriatic has gravely damaged their military resources and relieved pressure on the British in Dalmatia.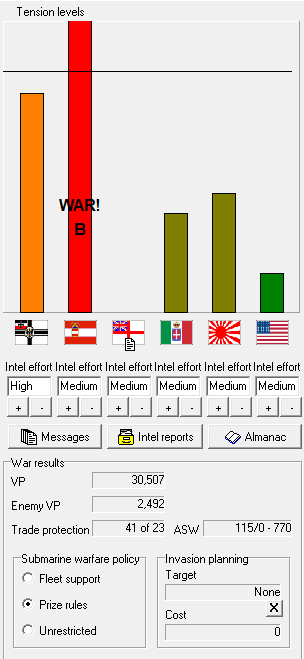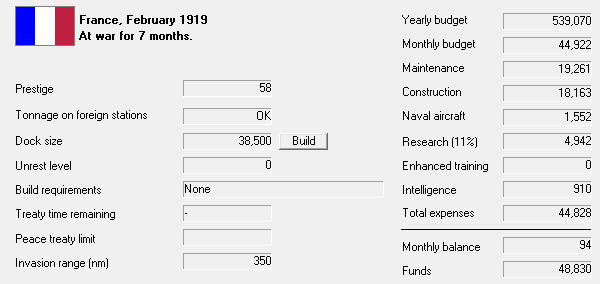 Currently, our biggest challenge is the threat to our commerce. We have recently commissioned a number of anti-submarine trawlers, and have more under construction. The raider threat is harder to handle, as we continue to need modern CLs for fleet duties as well as trade protection. Losses in that category to mines and submarines have not made the problem easier. But we remain optimistic, and hope to bring Austria to the peace table as soon as possible.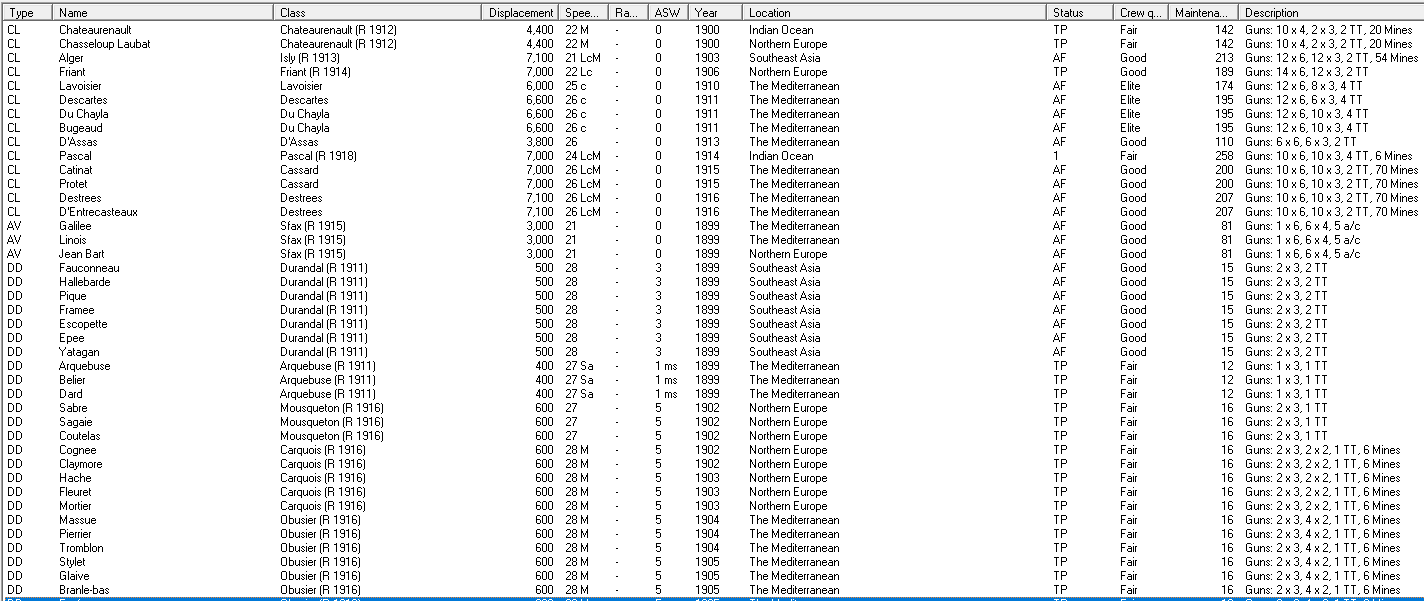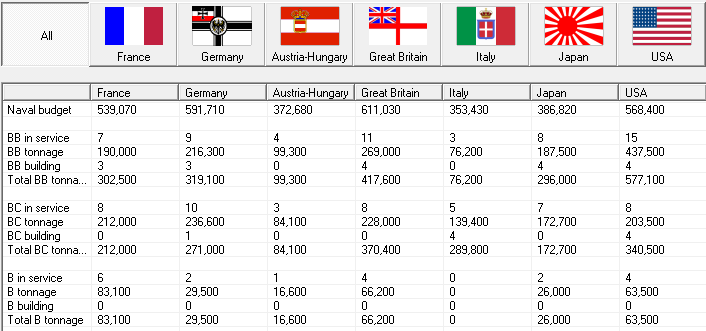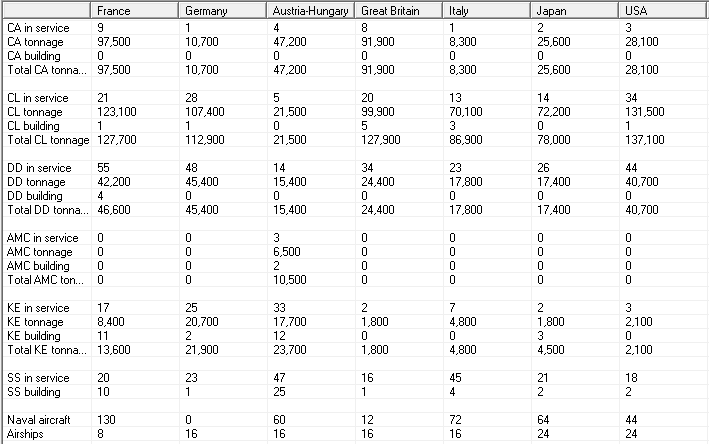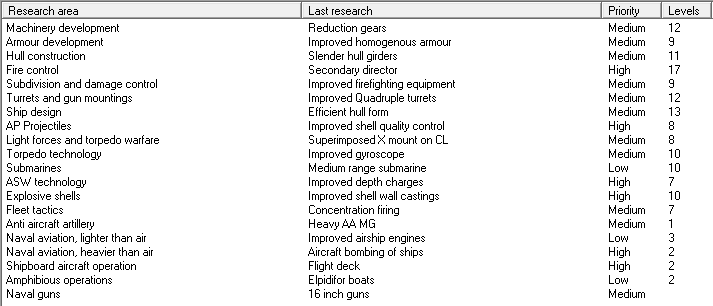 August 1918
1 SSC commissions. CL Pascal finishes her reconstruction. Dewoitine D.60 selected as our new flying boat prototype. CL Isly sunk by an Austrian submarine. BB Saint Louis hits a mine and will be in dockyard hands for 6 months. In revenge, we get 4 of their subs and 6 merchant ships, and a cost of 5 merchies each to raiders and subs. DDs Espingole and Arc laid down. AH lays down 12 KE, 1 AMC, US 1 BC. AH commissions 1 BB, 4 KE. 230 VP for blockade. 4 Ville De Thann class minesweepers and 2 more Ville De Strasbourg KEs laid down.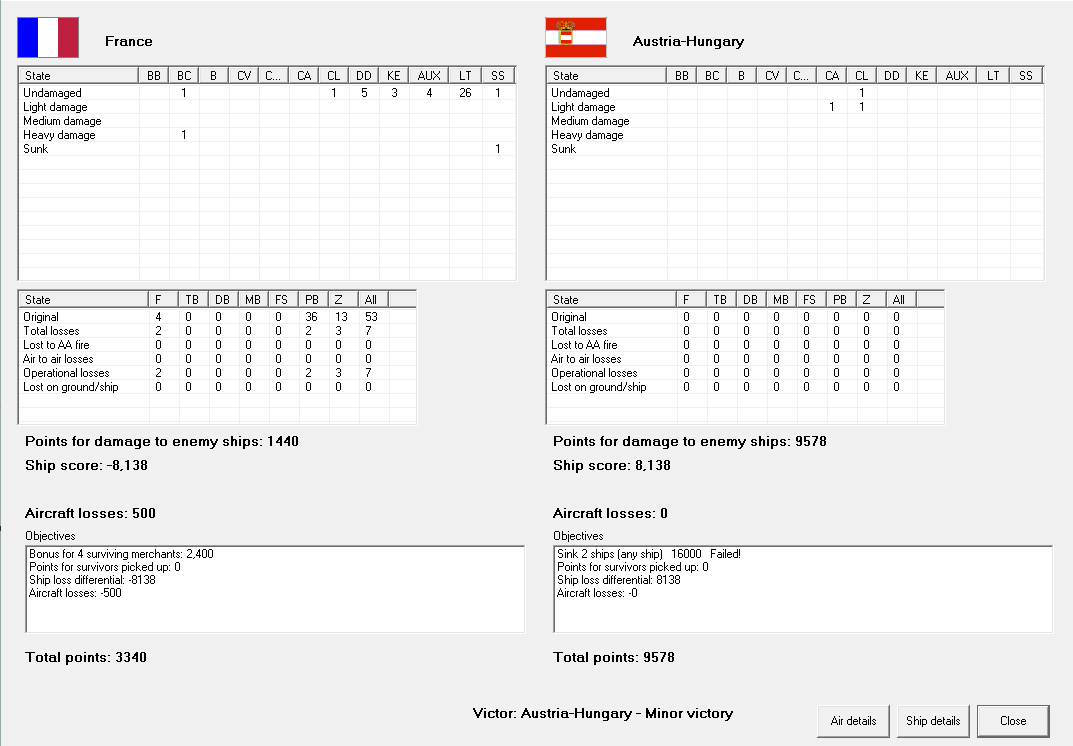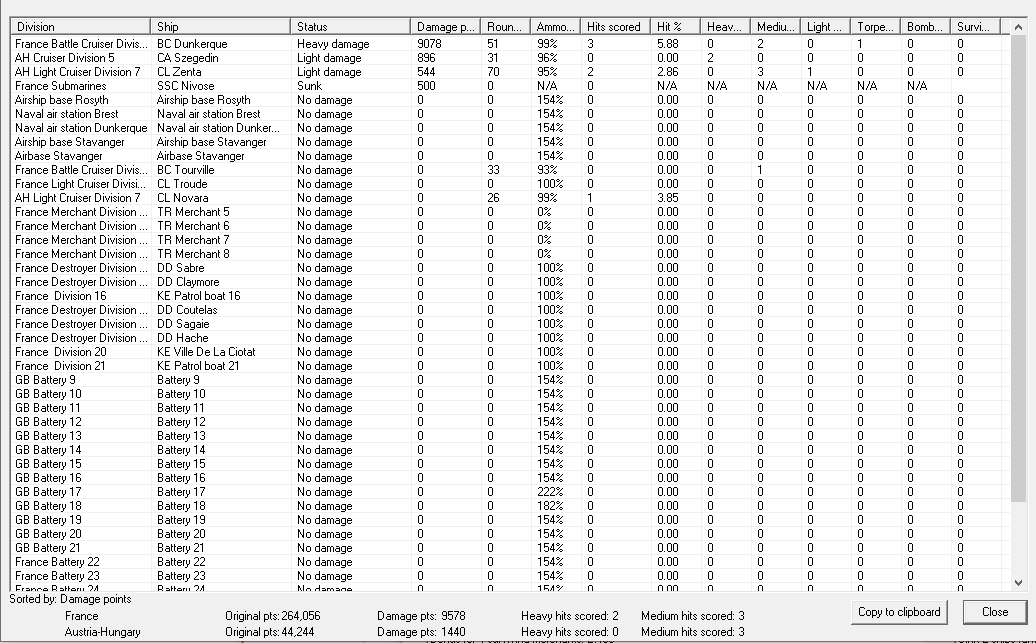 Coastal raid off Western France. CL Troude leads BCs Dunkerque and Tourville, who encounter an Austrian formation of 1 CA and 2 CL at dusk. Unfortunately, night falls before more than a few hits are landed on the Austrians. A chance encounter late at night sees the Austrian ship escape. BC Dunkerque was torpedoed on her way home, and one of our submarines failed to return, giving the Austrians the victory. 746 VP for them, 316 for us.
September 1918
Private shipbuilding expands max dock size by 1000 tons. We commission 3 submarines. Our subs sink 3 ships for one loss. We kill 1 sub, lose 16 merchies to subs, and 3 more to raiders. AH lays down 1 AV, 1 AMC, Japan and US 1 BB each. AH commissions 3 KE. 220 VP for blockade. 4 SSC laid down.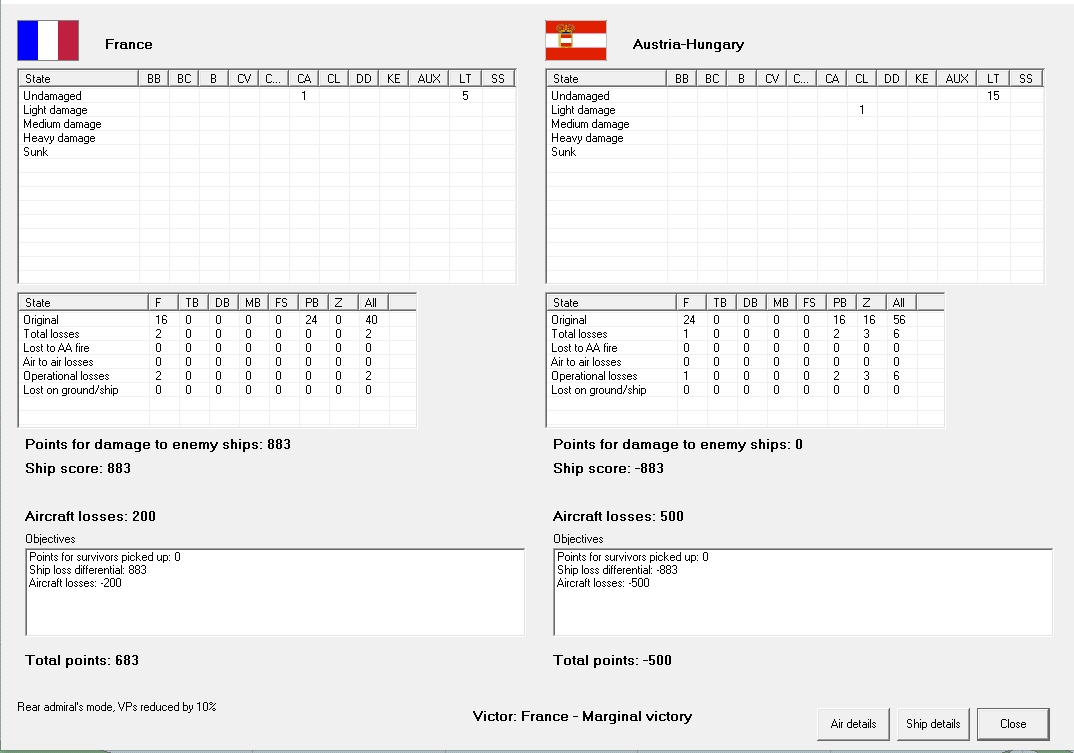 CA Chanzy intercepts an Austrian CL raider. While it lands a few hits, the Austrian cruiser is too fast and pulls out of range. Ultimately, a marginal victory for us, giving us 98 VP and them 0.
October 1918
BB Charlemagne finishes working up. AV Cosmao sunk by an enemy submarine. We lose 16 merchies, half to subs and half to raiders, and 1 sub of our own. Germany lays down a KE, AH an AMC and 6 KE, the UA an AV. AH commissions 1 KE. 220 VP for blockade. Airbase construction begun at La Rochelle.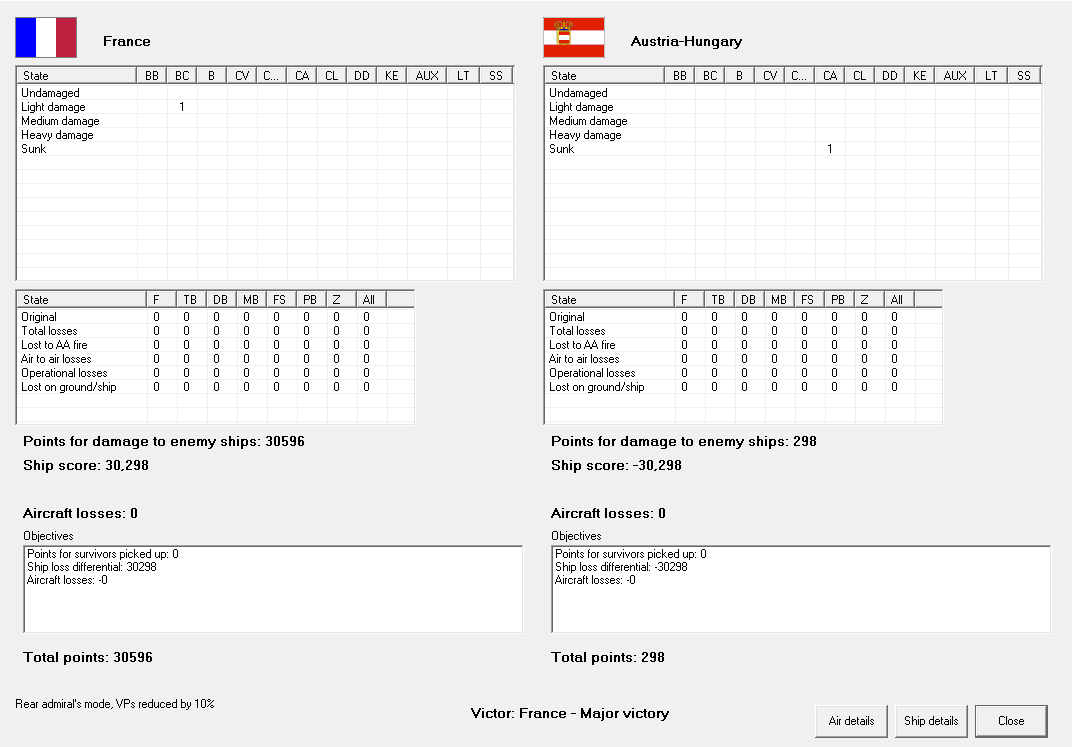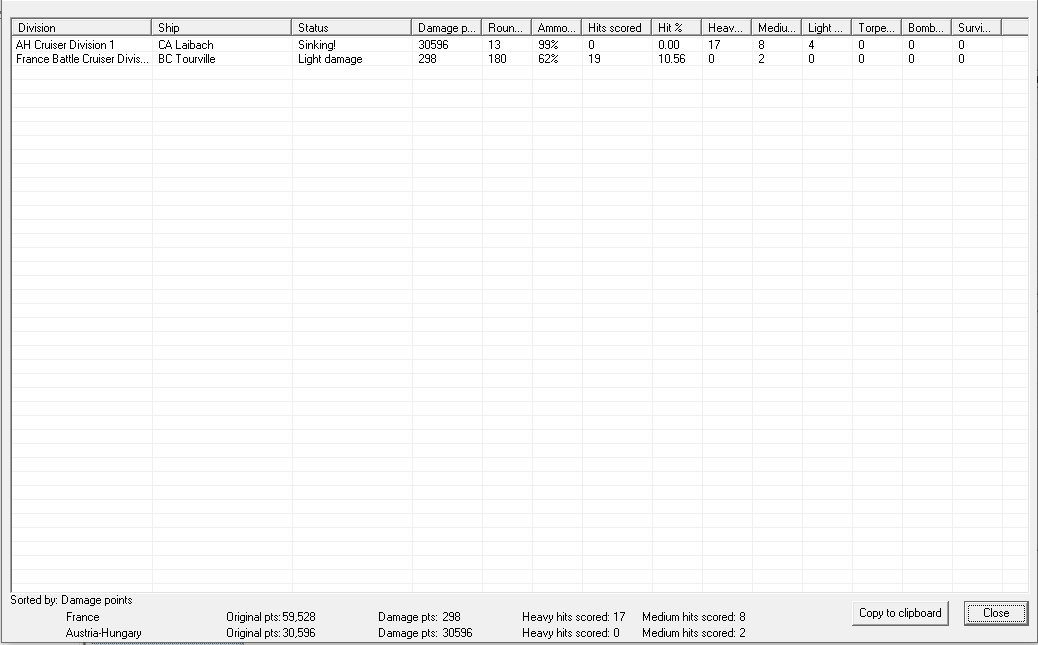 BC Tourville intercepts an Italian CA attempting to run the blockade, and manages to hit it several times, slowing it enough for Tourville to come up on it. Darkness briefly hides the enemy ship, but then Tourville finds her again and pounces, bringing her to a halt and ultimately sinking her. A major victory, gaining us one prestige, 2,051 VP and giving them only 57.
November 1918

4 KE commissioned. Our spies steal blueprints for the new British CL Canada. Breakthrough: Heavy AA MG. Dewoitine D.60 enters service. DD Cimterre sunk by enemy submarine. CL Coetlogon damaged by a mine, while one of our mines sinks DD Tatra. Our subs sink 2 merchies, while theirs sink 7, along with 3 from raiders. We get 3 of their subs. US lays down 1 BB. AH commissions 5 KE, 1 BC, Italy 1 AV, UK 1 CL. 220 VP from blockade. 4 Ville De Strasbourg and 2 Ville De Thann class KEs laid down.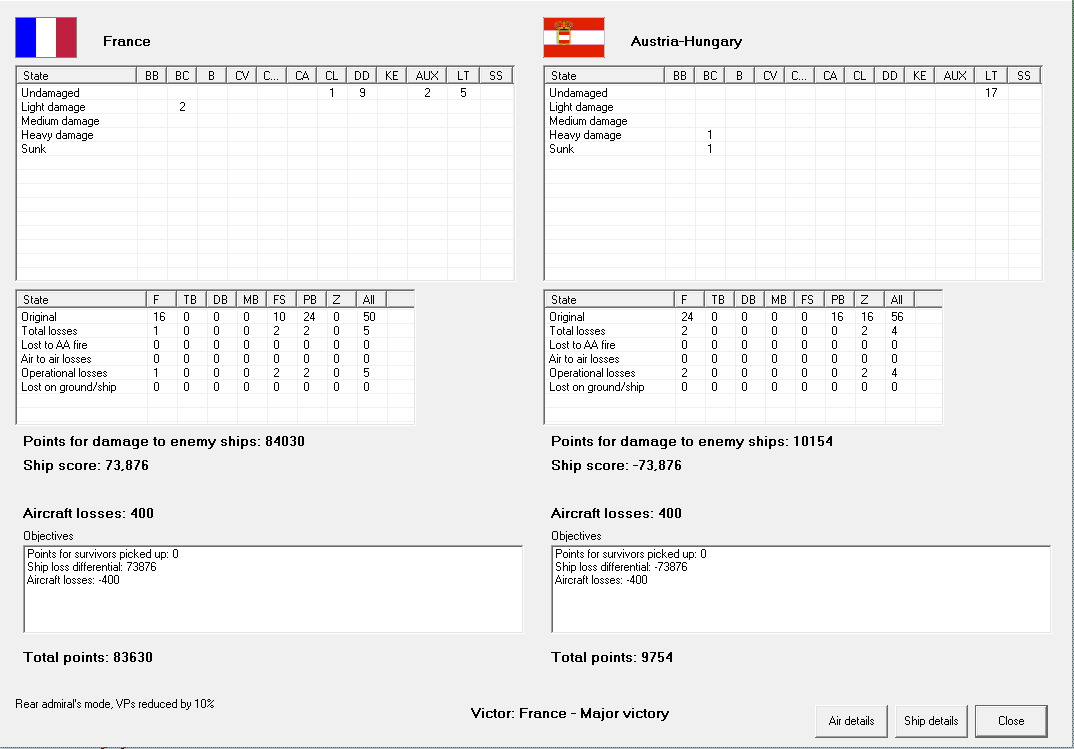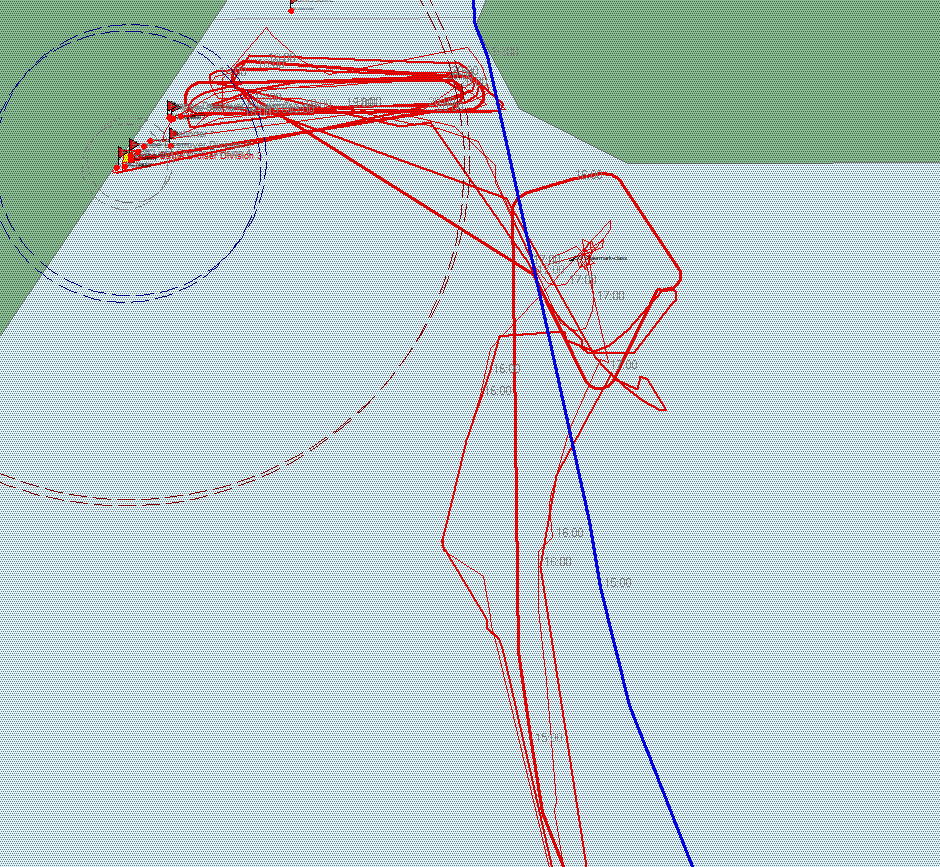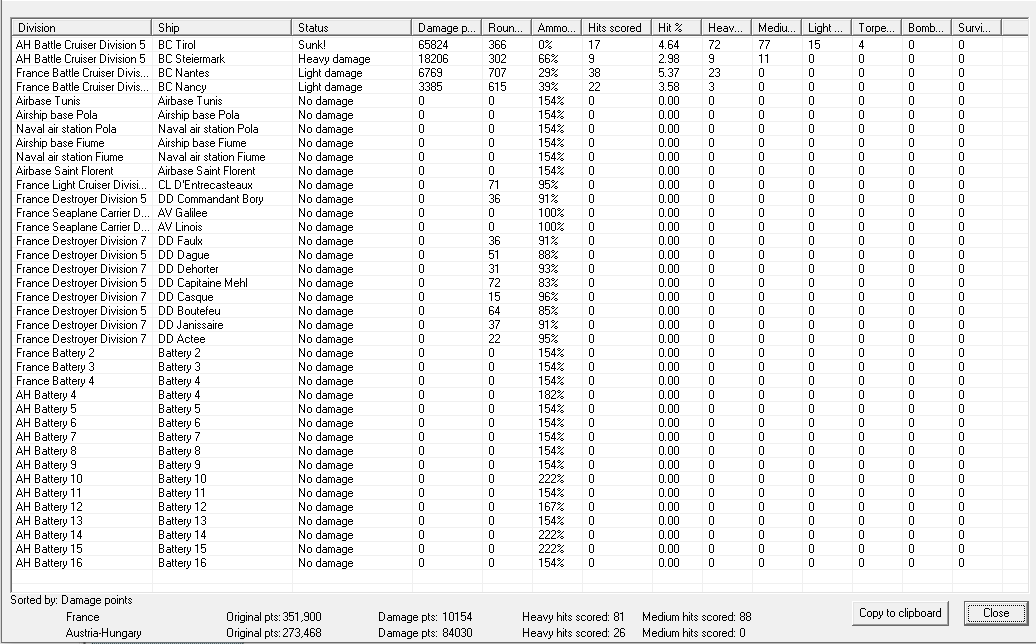 Cruiser battle off Sicily. 2 of our BCs, with screen encounter a pair of Austrian ships. The Austrian vessels retreat to the north, but despite uptake damage to Nancy, we stay with them, and slowly begin to batter them into submission. One is finally lamed, and the battlecruisers pounce, although the other gets away as darkness falls. Destroyers eventually overtake and torpedo the enemy ship, putting her on the bottom. A major victory at the Battle of Syracuse, granting us 2 prestige and 5,154 VP to only 757 VP for them.
December 1918

5 KE commission. Our spies steal the blueprints for BB Montana. Breakthrough: Improved depth charges. The blockade is causing food shortages in Austria-Hungary. CL Cassard sunk by a mine in the Med. We each lose 2 subs this time, with theirs taking 7 ships and ours 1. We also lose 7 ships to raiders. We lay down 4 new 600-ton minesweepers and 2 more Espingoles. AH lays down 3 KE, 1 AMC, Italy 1 BC. AH commissions 1 AMC, 9 KE. 210 VP for blockade.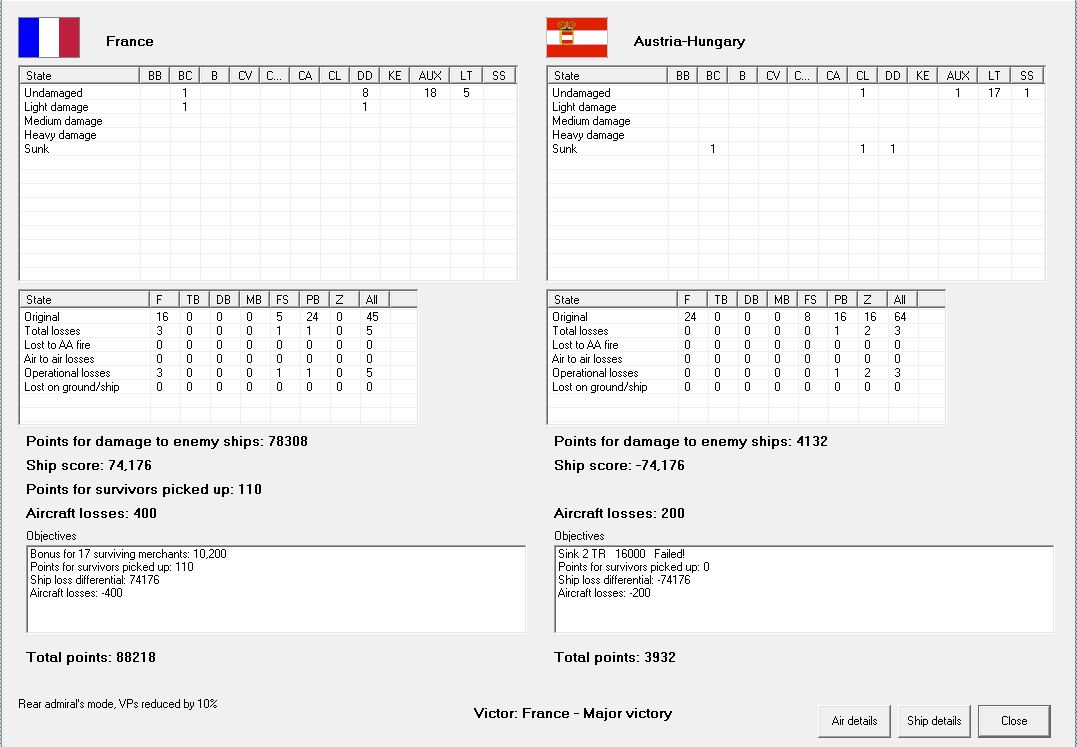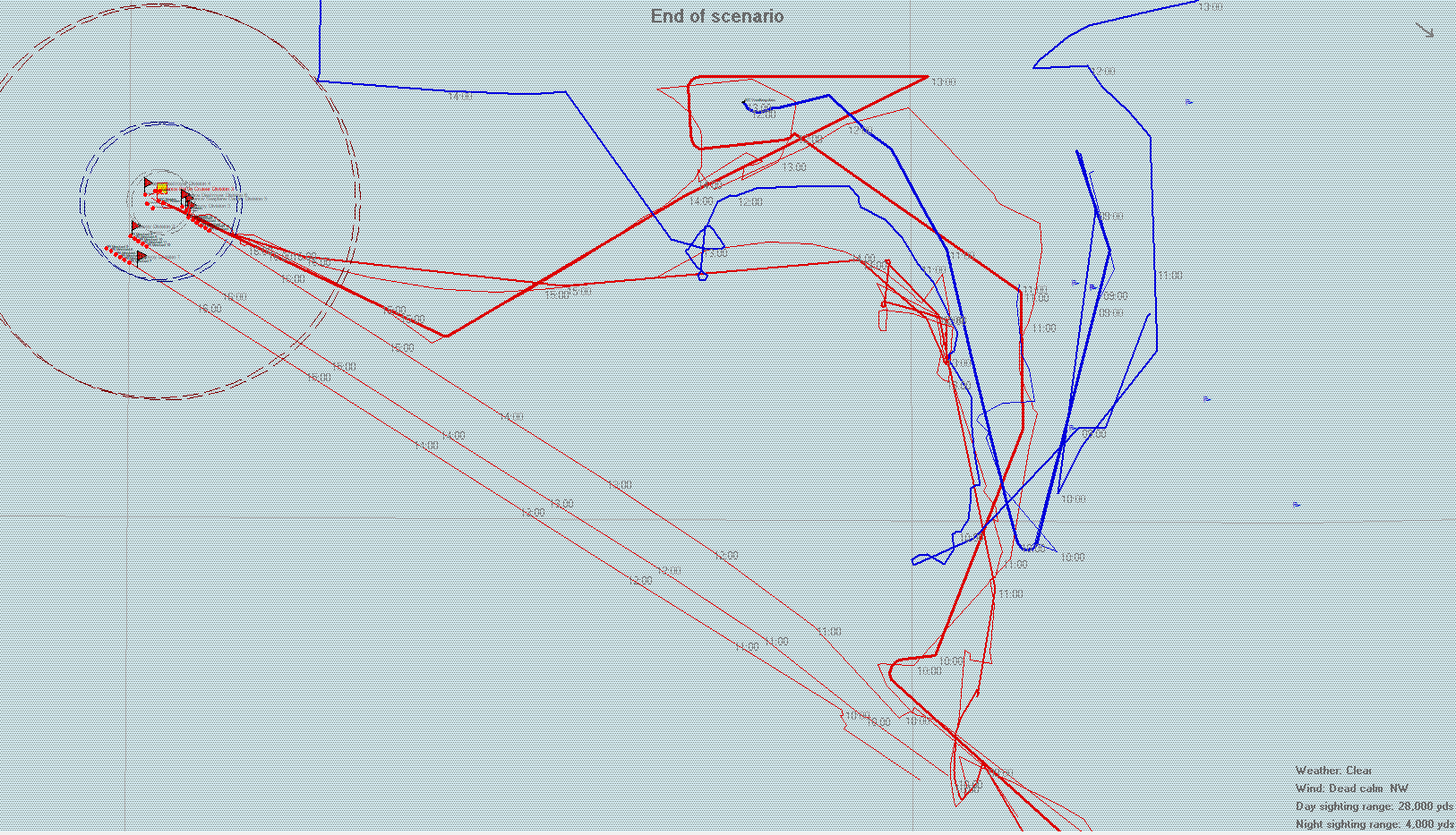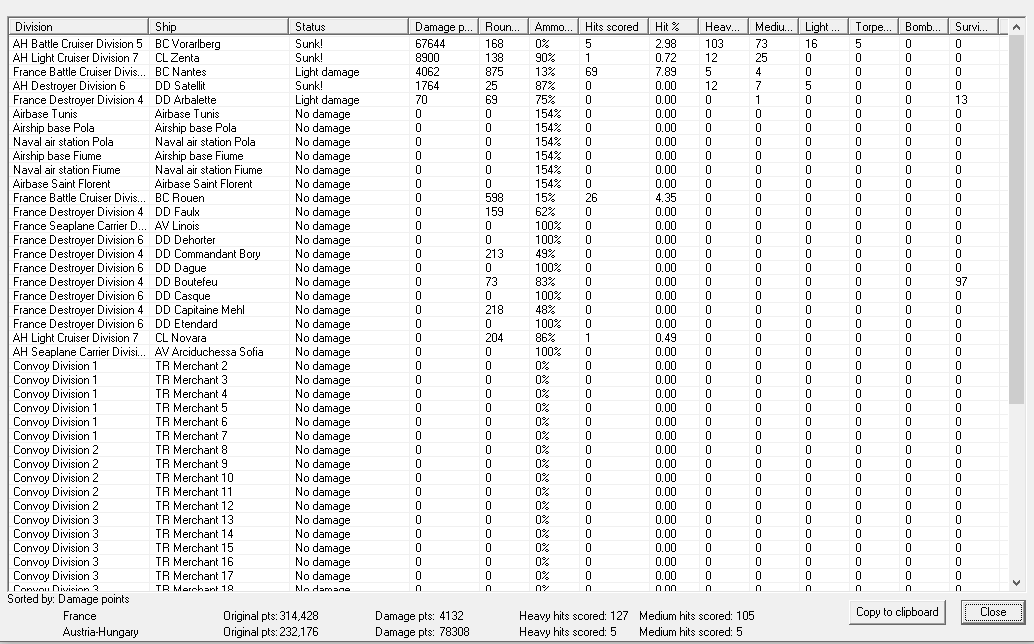 They decline a cruiser action in the Adriatic, granting us 750 VP. We instead find ourselves defending a convoy with 2 BCs. They quickly find themselves under attack from an Austrian BC with CL support, and counterattack vigorously. A destroyer finds itself under their guns after a failed torpedo attack, and is blown apart by heavy guns. They manage to slow the Austrian BC, eventually closing to pound it while destroyers move in for torpedo attacks. The BCs also catch an Austrian CL, and destroy it. The Battle of Sirte is another major victory, granting us two prestige and 5,418 VP while they walk away with only 360 VP.
January 1919


Our spies steal plans for Japanese AV Hoten Maru and Italian BC Elba. BB Bouvet is torpedoed and will be in dockyard hands for 4 months. B Magenta is sunk by a mine in Northern Europe. We get a single merchie, and lose a sub. Their subs and raiders each get 9 of our ships. AH lays down an AMC. Germany commissions a KE, AH 1 AMC, 4 KE, Italy 1 CL, Japan 1 BB. 220 VP from blockade.
Austria declines a fleet battle in the Strait of Otranto, giving us 9,630 VP, and then refuses to oppose a bombardment, giving us another 5,760 VP.
April 1919
Gentlemen,
We are victorious over Austria! Their inability to face us at sea lead to a swift victory, reducing tension with the other powers as well. At this point our greatest problem is the usual one of insufficient budget. This is made worse by a large number of new options we would like to investigate, including upgrades to our cruisers and destroyers, as well as refits to the battle fleet.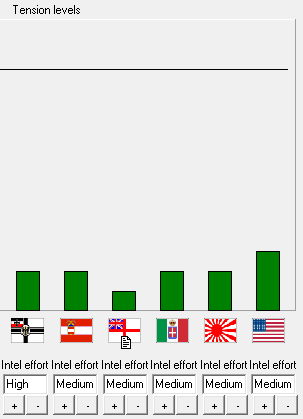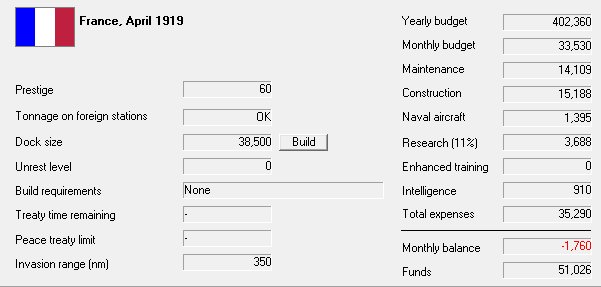 Another milestone is the commissioning of our first carriers. Gueydon and Montcalm have just entered service, although the war ended before either of them saw combat. This gives us a decisive edge over any other power in naval aviation, and our researchers report that they are close to developing purpose-built carriers as well.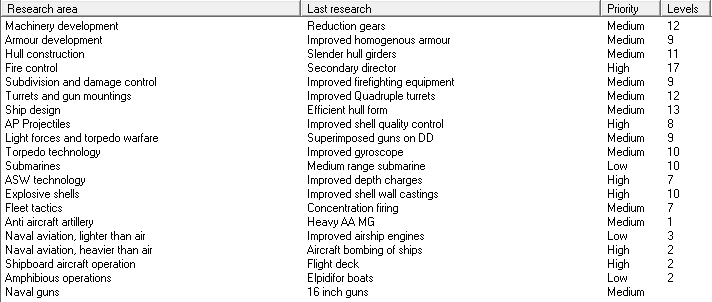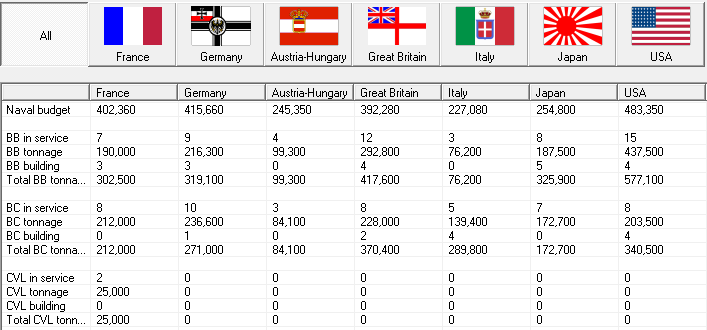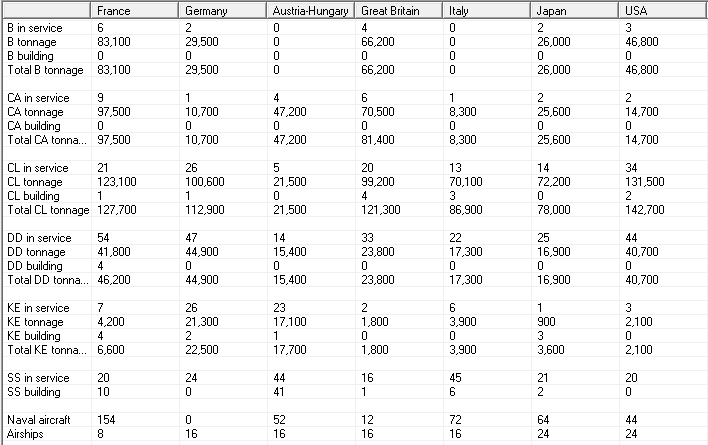 February 1919
CVL Gueydon finishes reconstruction. 2 KE commission. Parliament authorizes a new war loan, increasing the naval budget. Breakthrough: Superimposed guns on DD. An enemy sub sinks a KE. DD Arquebuse hits a mine and sinks. We sink Austrian B Erzherzog Friedrich with a mine in the Med. We lose 5 merchies to subs and 4 to raiders, but sink 3 subs. British operations add 210 VP. Germany commissions 1 KE, AH 5 KE, UK 1 CL, Japan 1 AV. 260 VP for blockade. Design work begins on new CL Cosmao (modified Guichen) and DD Rapiere (Espingole with superimposed forward gun).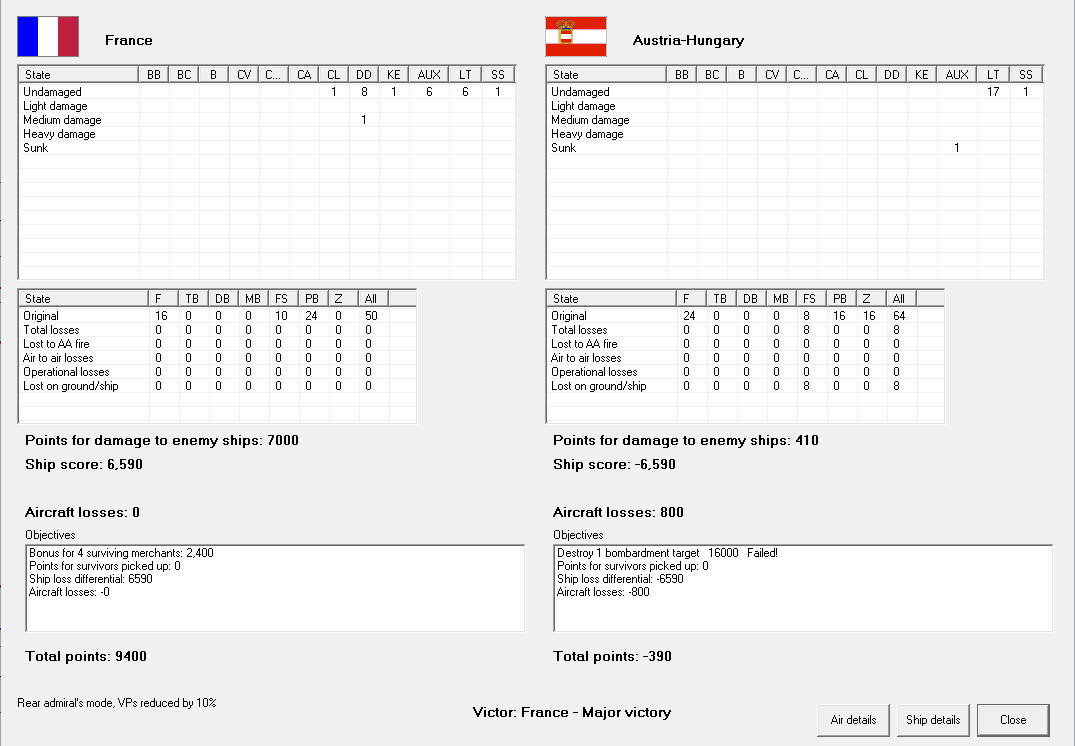 Austria declines to oppose a bombardment mission against Albania, netting us 5760 VP, then declines a cruiser action in the Ionian sea, giving us another 4800 VP. Lastly, their fleet rushes for cover in the southern Adriatic, giving us 9165 VP. We finally fight a destroyer action off Corcera, where several of our destroyers sink an Austrian AV. 734 VP for us, 0 VP for them.
March 1919
CVL Montcalm finishes reconstruction. 5 KE commission. We sign an armistice with Austria, gaining large repatriations. Loire 63 is selected as our new fighter. Germany lays down 1 KE, Japan 1 BB, US 1 CL. AH commissions 1 AMC, 5 KE.