Gentlemen,
The recent vindication of Captain Dreyfuss has comprehensively upset the political situation here in France. As a result, the government has been replaced, and you have been asked to serve as the primary advisors in the Ministère de la Marine. Our strategic situation is reasonably strong, but perils loom. It is up to you to guide us.
Edit: January 1901 update is
here
.
---
I'm going to share screenshots from the start condition of the game, and then give some indication of the direction I'm looking for. Anyone is free to chime in on this discussion.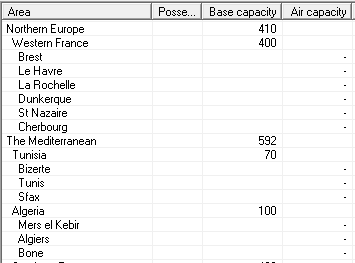 Things I need guidance on:
1. Shipbuilding. We're running a substantial budget surplus, at least enough to lay down another battleship and some lighter ships. Do we wish to focus our fleet on battleships, cruisers, destroyers, or what? (Submarines aren't available yet, sadly.) Or do we build up our coastal defenses, and wait for technology to improve a bit? I can provide sketch designs to request, but any ships we build will have the same tech to work with as the ones currently in service and under construction.
2. Finances. We can also pour money into other areas. Do we want to train our crews hard, spend money on getting a technological edge, or try to find out what the other guy is up to?
3. Diplomatic posture. Who do we want to try to be friends with? Who, if anyone, do we want to antagonize? Decisions will come up during play, and I'm not going to stop each and every time to refer them back to you guys.
4. Research. Do we want to prioritize any specific areas? Better fire control? Better torpedoes? Submarines? All up to you.
On Friday, I'll start the first turn worth of moves, and have them written up on Monday.
---
1900 Summary:
The year went fairly smoothly. Some ships commissioned, and a bunch were laid down by various powers. Unfortunately, I wasn't really given any options for diplomatic maneuvering, so no progress happened there.
Status at the start of the new year: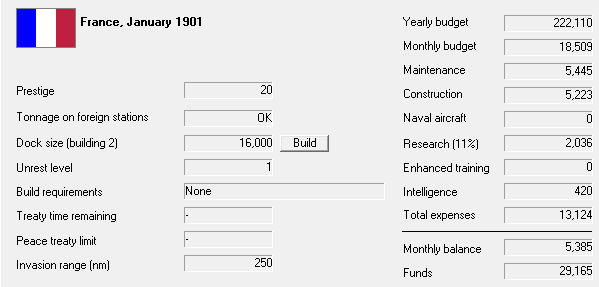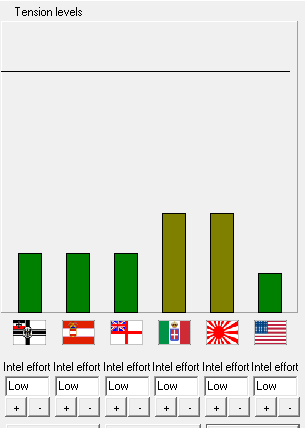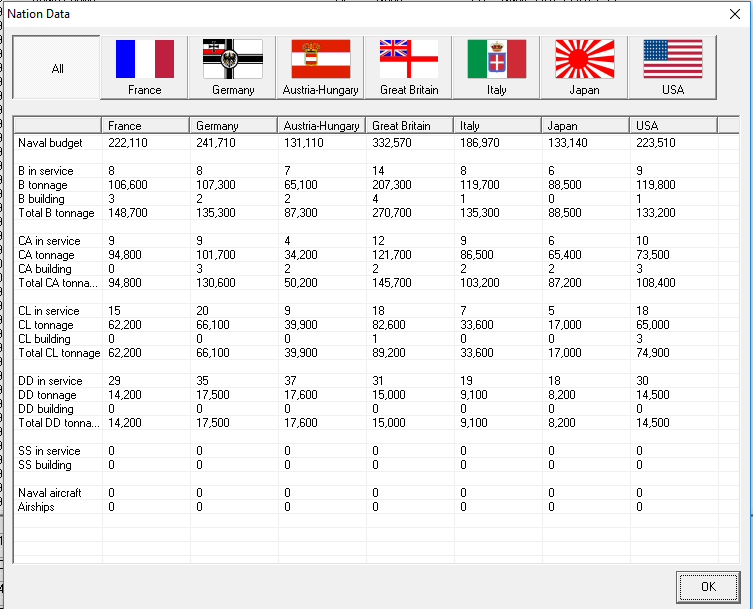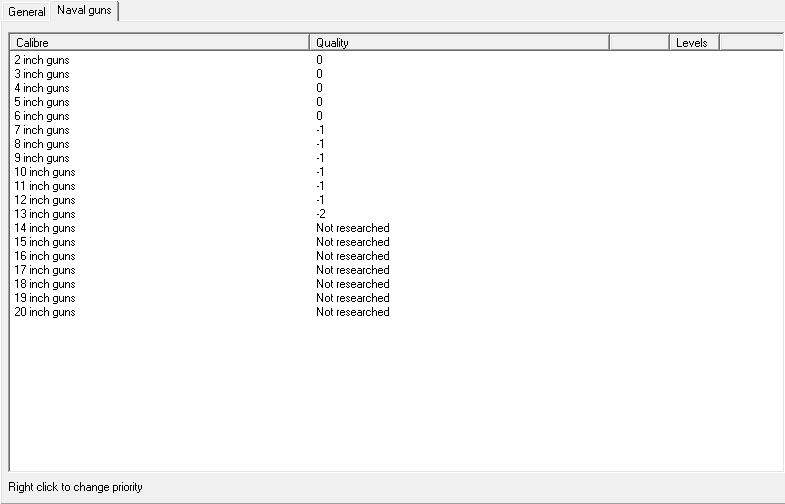 January:
Germany laid down a B, while Italy ordered one from Britain. The UK laid down a CL.
February:
USA increasing naval budget, laying down CL. Japan orders CA from UK shipyard. Dock construction begun. Discovered fleet tactics.
March:
US building a CL, 11" battery in Puerto Rico. Germany lays down CA, UK a B.
May:
US laid down a CA.
June:
Stole blueprints for German B Hessen.

July:
US laid down a CA.
August:
UK, US building coastal batteries. Germany and Japan commission CLs.
September:
CL Chateaurenault commissioned, Hardened AP Penetrator research breakthrough, Germany commissions 1 CL, USA 2. USA building another coastal battery (different from previous two)
October:
Coincidence Rangefinder breakthrough. UK lays down CA, commissions B and CL. Italy commissions CA, Japan CL.
November:
CL Chasseloup Laubat commissioned. Improved Surface Condenser, Krupp Armor, Hydraulic Recoil breakthroughs. UK, US, Italy, Japan commission CAs. Germany and US have invented hydraulic recoil. UK lays down CA, Japan building coastal battery.
December:
Stole CL Tuscon plans. B Courbet commissioned. UK and Austria commissioned Bs, Germany a CL, Italy another CA. UK building coastal defense battery. Someone has stolen industrial secrets from us.

The biggest challenge we face right now is that we haven't started laying down new fleet units yet. This will put us at a temporary disadvantage over the next year or so, but we gain the ability to start fresh and take advantage of the last year's research. The gains are minor but real. Compare CA-00-I with CA-01-I, which is the exact same design updated with the improvements in armor and machinery.
Particularly important is going to be getting new armored cruisers and battleships into production. The preliminary design staff has prepared a series of sketch designs, besides CA-01-I above. These are not definitive, and variants will be prepared upon request.
A couple of points to consider when making shipbuilding selections:
Follow-on Tridents are an option, as the design is actually big enough to carry all of the tonnage. It's worth pointing out that their 13" guns are only marginally more powerful than the 12", with .1" extra belt penetration at 5,000 yds, .3" at 9,000 yards, and about 2,000 yards less range. I'm also not sure how armor upgrades work, because we did get Krupp armor during the interval. It might apply automatically to all ships, because I get the same penetration figures for ships that were built before we had it as for new designs with the same armor thickness.