Gentlemen, our first two years at the Ministère de la Marine have gone almost exactly as we had wished. We remain on good terms with the Anglophone nations and Japan, while we stand on the brink of war with Italy. Four capital ships, two light cruisers, and a brace of destroyers all are under construction in our yards. This means that only limited funds are available for new construction right now, and we need to make good use of them to ready ourselves for war.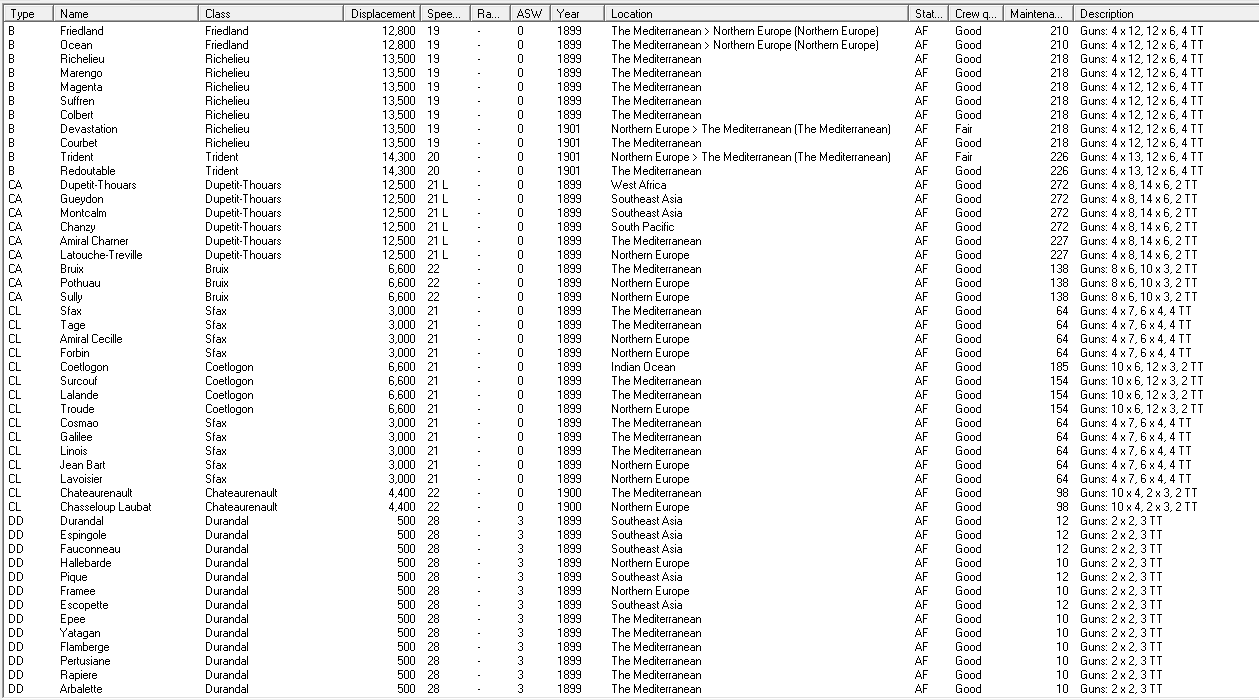 The most obvious thing to do is to lay down more destroyers. We can only support one more without going into the red, but a single extra DD wouldn't break the bank. The other options are coastal defenses and minesweepers. The staff has prepared a sketch design for an oceanic minesweeper, which costs only half as much as a destroyer. (Corvettes/minesweepers under 600 tons are converted civilian ships, and can't be built in peacetime.)
So far, we're by far the laggard with regards to coastal defenses. We have only a handful of batteries, all of relatively small caliber, while most of our opponents have built new, large-caliber batteries. Here are the cost options for said batteries:
| Caliber | Monthly Cost | Build Time |
| --- | --- | --- |
| 4" | 250 | 6 |
| 5" | 333 | 6 |
| 6" | 400 | 6 |
| 7" | 500 | 8 |
| 8" | 750 | 8 |
| 9" | 750 | 10 |
| 10" | 900 | 10 |
| 11" | 1200 | 10 |
| 12" | 1500 | 10 |
The counterintelligence office would also like to propose an increase in its budget, due to several incidents of industrial espionage that have recently come to light.
Monthly narrative:
January:
Stole blueprints for Japanese CA Kasuga. Britain and US laid down a B. Commissions: Germany CA, Britain B, Japan CA, US B, CA. Italy is said to have increased the naval budget.

February:
New docks completed, second batch started. CLs Isly and Alger laid down, CL Chasseloup Laubat finished working up. Breakthrough: Improved hydrostatic valve. CLs laid down by UK, Italy, USA. B ordered by Japan from Italian yard. Commissions: Germany CA, B. Austria-Hungary 2xCA, B. Italy CA. Italian scientists have developed improved hydrostatic valve, Britain increased naval budget.
March:
B Courbet finishes working up. A boom time results in extra tax revenue, which we advise using to strengthen the navy, although this will increase tensions. (In practical terms, the increase in budget is fairly minor.) CAs Jeanne d'Arc, Dupleix and Desaix laid down. Germany, US and UK lay down CLs, Austria-Hungary a CA. Italy orders a B from UK. Japan building 6" battery in Formosa.
April:
B Redoutable commissions (Trident-class, but Trident was delayed) and easily exceeds design speed. US and Italy lay down CLs, Japan orders B from Italian yard, UK lays down B, A-H a CA. AH and UK commission Bs, Italy a CA. Germany is building larger docks.
May:
B Trident commissions. Chaos in Samoa gives us an opportunity to take over, but the plan fails, costing prestige, and sparking tension with Italy. Research: DD of up to 600 tons displacement. US lays down a CL, AH a B, Japan orders a CA from Austria.
June:
A revolution in an African country leaves some of our nationals stranded. We send a strong squadron to demand their return, increasing our budget but sparking tension with Italy, Germany and Austria-Hungary. Italy and US lay down Bs, Japan ordering one from an Italian yard. UK lays down CA. Italy said to have increased naval budget. At this point, I took a break, and asked for more design feedback on the build program.
July:
Design work began on new B and DD classes. Redoubtable finished working up and Devastation commissioned. Stole plans for CA Bacchante. Research: Heavy secondary battery. AH laid down 2 CA, UK a CL. UK and USA each commissioned a CL. Italy is building two coastal batteries, the UK one with recently-increased military spending. DD Mousqueton and Sabre laid down. Most of the battleships and about half of the cruisers and destroyers are moved to the Med to cover Italy.

August:
B Trident finishes working up. UK lays down 5 DD, 1 B, USA 1 CA. US commissions 1 CL. UK building a 7" coastal battery.
September:
Research breakthough: Cockburn safety valve. B Solferino laid down. US, UK laid down CAs. US building 10" coastal battery.
October:
Private shipbuilding expands dock by 1000 tons. B Devastation finishes working up. Austro-Hungarian government changes, and we request a budget increase to counter the potential threat. Germany laid down a CA, US a CL. US commissions a CL. Intelligence shows that someone has stolen industrial secrets from us, but we don't know who. Tensions are now as high with A-H as with Italy. Increased budget allows DDs Sagaie and Coutelas to be laid down.
November:
A cruiser runs aground near a minor nation while on an intelligence-gathering mission. We demand its release and send a squadron, spiking tensions with Italy and Germany. Research breakthrough: improved riveting techniques. Germany and A-H increased naval spending. Germany laid down a B, UK 2 DDs. Japan commissioned CA. Design work on Carquis class DD (slight improvement of Mousqueton, with lighter machinery and hull and increased ammo) begins.
December:
Breakthrough: Double bottom. DD Carquis and Cognee laid down. Germany laid down KE and CL, US a CL. Japan orders CA from A-H yard. A-H building a 9" coastal battery. More industrial espionage against us, still no sign of who.
---
#1902!!1902 Summary:
January:
Exercise conducted. Germany commissioned a CA, US and Germany laid down CLs, Japan a B and a KE, AH a CA. Research into Lyddite bursting charges, Pressure hull.
The exercise itself was a waste, as the commander of the "enemy force" broke off as soon as he sighted my fleet. There were only a few shots exchanged between our cruiser screens.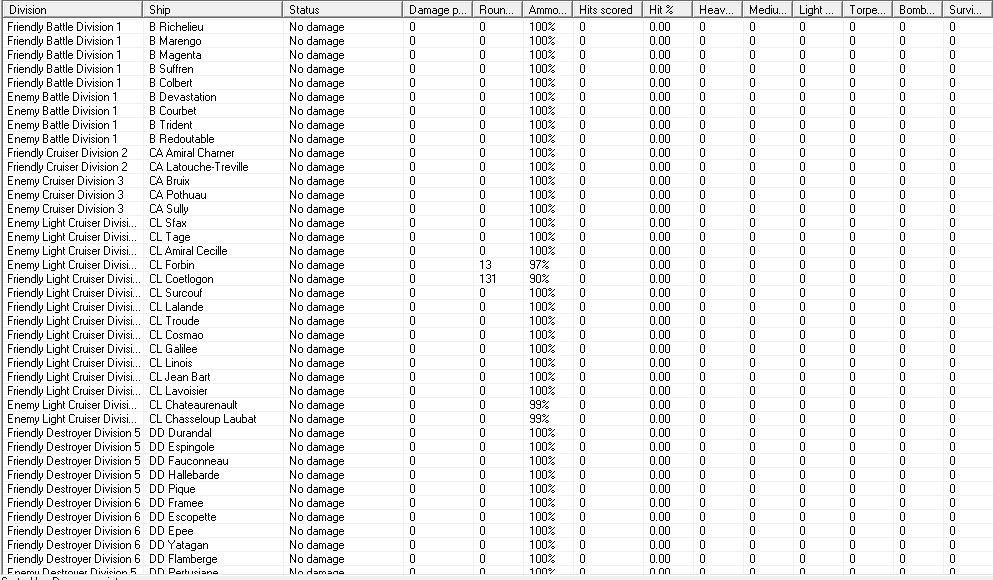 February:
Docks complete. Stole plans for Italian BB Conte di Cavour. Research: Power rammers, reliable bursting charges. Italy commissions a B, Germany laid down a CL, Japan a B.

WAR HAS BROKEN OUT WITH ITALY!
Several of our battleships met theirs off the sole of the Italian boot. Our fleet is 3 B, 2 CA, 4 CL and a lot of DD. Enemy sighted after 3 hours, looks to be 2 BB, 2 CA. We engaged as best we could, and sunk three destroyers, but were not able to deal meaningful damage to the enemy capital ships. The closest was an attempt to pinch off a CA, but it failed by a narrow margin. Gunnery was not very good overall. The end result is a marginal victory, 251 VP to 130.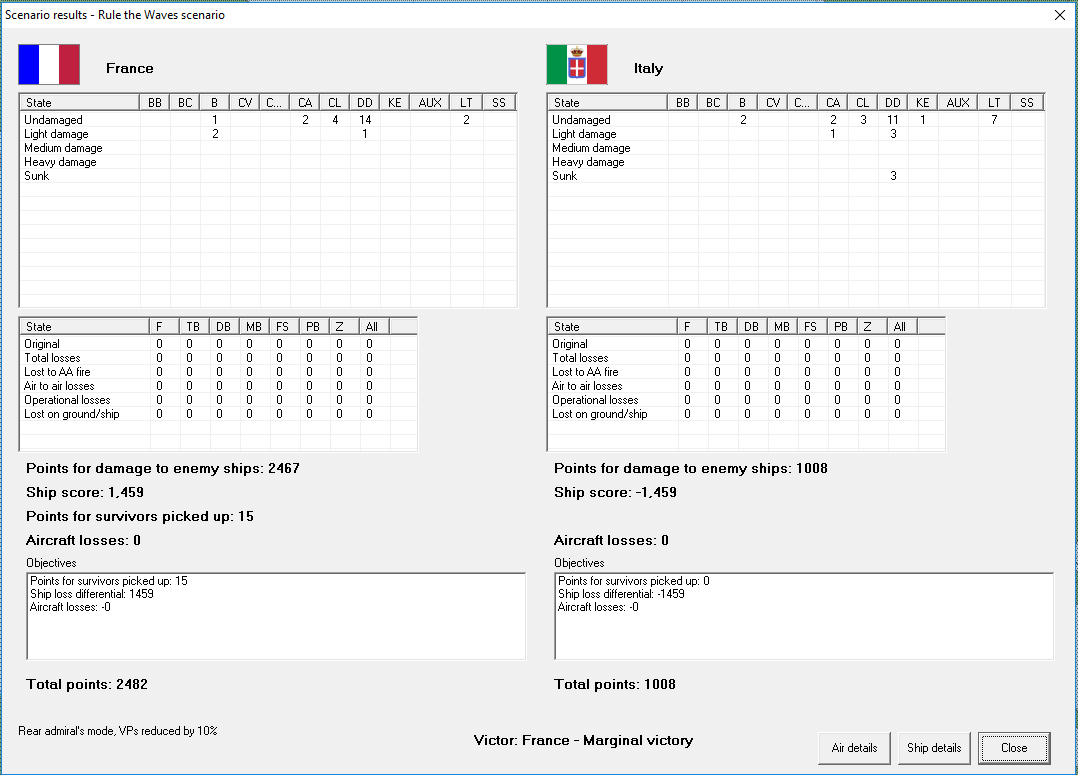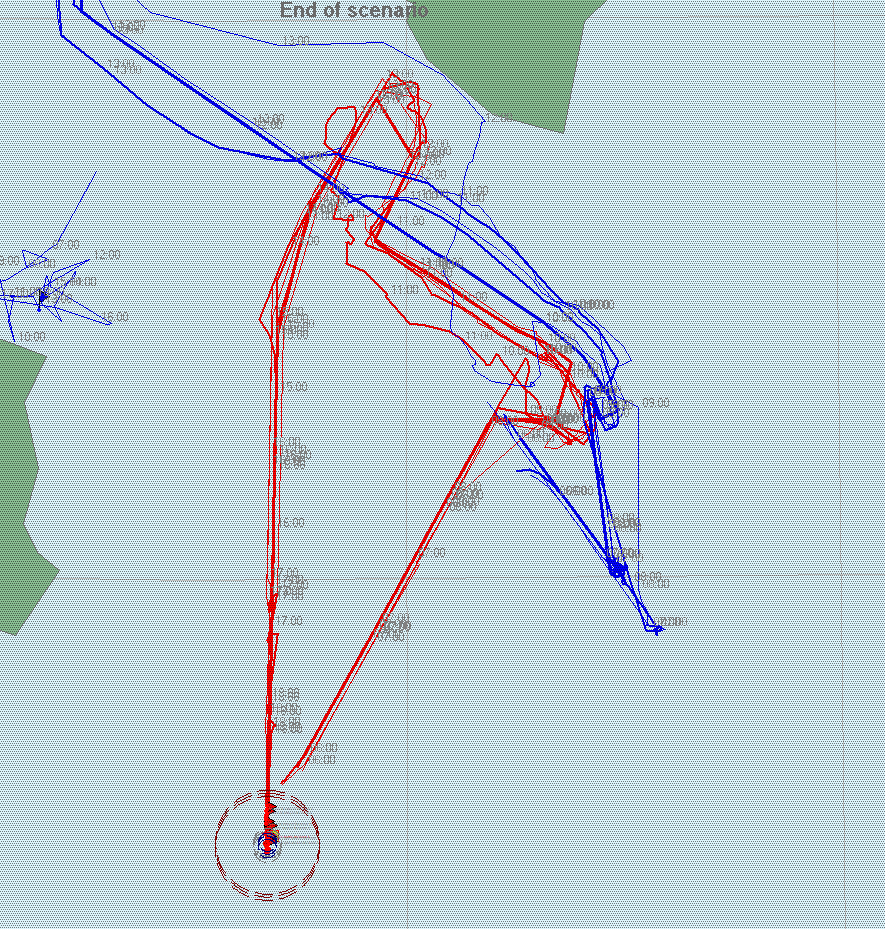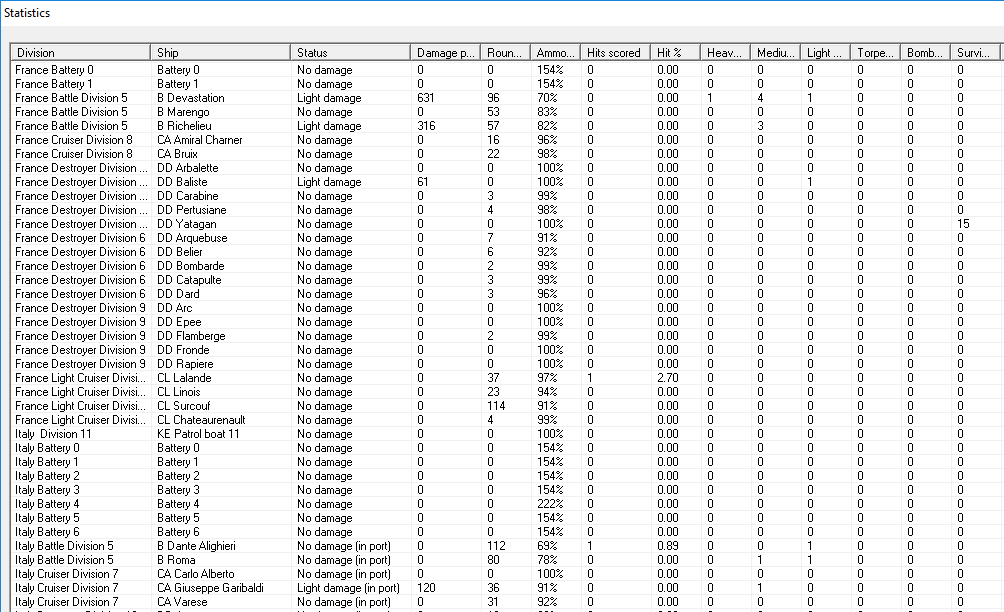 General War Situation: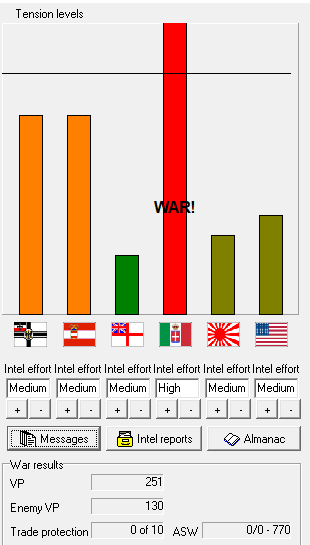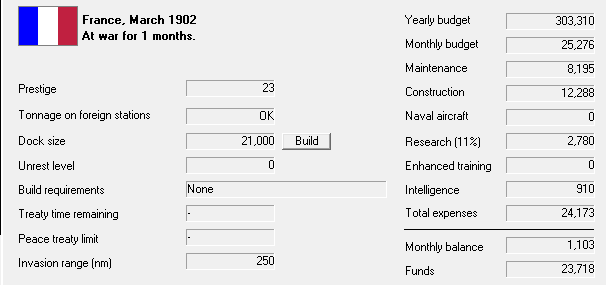 So far as we can tell, Italy has no forces outside the Med at the moment, although I expect them to deploy raiding cruisers fairly soon. We currently have 14 destroyers outside of the Med. I've set 10 for Trade Protection and ordered the other four to move in.
The big question is strategy. We can mount an invasion, but it will leave us about 500 in the red at either target. Or we can spend the money on forces to fight, such as more destroyers. They fixed the invasion bug, so it's not a terrible idea, although I'm not sure we have the margin of superiority to carry it off. Sicily is very expensive to capture, to the point that I'm not sure we could ever get it at the negotiating table. (I think it caps you at 6 points, and some stuff is 10 or 12 to take. It's very irritating.) Sardinia doesn't have this problem.