Gentlemen,
We are at war with Italy for a third time so far this century. Not much has changed in the 18 months since the last one ended, except that we have commissioned a pair of new battleships, while Italy still has only one Irresistible-type. As such, we currently plan to essentially implement the strategy we used last time. We have solved most of the bottlenecks that kept our forces out of Sicily, and after a minor victory in the opening battle of the war, are prepared to fight for control of the Mediterranean.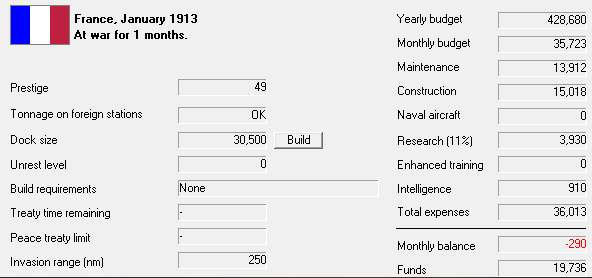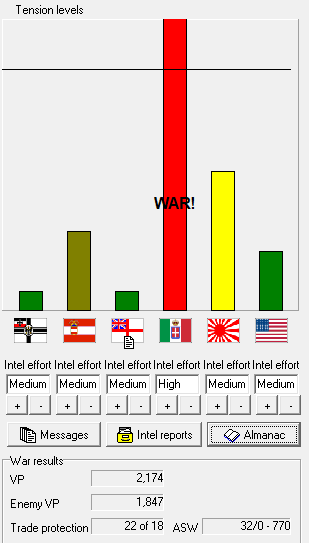 There aren't a whole lot of decisions pending, beyond what shape our destroyer force should take going forward. We have recently increased the maximum size of our ships of that type by 50%, but with the increased size comes an increase in cost. Four sketches have been prepared, covering a wide range of options.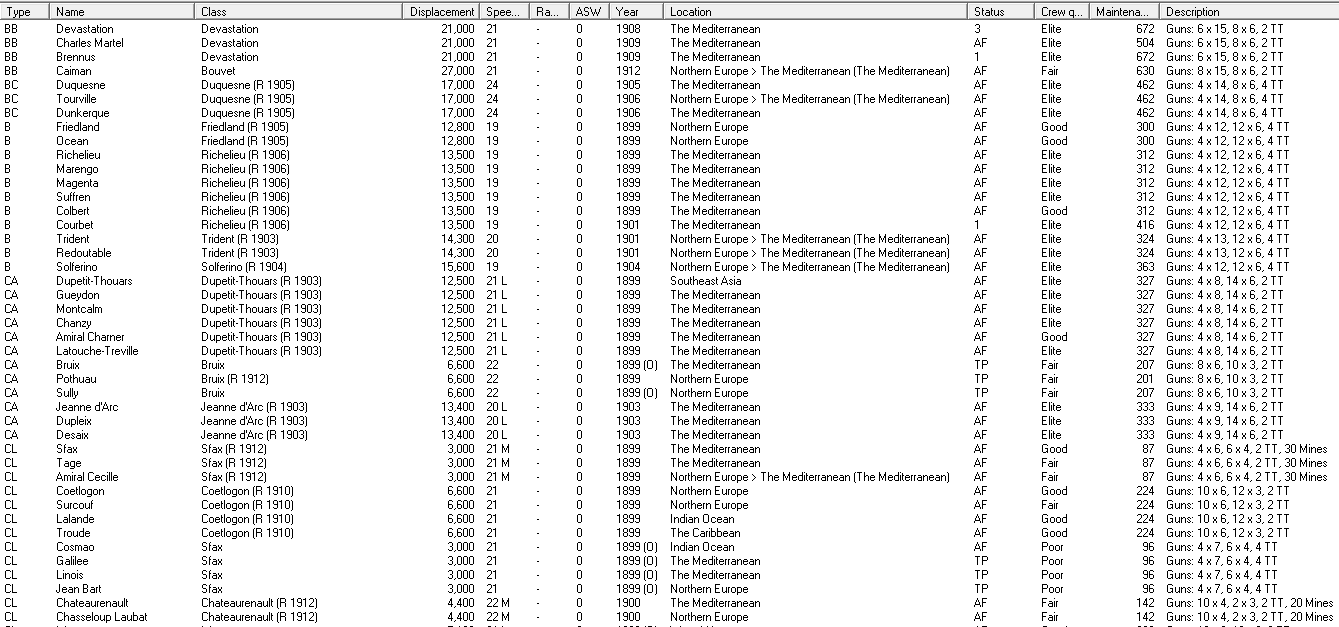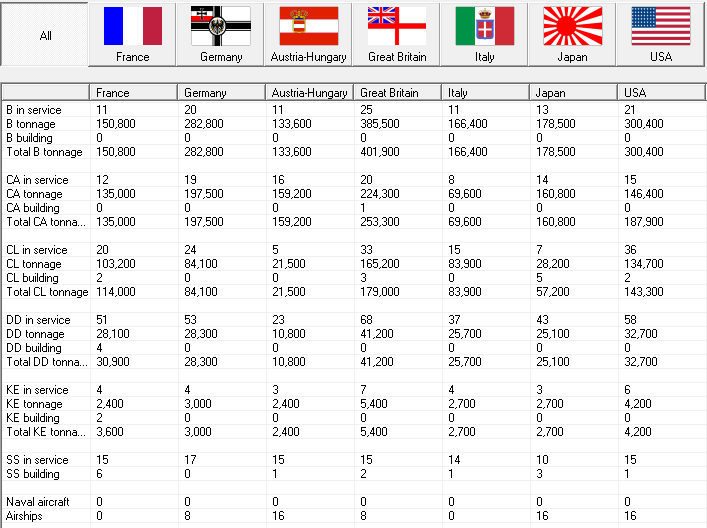 June 1912
Design work begins on BC Rouen. Italy lays down BB, Japan and US CLs. Germany commissions 2 BB, BC, Japan commissions 2 DD.
July 1912
2 DD finish reconstruction. Japan and US each lay down 1 CL, Japan commissions DD.
August 1912
Design work begins on CL Pascal, a long-range colony cruiser. BB Caiman commissions. CL Chateaurenault and CA Pothuau finish reconstruction, along with one DD. We handle a Japanese spy discretely. Breakthrough: High capacity pumps II. UK, US lay down BBs, Japan lays downa BC. Japan commissions 2 DD.
September 1912
CL Chasseloup Laubat begins refit. Italy appears to be mobilizing its fleet, and we do likewise. 4 CLs finish reconstruction. Breakthroughs: Director firing, DD of up to 1100 t displacement. CL Pascal, BCs Rouen, Lyon laid down. Germany lays down a BC, UK and Japan CLs. UK commissions CL, Japan a DD.
October 1912
BB Bouvet begins refit for director firing. Breakthrough: Base fuzes (enables SAP ammo). UK is building larger docks.
November 1912
CL Chasseloup Laubat completes refit. UK, Japan lay down CLs. US commissions BB.
December 1912
Improvements in productivity boost our industrial production. We commission 2 SSC. Germany lays down a BB, the US a BC. We lay down 2 SSC. We advise against a detente with Italy. War breaks out!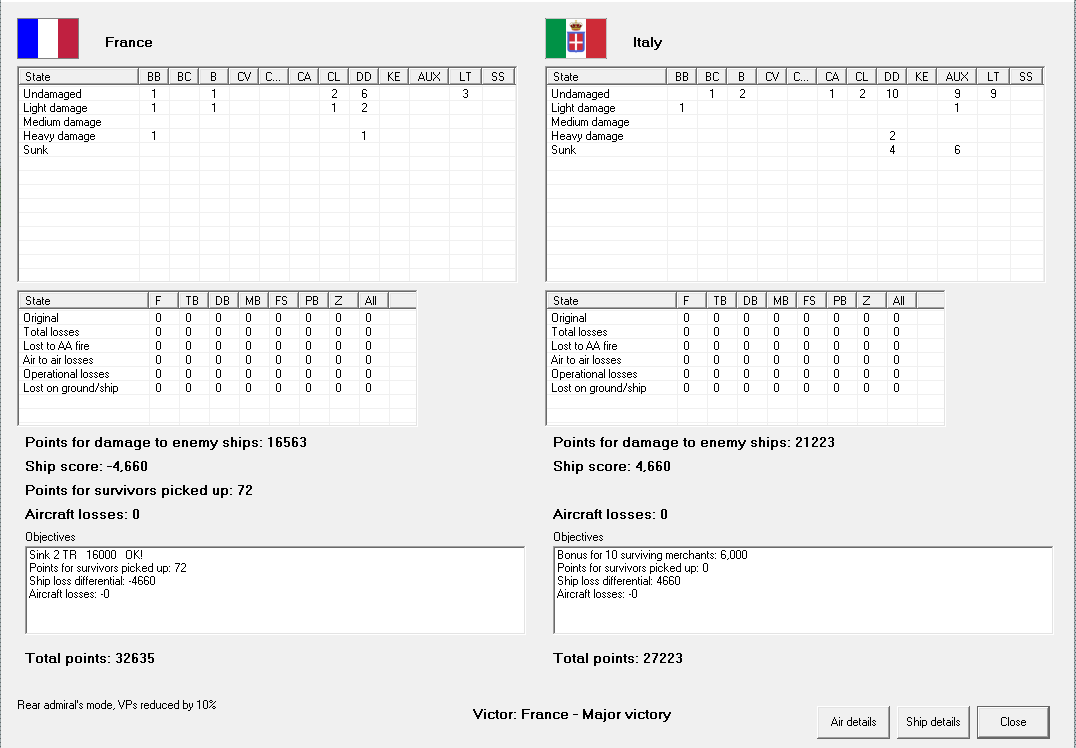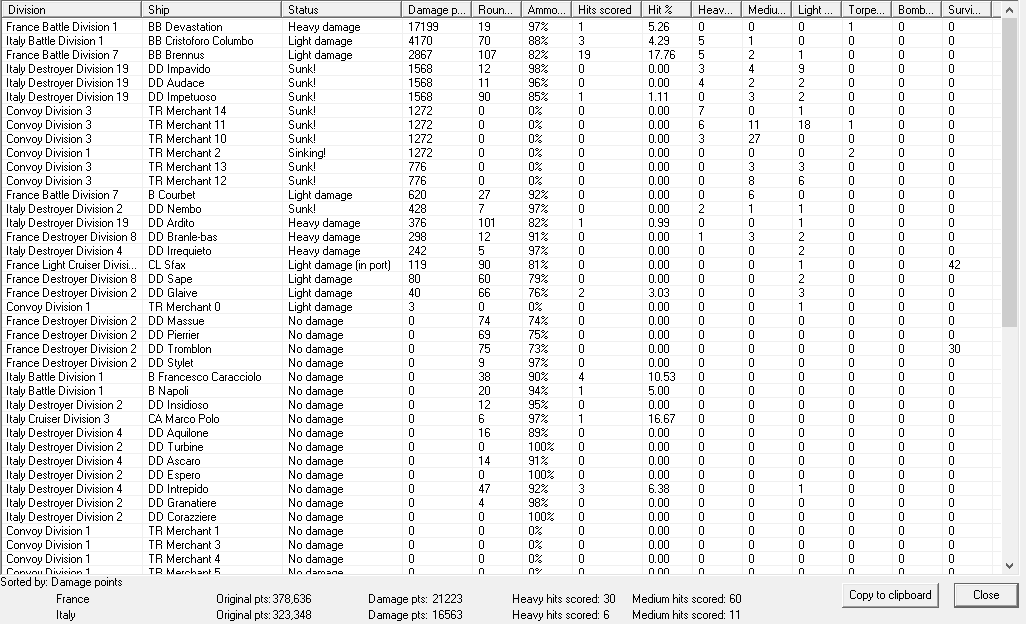 Convoy attack near Malta. Devastation and Martel are escorted by some destroyers and a pair of CLs. The scenario begins with Italian DDs at point-blank range, one of which torpedoes Devastation. We sink a couple destroyers, but don't make contact with either the convoy or heavier forces. As dusk falls, a melee develops between their ships and some ships not under my control. Some of them find the convoy, and sink several ships. We blunder into the battle, doing some damage, but disengage quickly to avoid the risk of a torpedo to Martel. She enters Valetta harbor, but some of our destroyers head back out to sea and find the convoy again, sinking at least one more merchant ship. The final kill count is 4 destroyers and 6 merchant ships, giving us a marginal victory at the Battle of Malta. 2,174 VP for us, 1,847 VP for them.
(OOC: I am seriously irritated over the destroyers starting at point-blank range. I'm definitely save-hacking to kick off the invasion of Sicily in response.)
April 1913
Gentlemen,
We are victorious in our struggle against Italy! After only three months, the threat to invade Sicily brought them to the negotiating table, and while we were not able to make further territorial gains, we have instead managed to greatly improve our international position, and our budget is largely intact.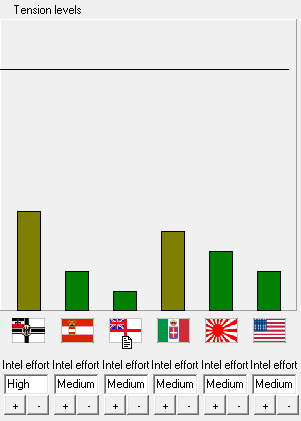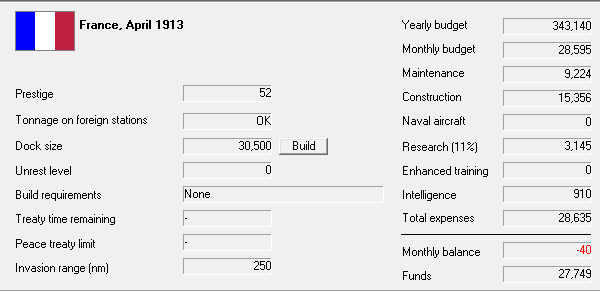 But we are faced with a surprising number of choices. Battlecruiser Lille is about to commission, and we will need to figure out what to do with that slot. This was brought up last time, but the end of the war may have changed our priorities. Sketches have been prepared of battleship and battlecruiser that both use our new quadruple turret. We also need to decide what to do with our existing ships, as our pre-Irrestistible battle fleet is going increasingly obsolete. We could upgrade our ships with directors, or consign them to the reserve fleet. Lastly, there is the issue of lighter-than-air aviation. This give some sea surveillance capability, but our experts think it will be eclipsed by heavier-than-air assets when we introduce those.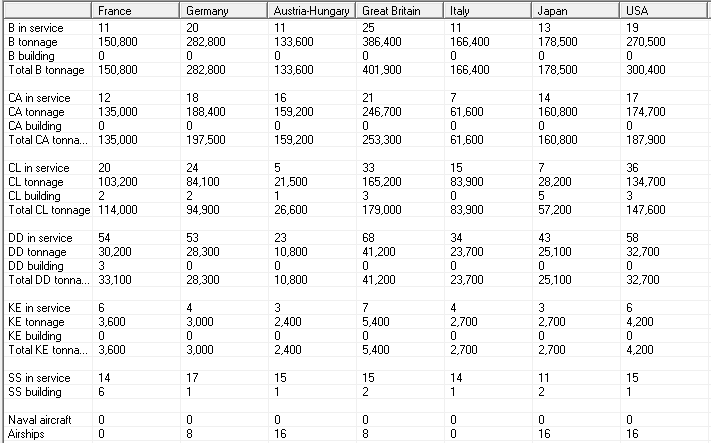 An Editorial from The Times of London:
What a change has taken place in France in the last decade and a half. 15 years ago, we were on the verge of war with them over Fashoda, and they seemed to be helpless before the rising power of Germany. Today, things are different. They have dusted themselves off, put their economy in order, and today command a navy that ranks with the best in the world. Their recent use of sea power to defeat Italy in only three months is a lesson to the world, and particularly to Britain. We may rule the waves, but France has proved a staunch ally, and as we face down Germany, we could have no better ally in our struggle.
January 1913
Design work begins on DD Lansquenet, the new 1100-ton ship. BB Bouvet finishes reconstruction. Breakthrough: Quadruple turrets. We mine and sink an Italian DD. Each side's subs sink 2 merchants, while we lose a sub and 3 merchants to surface raiders. UK and Japan lay down BC, US a BB, Italy an AMC and 3 KE. 260 VP for blockade.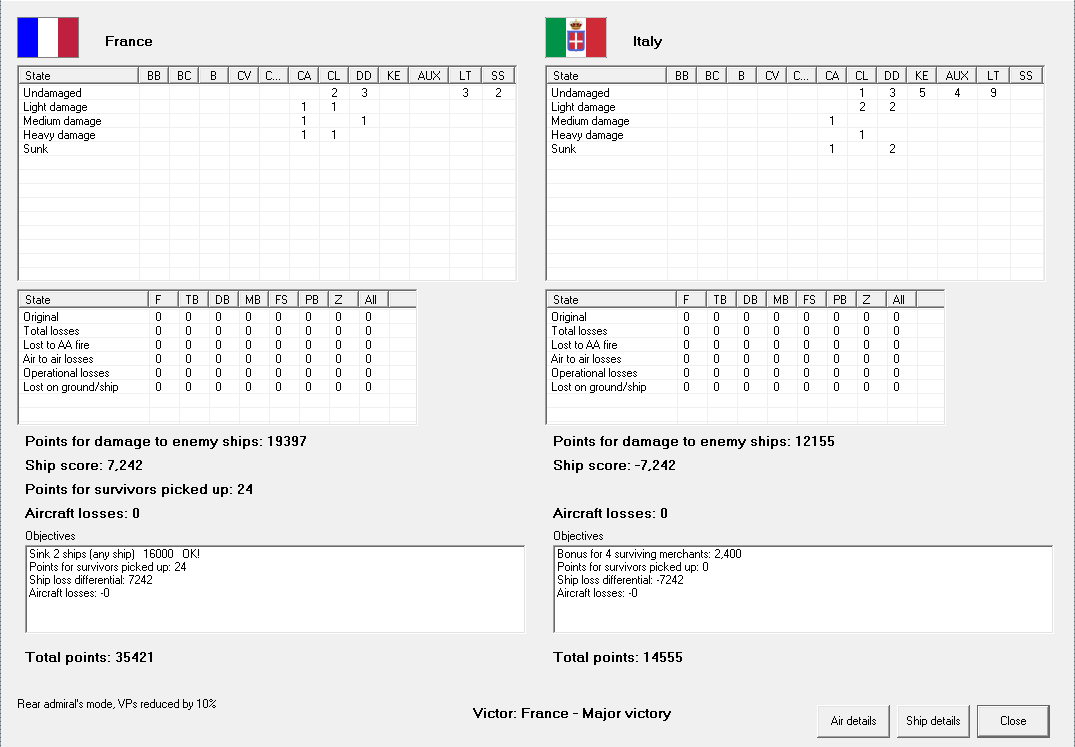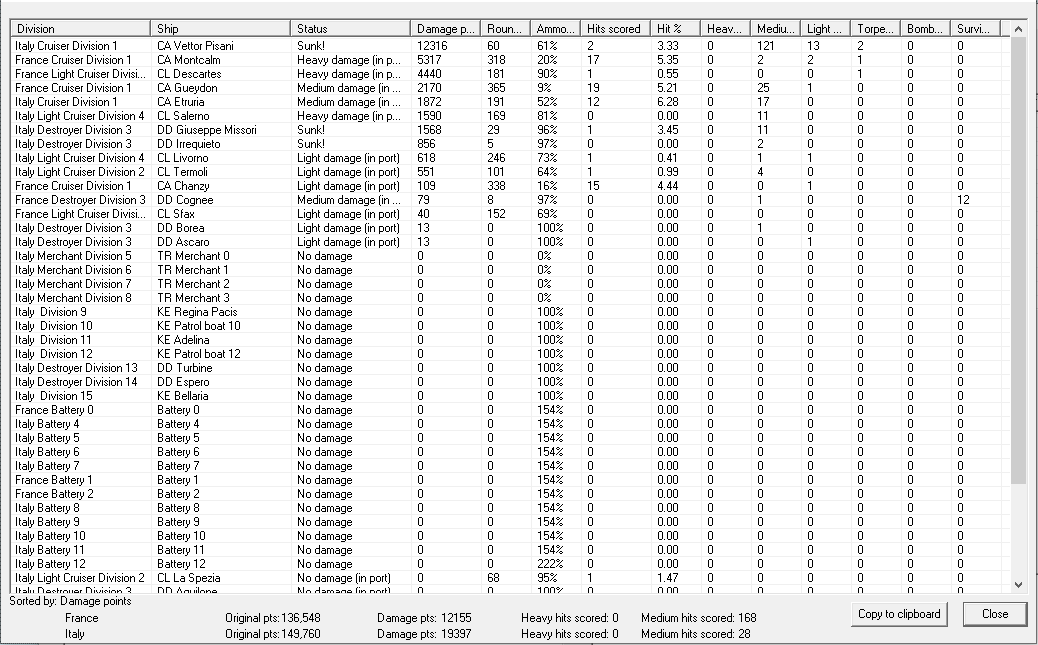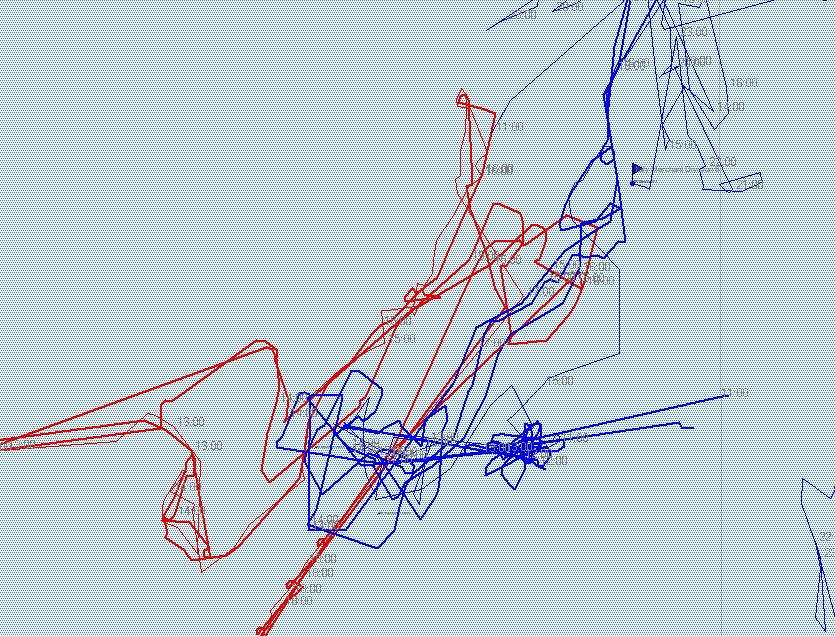 Italy declines a fleet battle off Sicily, giving us 1,800 VP. We then send a force in to raid Italian coastal shipping off Genoa. A trio of CAs and supporting units encounter a similar Italian force, and open fire. CL Descartes eats a torpedo, but survives, and a pair of Italian destroyers were sunk. Then CA Montcalm is torpedoed at about the same time one of the Italian CAs is lamed and later torpedoed and sunk. We then make for Sardinia, with all ships surviving. A major victory at the Battle of the Ligurian Sea, 2,341 VP and 1 prestige for us, 1,066 VP for them.
February 1913
2 new DDs laid down. Reconstruction of BB Caiman begins. 1 KE, 2 DD commission. New research area discovered: Amphibious operations. Each side's subs sink one merchant. British operations add 140 VP. Italy lays down 6 KE, 1 AMC. Germany and AH commission BCs, UK a CA, US a BB. 260 VP for blockade.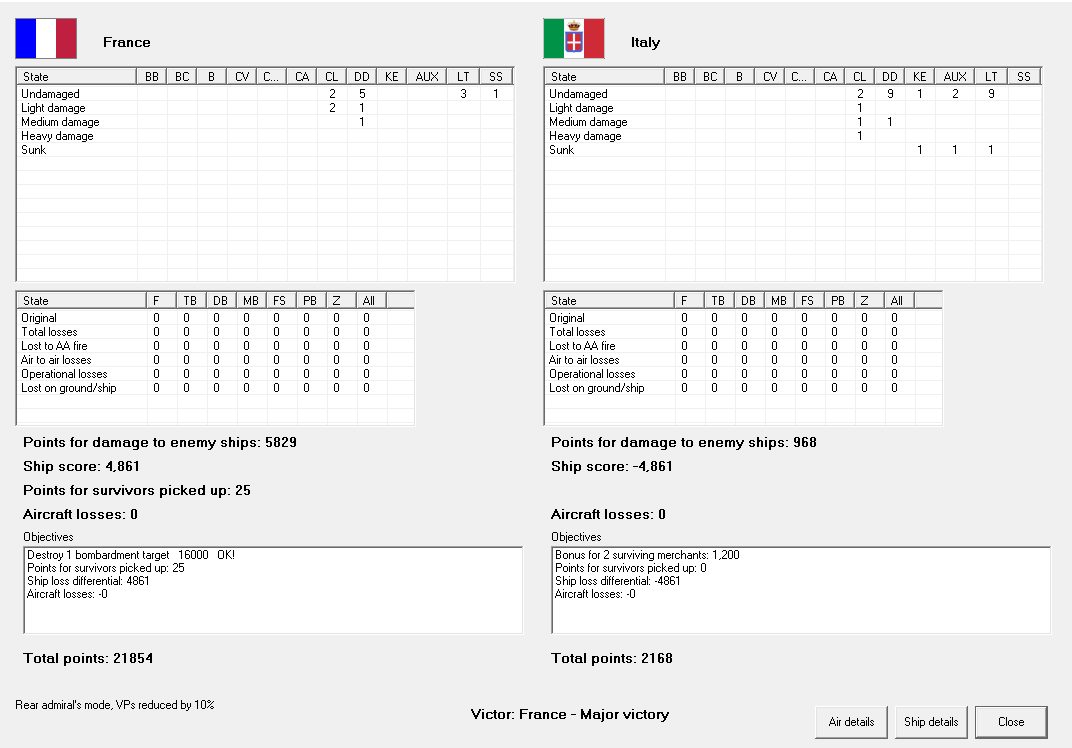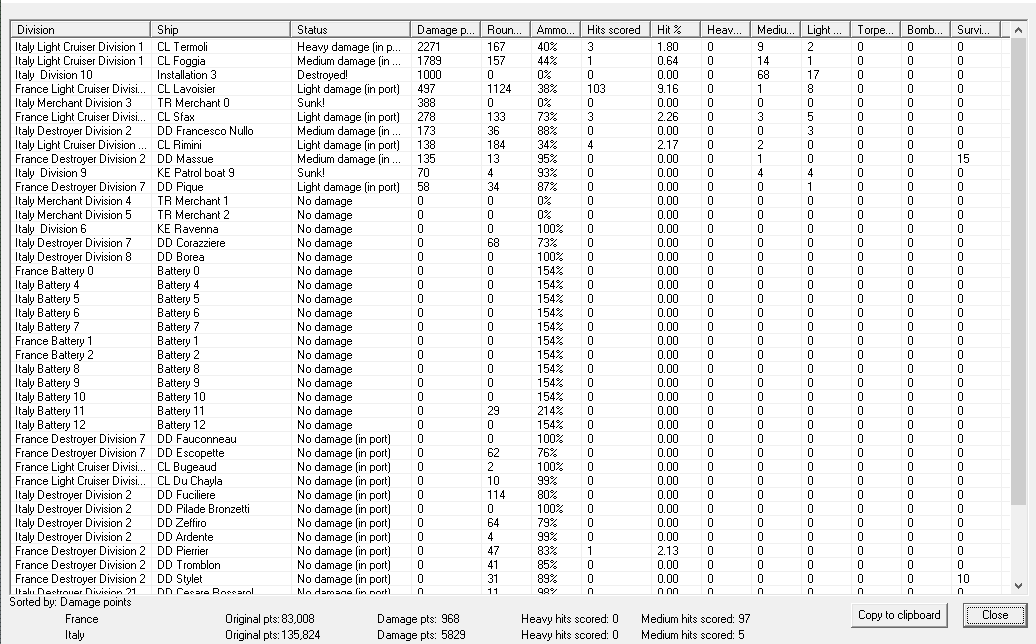 The Italians again decline the chance for a fleet battle off Sicily, giving us 1200 VP. They also decline to attack a convoy, giving us 7755 VP. Lastly, we launch a coastal raid on their east coast, with CL Lavoisier and some destroyers going in to destroy a bombardment target. They run into a group of Italian CLs and DDs, which they brush aside on their way to destroying the target. The force then withdraws towards the British ports in Dalmatia, destroying a KE on the way. A destroyer that got separated from the force picks off a transport. A covering force (AI controlled) took some damage, but it's still a major victory at the Battle of the Gulf of Manfredonia, netting us 1,519 VP and 1 prestige, 227 VP for them.
March 1913
1 KE, 1 DD commission. The Italians agree to surrender, although we are unable to secure Sicily at the negotiating table. We send a diplomatic note to Germany over some of their recent spying. Germany lays down 2 CLs, AH and US 1 CL each. We actually come out of the war with our budget mostly intact, so BB Devastation and BC Tourville are taken in hand for a director refit.