It's almost time to resume our RTW2 game, paused for the Aurora series and my move. Below, I've included the last post from our previous game, ending in January 1929. But there is one thing I'm going to change. Instead of posting every week, I'm going to go to every other week. Posting every week doesn't really give me enough time to play and write up the game while still leaving you sufficient time to think and talk over the plans for play. This will alternate with the OTs, and be on the same weekends as the virtual meetups. (Hope to see a lot of you on Sunday, by the way.)
January 1929
Gentlemen,
It has been an interesting year. First, we laid down 10 new destroyers, with twin DP 4" guns. Then the government got a weird idea that we needed more battleships, and we ended up with three new ships, which more or less got paid for due to increased tensions with Germany. Right now, we have two battleships, a carrier, and 10 destroyers about to complete, which leaves future building programs open. The best suggestion is probably to lay down more colonial CLs, as our ships of that type are rapidly growing obsolete.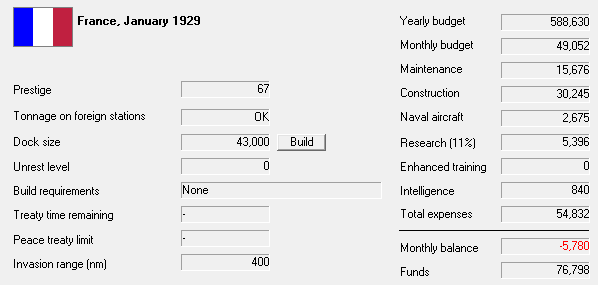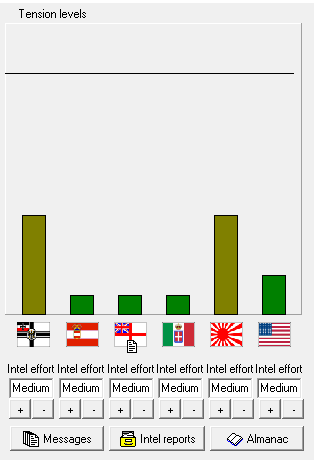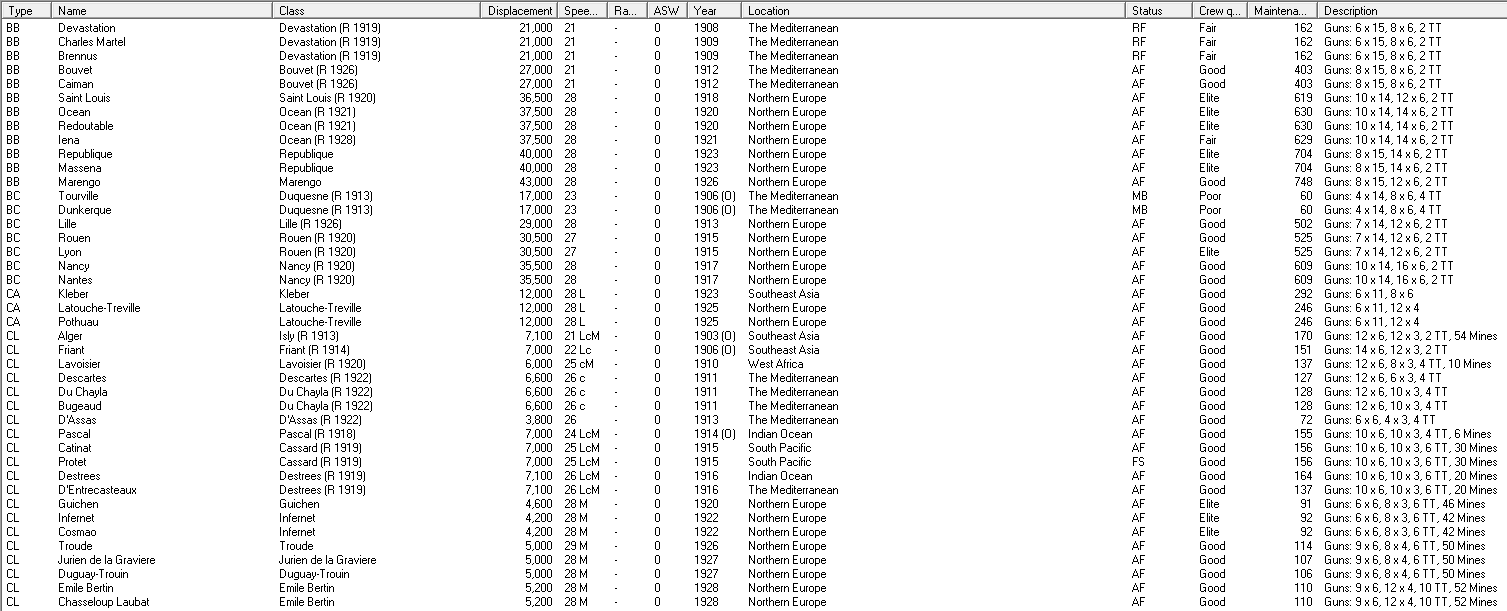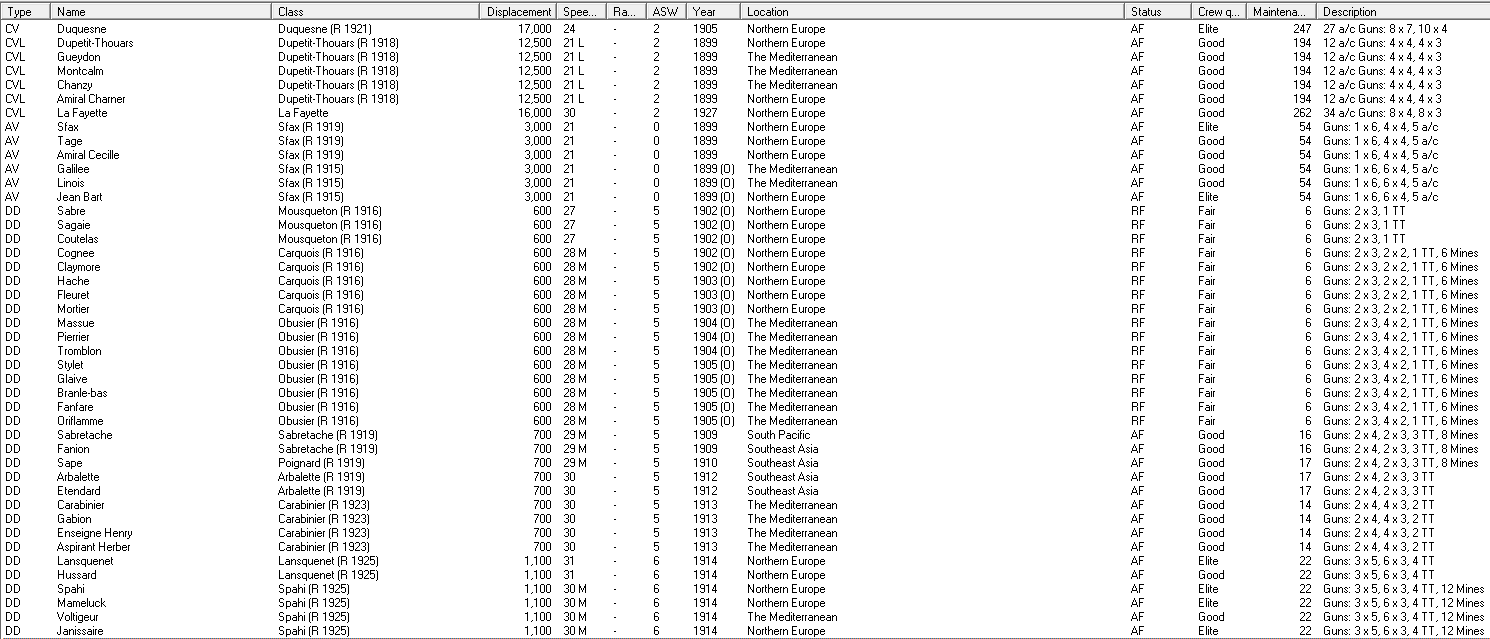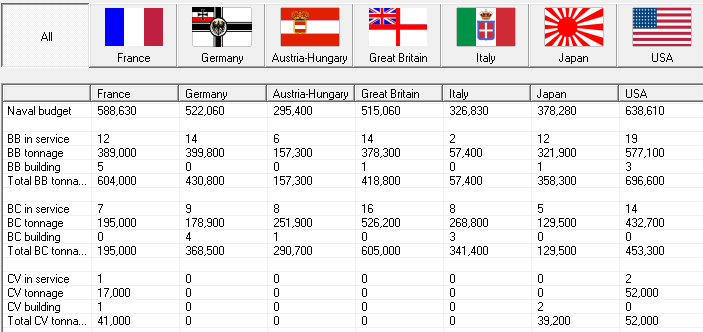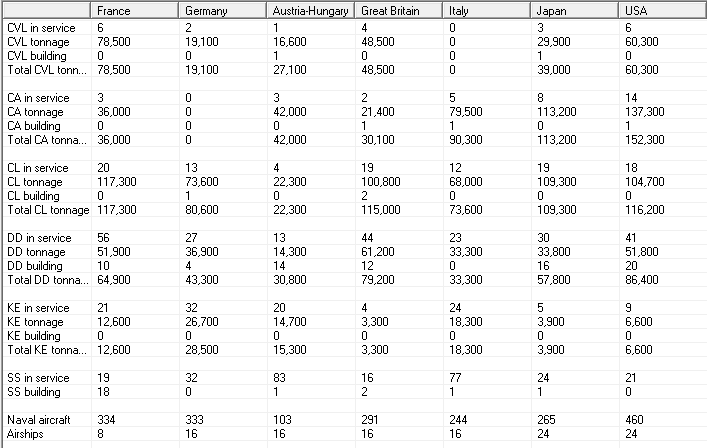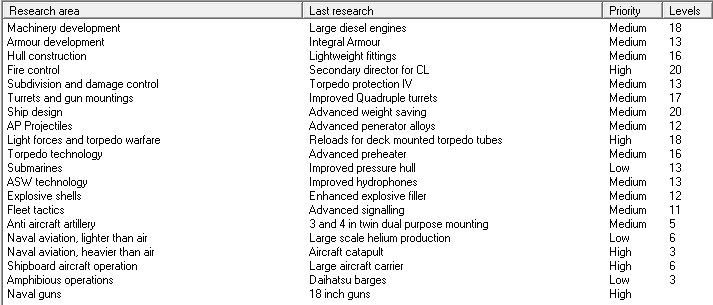 January 1928
Breakthroughs: Dual purpose guns as main armaments for DD, improved 13" guns (+1). UK lays down a CL and a DD, commissions 1 CL and 1 DD. US commissions a CL. We begin design on DD Harpon, with 4 twin 4" DP guns.
February 1928
We decline a Japanese offer for an alliance. 6 DD Harpon laid down. Germany commissions 2 DD, Japan 2 CL, Italy 1 KE. We begin a competition for a new floatplane scout.
March 1928
CL Emile Bertin commissions. AH lays down 3 DD, Japan 2 DD. US commissions 1 CA, 1 DD. 2 more DD Harpon laid down.
April 1928
CL Chasseloup Laubat commissions. We buy Turbo electric drive from the British. Breakthrough: Large diesel engines. AH lays down a DD, Italy a BC, Japan a DD. Germany commissions 2 CL, AH a BC, the US a CVL and 2 CAs. We lay down 2 more Harpon.
May 1928
The Prime Minister places a request before Parliment for 3 additional battleships, even though we don't particularly want them right now. We'll slow them down while the Suffrens finish, but this is going to be tight on our budget. AH lays down 2 DD and a BC, UK a CA, Japan 2 DD. UK commissions 1 CA, 1 CL, US 1 CA. The resulting battleship, Magenta, has improved torpedo protection, a slightly thicker deck, and 24 4" twin DP secondaries in place of the usual 6" battery.
June 1928
We sell the Italians Forced Circulation. Germany lays down 2 DD, UK 1 DD, US 3 DD and 1 CA. Japan commissions a CA.
July 1928
We condemn a German naval rearmament program. Breakthrough: Advanced weight saving, better 17" gun (0). UK lays down 3 DD, Japan and US 1 DD each. Germany commissions a CL, Japan a CA, US an AV and a CA. We begin a refit on BB Iena.
August 1928
Germany lays down 2 DD, AH 4 DD and a CVL, UK 1 CL and 1 DD, Japan 1 CV and 2 DD, US 2 DD. Japan commissions 3 DD.
September 1928
We select the Farman F.109 for our new floatplane scout. Germany lays down a BC and a CL, the UK 3 DD, the US 4 DD, Japan 1 DD. UK commissions 1 DD, Japan 2 DD. We take the opportunity to fit Magenta for a seaplane.
October 1928

Our spies steal the blueprints for the BC Prinz Heinrich. Breakthrough: Large scale helium production. BBs Magenta, Indomptable, and Gaulois laid down. UK lays down 2 DD, Japan 1 CVL and 2 DD, USA 4 DD. Germany and UK each commission a DD.
November 1928
We have achieved praise for building the requested number of battleships. BB Iena finishes reconstruction. Britain takes over Iceland after upheaval there, with our tacit blessing. Amusingly, the picture the game shows is a camel on a beach with a cruiser in the background. AH lays down 3 DD, Japan 1 CV, 4 DD, Italy 1 CA, UK 1 BB. UK commissions 4 DD.
December 1928
Breakthrough: Reloads for deck mounted torpedo tubes. US lays down 6 DD, AH 1 AV, 1 DD. UK commissions 3 DD, US 1 CA. We start a competition for a new flying boat.