Gentlemen, your policy has guided us to victory over Italy. Although we fought no decisive fleet battle, good strategic choices lead to Italy's defeat in only four months. We have assumed control of the former Italian territories of Rhodes and Sardinia, and can now look forward to improved respect in the eyes of the world.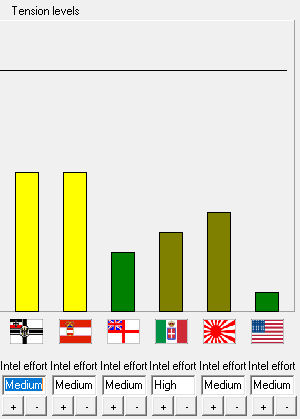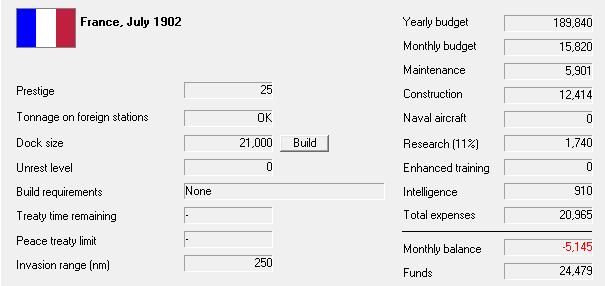 However, this leaves us with serious choices to make. The budget has been slashed to below its prewar level, and we will have to suspend some construction. Germany and Austria still threaten us, although tensions there have fallen somewhat, too.

The monthly summaries are as follows
March:
Laid down 3 300-ton minesweepers (1x3" gun, 19 kts) and 2 more destroyers, Claymore and Hache. Italian raiders sink two merchant ships, one in the Med and one in West Africa. Cruiser action off Brest, which the Italians decline, giving us 825 VP. Fleet battle off Bordighera (Franco-Italian border), which the Italians also decline, giving us 9630 VP. Enemy raid on coastal installations at Isle du Levant, which actually goes through. Even better, it looks like most of our battle fleet is there. Unknown ship sighted early, and the fleet turns to intercept. Engagement begins with firing at two Marco Polo class CAs, although the battleships then come into range. Fire is most ineffective. Several hull hits on our ships that miss the belt, confirming the wisdom of our switch to wide belts. At last the range closes to under 5000 yards, and the guns begin to hit regularly. It even looks like we're knocking their main guns out, at least temporarily.
At one point, their lead division gets directly in front of ours, and we turn to cross their stern, and the T of the rear division. This brings our lead division very close to their second division, the range falling to as little as 1,500 yards. Unfortunately, they seem to gain the upper hand in hitting, and one damages the rudder of Redoubtable. To make matters worse, a misunderstood signal takes our second battleship division out of the chase. After a long pounding engagement, we're beginning to run low on ammo, and first division is beaten up pretty badly. Heavy rain and approaching darkness cut visibility dramatically, and we don't want to risk a night action.
During the turnaway, several of our ships blunder into theirs. B Devastation nearly collides with an enemy battleship, while destroyer Catapulte pumps a torpedo into a Napoli class battleship. B Devastation then does ram another Napoli. She is hit by a torpedo and goes down like a stone. Both Napolis are lamed, although we haven't managed to actually sink either one yet. CL Chateaurenault is torpedoed. Finally, the last battleship gets away, and both sides turn for home.
The finally tally is one battleship sunk each, with them also losing a destroyer and us a merchant ship in the early phase of the battle. Total score is slightly in their favor, and their gunnery looks to have outperformed ours somewhat. VP is 2462 to them, 2266 to us.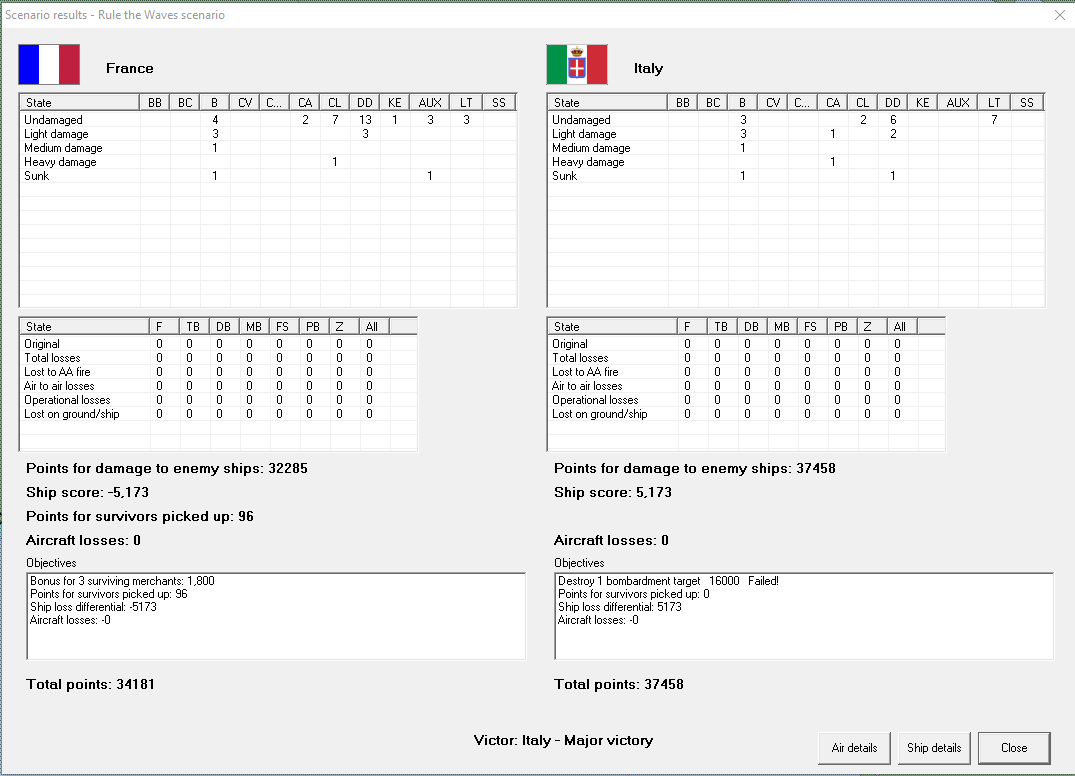 We gain 260 VP for blockade. Italy has laid down an AMC and 3 KE, the US a B, UK a KE. UK commissions 5 DD and a B.
April:
DD Sabre commissioned. Raiders sink 5 ships in Med, 1 on South American East Coast.
Attack launched on Italian convoy near Sardinia. Our force is 3 B, 2 CA. Unfortunately, we fail to intercept, and it's credited as a victory to Italy because of the surviving merchant ships. 786 VP for them. Italy has laid down 2 DD, 3 KE, 1 AMC. Refitting 1 CL with heavier guns. Japan and USA lay down CAs, Germany a CL. 260 VP from blockade. 2 more DD and a minesweeper laid down.
May:
Abortive peace negotiations result in no change to situation. Breakthrough: 6' rangefinder. Raiders sink 2 ships in Med. Raid on coastal shipping in Strait of Messina with 2 CA. We encounter a pair of enemy CAs, but this time it looks like we have the upper hand in gunnery. Soon, the force was trapped off the Italian coast, and we began to pound them. A torpedo attack didn't work out, and the cruisers eventually escaped into the safety of Messina itself. We then went hunting for other ships, damaging several transports and sinking one, which, when combined with the destroyer we sunk earlier, gave us the two we needed. At this point, we withdrew to not endanger our victory. End result is a major victory. +1 Prestiege, 1480 VP vs 342 for the enemy.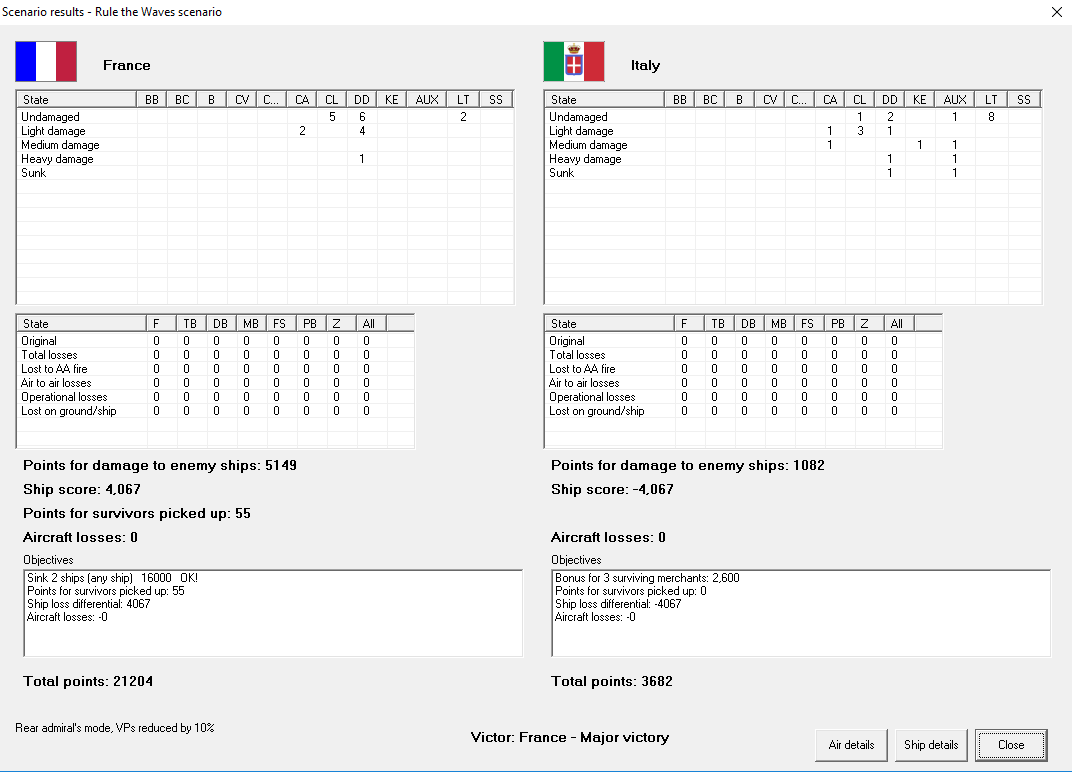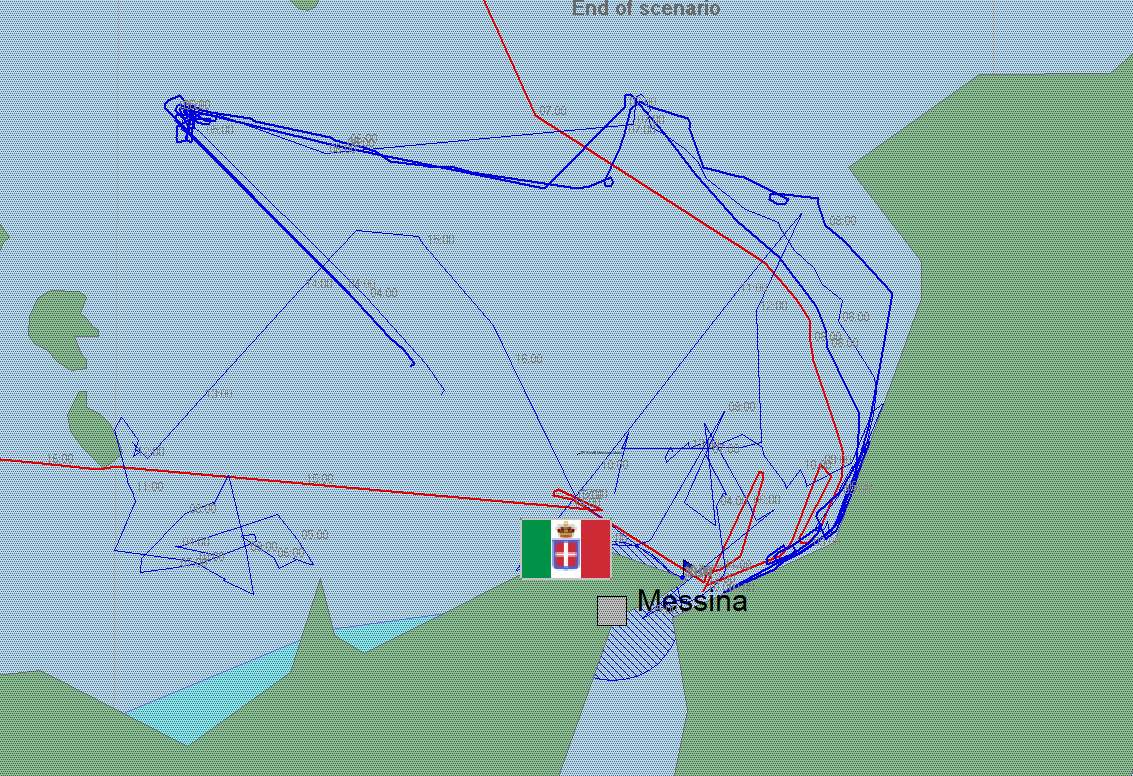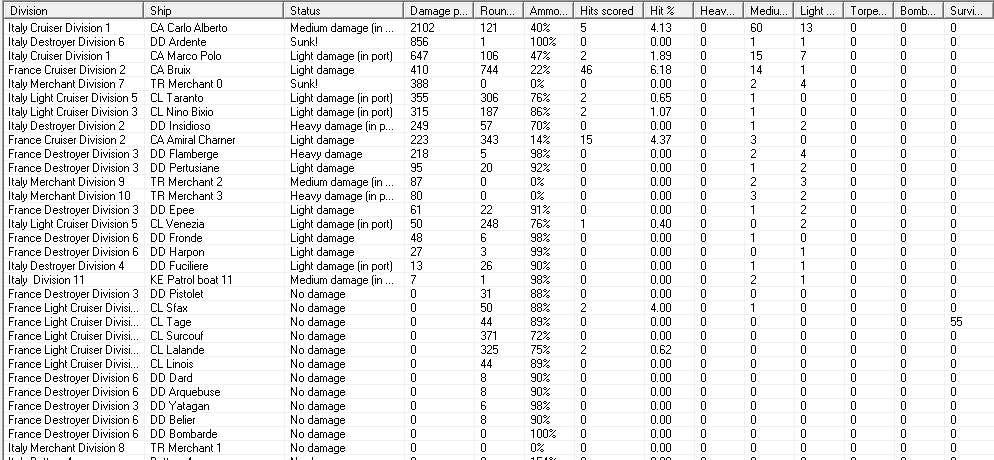 Germany and UK lay down Bs, Italy 3 KE and an AMC. Italy and AH are building coastal batteries. Germany commissions a B, US a CA.
June:
Construction of 6" coastal battery in Tunisia complete. 3 minesweepers commission, along with DD Mousqueton. They sound us out about a negotiated peace with us gaining the border areas, which our political leadership decides to accept. We take Sardinia and Rhodes from Italy.
Germany, UK lay down Bs, UK commissions 2 DDs. All war-only ships (AMCs and small KEs) are sold off.
January 1903:
1903 is upon us, giving us a chance to build on the glorious victories of 1902. War with Germany looms, a situation that has been recognized by our financial lords and masters. All ship construction has been resumed, and we expect most of the vessels currently under construction to commission within the next year.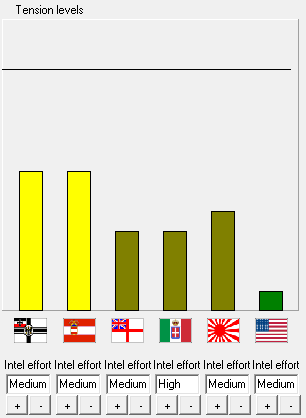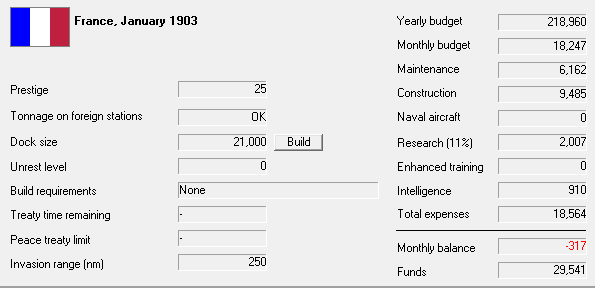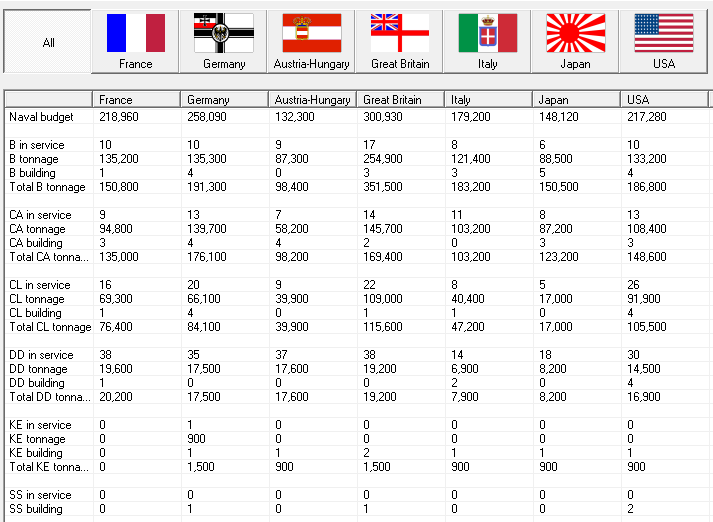 July:
We commission 2 DDs, DD Sabre finishes working up. US and UK commission a CA each, UK also a CL. Italy reported to have invented Early coastal submarines.
August:
14" gun (-1 quality) researched. Germany & US laid down Bs, UK, AH, US lay down KEs. US commissions 2 CLs.
September:
We commission 2 DD, DD Mosqueton finishes working up. An increase in naval spending is authorized to counter the threat of Germany. Medium wing turrets (twins up to 10" possible) developed. US commissions 2 CL, UK a CL and CA. 1-month delay to B Solferino. (When this happens, you aren't charged for that month.) US lays down 2 DD. Construction on CA Dupleix resumed.
October:
Plans for Japanese B Sagami stolen. 2 DD finish working up. US lays down 1 DD, commissions 1 CL. 1-month delay to DD Hache.

November:
CL Isly commissions. During trials, she has trouble reaching her design speed. (Class is capable of 21 kts, not 22 kts.) DD Claymore also commissions. Breakthrough: face-hardening for armor. Germany has increased their naval budget. AH halted B construction due to financial difficulties. Italy laid down a KE, USA a DD and CA. AH commissions a CA. Construction resumed on CL Alger.
December:
2 DD commission, one a month early. (Don't know how this is costed.) A crisis breaks out in the Balkans, and we decide to back our ally unconditionally. Breakthrough in side drums for machinery. Germany commissions a KE and CA, lays down replacements. 2 DD finish working up. UK and Italy commission CLs. CA Desaix resumed.
The big challenge for the coming year is for our shipbuilding plans. We should probably plan for whatever is to replace Jeanne d'Arc on the slipway now, so the designers have time to prepare it for building. It could be anything from a minimum-change variant, possibly shrunk to take advantage of new weight-saving technologies to something faster or with more guns or armor. Or it could be a battleship, probably based on the Solfierno design. Or it could be a lot of CLs and DDs. I'm not going to do sketches right now, but I'll provide them on request.
---
1903 Sketch Designs