Gentlemen,
So far, the war with Italy has gone reasonably well, with even the recent battle off Isle du Levant netting us three battleships and half a dozen destroyers for the price of a single battlecruiser, despite extensive damage to our fleet. Other battles have universally resulted in our ships emerging victorious, with the only black spot being the Army's refusal to authorize the invasion of Sicily.1 We see no end for this, and perhaps should consider spending the preparation money elsewhere.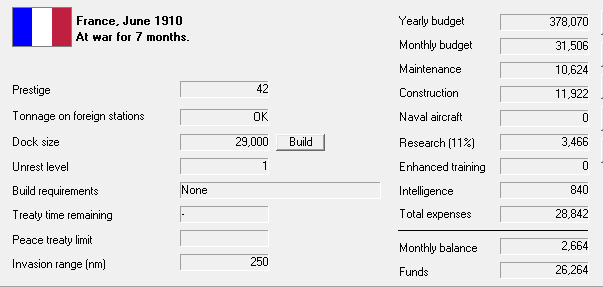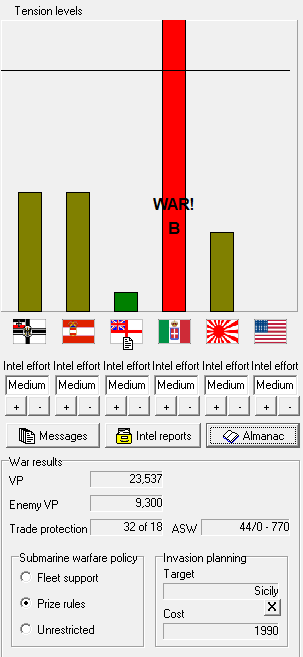 With the loss of Marseille, it is perhaps time to reexamine battlecruiser construction. A number of sketch designs have been prepared for your consideration, all using the new 14" gun and improved torpedo protection.2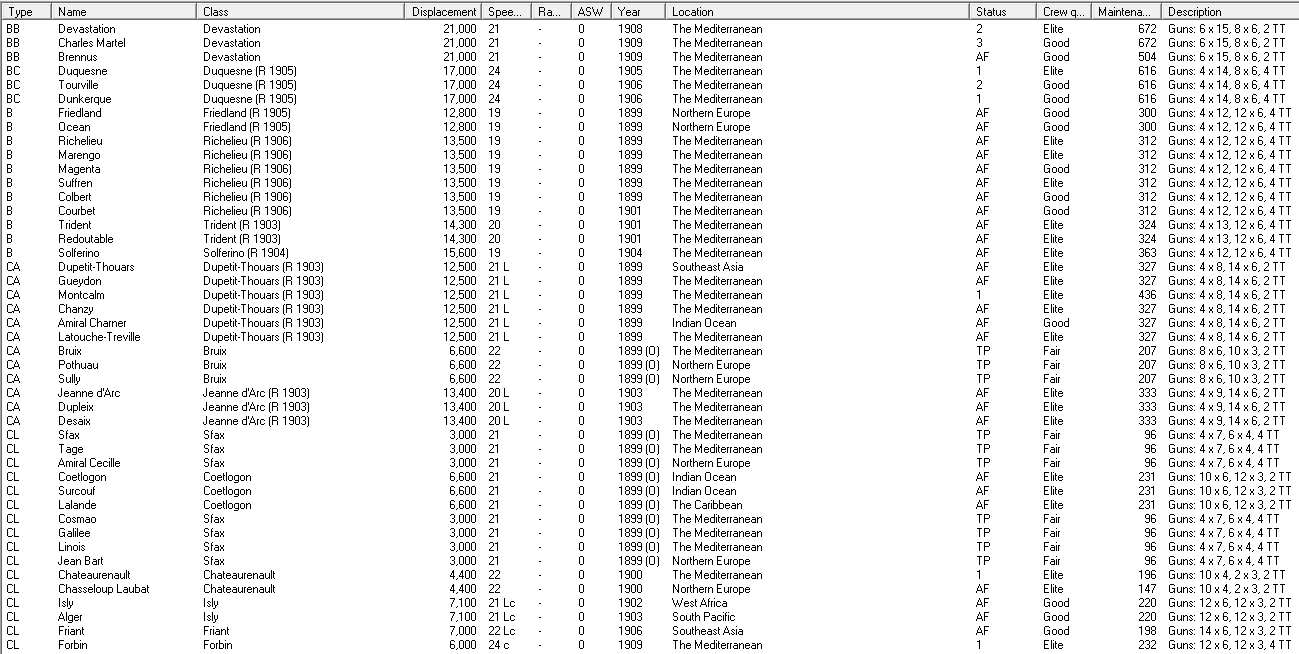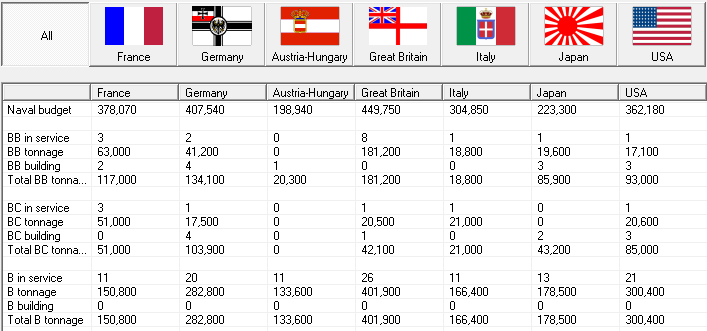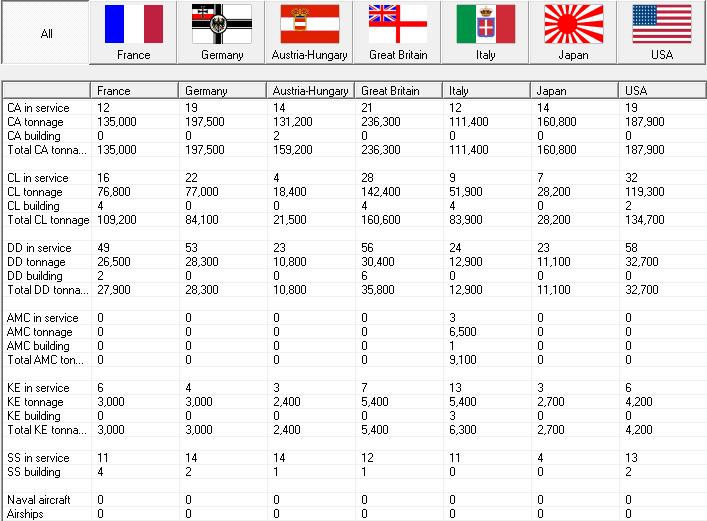 Battlecruiser designs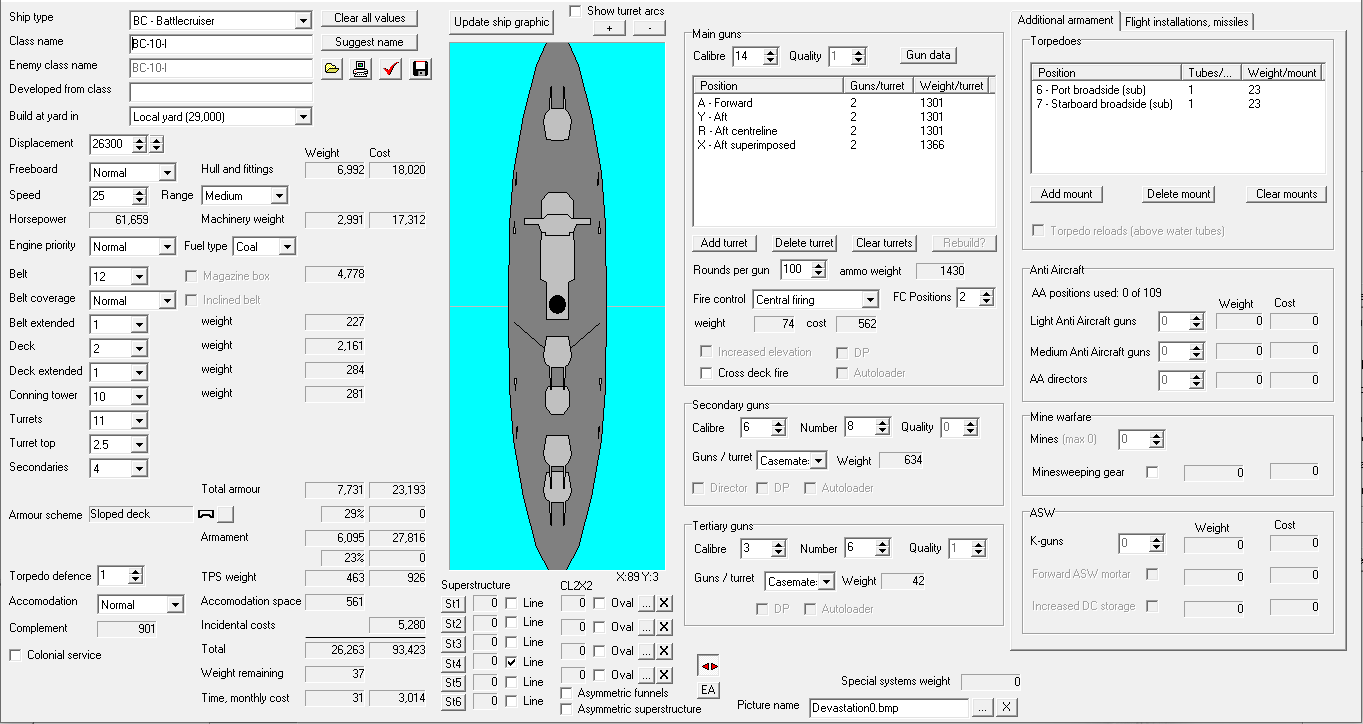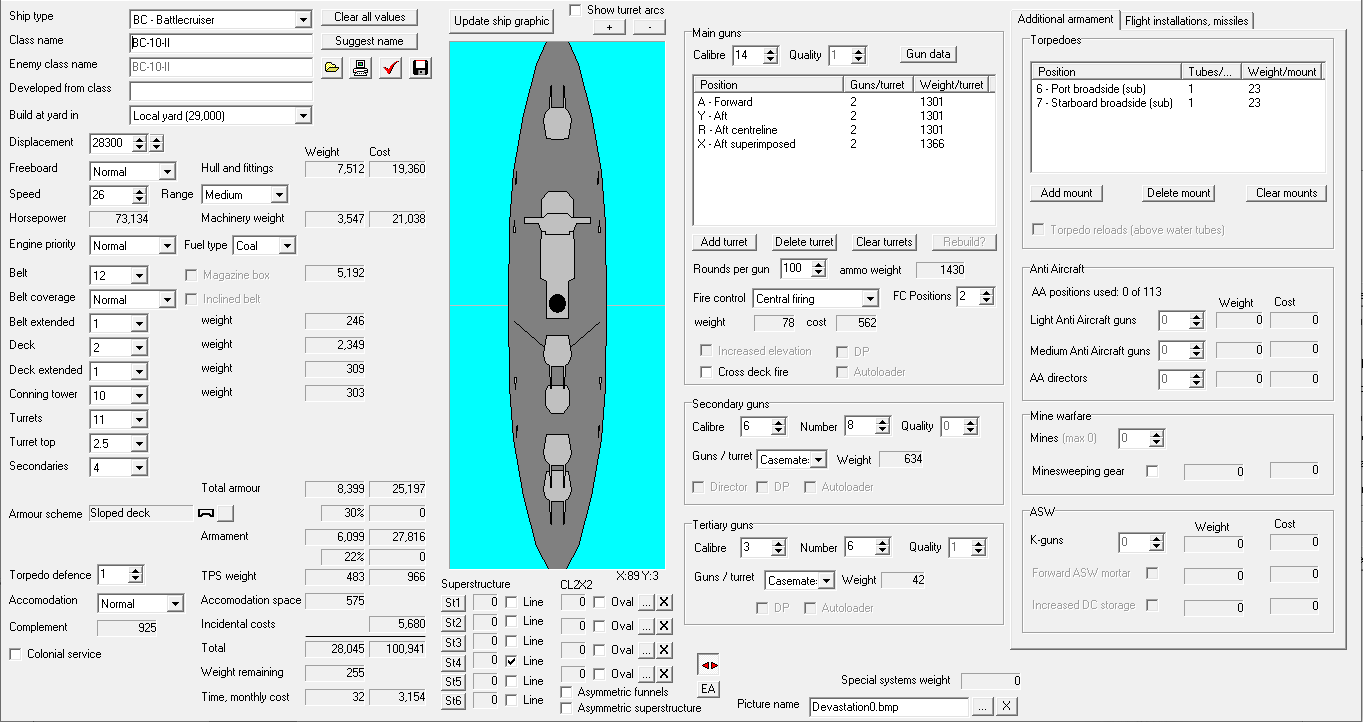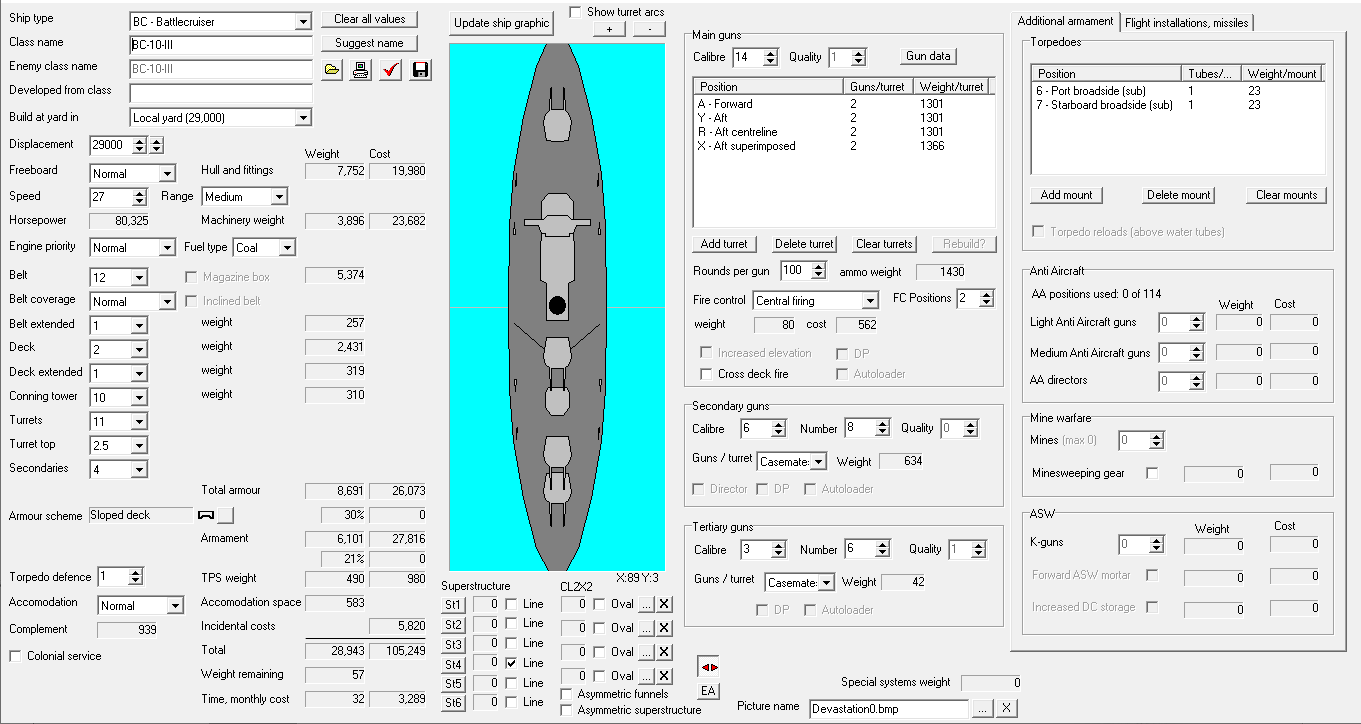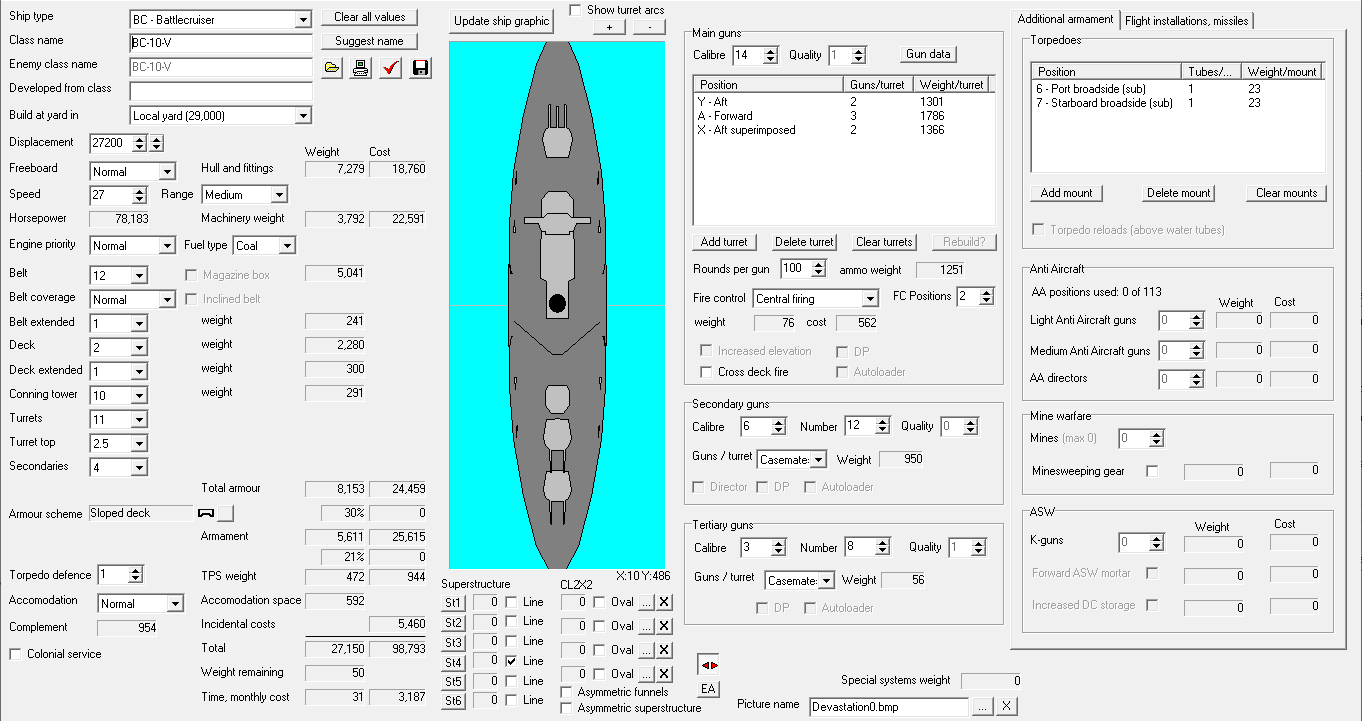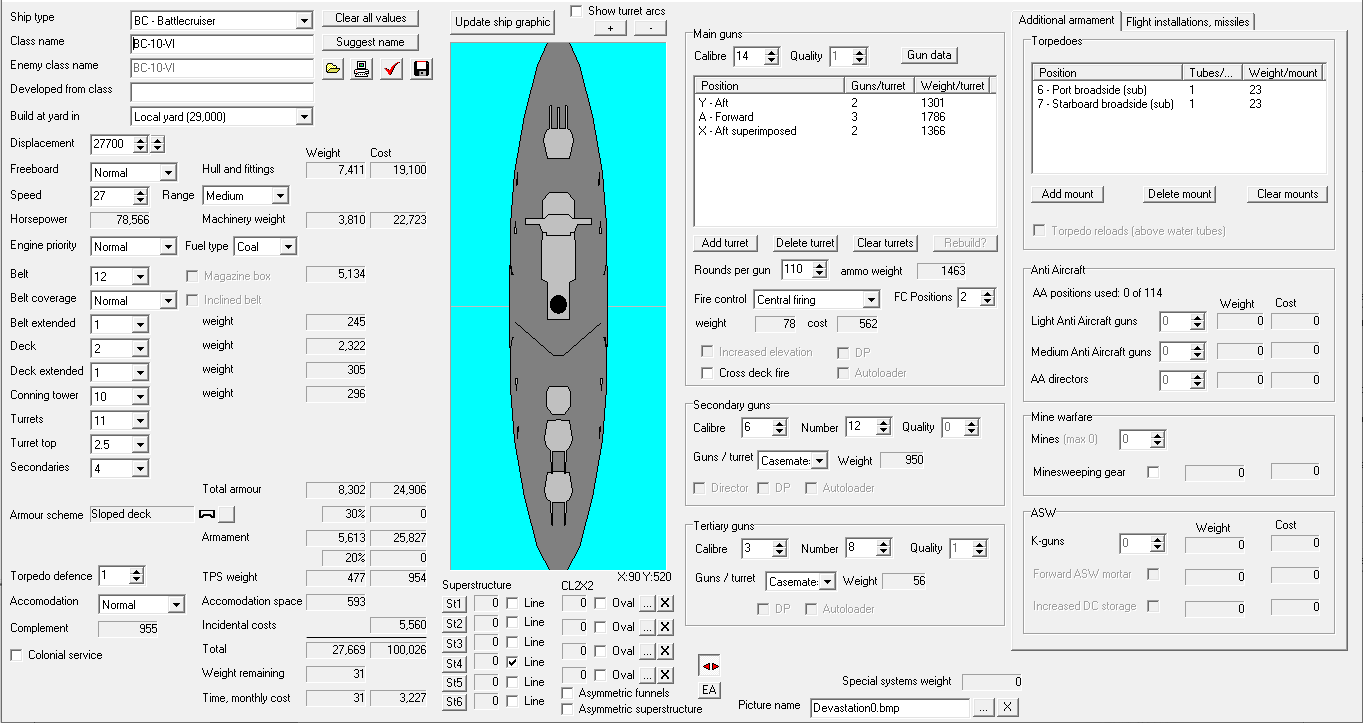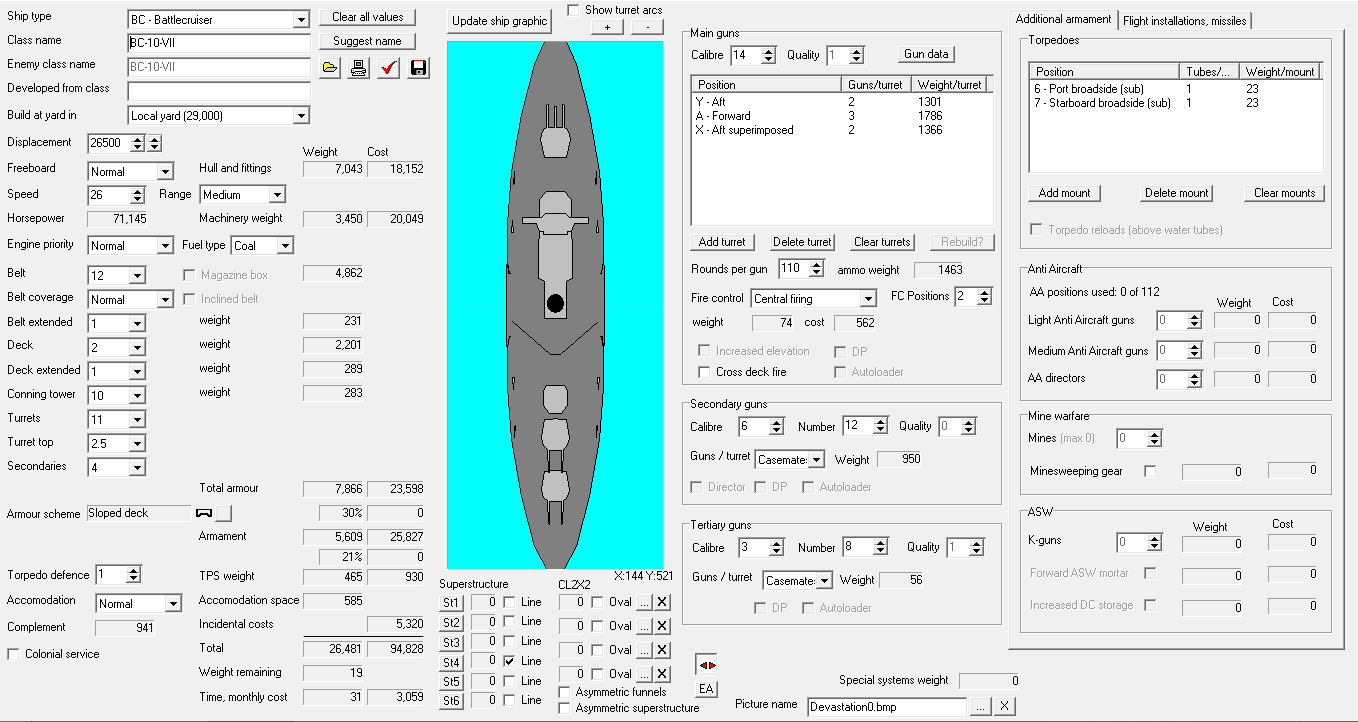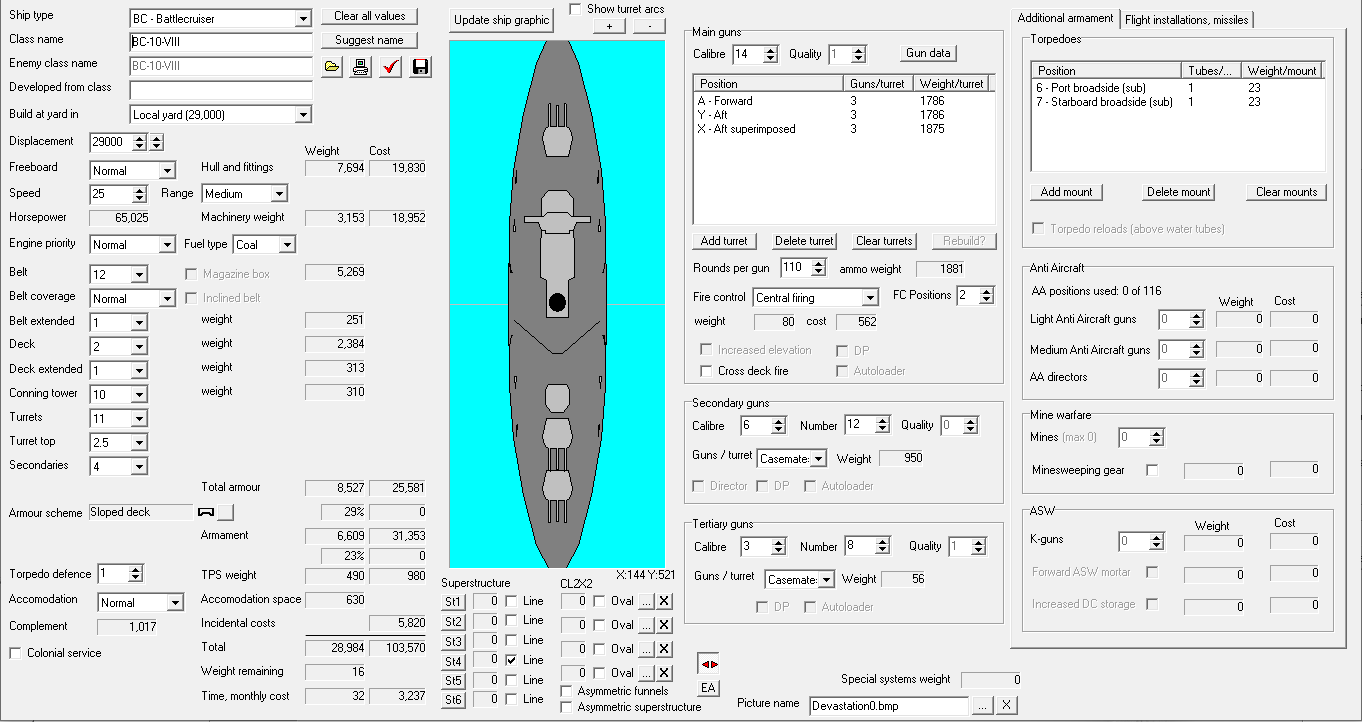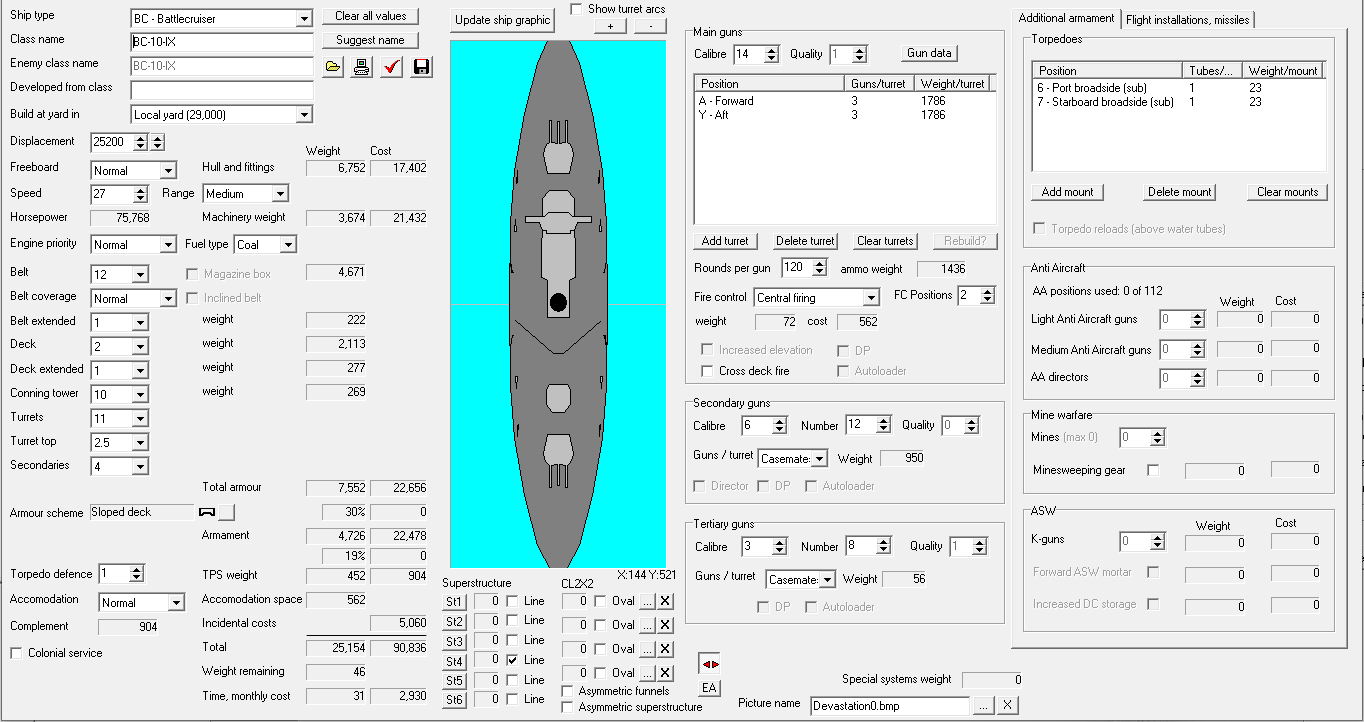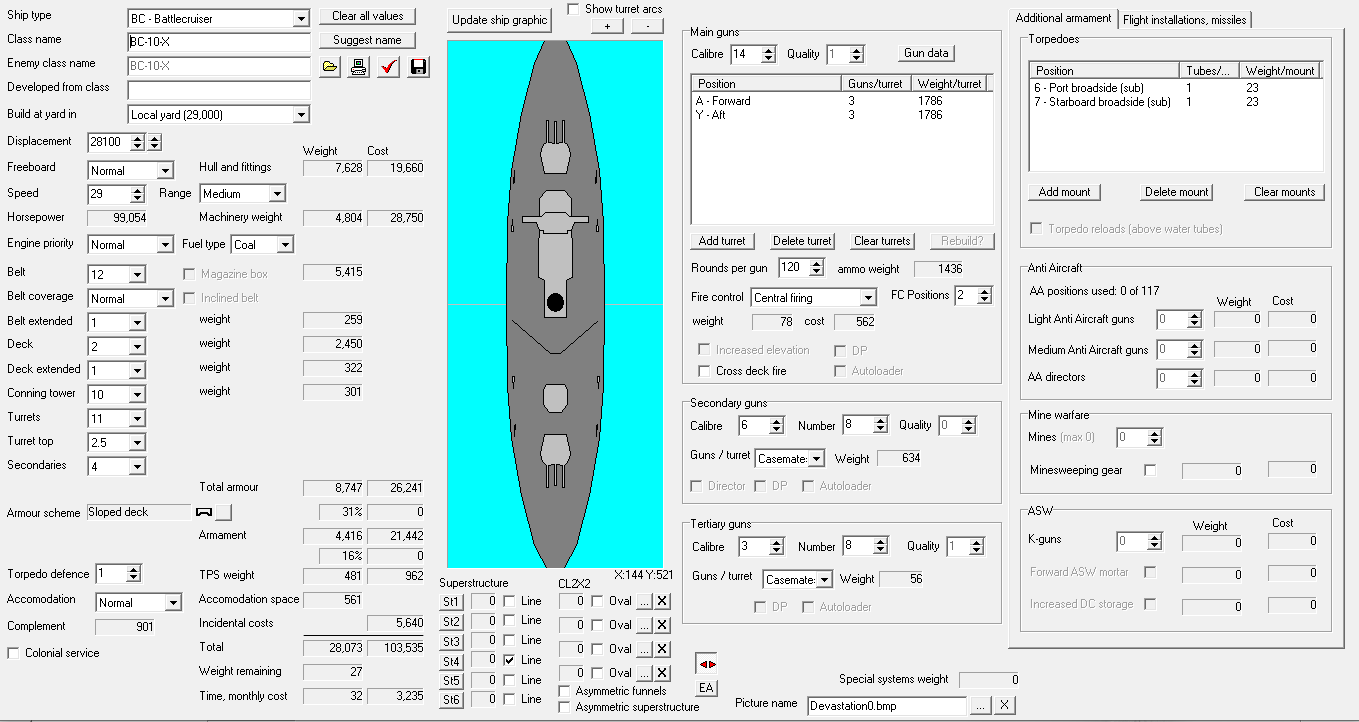 December 1909
Enemy fleets dominate the seas around Corsica, -100 VP. Breakthrough: Light Cruiser armor configuration. Our submarines sink 2 enemy merchants, while a single one of our merchants is sunk by a raider. UK lays down a CL, Italy 6 KE and an AMC, US commissions 2 CL. 230 VP for blockade.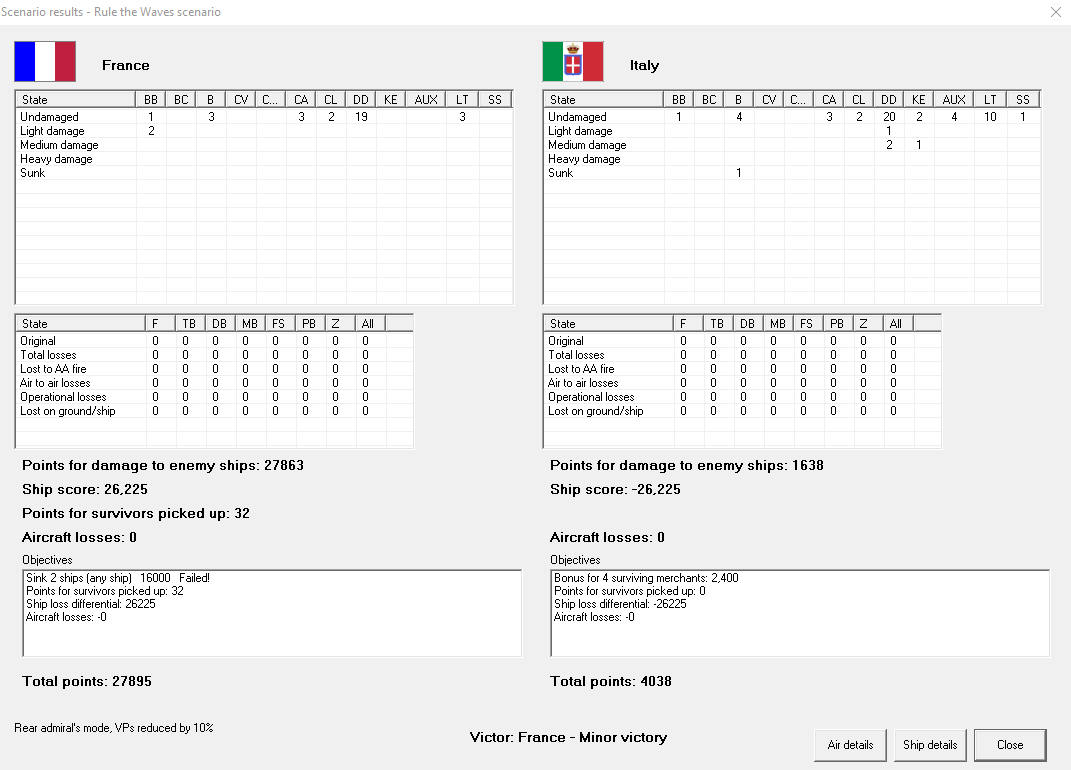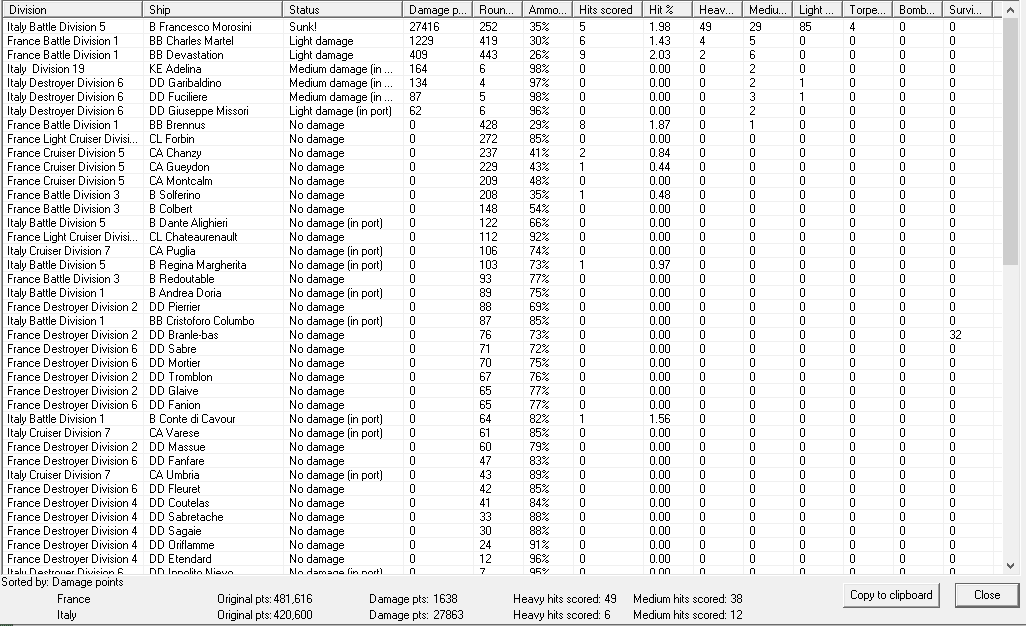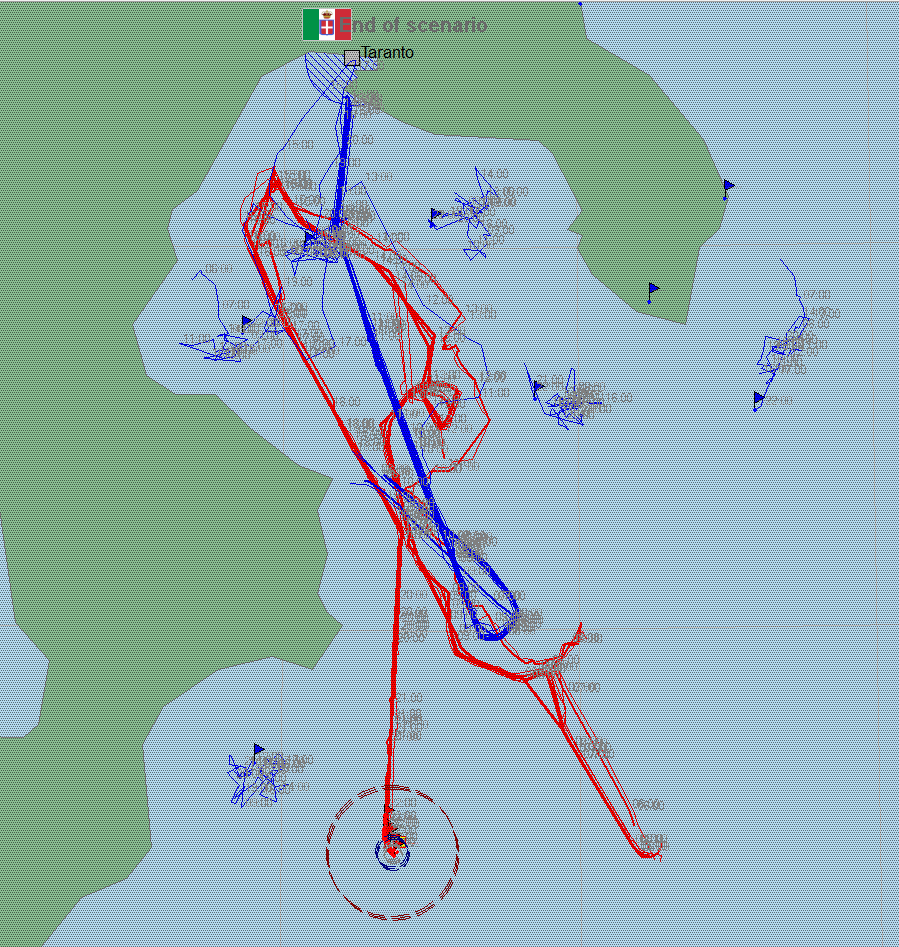 A cruiser battle looms near Crete, but the Italians decline it, giving us 3845 VP. We use the gap to launch a raid on enemy shipping in the Gulf of Taranto, with all three Devastations, 3 supporting battleships, 3 CAs, and various destroyers. They encounter the bulk of the Italian fleet, including Cristoforo Columbo, somehow out of the yard already. The admiral in command of our fleet describes the Italian yard workers as "magnifique". The final count for them is 1 BB, 5 B, and 3 CA. Unfortunately, they turn to run for home, and neither side's gunnery is good enough to make an action of it. Fortunately, one of the Italian B of the Caio Duilio class, is slowed by a few hits and soon begins to take a battering from our ships. Eventually, she is left dead in the water, and is sunk by torpedoes.
The fleet goes in search of more prey, the Italian main body have long ago scampered over the horizon for Taranto, and finds a corvette, which it manages to hit several times without sinking it. With dusk falling, the fleet withdraws, fearful of a night attack. Minor victory, +1 prestige, 1,888 VP for us, 368 VP for them at the Battle of the Gulf of Taranto.
January 1910
We commission 2 SSC. Breakthrough: Plotting table. Each side's submarines get 1 merchant, and a raider of theirs gets another of ours. However, we get one of their subs. British operations add 260 VP. Gain 240 VP for blockade. Germany lays down a BC, Italy an AMC and 3 KE. A-H has commissioned a CA, UK a BB.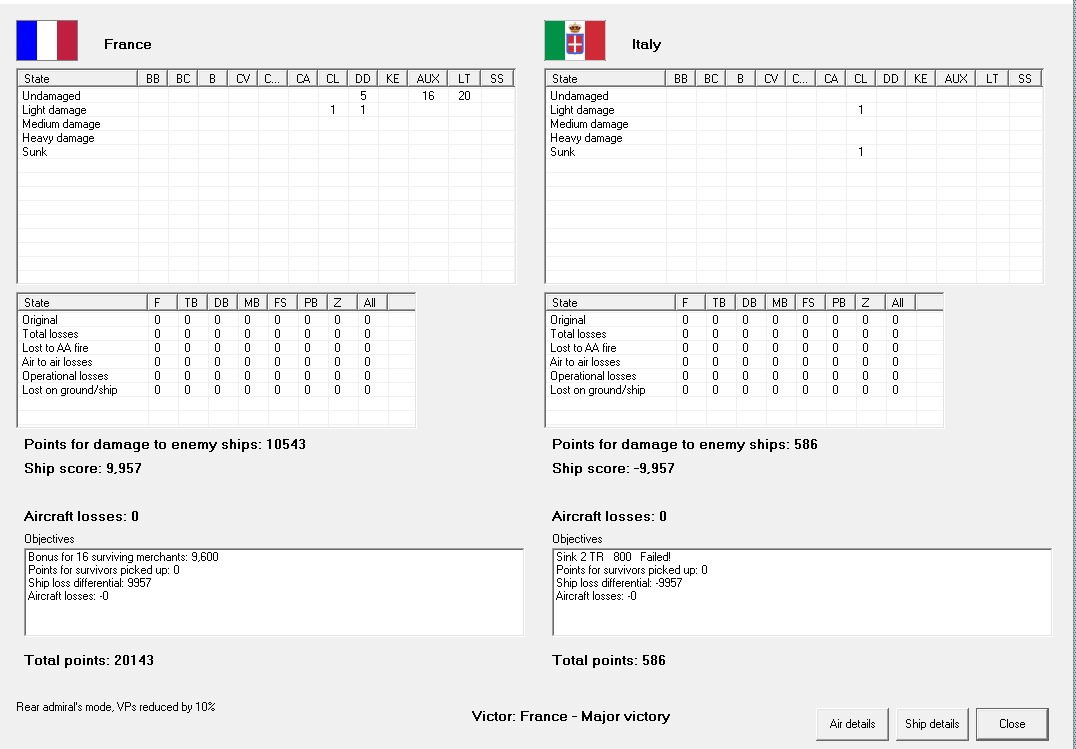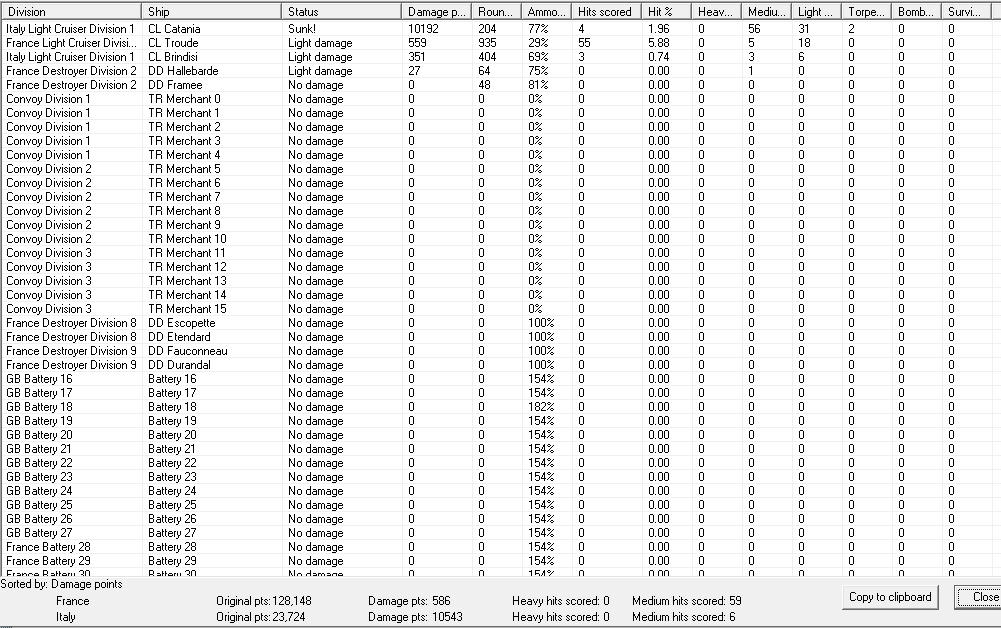 Convoy defense off Western France. A CL and 2 DDs are defending a convoy. They encounter a pair of Italian CLs. Fortunately, our CL is a 6" gun Coetlogon, while their ships are both armed with 4", giving us a major advantage. Eventually, we batter one of their CLs to immobility, then finish it off with torpedoes. Major victory, +1 prestige, 1,414 VP for us, 90 VP for them in the Battle of the Bay of Biscay.
February 1910
Increased industrialization improves national resources. Breakthrough: Preheater. Our subs sink one enemy merchant ship and we lose no ships to their fleet. UK commissions a BB. US lays down a CL, Italy an AMC. 240 VP for blockade. Construction of CL Bugeaud suspended to reduce financial losses.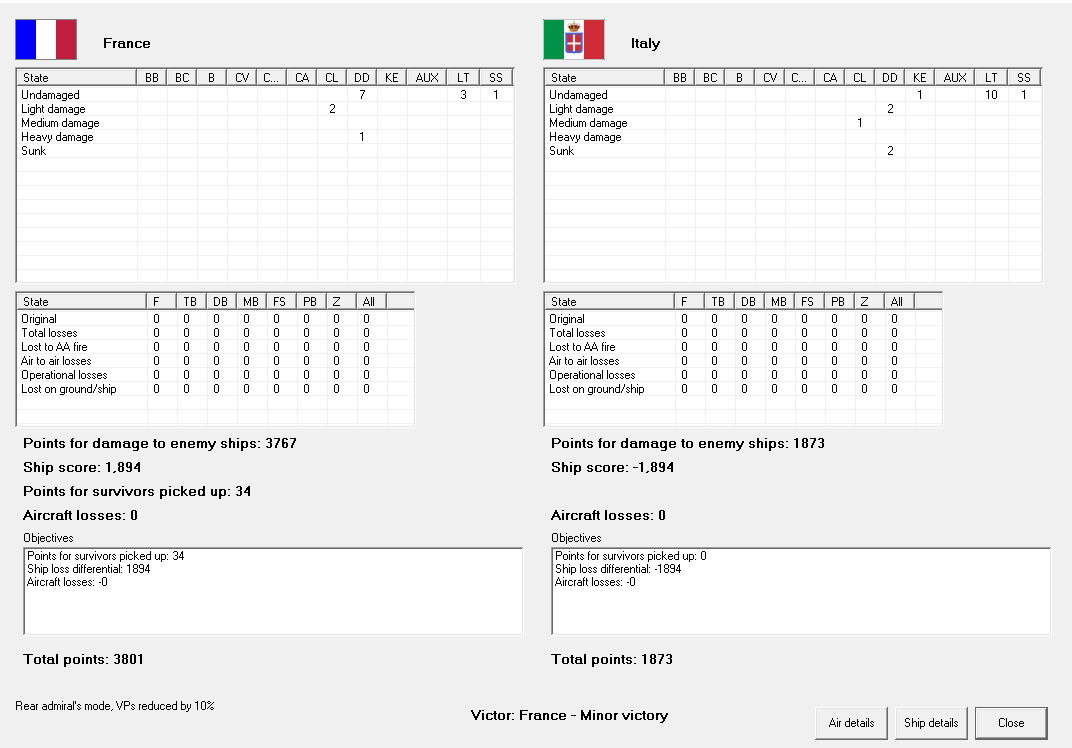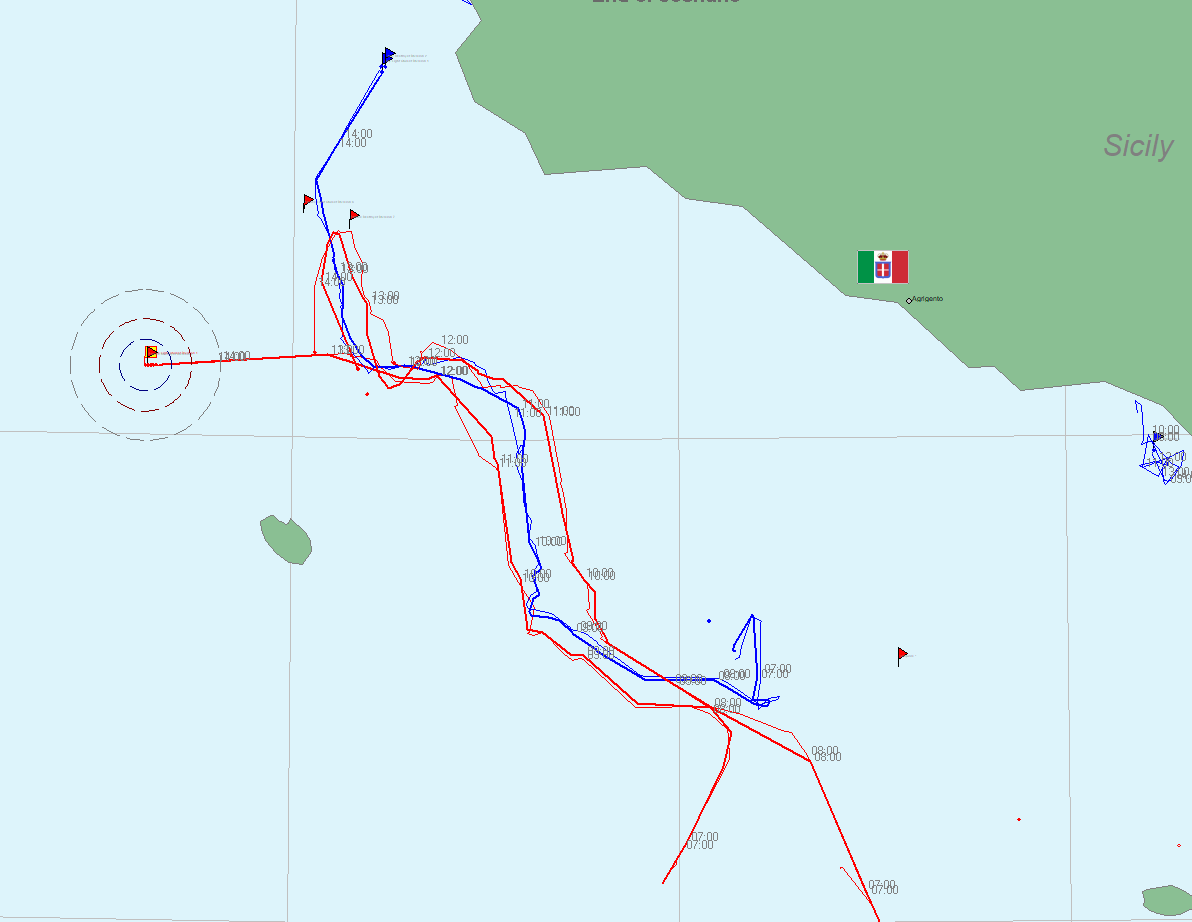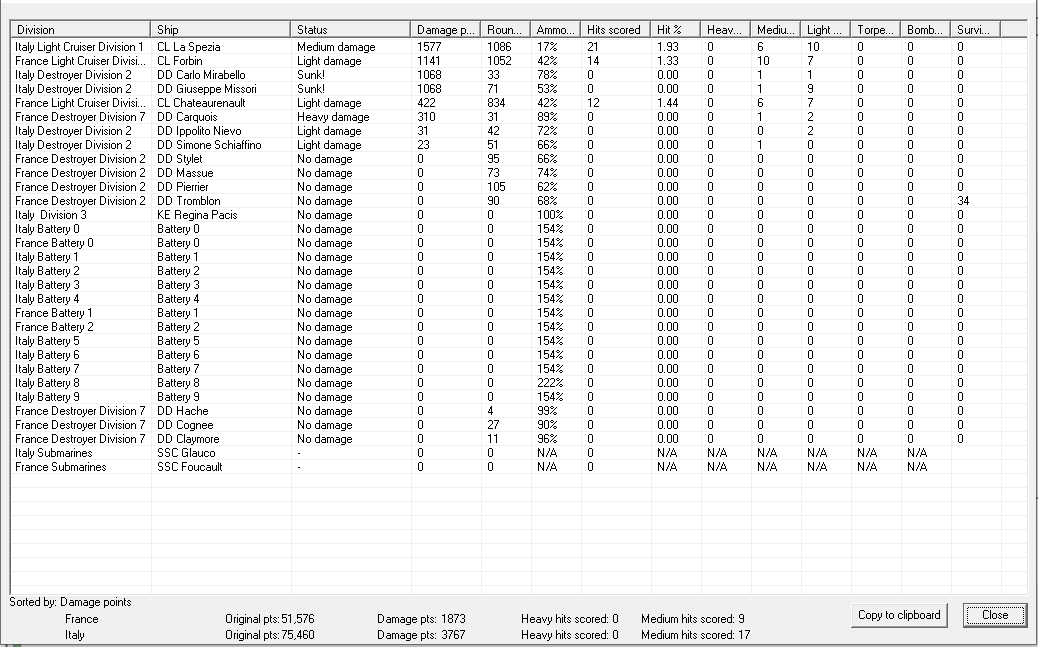 Cruiser action off Sicily. CL Forbin and four DDs encounter an equal Italian force. (Sidenote: I am annoyed that none of the BCs have gotten into action yet.) Unfortunately, Forbin's inexperienced crew don't shoot well enough to get the early firepower advantage, and suffer several topside hits that slow their ship. Eventually, they manage to sink one of the enemy's destroyers, while another patrolling cruiser squadron (AI managed) joins the chase. Another destroyer is lamed and left behind to eventually sink, but eventually the enemy pulls away, and we turn for Tunis. Minor victory, 350 VP for us, 203 VP for them.
March 1910
We commission 2 SSC, 2 KE. Parliament authorizes additional war loans and the naval budget increases. Breakthrough: Reliable delay fuzes. 2 friendly merchants lost to subs, 5 to raiders, 1 enemy sub sunk. UK lays down 4 DD, US 1 BB, Italy 1 AMC. Italy commissions 1 AMC, 3 KE. 230 VP for blockade of the enemy.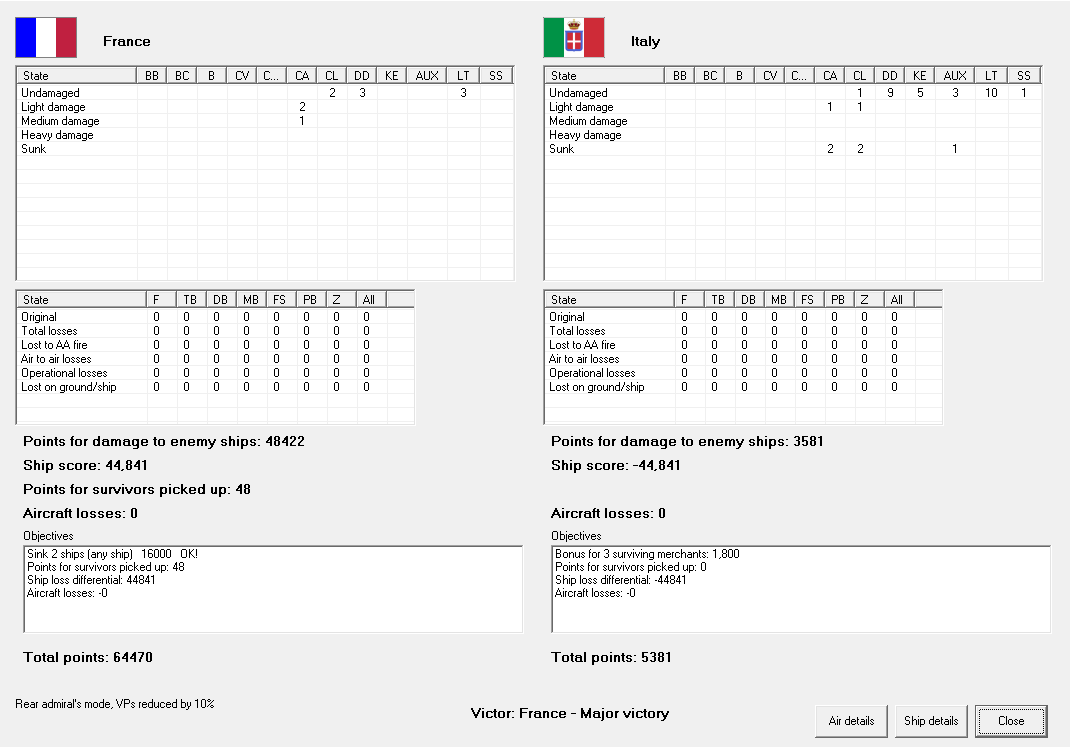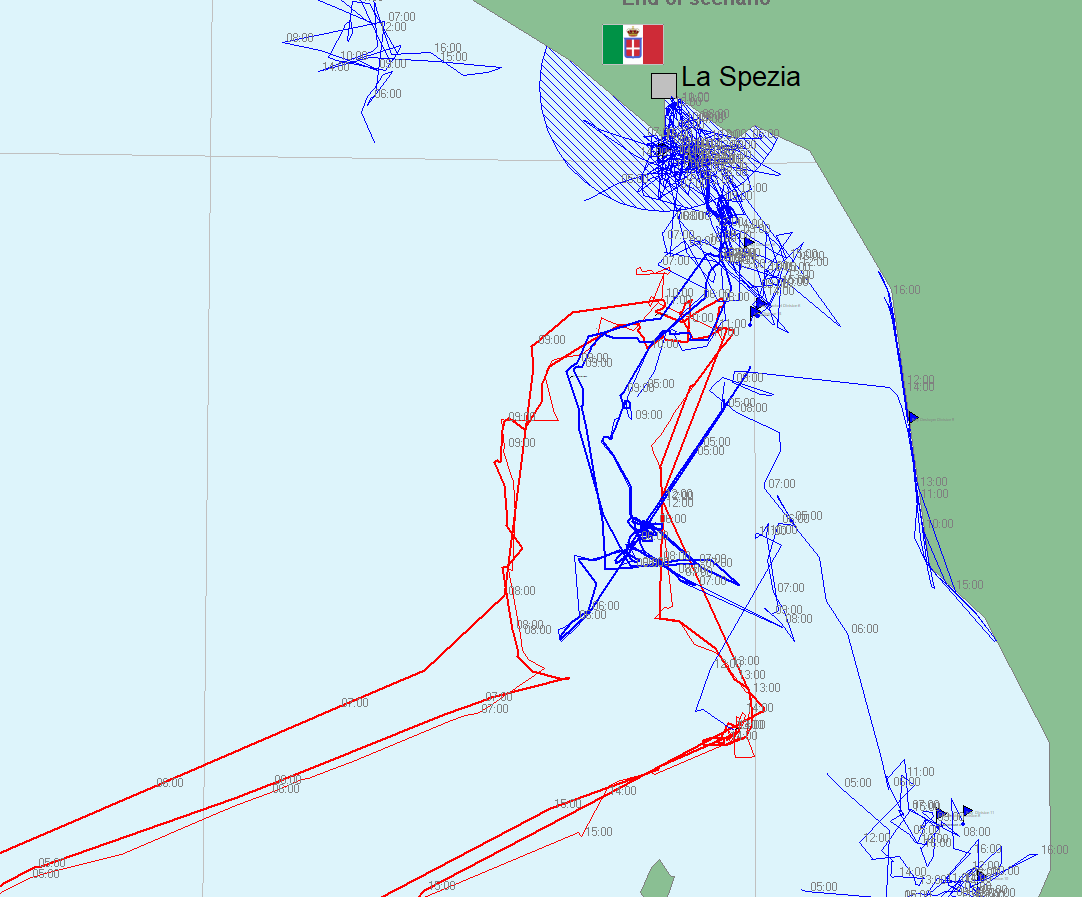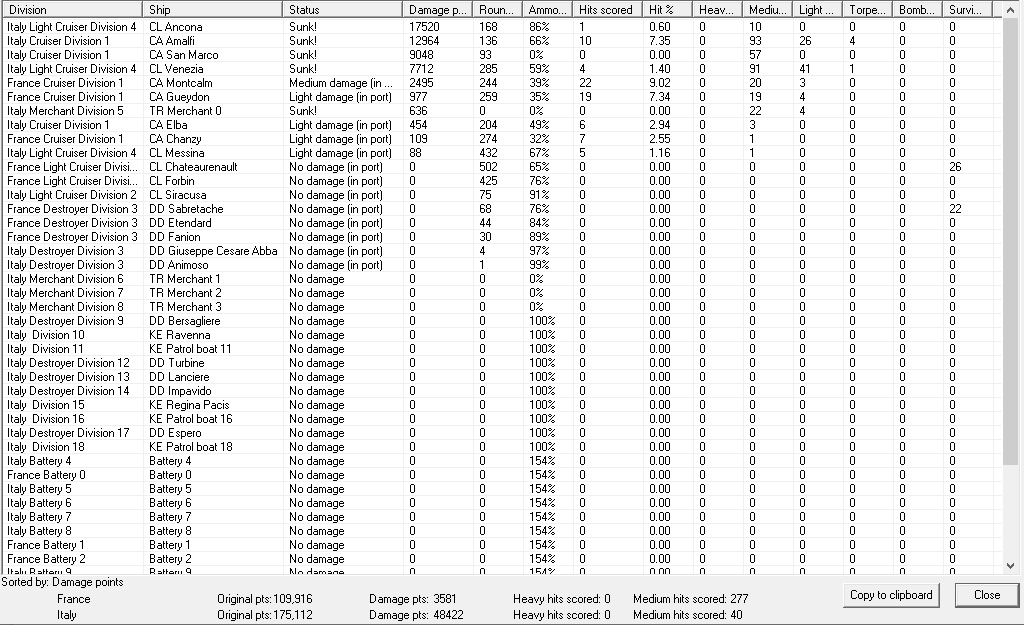 Raid on enemy coastal shipping in the Ligurian Sea. We have 3 CAs, with CL scouting force. (Still no BCs!) They run into a similar-sized Italian force, and begin to exchange broadsides. A long running battle follows, with our ships generally hitting more than they are hit. One of their CLs blows up spectacularly after a turret hit. A CA is lamed and left behind, later to be blown up by one of our trailing cruisers, while another CA takes heavy damage and slows to a halt. Our main force turns to pound it to dust, in the process trapping a CL and pounding it to rubble. The last CA and the rest of the Italian force flee to safety at La Spezia. Eventually, the second CL blows up like the first, while the CA is torpedoed and sinks. Our fleet turns for Corsica, and on the way back, stumbles across an Italian merchantman, who is promptly sunk. As a result of the battle, our Naval Intelligence personnel suggest that the Italians are either introducing a new type of propellant and didn't do their safety homework, or really didn't do their safety homework. Ordnance suggest we conduct a comprehensive safety review of our own. The Battle of the Ligurian Sea is a major victory, +2 prestige, 4,048 VP for us, 462 VP for them.
April 1910
Construction resumes on CL Bugeaud. CL Troude sent for refit with better FC. 2 SS laid down. Breakthrough: Extended double bottom. 1 friendly merchant ship sunk by subs, 6 by raiders. UK laid down a DD, Italy scrapped 3 DD. Italy commissioned 1 AMC, 3 KE. 240 VP for blockade. No idea why the invasion of Sicily isn't firing.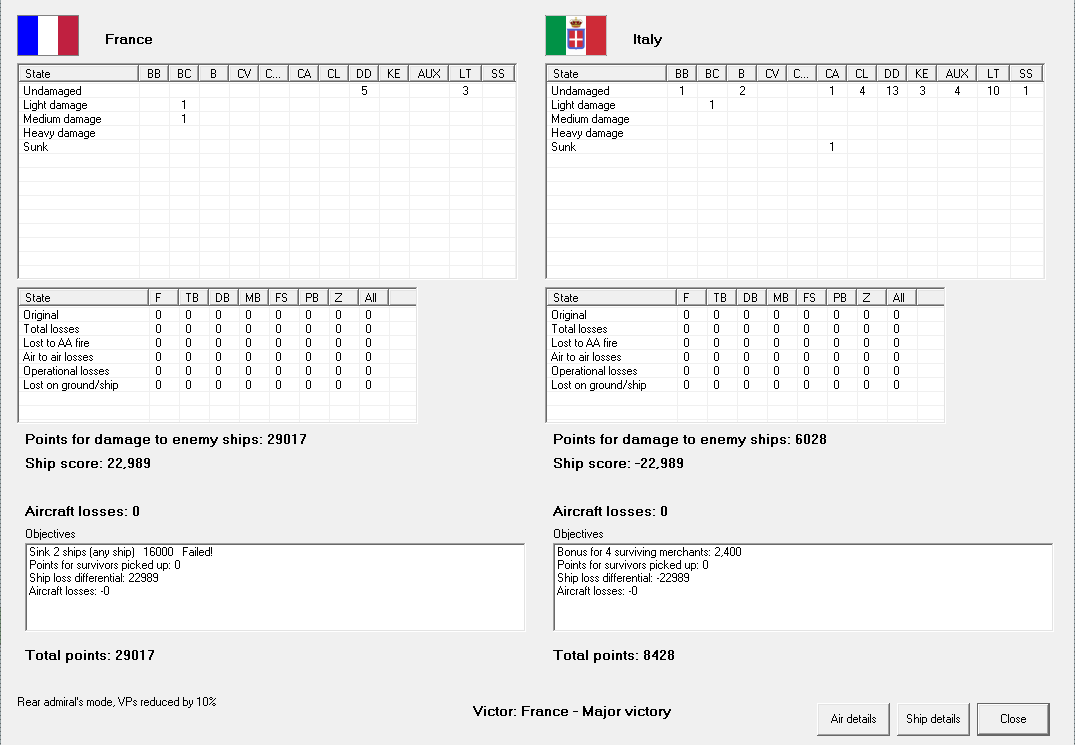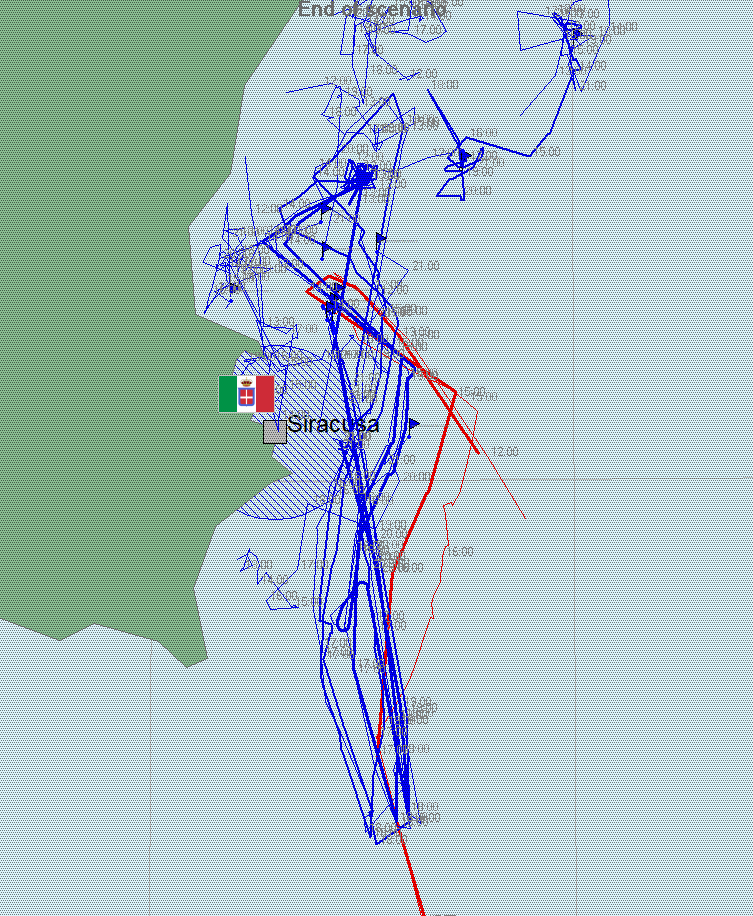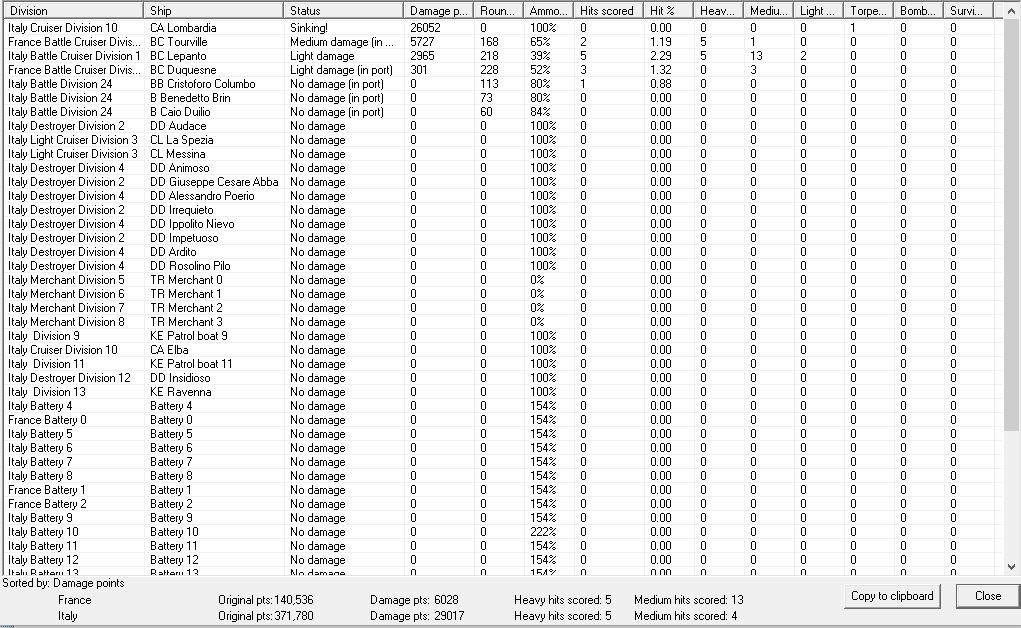 Coastal raid on Sicily. 2 BCs (finally!) and 5 DDs run across a force of 2 Bs, a BB and the Italian BC. Their commander wisely decides to withdraw, and breaks loose from all but Lepanto, which the two ships then pound until she breaks off. The BCs then run for the open sea. After dusk falls, they head for Malta, the nearest friendly base. The result would have been pretty even, except that a CA was torpedoed by one of our submarines after dark, giving us a major victory in the Battle off Syracuse. +1 Prestige, 1,956 VP for us, 669 VP for them.
May 1910
Breakthroughs: Increased oblique penetration ability, Q-Ships. Their subs kill 2 merchants, ours get 1, while our patrols are very effective and stop all attempted raids. (Sorry about the short message here. There was an accident in the coding office and many dispatches were lost.)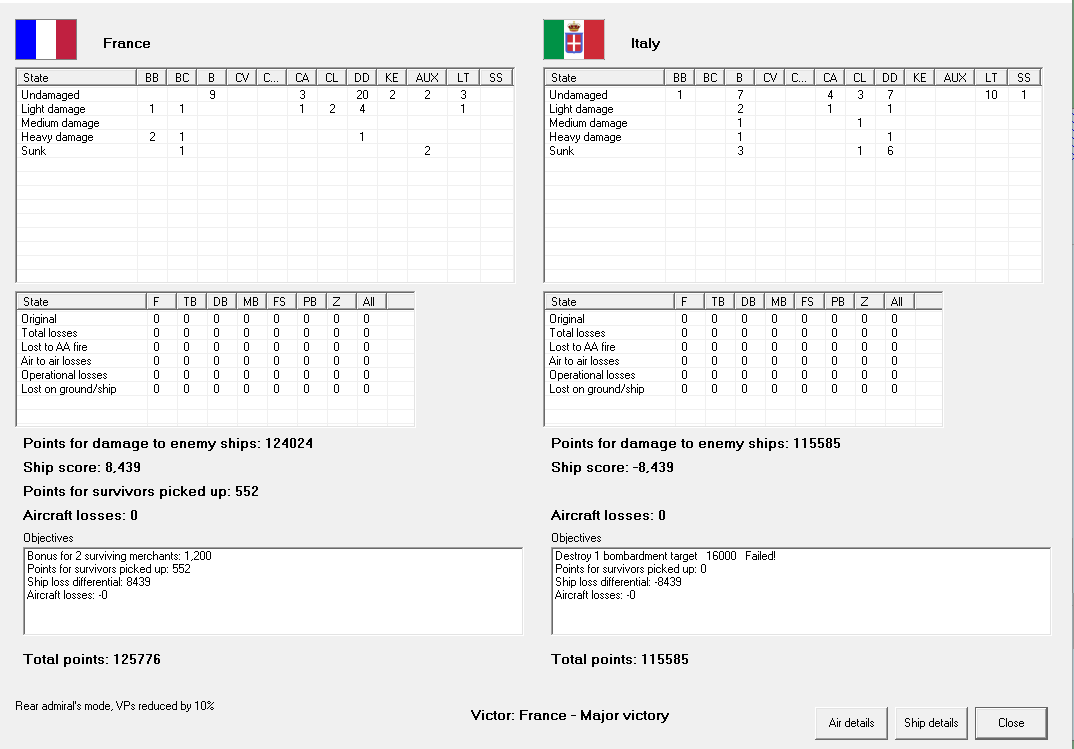 The enemy attempts a raid on a land target near Toulon, which we meet with nearly our entire fleet. They're bombarding the target when we sight them, but they flee before it's destroyed. Unfortunately, the speed required has badly spread our fleet, so the Devastations and Dunquerques go into action without the support of the older Bs. During the exchange, an unlucky hit on Martel that slows her allows their fleet to pull ahead. Somehow, we blunder into a melee with their trailing division, and Martel and Marseilles are torpedoed. Marseilles eats a second fish while breaking away and goes down. However, two Bs are lamed and sunk, along with a brace of destroyers. A small force of cruisers and destroyers got bypassed during the battle, and the remaining battlecruisers end up in a melee with them just after dusk, sinking a CL. They get clear, and the situation falls completely to pieces, with most of the fleet milling around Nice. More training in night fighting might be needed. Somehow, the battlecruisers end up off the Italian port of Imperia, and sink another battleship in a close-range melee which miraculously doesn't see either of them torpedoed.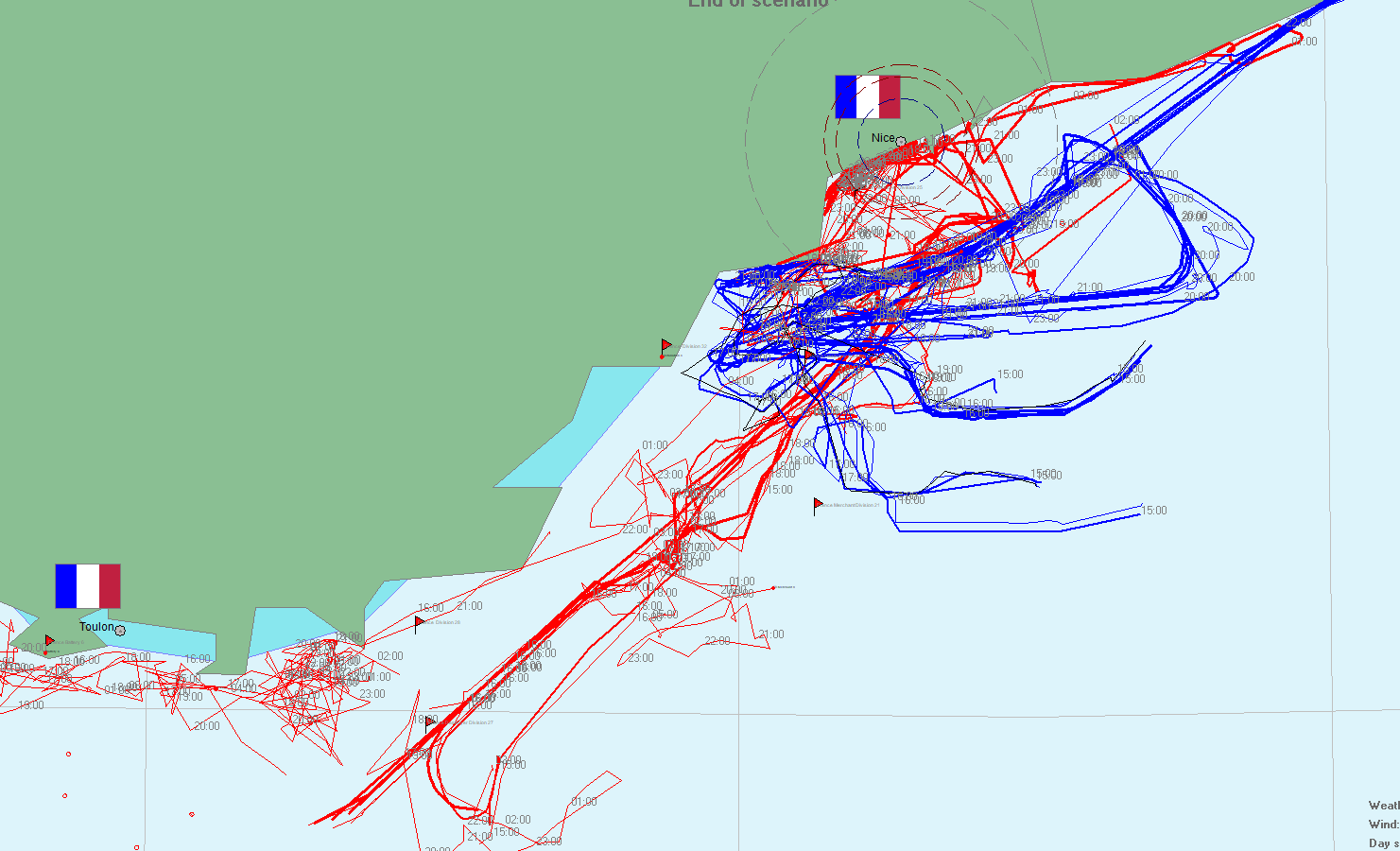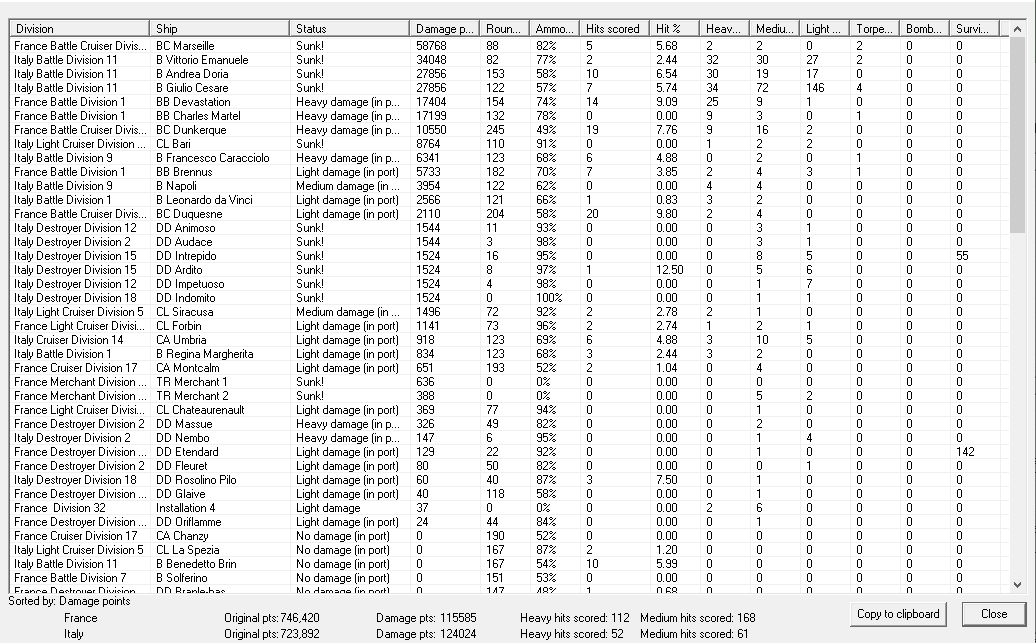 When the smoke clears, it looks like we've won, but only barely. We sunk three old battleships, a light cruiser and half a dozen destroyers, at the cost of a battlecruiser and two merchant vessels caught in the crossfire. But both fleets were badly battered, and it's going to be a few months before our entire fleet is ready for sea again. 7,559 VP for us, 6,980 VP for them at the Battle of Isle du Levant.
---
December 1910
Gentlemen,
The last six months have been quiet. We have yet to see another battle on the scale of Isle du Levant and the Army refuses to invade Sicily, but we continue to chip away at the Italian navy. The biggest event was the laying down of our new battlecruiser Lille. Even our researchers were fairly quiet, but we hope for more in the opening months of 1911.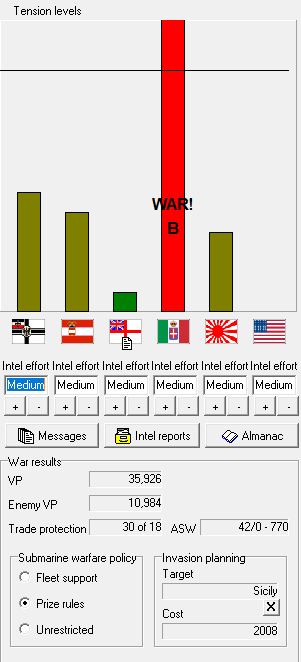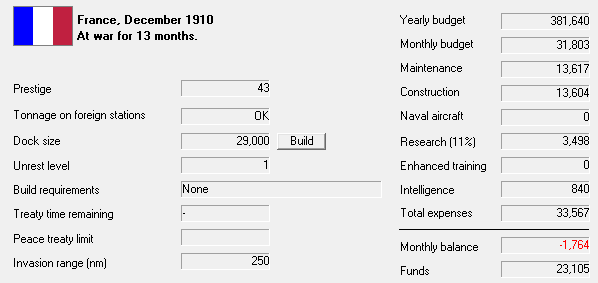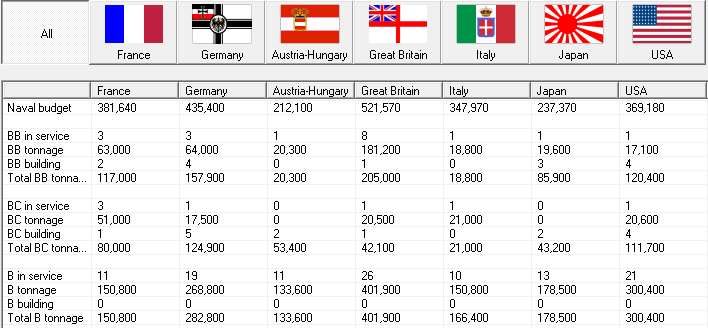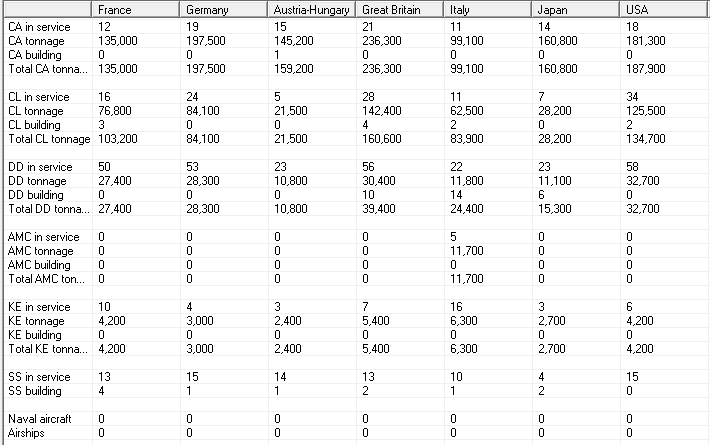 June 1910
Design work begun on BC Lille. CL Lavoisier commissioned. Our spies steal the plans for Italian CL Cagliari. 1 merchant sunk by a raider. UK and Japan lay down 2 DD each, US lays down 1 BC, Italy 1 AMC. A-H commissions BB, Italy 1 AMC, 1 CL. 210 VP for blockade of the enemy.

Coastal raid on western France. A CL and a couple DDs encounter an enemy CA, and decide they'd rather avoid action. They shadow the CA until dusk, with the end result being that the only loss is a TR with medium damage. Minor victory, 276 VP for them, 29 VP for us.
July 1910
4 KE laid down to bridge the gap before Lille starts construction. CL Troude finishes reconstruction. Breakthrough: Hydraulic rammers. One of our subs torpedoes and damages BB Columbo, while a DD is sunk by a mine in the Med. 1 friendly merchant sunk by raider. A-H lays down a BC, Italy an AMC, US a BB. Italy commissions a CL. 250 VP for blockade.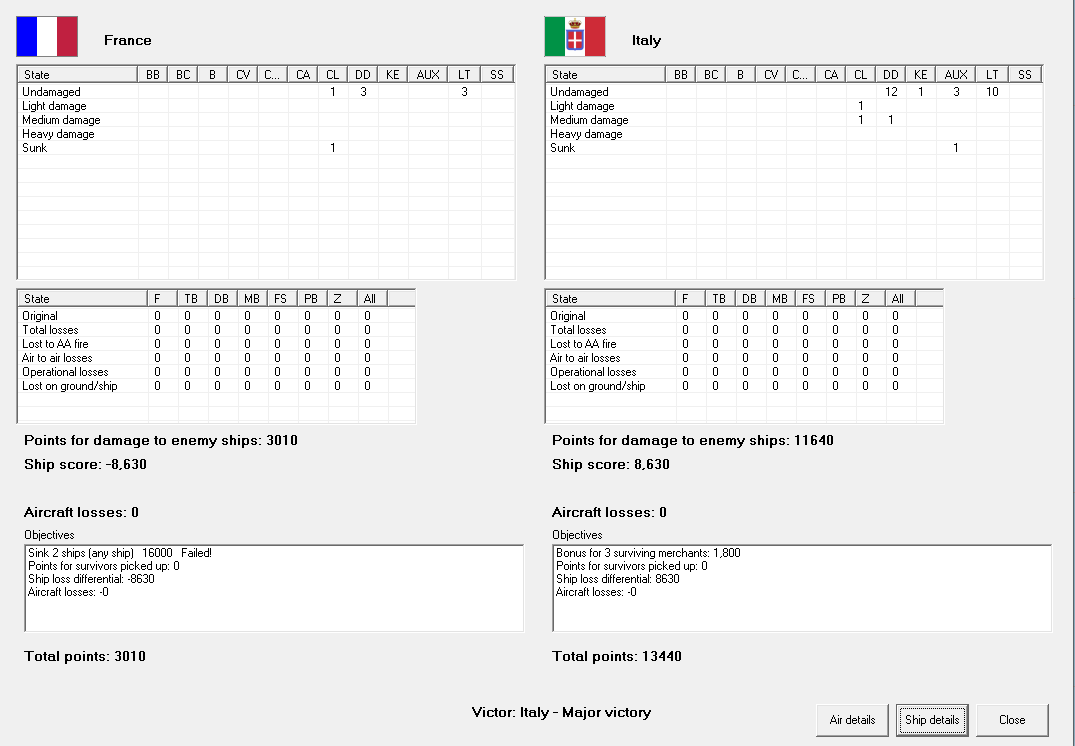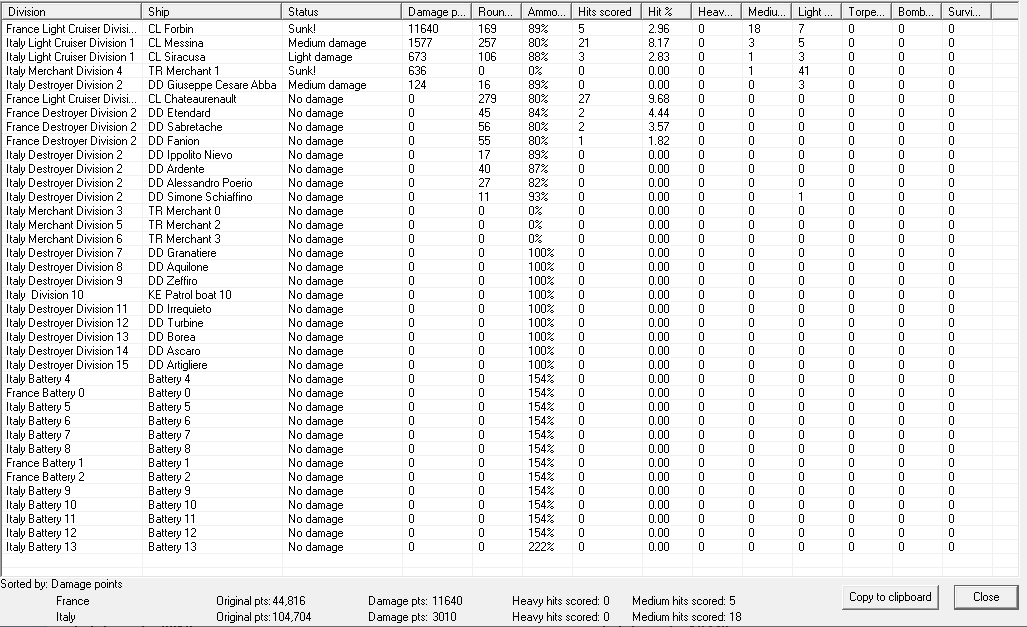 Coastal raid on Sicily. 2 CL and 3 DD raid south of Messina. They encounter 2 CLs and escorting destroyers, and at the start of the action, CL Forbin is quite roughly handled. Dusk falls, and we break off. Somehow, Forbin survives through the night, but sinks the next morning. Everyone is very confused. Enemy major victory, 292 VP for us, 995 VP for them.
August 1910
Enemy subs sink 1 ship, we sink 1 enemy sub. Raiders get 3 more. Italy declines to attack an important convoy, giving us 7755 VP. We then raid Mozambique, but find their fleet elsewhere, gaining another 545 VP. 250 VP for blockade.
September 1910
CL Lavoiser finishes working up. Breakthroughs: hydraulic riveting, superimposed B turret. 1 merchant sunk by subs, another by raiders. Germany lays down 1 BC, Italy 4 DD, Japan 2 DD. Italy commissions 1 CL, 3 KE, 1 AMC. 210 VP for blockade.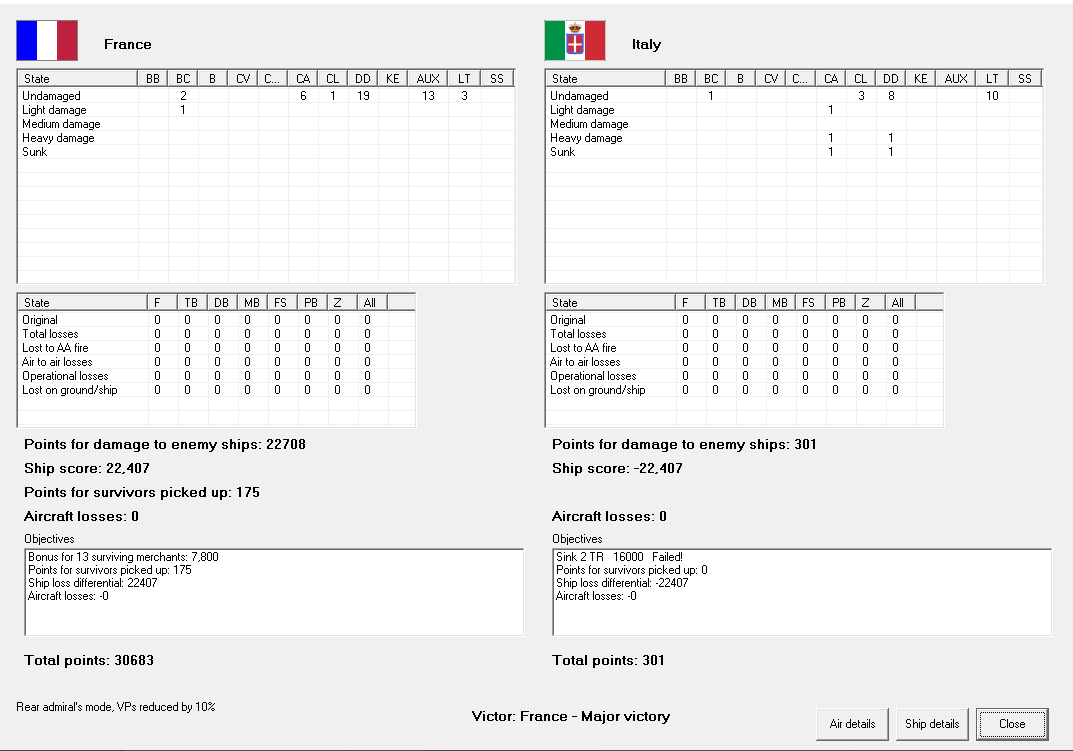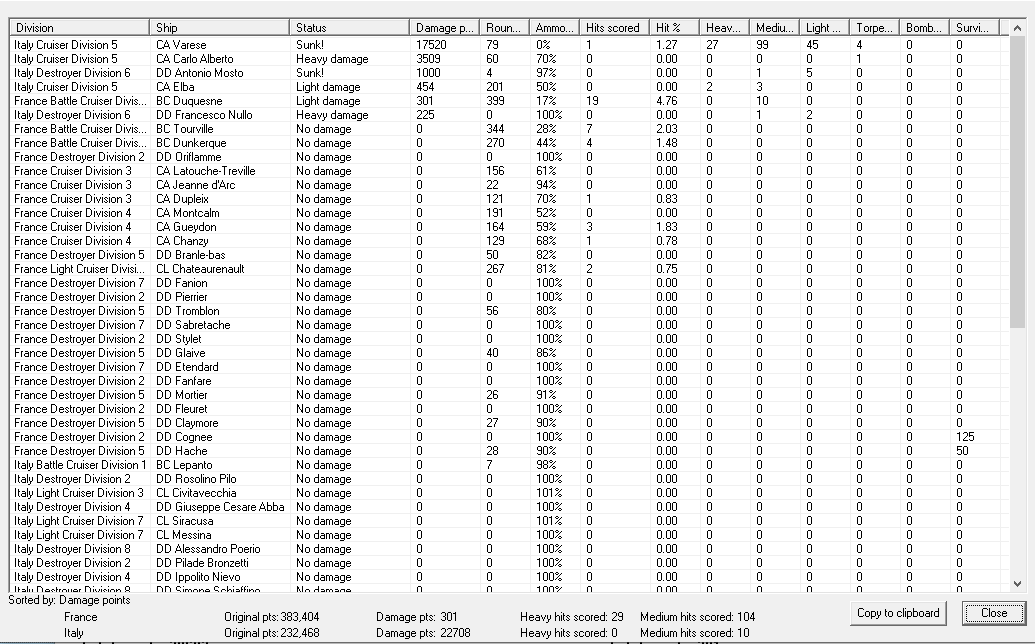 Convoy defense in the central Med. All 3 BCs, along with a group of CAs, are covering it, and they encounter a force of CAs and lighter units. They engage, and seem to overall get the best of the gunnery engagement, but soon see BC Lepanto on the horizon. She breaks off, and they have a long-running engagement with a trio of CAs, one of which is lamed, and a destroyer is sunk. Eventually, the lamed CA is run down and torpedoed, despite intensifying rain that sharply limits visibility. As the enemy force retires, a second CA is torpedoed and badly damaged. The Battle of Cape Sperone is a major victory, +1 prestige, 2,056 VP for us, 58 VP for them.
October 1910
CL Lalande enters refit. We commission 1 SSC, 3 KE, 1 DD. Spies steal plans for German BC Prinz Eitel Friedrich. One of our SSCs torpedoes and sinks an Italian DD. CA Bruix hits a mine and will be in dock for the next two months. 2 merchants sunk by enemy subs, 4 by raiders. UK lays down a BB, Italy 1 DD. AH commissions CA, Germany a BB. 250 VP for blockade.

Coastal raid on Italy. 2 CAs, a CL and destroyers raid in the Gulf of Taranto. They encounter a pair of CLs and some DDs. They see us and run. Eventually, they escape, and we spend the night cruising in the Gulf. There's a brief encounter with what we believe to be a destroyer, which escapes into the darkness. Later, it's discovered that we in fact sunk a submarine. Because of the survival of their transports, we lose the battle, 80 VP to 246 VP.
November 1910
BC Lille laid down, along with 2 SSC. We commission 1 SSC, 1 KE. An Italian AMC is sunk by one of our SSCs. Our subs also claim 1 merchant, while we lose 1 to a raider. Germany lays down 1 BB, AH 1 BC, UK 2 DD, Japan 2 DD, Italy 3 DD. Italy commissions 1 CL, 1 AMC. 210 VP for blockade.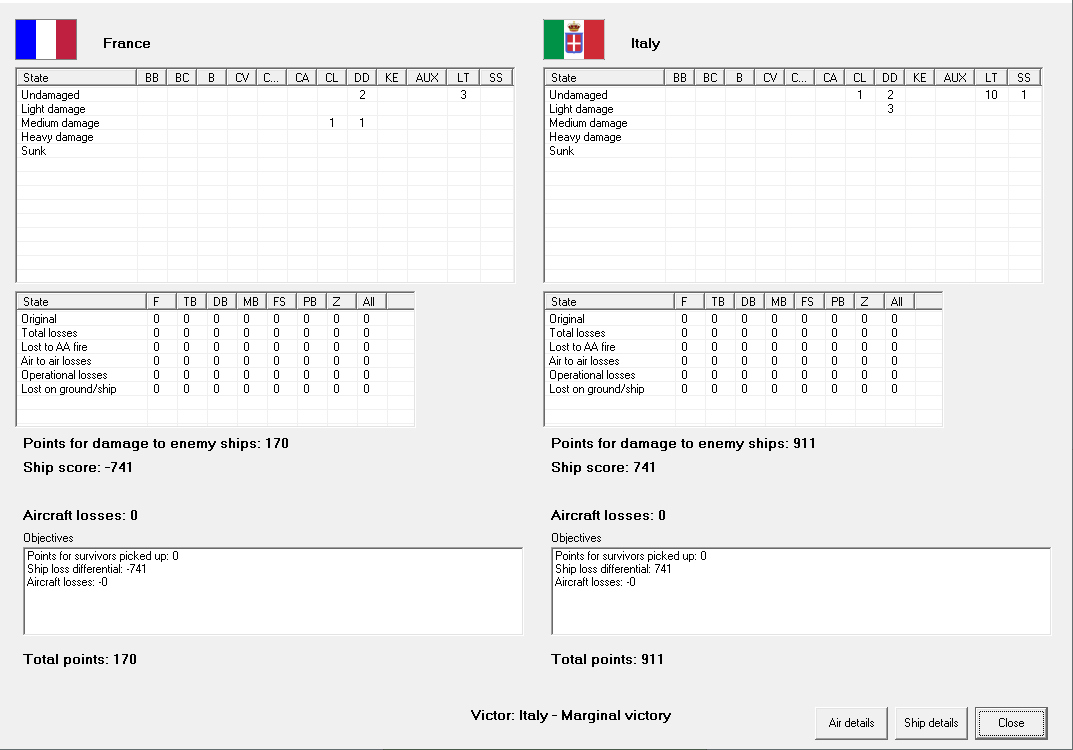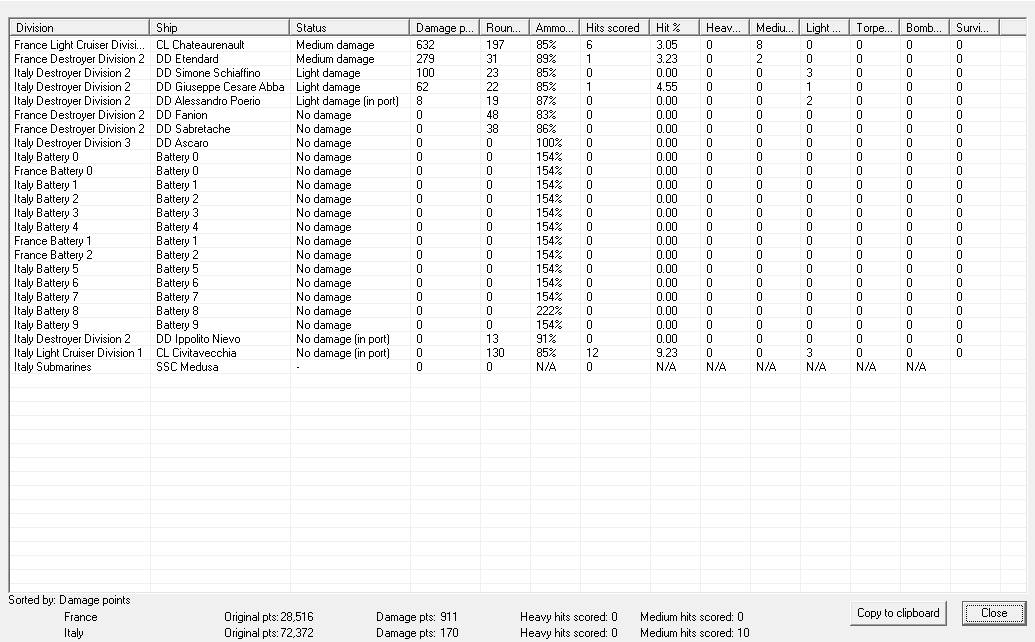 Cruiser action in the Strait of Sicily. 1 CL and 3 DD encounter an enemy force at night. The resulting melee sees both sides take hits, and one of our destroyers even takes a dud torpedo. 121 VP for them, 40 VP for us.
As a special bonus, we have provided images of some of our more important ship classes:
---
1 Some checking of the boards shows that targets with values about 10 are very difficult to invade. Sicily is 12, so this may take a while. ⇑
2 No editorials today, sorry. ⇑