Gentlemen,
We have emerged victorious from our war with the Italians! They have surrendered all of their African colonies to our control, forcing them entirely out of the Indian Ocean. Tensions worldwide are down, and with it, our budget. The situation is better than after the last war, but we will have to make cuts. We've already begun moving ships to the reserve fleet, but that won't be enough.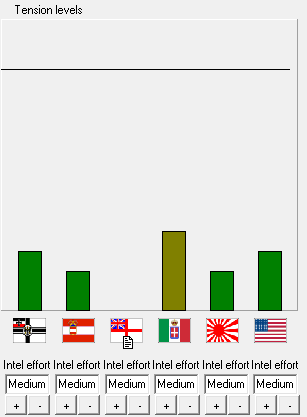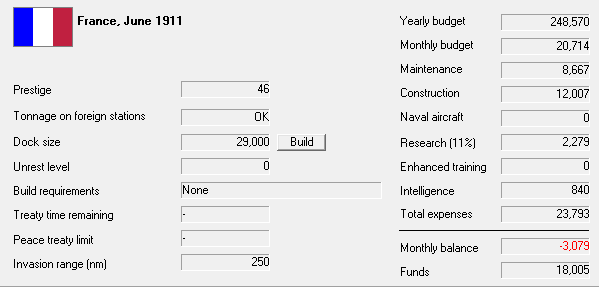 Our biggest concern is with light units. The four modern fleet CLs (two to commission shortly) go some way to closing that gap, but we face block obsolescence among our destroyers, and the new CL designs open up new options. Unfortunately, our recent focus on research into light units has not paid dividends yet, but we should probably at least lay down a few destroyers when the CLs leave the yard.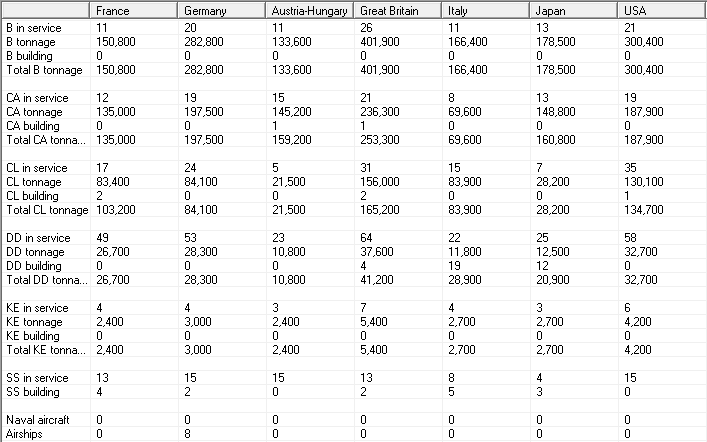 December 1910
The rebellion in Mozambique continues. We sink one enemy submarine, but somehow lose 15 merchants to raiders. UK lays down 1 DD, commissions 3 DD. Italy lays down 3 DD, 1 BB. Japan commissions 1 BB, 1 BC, lays down 1 DD. A-H lays down 1 BB. 260 VP for blockade.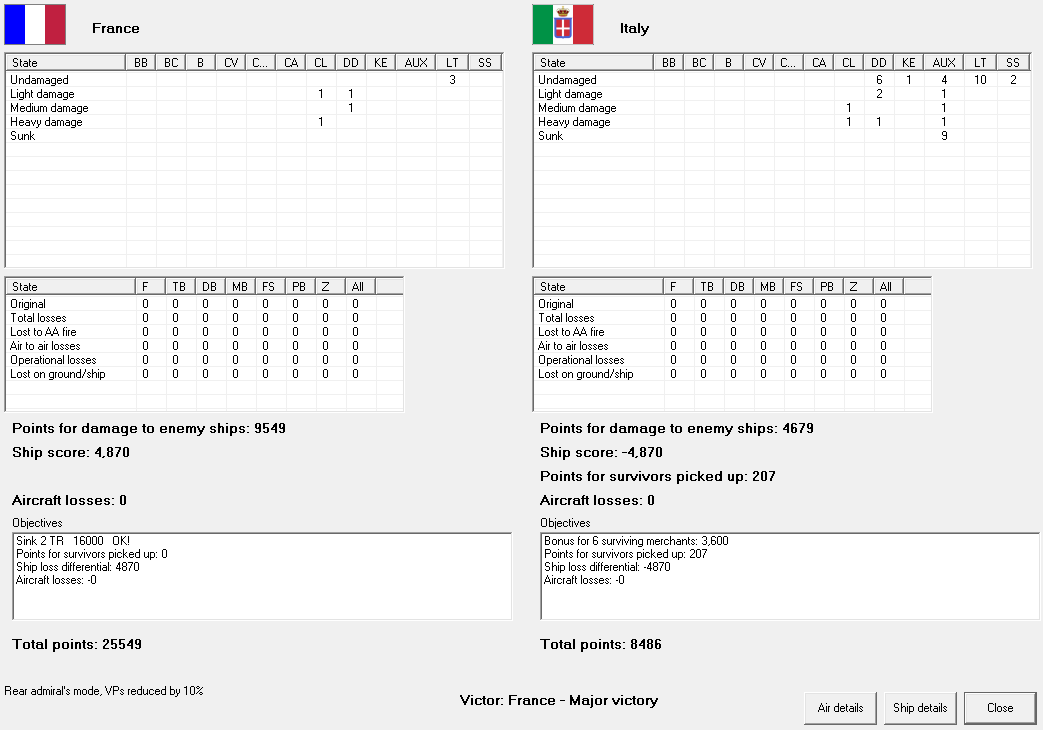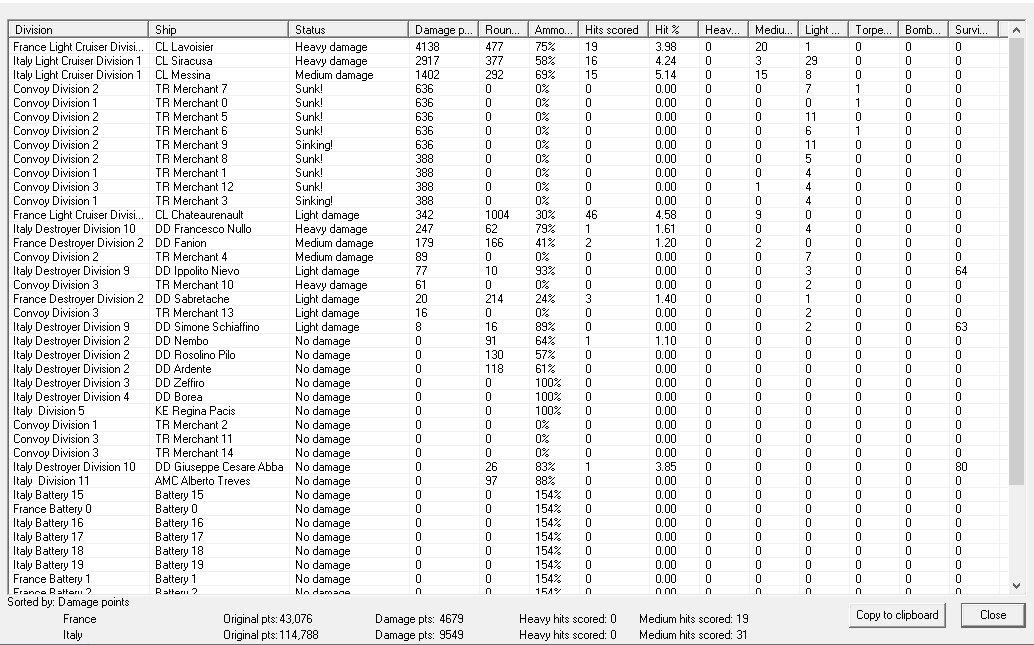 Convoy attack off Libya. 2 CLs and 2 DDs run into a pair of enemy CLs, but manage to fight their way through them to close on the convoy. A number of transports are sunk, although their cruisers catch up and drive us off before we can make a clean sweep. CL Lavoiser is damaged, but survives, as do all of the escorts. Overall, the Battle of Sfax is a major victory, 1,764 VP for us, 673 VP for them, +1 prestige.
January 1911
CL Descartes commissions into the Navy and CL Lalande finishes her reconstruction. 2 of our subs are lost for no gain, and 5 ships are sunk by raiders despite transferring one of the big CAs to trade protection. Germany lays down a BC, Japan 2 DD. UK commissions 2 DD, US 1 BC. 260 VP for blockade of the enemy.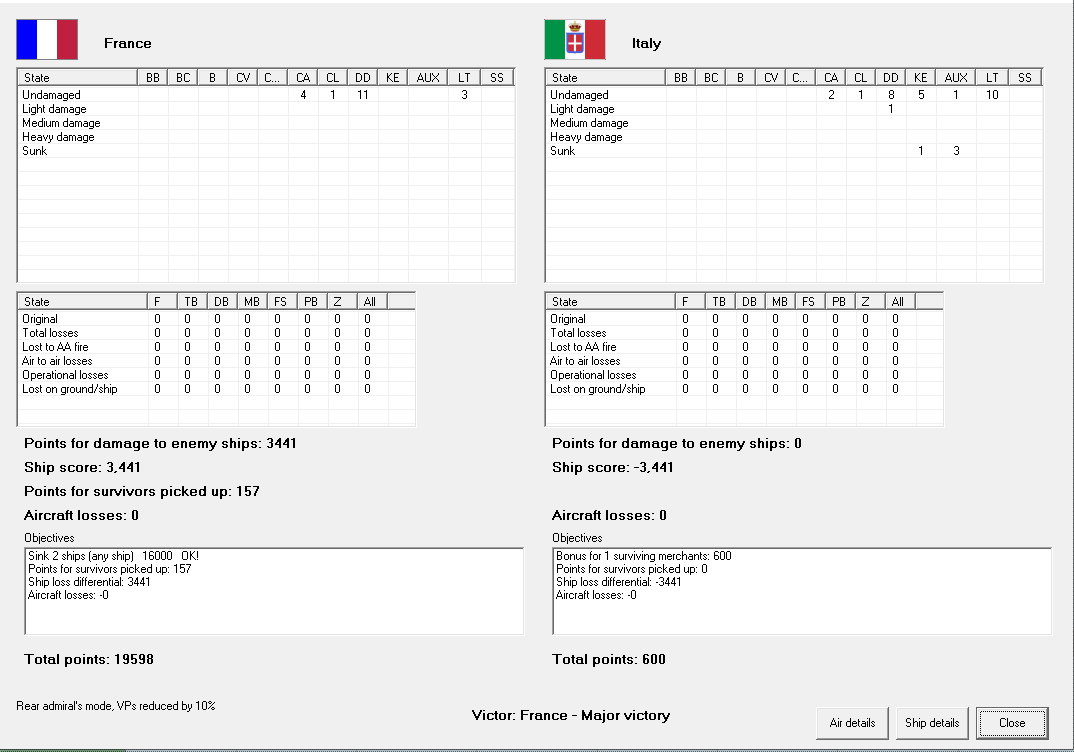 Coastal raid on Sicily. 2 CAs and a CL patrol the east coast of the island. They encounter a TR and a DD or CL. The warship escapes, but the transport doesn't. They then head north, running into another TR, which they sink. They then find a TR and a KE in the Straits of Messina, which join their brethren on the bottom. Major victory, +1 prestige, 1,381 VP for us, 90 VP for them.
February 1911
Breakthroughs: Quality control II, Quality steel for shells. DD Etendard torpedoed and sunk by a submarine. 2 ships sunk by raiders. Italy lays down 2 DD Japan 1 BC. Italy commissions 2 CL, UK 1 DD. 250 VP for blockade.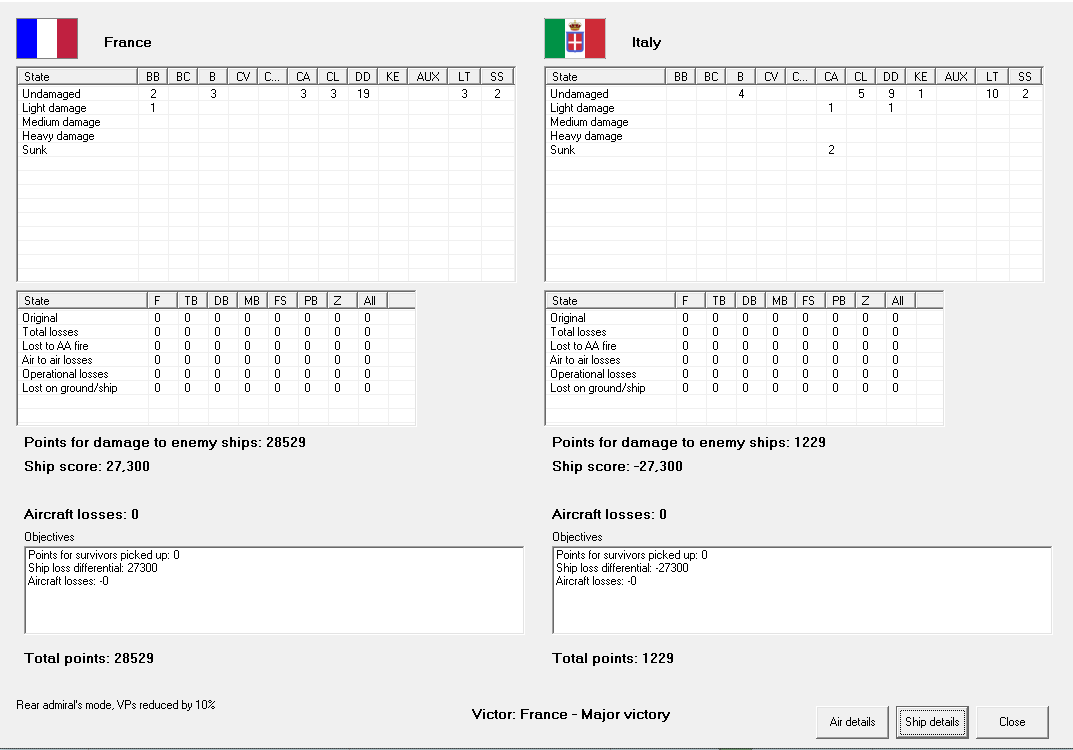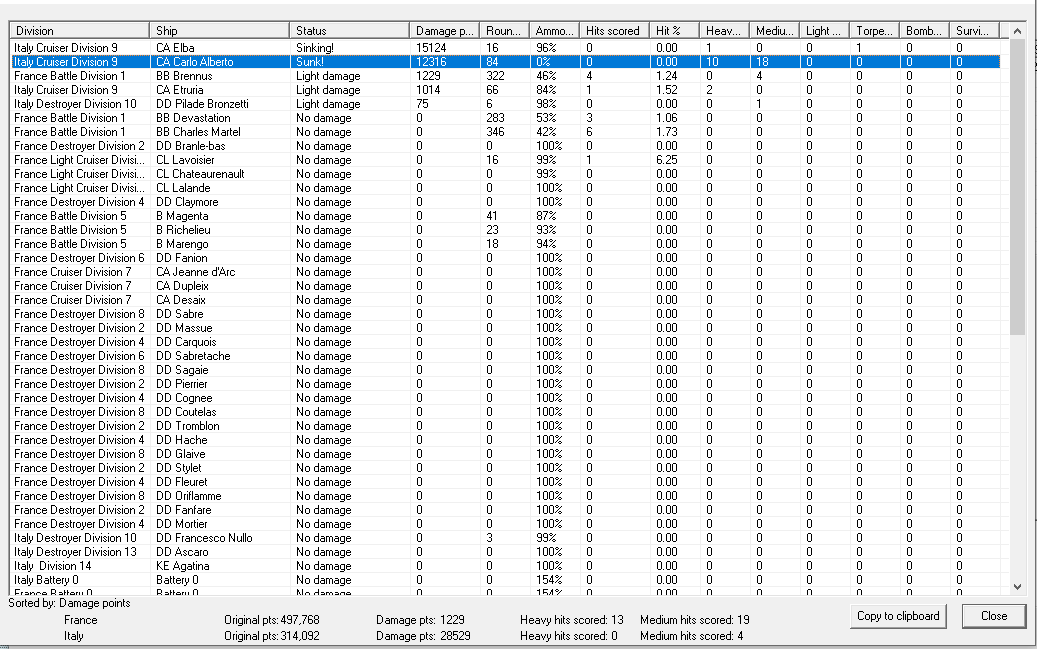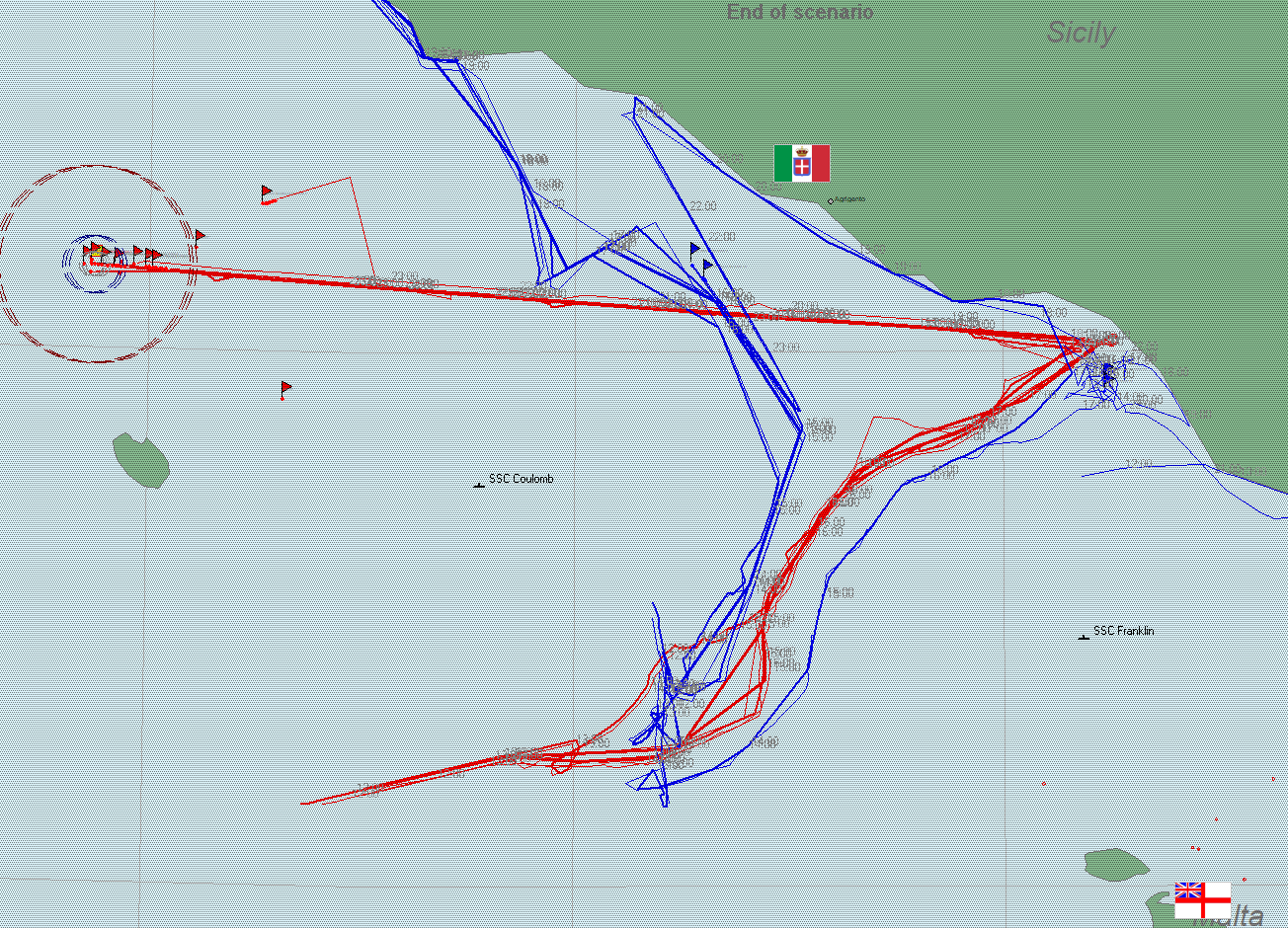 Battleship engagement in the Straits of Sicily. 3 BB, 3 B and 3 CA encounter an enemy force of 3 CAs and quickly set off in pursuit. They manage to pound one of them, which later sinks, and damage the other two before darkness conceals the ships and they break off back to Tunisia. As the enemy retires, one of our subs torpedoes and sinks a second CA. Major victory at the Battle of Sicily, 1,926 VP for us, 149 VP for them.
March 1911
2 SSC laid down. Italy crushes the rebels in Mozambique. Our blockade is causing food shortages in Italy. B Richelieu hits a mine in the Med and is in dock for the next 4 months. 3 merchants sunk by subs, 3 by raiders. UK lays down 1 CL, commissions 2 DD, 3 CL. Japan commissions BC, lays down 2 DD. 260 VP for blockade, rumors of war-weariness in Italy.
Cruiser action off Norway. A CL and 2 DD encounter 2 CAs and the captain decides not to get into a fight with them. He manages to avoid action, and the encounter ends in a draw.
April 1911
CL Coetlogon begins rebuild. 1 SSC commissioned. Our spies steal plans for the German BB Oldenburg. Italian raider CA Umbria forced to scuttle due to lack of fuel. Each side's subs sink one enemy merchant. We bag one of their subs, and their raiders get 7 ships. UK lays down CA, Japan 2 DD. Japan commissions 2 DD, US 1 CL. 220 VP for blockade of the enemy.

One of our CAs intercepts an Italian raider in the Med. It turns out to be an Italian CA in roughly the same mold, but we gain the upper hand thanks to better gunnery. Unfortunately, the Italians land a hit that disables our rudder, then changes course and begins to pull away. We chase them all the way back to Syracuse. The ultimate result is a slight victory for them, 166 VP to 123 VP.
May 1911
1 SSC commissioned. The war ends, with Italy surrendering Libya, Eritrea and Mozambique to us. UK lays down a BC, US commissions a BB and a BC.