Gentlemen,
The last 12 months have been an interesting time. We have largely recovered from the budget doldrums, and laid down two Ocean-class battleships, near-cousins to the Saint Louis, while commissioning Nancy and Nantes. Tensions with Austria-Hungary and Germany are high, while the situation with Japan has moderated somewhat. We have developed several new pieces of technology, including that necessary for CVL conversions.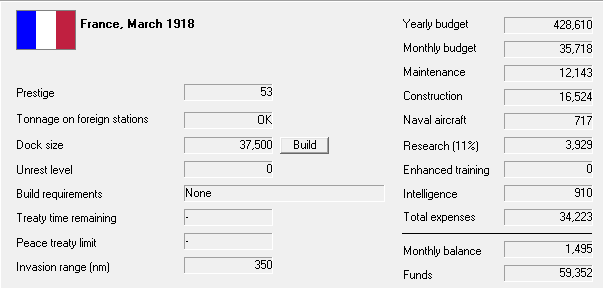 We have a reasonable budget surplus at the moment, and need to decide what to do with it. Options include more destroyers, new CLs, and the CVL conversions of the DT class CAs. A sketch has been prepared which shows 12 aircraft.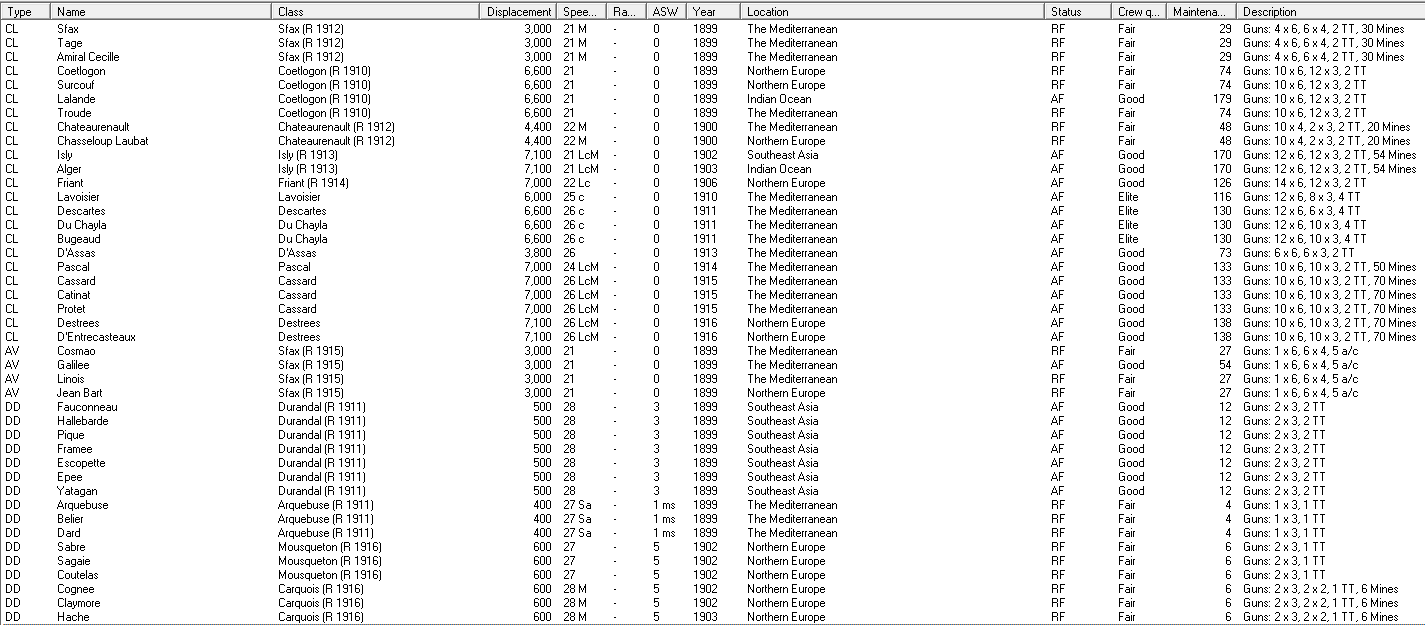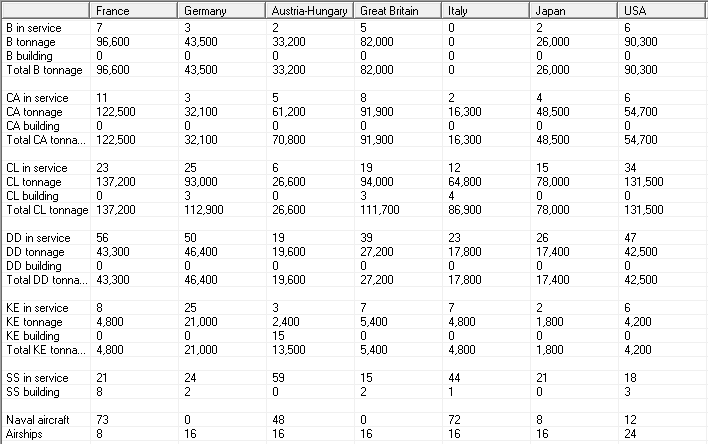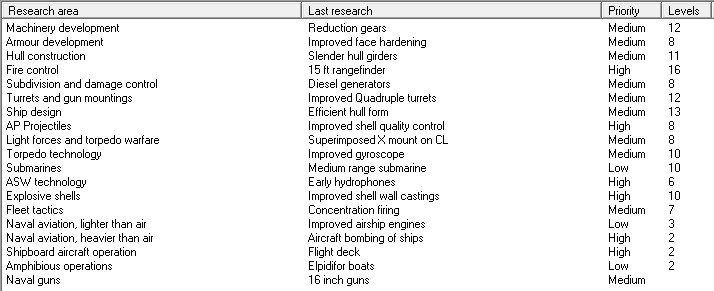 March 1917
Private shipbuilding expands maximum dock size by 1000 tons. 6 destroyers finish reconstruction. Our spies steal plans for Italian CL La Spezia, currently under construction. UK lays down a BB.

April 1917
Design work begins on BB Ocean, a successor to the Saint Louis. The extra size is used for an extra .5" of belt and another pair of 6" secondaries. Base improvements begun in Indochina, including 2 port expansions in Tonkin and Amann and an airbase in Kwang-Chou-Wan. 2 destroyers finish their reconstruction. Breakthrough: Efficient hull form. UK lays down a BC, Japan commissions a CL.
May 1917
BC Nantes commissions. Breakthroughs: Increased elevation, improved guns (15" +1). Ocean design reworked to incorporate latest innovations. Italy lays down a BC.
June 1917
BC Nancy commissions. We unconditionally back an ally in the Balkans, leading to increased tensions. Breakthrough: Elpidifor boats. BBs Ocean and Redoutable laid down. UK lays down a CL, US commissions a BB, the UK a BC.
July 1917
Kwang-Chou-Wan airbase is completed. Our spies acquire Battle Turn Away from the Germans. Breakthroughs: Reduction gears, Improved shell wall castings, better 13" gun (-1). AH lays down 2 KE, UK 1 BB, Germany commissions 1 DD, Japan 1 BB, 1 BC, 1 CL, USA 1 AV.
August 1917
Breakthrough: 15' rangefinder. AH lays down 2 KE, US commissions 1 BB.
September 1917
Breakthrough: Superimposed X mount on CL. AH lays down 2 KE, UK 1 CL, Japan 1 AV, US 1 BB. Germany commissions 3 DD, Japan 2 CL, US 1 BB.
October 1917
Breakthrough: Early hydrophones. AH lays down 2 KE, US 1 BC. Germany commissions 1 DD.
November 1917
Breakthrough: Slender hull girders. AH lays down 2 KE, Italy 2 CL. Germany commissions 3 DD, AH 1 AV.
December 1917
Breakthrough: Improved 10" gun (+0), AH lays down 2 KE, Germany commissions 2 DD, UK 1 BB, Italy 1 BC, 1 AV, US 2 BB.
January 1918
AH lays down 2 KE, UK 1 BC, Italy 1 BC. Japan commissions 1 CL.
February 1918
An attempted intervention in Angola ends badly, damaging our prestige and increasing tension. Breakthroughs: Stable explosive filler, Flight deck. AH lays down 1 KE, UK 1 CL. Germany commission 1 BC, AH 1 BC, US 1 BB. Flying boat competition initiated.
Sketch designs
August 1918
Gentlemen,
We are at war again. This time, the foe is Austria, although tensions with Germany are high, and the Diplomatic Corps is working overtime to keep them out of the conflict. Our forces were initially deployed mostly in Northern Europe, but the first encounter was a victory for us despite this. To make matters better, Saint Louis and Charlemagne have just commissioned, greatly strengthening our battle line when they work up in a few month's time. We laid down a third unit of the Ocean class, and have two CAs under conversion to CVLs.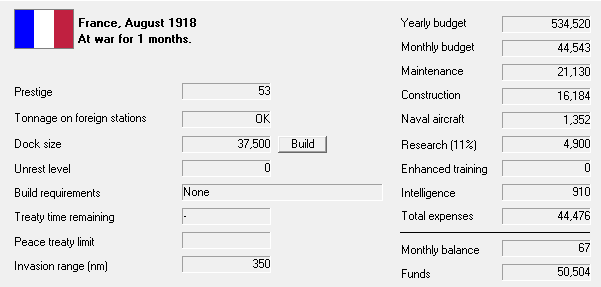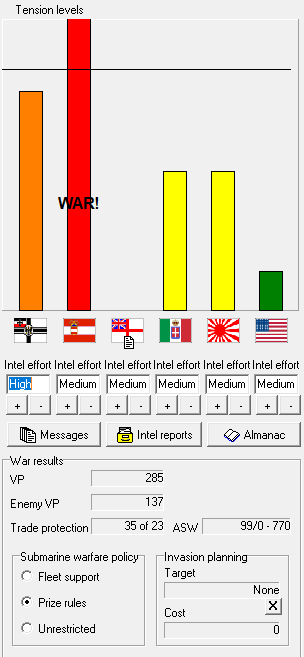 Our current challenge lies primarily in the threat of German intervention. We have a significant advantage over Austria, an advantage that will only grow as the Saint Louises work up. We also must manage the threat of Austria's extensive submarine fleet, and our hope is that the recent escort conversions of the 600-ton DDs will have given us enough hulls to counter that.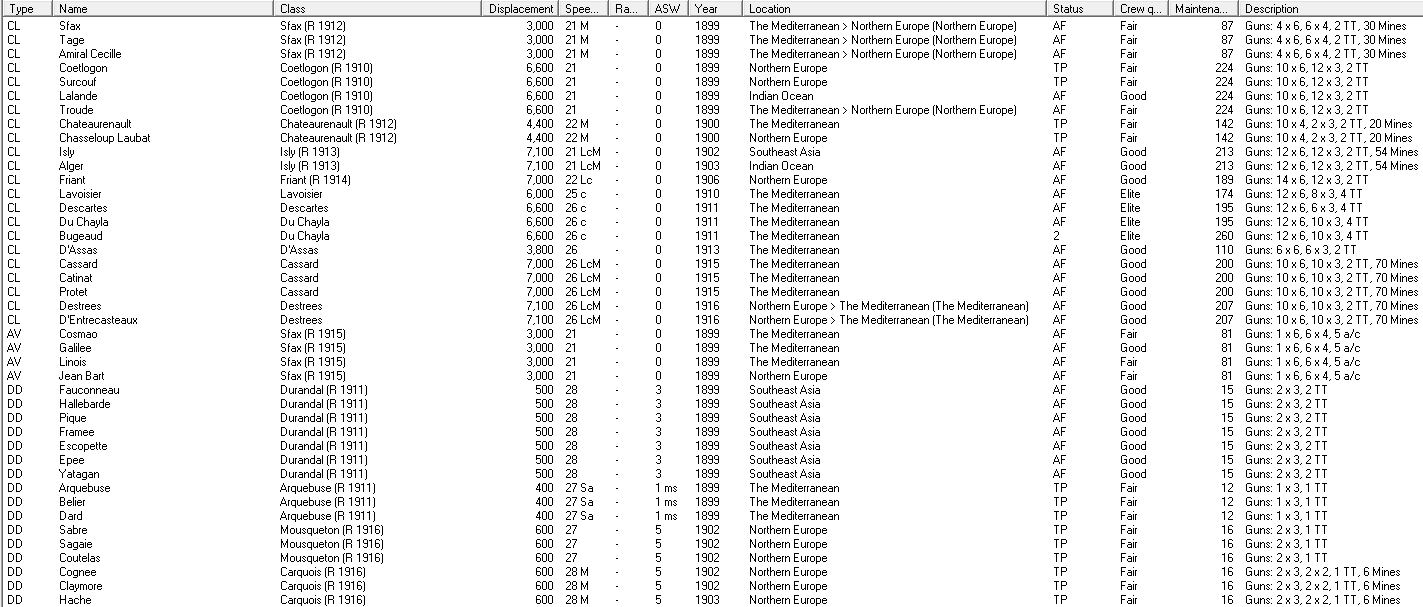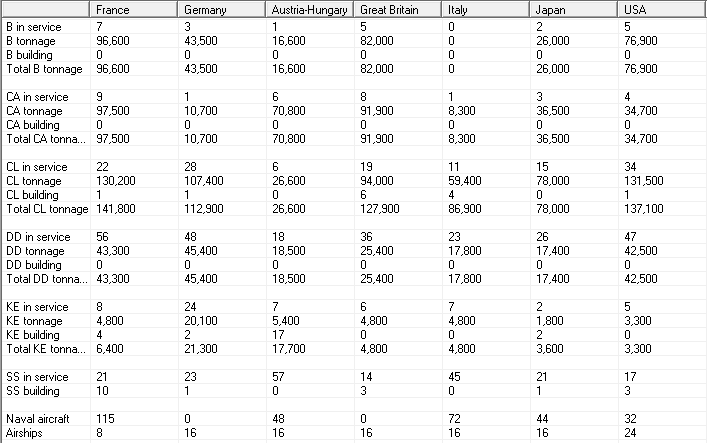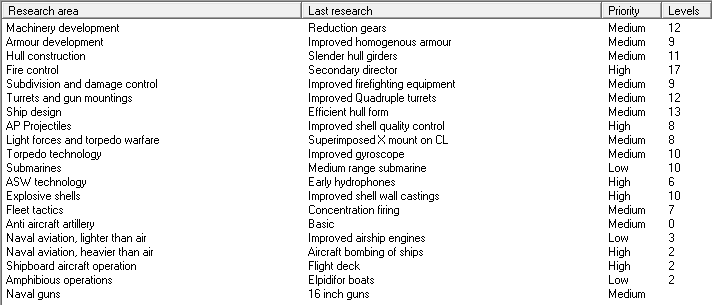 March 1918
Airbase construction begun at Stavanger. Rhodes base cancelled as being too far from the likely areas of action against Austria. Design work begins on CL Guichen (CL-18-I). CAs Gueydon and Montcalm begin CVL conversion. BB Iena (Ocean class) laid down, as the budget can absorb the gap until the Saint Louis class commissions. Breakthrough: Improved firefighting equipment. New research area discovered: Anti aircraft artillery. AH lays down a KE, UK 2 CL. Germany commissions CL.
April 1918

Our spies steal plans for German BB Zahringen, currently under construction. CL Guichen laid down. Germany lays down KE, AH 2 KE, UK 1 CL, Italy 1 BC, US 1 BC, Japan 1 AV. Japan commissions 1 BC, US 1 BB.
May 1918
We sell the British Extended double bottom. Breakthroughs: Improved homogenous armor, secondary director. Germany lays down KE, UK BB, US BB.
June 1918
CL Pascal begins refit with director, above-water tubes. Construction of airbase in Stavanger finishes. We argue against military cuts proposed by the new liberal government, bringing us to the brink of war with Austria. AH lays down 2 KE, UK 1 BC, Japan 1 AV, US 1 BC. AH commissions 3 KE.
July 1918

BBs Charlemagne and Saint Louis commission. One of our agents is caught in Germany, but we deny involvement. Our spies steal the blueprints for Italian CL Terni. War breaks out with Austria-Hungary! AH lays down 1 KE, Japan 2 KE, US 1 CL. Germany commissions 1 CL, AH 1 KE, US 1 BC, Japan 1 BB. We lay down 4 ASW escort KEs, and begin design of the Espingole class DDs.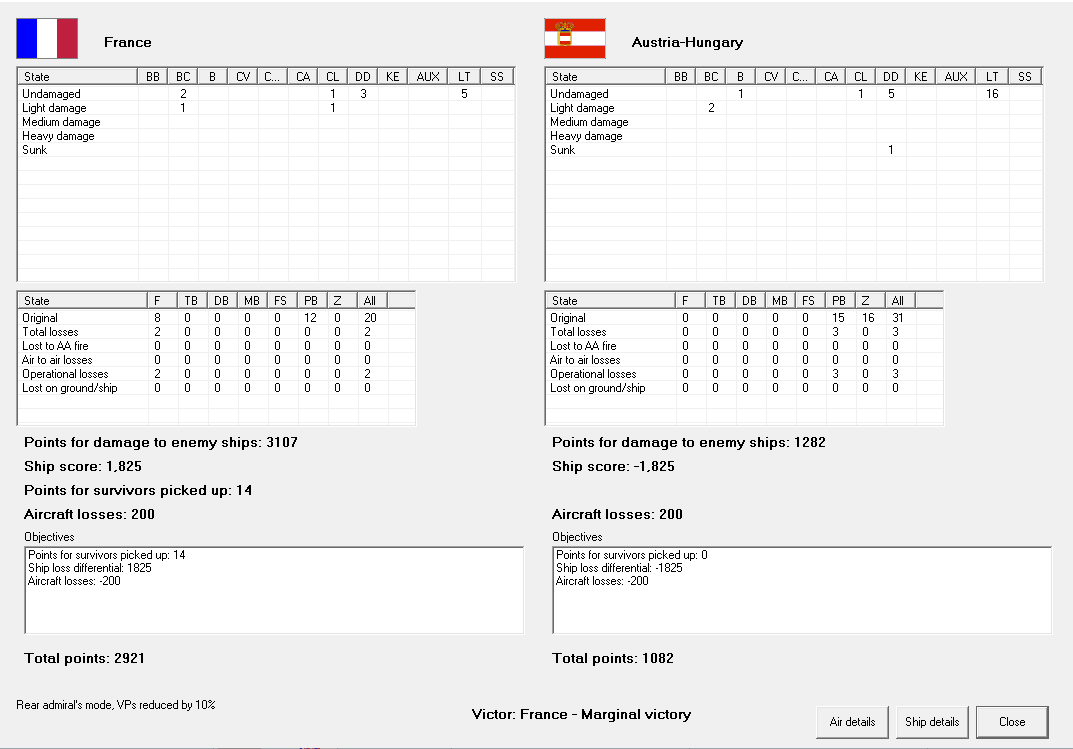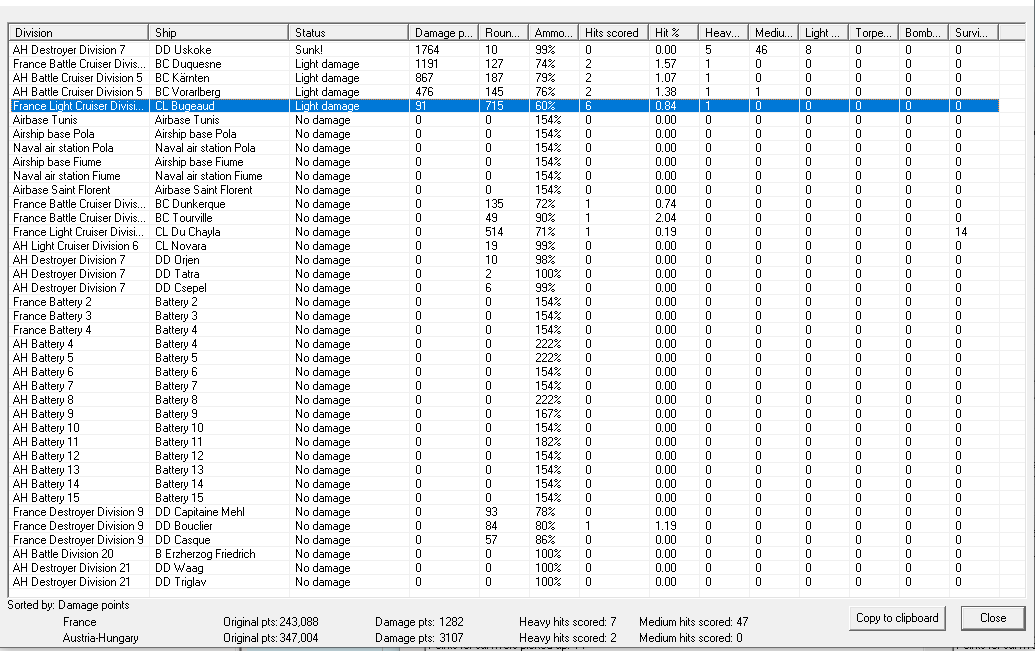 Cruiser action off Sicily. Dunkerque and Tourville, screened by 2 CLs, encounter an Austrian force of 2 BC and screen. They choose to run, as they are considerably outgunned, but are soon joined by Duquesne, and have a brief gunfight at long range. Eventually, the Austrians break off and head for home. One enemy destroyer is lamed, and the fleet pounces on it, eventually putting her on the bottom.