Gentlemen,
So far, the war with Italy goes well. We have taken some damage, but dealt significantly more in return, and Germany has remained neutral. We have also used airplanes at sea, and are poised to bring more planes into the fleet with our new AV conversions. However, we are faced with a number of choices, most notably over the direction of our future shipbuilding programs. The Rouen class battlecruisers complete in a few months, and we presumably want ships to follow them on the slipway, particularly as two new CLs are also about to commission.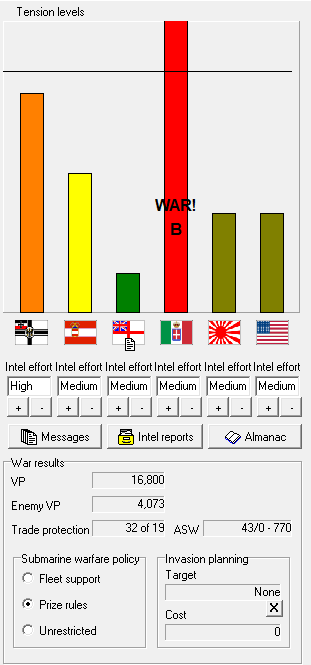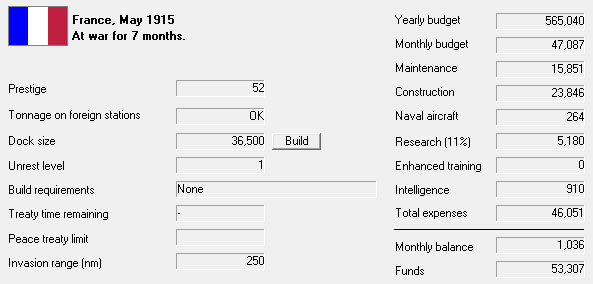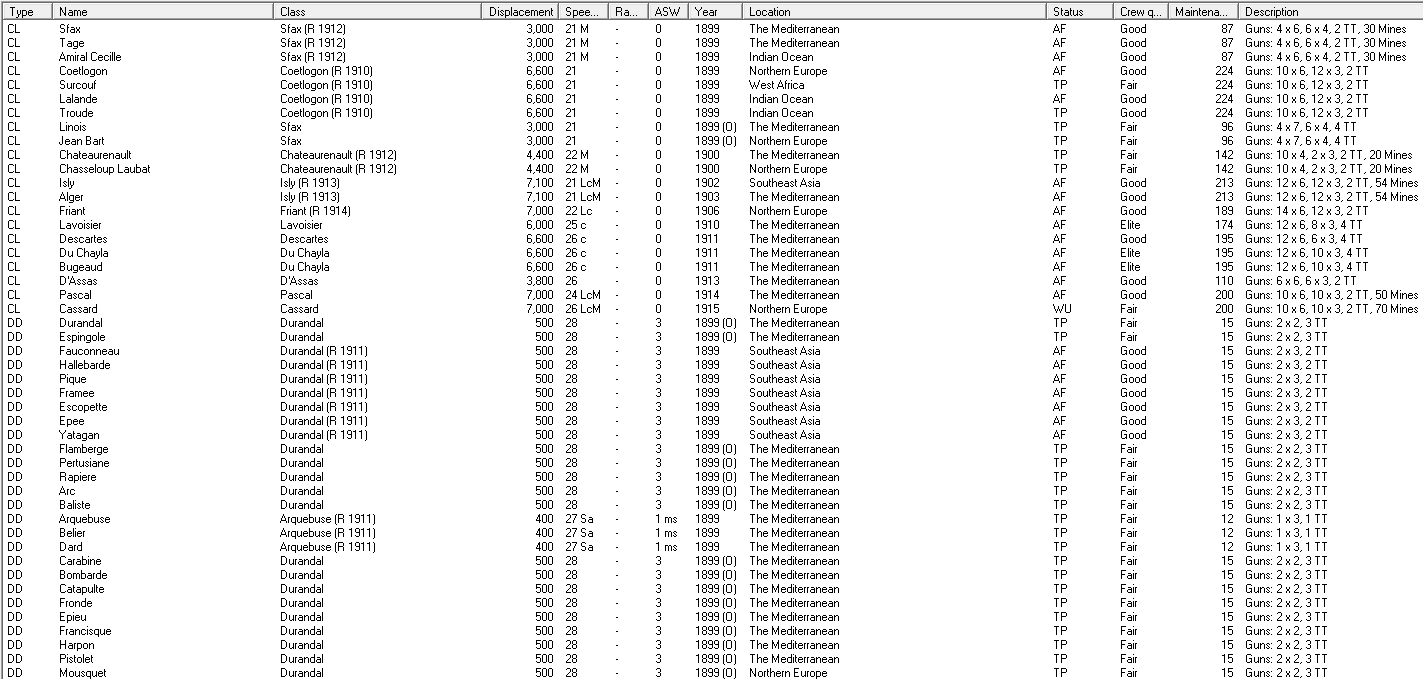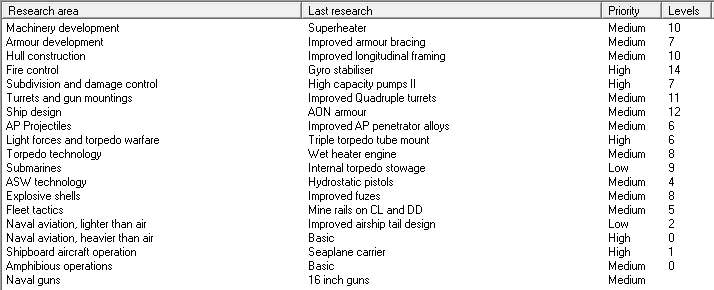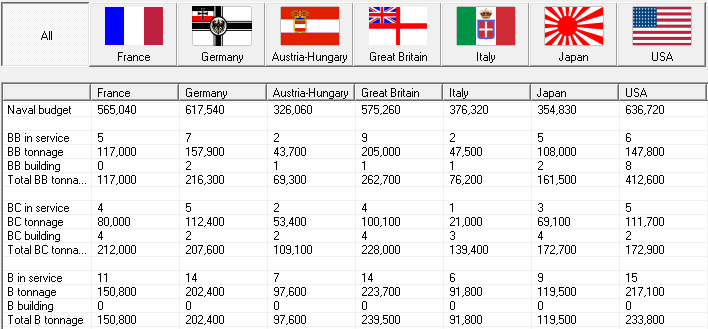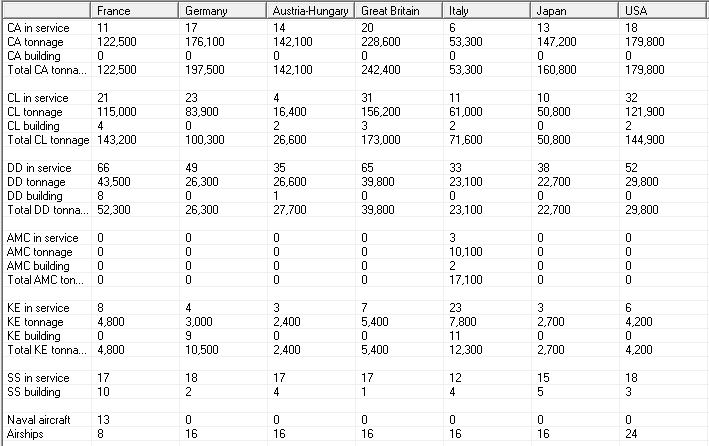 November 1914
We commission 2 SSC. CL Friant finishes reconstruction. Breakthrough: Torpedo protection II. Italian DD Zeffiro hits a mine in the Med and sinks. Our subs sink 3 merchant ships, while theirs get 2, as well as a trio from surface raiders. The British damage BB Cristoforo Columbo in a battle we don't participate in. AH and US lay down CLs, UK a BC, Italy lays down 9 KE, 1 AMC. Germany commissions CL, UK a BB.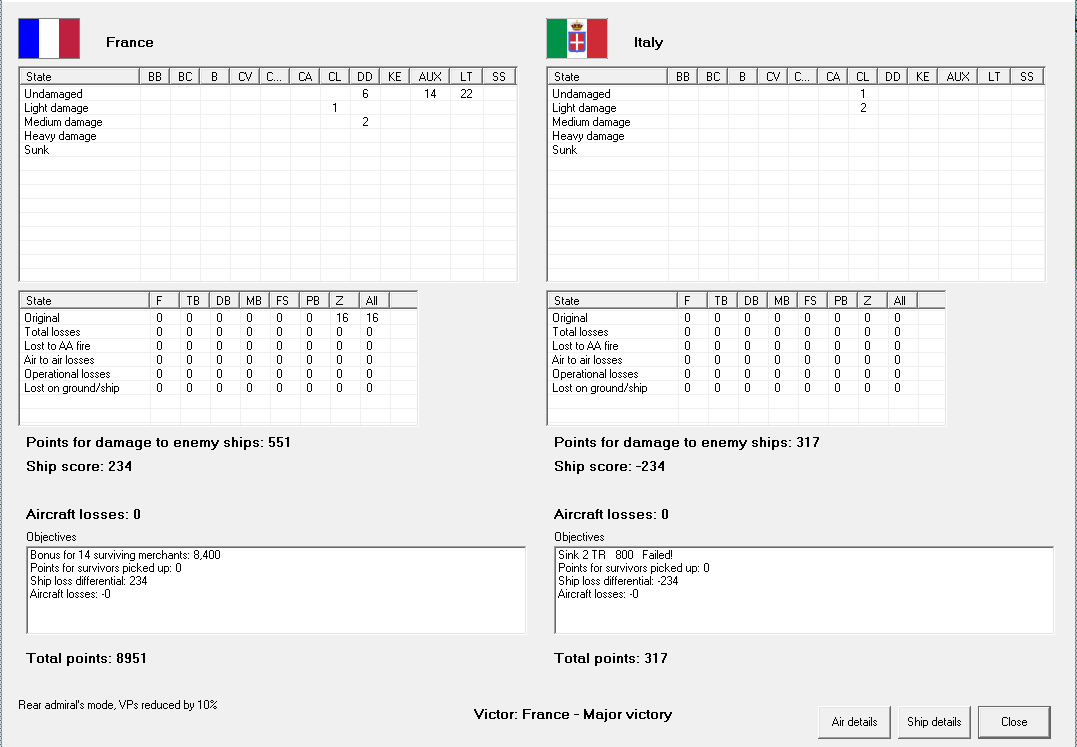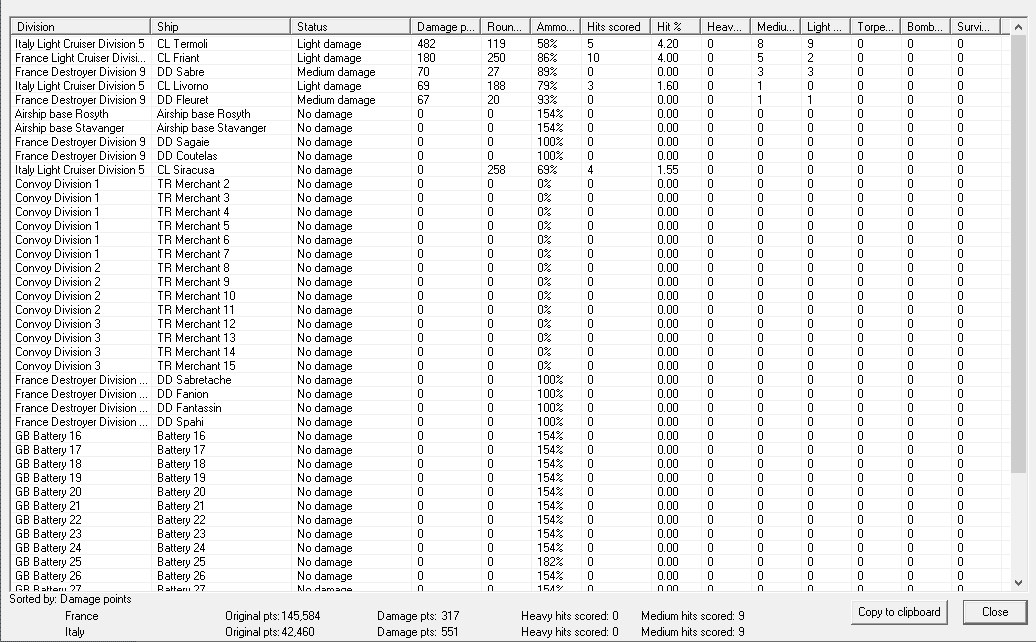 Convoy defense in the North Sea. CL Friant and destroyers encounter a trio of enemy CLs, although superior firepower manages to give us more or less the upper hand. Unfortunately, a rudder hit sends her circling, and the Italians pull away as night falls. The darkness also protects the convoy, and it ends with a major victory for us. 704 VP for us, 59 VP for them.
December 1914
Research: 7" gun (quality 0). Our subs sink 1 enemy merchant. Their subs and raiders get none, and we sink 2 subs. 240 VP for blockade. Italy lays down 9 KE, Germany 2 KE, US 1 BB. Japan commissions BB, AH 2 DD. We lay down 2 SSC.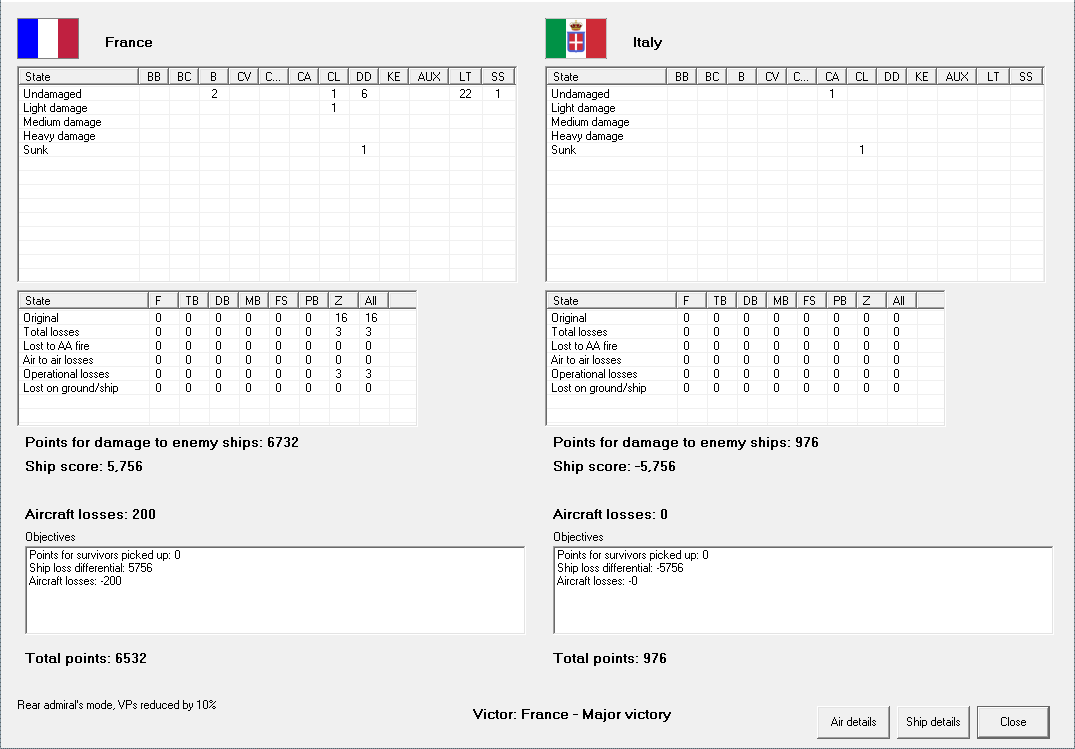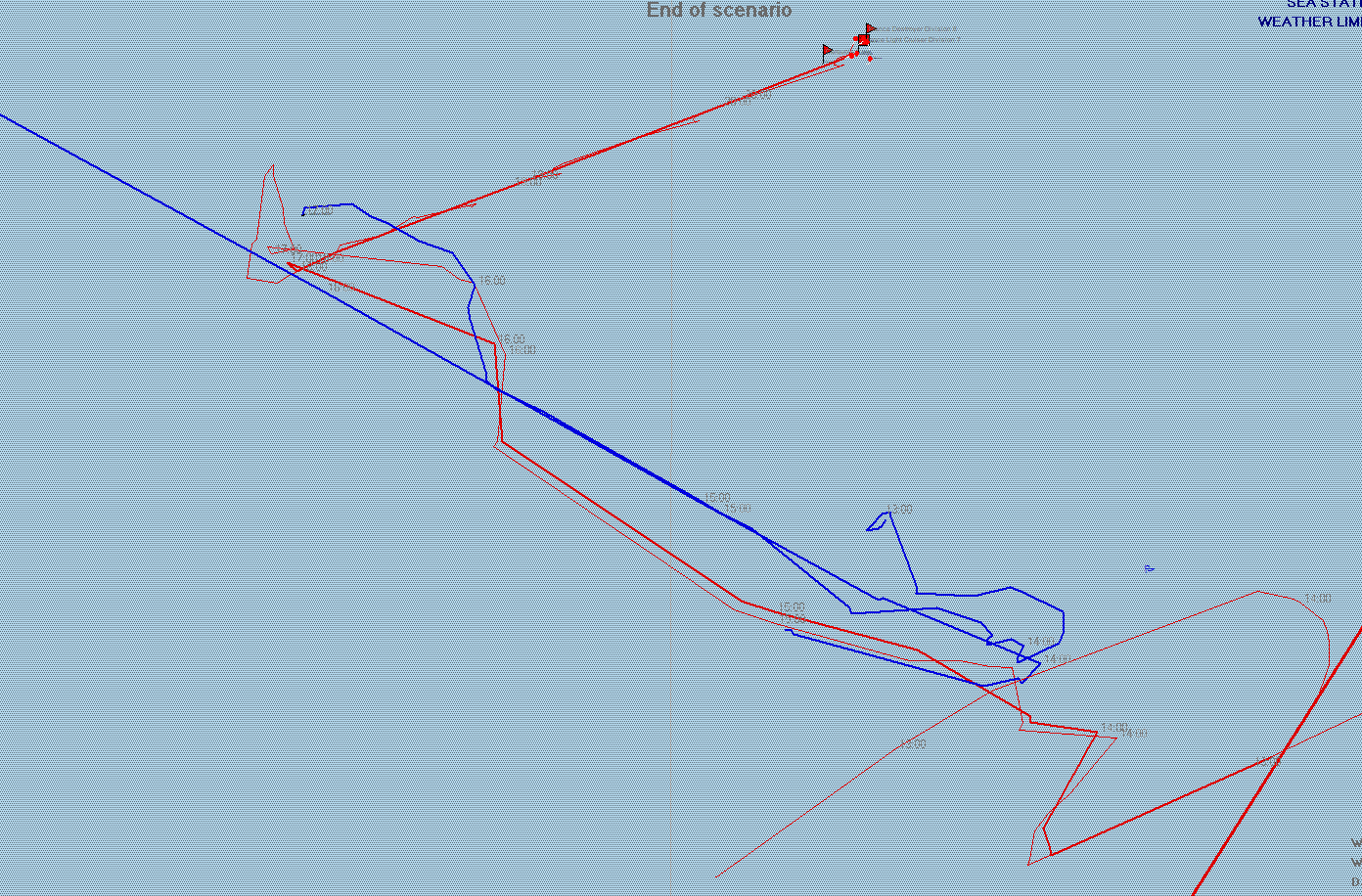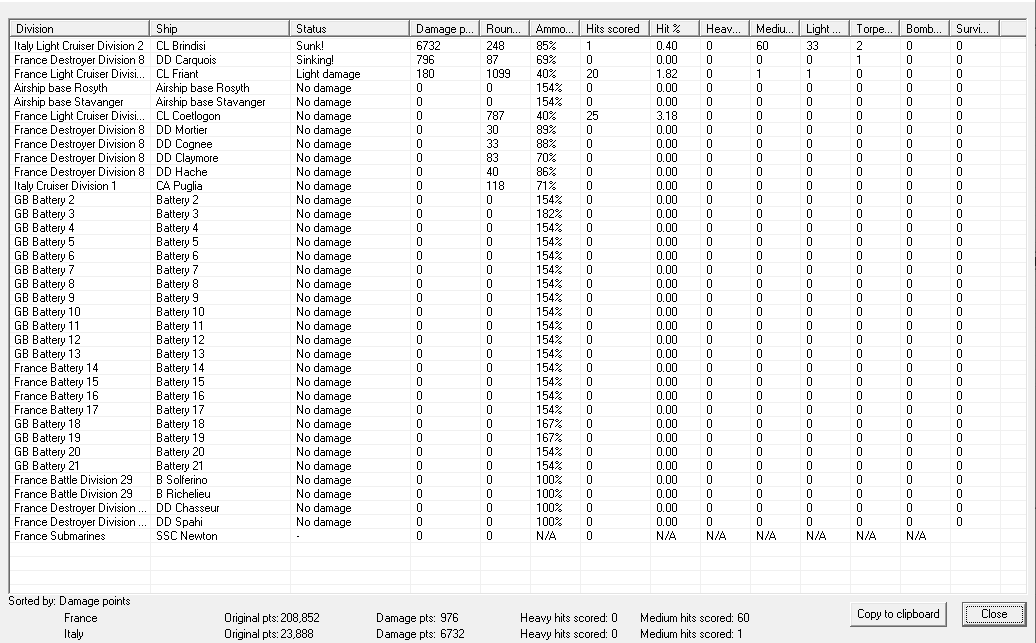 Cruiser action off Brest. We really must speak to the British about Gibraltar again. CLs Friant and Coetlogon encounter an Italian CA, and engage briefly at long range. A CL enters the fight, and they damage it, then go in pursuit of the Italian ships, which head for the open Atlantic. Eventually, the CL breaks off from the CA (Intelligence thinks the Italians may be stupid) and our ships close in to pound her, as they've slowed her with several hits from Friant's guns. Eventually, she is overhauled and torpedoed. Unfortunately, during the mopping-up, she torpedoes one of our destroyers before going down herself. Ultimately, it's a major victory for us, 542 VP to 127.
January 1915
Our spies steal plans for Japanese BB Yamashiro. Each side's subs get 3 merchants at a cost of one of their own, but we thwart their surface raiders. A-H lays down BC, Italy 3 KE, 1 AMC. AH commissions 3 DD. 260 VP for blockade.

CA Latocuche-Treville intercepts one of their raiders in the Med. It turns out to be one of their older and weaker CAs, but it still seems to gain the upper hand in the gunnery engagement, and Latocuche-Treville breaks off after its speed is reduced to 10 kts and the aft turret is destroyed. Eventually, both ships are sunk by their mutual damage. Enemy minor victory, -1 prestige, 1102 VP for us, 1510 VP for them. (Also, sorry for forgetting screenshots.)
February 1915
We commission 2 SSC. CL Cassard commissions, and is found to easily surpass her design speed. Italy offers a peace deal, which we give cautious approval to, but it flounders. Breakthroughs: Improved longitudinal framing, Seaplane carrier. Their subs sink 2 merchants at a cost of one of their boats, while their surface raiders get 6. Germany lays down 1 KE, Italy 6 KE. Italy commissions 7 KE, 1 AMC. 250 VP for blockade.
The Italians decline to meet our fleet in the Straits of Sicily, netting us 9605 VP.
March 1915
4 SSC laid down. Design work begins on DD Commandant Bory, a close variant of the Bouclier. Breakthrough: 5+ centerline turrets. Our new flying boat D.41 is ready for service, although it has gained weight during development. Our subs sink 2 merchants, theirs sink 1, and their surface raiders get 4. Germany lays down KE, Italy AMC, US BB. Italy commissions 10 KE. 250 VP for blockade.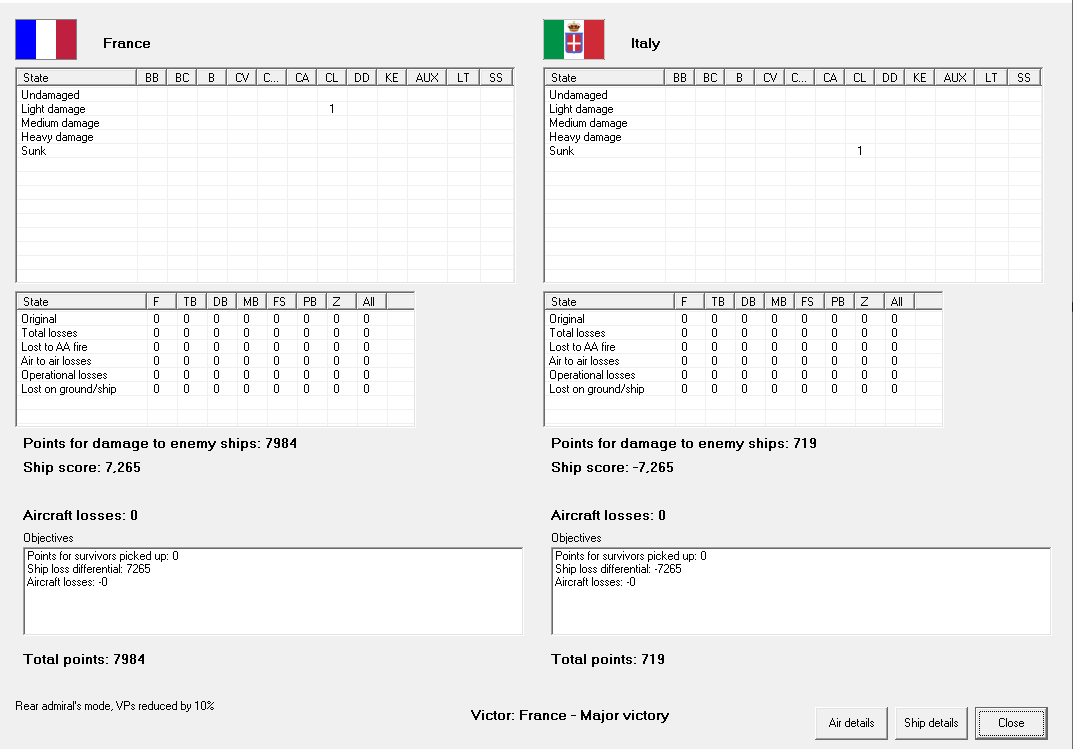 CL Coetlogon intercepts an Italian CL near Gibraltar. We close to gunnery range, and soon gain the upper hand, pounding them mercilessly until the Italian cruiser sinks. Major victory, 640 VP for us, 102 for them.
April 1915
4 DDs of the Commandant Bory class laid down. Breakthroughs: Gyro stabilizer, improved triple turrets. Enemy subs claim 4 merchies, and the surface raiders 6, while our subs get only 1. Germany lays down 2 KE, Italy 1 AMC, Japan 1 BC. Germany and AH commission CLs, Italy 2 AMC, 2 KE, US 1 BB. 240 VP for blockade. CLs Galilee and Cosmao begin rebuilds to AVs.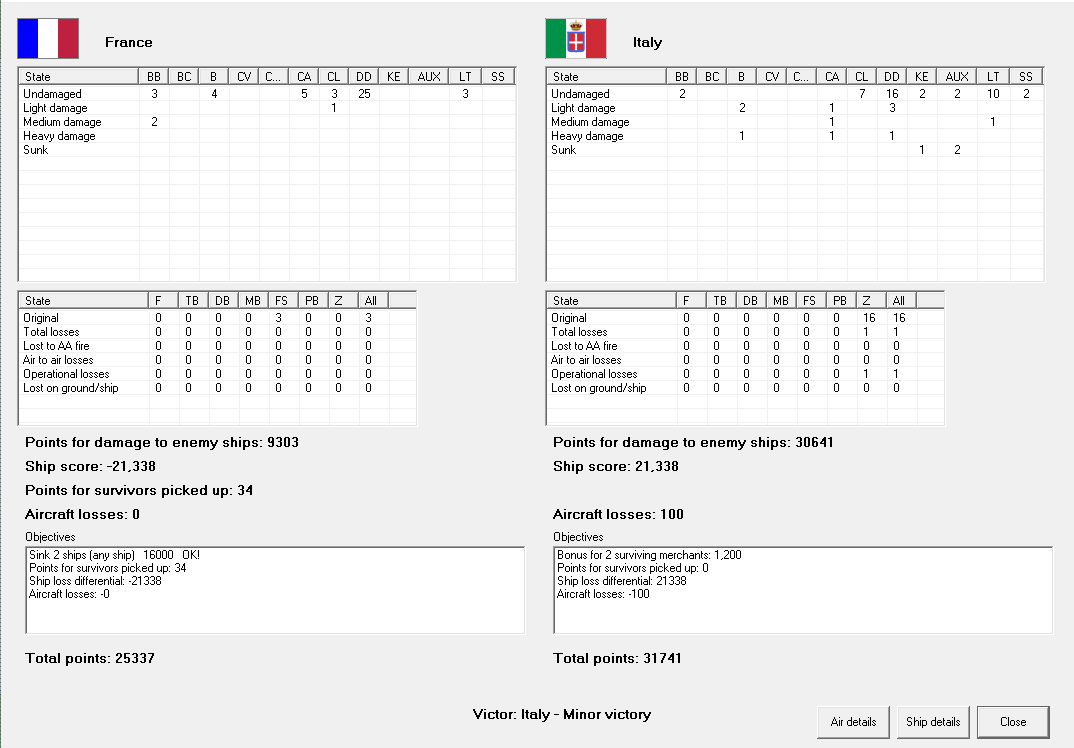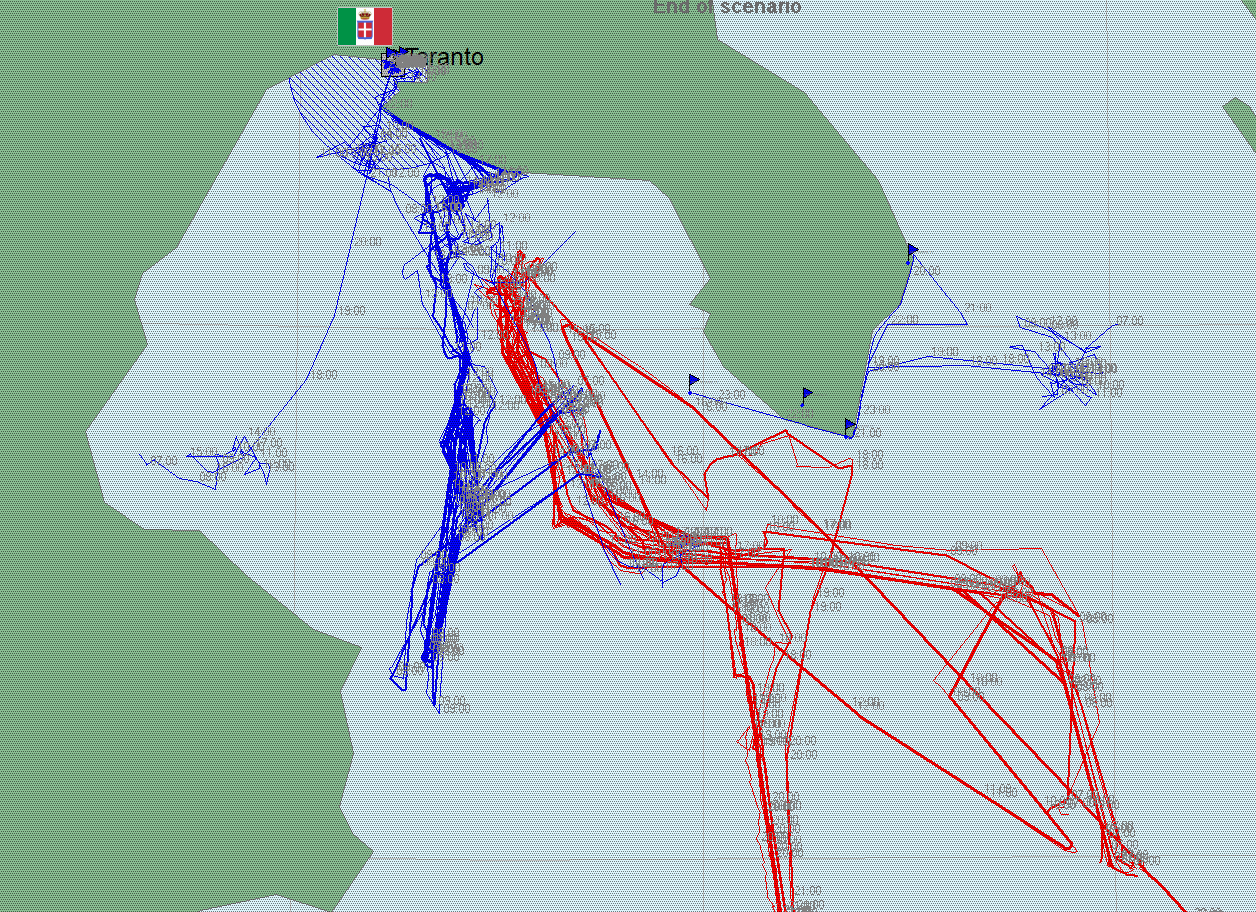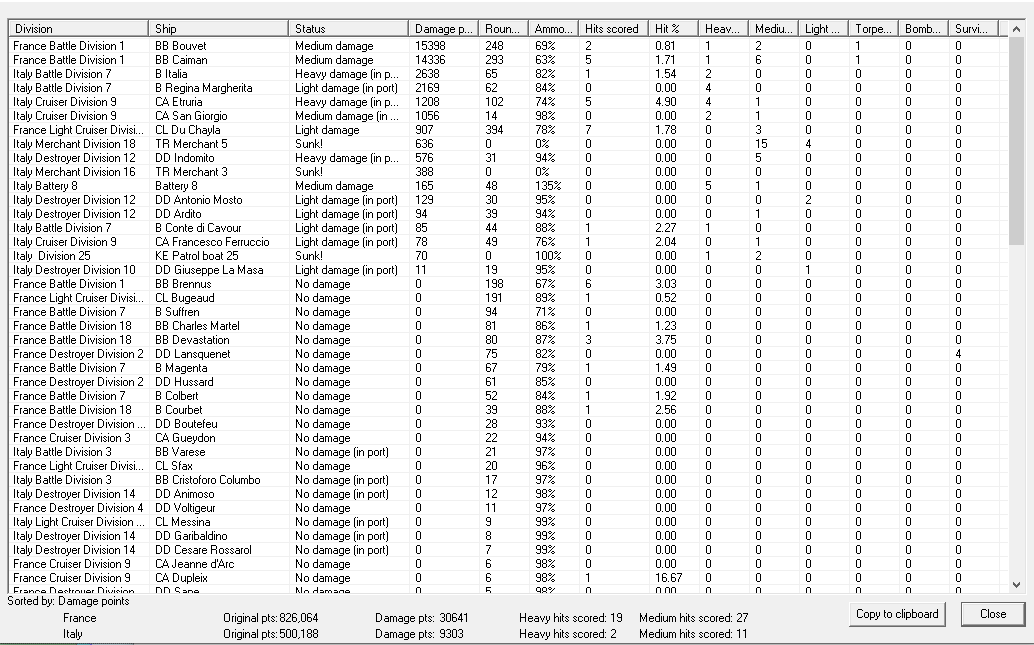 Italy declines to attack a convoy in the North Sea, giving us 375 VP. We stage a coastal raid on the area near Taranto, with three BBs, 3 Bs, and supporting vessels. This battle is notable as the first-ever deployment of shipboard aircraft during a naval action, although the planes don't do anything. We sink a TR, then a KE, before encountering the main Italian fleet. After an exchange of gunfire, BBs Caiman and Bouvet are torpedoed, and we begin to withdraw. A third TR is sunk during the action. Minor victory for the Italians at the Battle of the Gulf of Taranto, -1 prestige, 1734 VP for us, 2120 VP for them.
For fairly obvious reasons, there won't be a game post next week, and I plan to replace it with sketches of BC, BB and CL designs. Maybe others if you want them.
1915 Shipbuilding Plan
Our designers have produced a number of sketches to guide our future shipbuilding plans. We'll provide them in descending order of size.