It's time to return to the basic strategy of our hypothetical navy, a subject we've discussed at some length.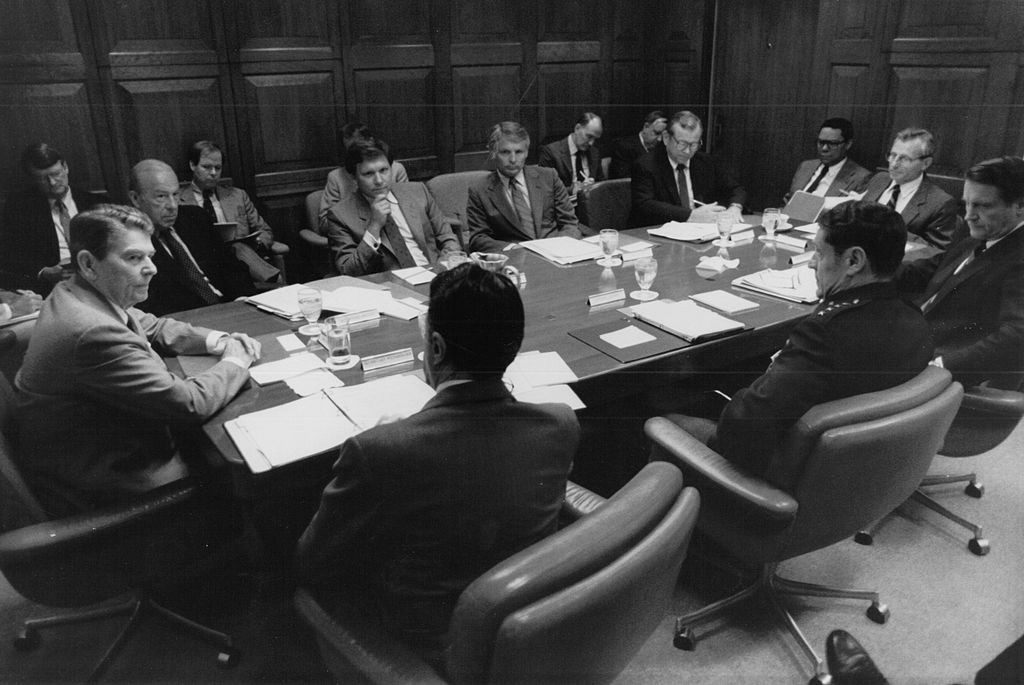 Dndnrsn: I apologize for my lateness. In my role as Proofreader-General, I was occupied fighting a different war: the war against the use of "impact" as a verb. Then there was the business with an ensign who insisted on writing "utilize" in memos instead of "use." Anyway, here I am. Thinking about overall strategy and the fleet: It's been established we're a medium power with an island to ourselves. The navy should be a priority, but I think there's a good argument for having a smaller navy than the UK: we aren't playing to memories of past glory. They are, which probably leads them to have a navy larger than they strictly need. If there is a "big" war, either we're on the same side as the US, or something went terribly wrong and we're screwed. We still want to be able to do stuff on our own that's smaller. We should be able to do one small thing on our own, or contribute to multiple small things, or contribute to one small thing so as to wear down our navy less. This should be the general military strategy, not just the naval strategy. This argues for maybe one carrier and some destroyers, probably some submarines, and smaller craft.
Bean: Your absence is quite understandable. Those are wars that must be won if we are to avoid the dreadful slide of the US military into the land of powerpoints and buzzwords. Ultimately, our military power may rest on being able to deliver a clear and comprehensible briefing to world leaders while their own military men are confusing.
That said, I'd dispute the idea that our navy needs to be substantially smaller than the UK's. Yes, to deal with a given conflict, we need a navy only half the size of theirs. But about half of any navy will be unusable at any given time. It will be in the yard, or not worked up, or on the wrong side of the world and unable to get to the right place quickly. Even if we keep forward deployments a lot lower than the US does (and I fully expect to have at least one or two units of the surface fleet deployed at all times), we still will need a significant margin over the forces we want to have on hand day-to-day.
There's also a good case to be made for us trying to specialize in something, and attempting to punch above our weight there. Traditionally, most of the European navies specialized in ASW. I don't think that's quite a route we should follow, but it does leave us other options. Mine warfare is an area we might be able to generate a comparative advantage in. Everyone else has neglected it for the past few decades, and we have the advantage of a truly frightening number of citizens with expertise in computer science, robotics and AI. Being able to provide or even sell those systems could be a very valuable bargaining chip.
Alexander: On strategy, I think we'd probably like to be part of NATO, or at least working very closely along side. We may as well plan on spending 2% of GDP on defense, though we can fit a lot under that umbrella if you want to play accounting games. I'd suggest that basically all of this should be going on giving us a navy (albeit one with a big air arm and plenty of marines), given the position our country is in. We could quite possibly end up with a larger navy than the UK if our budget is the same, especially if we decide not to get into the nuclear weapons club.
Bean: Giving all of our defense budget to the Navy. I like the sound of that very much indeed.
Silly self-promotion aside, I actually think it's a good idea, or at least worth giving careful consideration. How we structure our forces shapes our options, and it's probably a good idea to think through those implications early on.
To put it simply, there are some things we may not want to give ourselves the option of doing. Land forces and land-based air tend to have serious diplomatic implications that naval forces don't. If we sign a treaty to get an airbase, then we have commitments to whoever we signed with. We can't just up and leave without repercussions. If we sign a contract to occasionally refuel our ships there instead, it becomes a lot easier to pull out when we need to.
And there's also the problem that if we have a capability, sooner or later someone will want to use it. Take major land campaigns. Whenever the US decides to invade Iran or Canada or some other third-world hellhole, it would be nice to say "Sorry, we can't commit land forces to your occupation, we're just not set up to. But we can give you a carrier for a little while, and a landing force of Marines." This is pretty much what got the US into trouble in Vietnam. Eisenhower had intentionally neutered the Army, and the Army's attempt to compete with the Air Force and the Navy lead to the idea that a major ground commitment was a good idea. I vote we avoid the problem by not having an Army in the first place.
Alexander: I think we want to have the sort of navy that makes people want to be our friends, or at least not to upset us. Obviously landlocked nations are less likely to be swayed by this kind of argument (though see the US navy/Marine contribution to the Afghanistan conflict), but they will have less impact on freedom of the seas anyway. I'm quite a fan of Bean's idea of developing mine warfare expertise, possibly because it seems like one of the many things that can be done well by remote systems operating off a mother ship, and in my eyes amphibious warfare vessels make great mother ships for helicopters, mine hunting systems, all sorts of remotely operated or even autonomous vehicles, or, of course, landing craft. This may explain some of my interest in the Kalaat Béni Abbès, as I feel even once you had a more extensive fleet you'd be able to find some place in it for that sort of vessel, whether hunting submarines as a helicopter destroyer, disaster relief, amphibious raids, counter piracy, or MCM.
Bean: I do think we have a good chance of specializing in remote/autonomous systems. I'm less certain of your specific ship recommendations. The Kalaat Béni Abbès is very much a Mediterranean design to my eyes. It's a lot of capability in a small hull, which sometimes means that your designer was really good, but usually means that the design team was really aggressive and cut out stuff you actually wanted, like sufficient berthing space and good structural standards. The lack of a hangar is a big worry on this one. That's the sort of thing you only do when you don't have really bad weather to worry about, like if you're in the Med. We aren't.
Andrew Hunter: Much of this discussion has tiptoed around saying "We should be like X, but better." I really think that is a question we should directly confront: what can we reasonably expect to be better than everyone else at? Can we? Not in terms of military specialties (ASW, mines...) but societal advantages. You and John seem to think that we could imitate the French design choices, but avoid their failures by being more politically competent. It seems plausible, but is this what you want to bet SSCistan's geopolitical success on? Or maybe we could make our place by being the best and most efficient producers of military software anywhere--I know that the F35's packages really do have a lot of moving parts and need a lot of work done, but surely you're not going to argue the American contracting complex does this particularly well. Having just left Google, should I be recruiting people for Google But For Radar Analysis Packages as our flagship civilian employer? Or is that equally dumb?
There are a lot of potential answers here, but I really do think we need to know what we are trying to be best at.
Bean: Weirdly, I think software might be a bad place to look for a competitive advantage. Military software is really hard to do right, and the web software development methodologies don't work particularly well for it. At one point, my day job was working on such an effort, and at least at that particular site, we introduced Agile to do it more efficiently. I'm afraid that an attempt to become Google for Military Software will just end in a huge culture clash, no usable software, and a lot of money down the drain. Maybe I'm unduly pessimistic on that.
We can also approach this from the other end, focusing on being the best, not at being on the cutting edge in some field, but at making cheap and effective weapons. Building on the cutting edge is hard, which drives up prices. Going through and doing a second generation of the system, with better tech and similar goals, should be easier. The Expeditionary Fighter concept is a good example of the concepts here, even if we don't end up going that way.