Last time, we discussed Semmes' escapades in the Sumter, which was a domestically manufactured privateer. The South had little capacity to manufacture modern ships, but the Confederate Secretary of the Navy, Stephen Mallory, was a forward-thinking individual. On May 9th, 1861, Mallory dispatched James Bulloch to England, with instructions to purchase or have constructed six commerce raiders.
Mallory had a good idea of what he wanted in these vessels: smaller, lightly-armed ships, "fast under both steam and canvas," with the ability to operate for extended periods of time and to conduct operations without entering Confederate territory, if necessary. The Confederate Congress secretly approved this expedition (setting aside one million dollars for this end), along with approving the overseas construction of "one or two war steamers of the most modern and improved description, with a powerful armament and fully equipped for service." Pursuant to that end, Mallory quickly sent Lieutenant James North to Europe to join Bulloch and procure ironclad vessels, suggesting six-gun frigates "that can receive without material injury the fire of the heaviest frigates…and whose guns, though few in number, with shell or hot shot, will enable them to destroy the wooden navy of our enemy."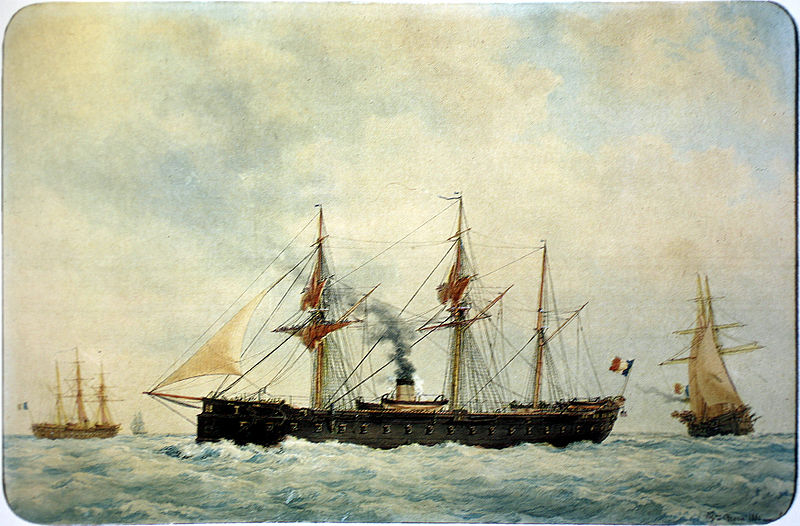 Malloy's vision for these ironclads was different from the domestically produced Southern ironclads like the low-slung CSS Virginia. He recommended a design similar to the French frigate Gloire, the first seagoing ironclad, which was both well-armored and swift.1 Mallory thus pursued two different means to strike at the Union: first, through lightly-armed and independently-operating commerce raiders to break up Northern trade and secondly through superior technology and firepower, with which he hoped to directly break up the Northern blockade. Mallory hoped that the French and English, "as the purchasers of our cotton" would be induced to sell ironclad frigates. But if the purchases fell through recalcitrant, or the ironclad experiment did not ultimately allow Southern ironclads to "encounter with a fair prospect of success, their [the Union's] entire Navy," as Malloy hoped, then the purchase of commerce raiders gave Mallory an alternate means to strike at the Union.
Mallory's initial attempt to procure seagoing ironclads—which, at such an early date in the war, could have been truly devastating to the Union navy—was nearly successful. Bulloch drew up a contract with an English firm to build two rams, each carrying four guns in twin turrets and capable of speeds in excess of 10 knots. That Bulloch had contracted for the rams was no secret—he used his own name—and thus brought down a hail of Northern criticism. The project proceeded until the U.S. minister to England, Charles Francis Adams, threatened to go to war with England over the matter—at which point the British government, realizing it had overreached, put a stop to the construction.2
Southern attempts to start a ship-building program in France fared even worse. The French proclamation of neutrality "forbade any French subject to co-operate in any manner whatever in the equipment or armament of a vessel-of-war or a privateer for either belligerent," and, as Bulloch discovered, "French lawyers afterwards consulted were unanimous in the opinion that the Government would be bound to prevent any ship leaving France for the service of the Confederate States." This, of course, foreclosed the acquisition of commerce raiders (to say nothing of an ironclad frigate like the Gloire)3 and caused Confederate agents to focus their efforts on shipbuilding in England, where "it was reasonable to expect more liberty of action."
Bulloch's attempt to overtly procure modern warships may have been blocked by Charles Francis Adams, but his English shipbuilding program continued, albeit with slightly more plausible deniability for the English. English neutrality law prohibited arming a ship that would attack a friendly power, but this narrow construction allowed Confederate agents to have whatever ship they needed built without its weapons, which could then be separately equipped once the ship left an English port.
The same spring that Semmes abandoned the Sumter, the ostensibly Italian vessel Oreto left Liverpool and sailed to the Bahamas, where—after being outfitted with her armament—she hoisted the Confederate flag as the Florida, the first of Bulloch's foreign-built commerce-raiders. Unfortunately for the Confederacy, this "fine, fast little steamer," as Bulloch referred to it, which was intended to "ply regularly between the West Indies and the Southern coast…to distract the blockaders" instead found itself running for Confederate territorial waters due to a nasty outbreak of yellow fever among the ship's crew. Once again, a Confederate commerce raider would have to run the blockade, which it did in broad daylight on September 3, 1862, dashing between two blockading vessels at high speeds. Incredibly, although its crew was so debilitated they would have been unable to man a single cannon, they managed to successfully run the blockade, suffering only minor injuries from cannon fire.
The Union navy had suffered another embarrassment. Mallory's commerce raiding program, although plagued with setbacks and consisting of only a handful of vessels, was already putting pressure on U.S. Secretary of the Navy Gideon Welles to redirect ships from the blockade to hunt down the raiders. We'll discuss Welles' response in our next installment.
---
1 bean: Gloire wasn't all that fast, particularly not compared to Warrior. ⇑
2 bean: These vessels were ultimately purchased by the RN as Scorpion and Wivern. They were the first turreted ships ever built that were intended to have seagoing performance instead of being limited to coastal missions, as evidenced by the presence of a forecastle and poop deck, as well as a sailing rig. Their design was heavily influenced by Cowper Coles, who invented their turrets and designed the tripod masts used. While neither of them actually sank, their freeboard of only 4'6" amidships was inadequate to work the guns in any serious sea. The risk of sharing HMS Captain's fate was reduced by the use of hinged bulwarks which could be folded down when the turrets were in action. Both ships spent only a few years in service before ending up on secondary duties, although Scorpion survived until 1901 and Wivern until 1922. They were not well-liked in service, as is usual for export-built ships. Also, they don't seem to have actually been designed for ramming, at least not to a degree unusual at the time. ⇑
3 bean: Another major issue with trying to buy ironclads in France was that the French shipbuilding industry was strained to the limit to build ironclads for France and Italy. All exported ironclads came from Britain for quite some time. ⇑