I visited Singapore in April of 2017, and took the opportunity while I was there to visit as many military-related sites as possible. I'm going to give a short review of each, in case I have any readers who are headed that way. For non-military things, my recommendations are Gardens by the Bay, which was flat-out amazing, and the National Museum of Singapore, which was really well done.
Changi Museum
Type: Prison camp museum
Rating: 4.4/5, A very moving look at the hell of Japanese captivity
Price: $8SG for normal adults
When Singapore fell to the Japanese, a large number of British, Australian, and Indian soldiers became POWs. They, along with a number of civilians who were deemed suspicious, were held at Changi, on the eastern tip of the island, in conditions of almost unimaginable brutality. The Changi Museum tells the story of these men and women in gut-wrenching detail. I have an incredibly strong stomach, and I was queasy during my visit. It's an excellent rebuttal to those who think dropping the atomic bombs was unjustified, and a touching memorial to those who suffered and died in the camps. I also ate dinner at restaurant next to the museum, and it was pretty good (not that good food is hard to find in Singapore).
The museum has been renovated since I visited, so things may have changed, but it appears to be open again.
The Battlebox
Type: Preserved British Headquarters
Rating: 3.8/5, Interesting to see, but not great.
Price: $20SG for normal adults
Singapore was the cornerstone of British strategy in the Far East, and the British decided to build a secure command bunker for its defense. This bunker, where the momentous decision to surrender the city was made, is now a tourist attraction. It's not a bad place to visit, although you can only visit on a guided tour which runs about every hour and a half, and there's no photography allowed. It would probably be amazing with a good guide, but my guide wasn't great, and I'd recommend reading up on the Malaya campaign before you go. My strongest memory is when she said that the war started on December 8th, and I burst out laughing. Everyone else on the tour was Australian, so I suppose December 8th is the date they grew up with. But it's downtown, and easy to get to, which makes it a decent way to spend a few hours.
Singapore Navy Museum

Type: National Naval Museum
Rating: 4/5, Really well-done, but a logistical nightmare
Price: Free
The Singapore Navy Museum is on the main Singaporean Naval Base at Changi3 and far from any public transit.4 I had to take a taxi there, and trying to leave, it was the only place the taxi system failed me.5 I had to wait about 20 minutes until someone else took a taxi there and I could get back to the MRT. You also have to get a pass to get on base, which you have to ask at the windows for. But in compensation, you get a really good museum, with a nice display of naval weapons, cool models and a good explanation of why sea power matters. I left half wanting to sign up for the RSN, and I'm not even Singaporean. If the Navy is as good as their museum designer, then they're a force to be reckoned with.
Singapore Air Force Museum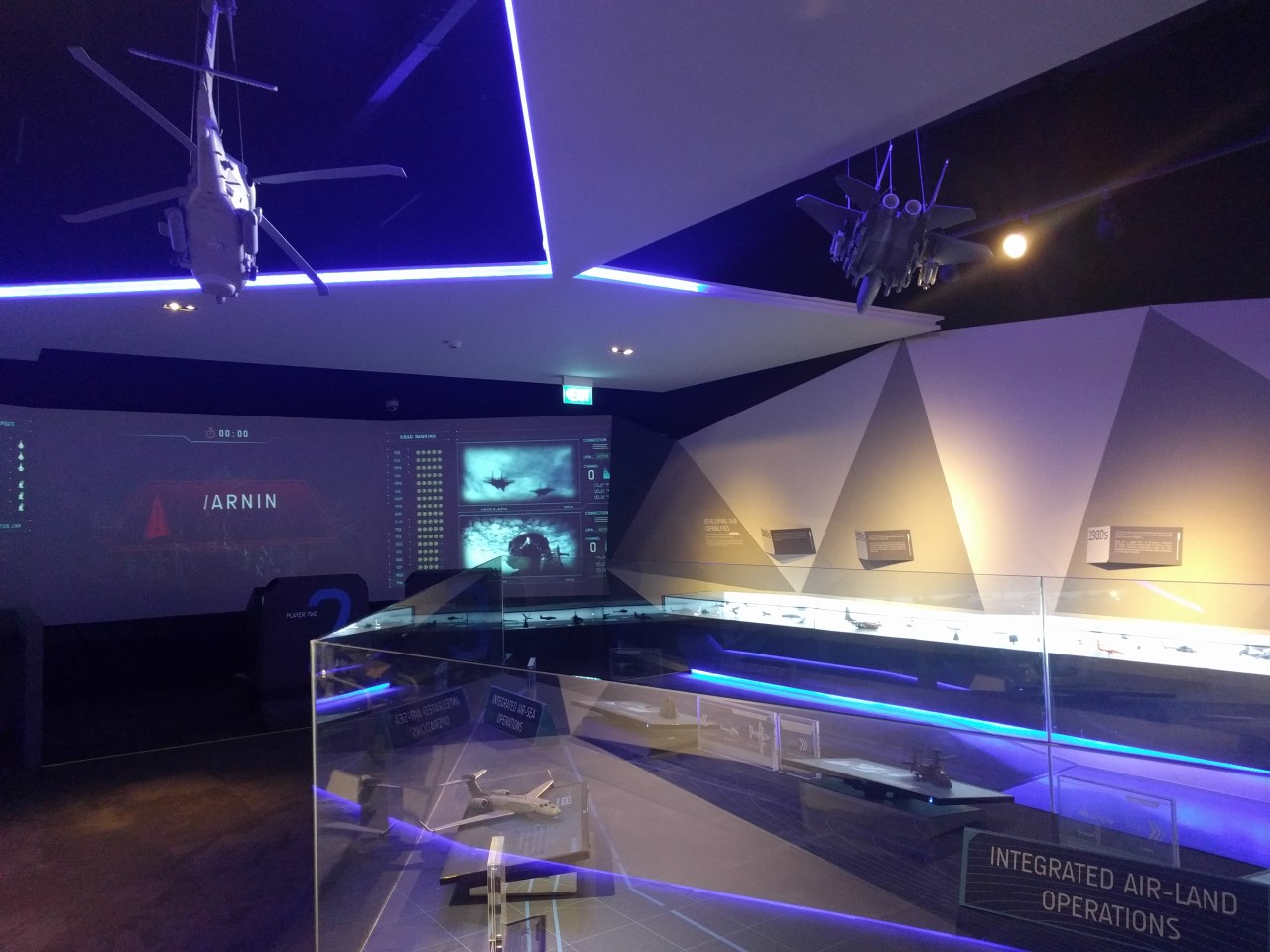 Type: National Air Force Museum
Rating: 4/5, As well-done as the Naval Museum, and a lot easier to get to
Price: Free
The Singapore Air Force Museum isn't really an air museum in the same way the USAF Museum is. Sure, there are some planes and a few missiles, but the real showpiece is the inside, with a great discussion of the role of air power and how the RSAF is vital in protecting the nation, along with models, history, and some cool interactive exhibits. It's clearly designed as a recruiting showcase6 and it works really well. The staff was friendly, and unlike the Naval Museum, the nearby road has a bus stop, the taxis will come there, and it's not on the active military base.
The museum's website lists it as "closed until further notice". I have no idea what the state of COVID restrictions in Singapore is.
Singapore Army Museum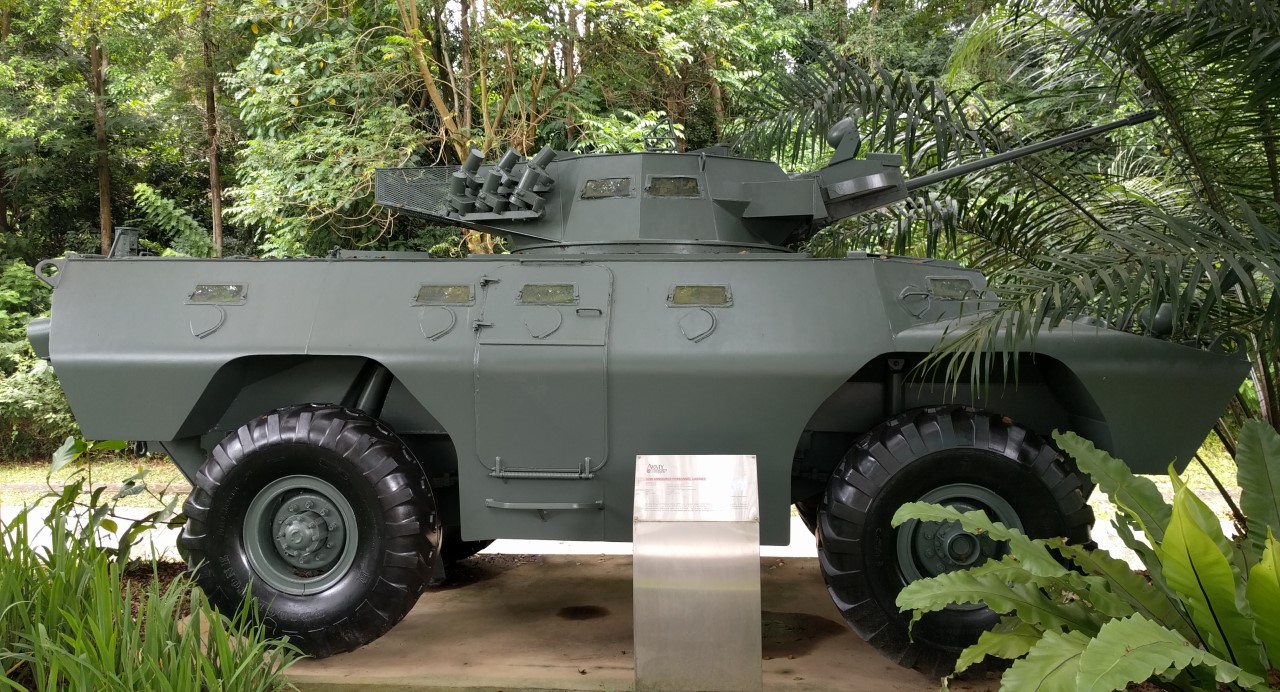 Type: National Army Museum
Rating: 3.5/5, Decent, but not nearly as good as the other two
Price: Unknown
At this time (March 2022), it appears that the Singapore Army Museum is closed for renovations, with no information on when it will reopen. It's entirely possible that the museum which emerges will bear no resemblance to the one I visited. But I've decided to publish this anyway.
The Singapore Army Museum is an OK museum, but it pales in comparison to those of the other services. If you just want to see military hardware, particularly green-painted vehicles, then it was the best, but whoever the Air Force and Navy hired was apparently too expensive for the Army.7 The museum is OK, but I definitely didn't leave with any desire to sign up and they didn't do nearly as good a job articulating their story. There was a digital shooting gallery (which is why they charge), and I had an interesting talk with the guy there, who was surprised to see an American instead of a Singaporean school group. Logistically, it was kind of a pain to get to, being way out on the west edge of the island away from all the touristy stuff, although still better than the Navy Museum. Overall, I'd recommend spending your time on other things, unless you really like ground vehicles or run out of other things to do in Singapore (which you shouldn't).
Other military/naval-related sites
There were a number of sites that fall within my remit that I didn't have time to get to, but I thought I'd list the ones I know of for completeness:
---