Gentlemen,
The year since the end of our latest war with Italy has been an exciting one. We have commissioned Lille, widely recognized as the most powerful warship afloat. We have laid down a trio of CLs and 10 DDs, giving us the largest and most modern force of that type afloat. Our researchers and agents have brought us a bounty of technology, ranging from engines to guns to armor. A recent clash with the US in the Caribbean has lead to an increase in our budget, and we have begun an aviation program, with an airship base in Norway and the fitting of a few ships to carry scouting planes.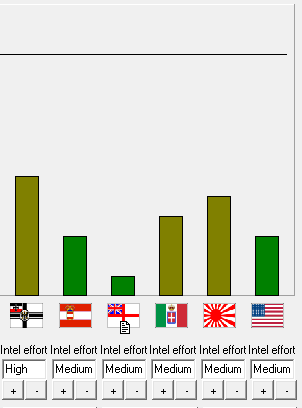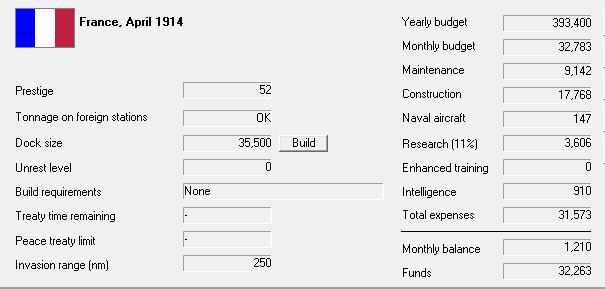 But it has also brought challenges. The recent victories of the Liberals in Britain have resulted in the RN's budget being slashed to the point that the German fleet might overtake them soon, and our nation has been unable to keep up. Our diplomats assure us that the situation with the US can be managed, but that does pose another risk to our interests. The first of the new destroyers will commission in four months, opening the way for continued capital ship construction. A number of sketch designs have been prepared for your consideration.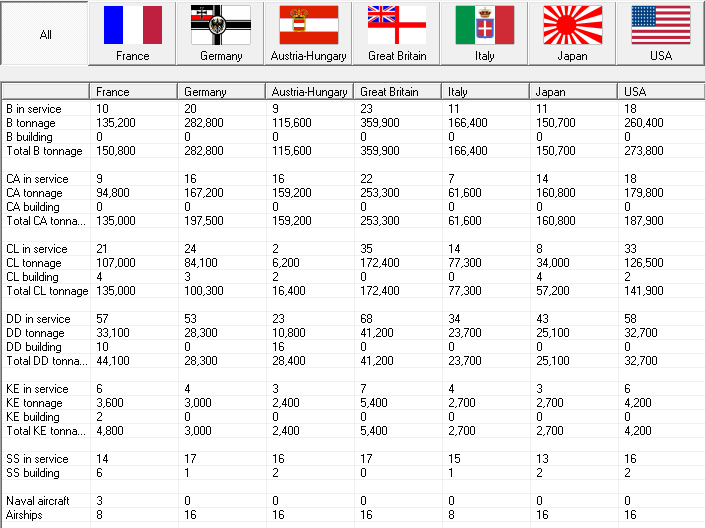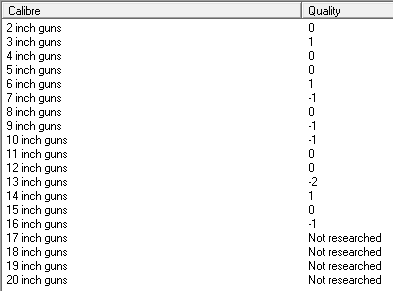 We have a number of options for construction going forward. Most are close evolutions of existing designs, with the exception of the CA, which is intended as a cheaper BC alternative for hunting down raiders and the like.
April 1913
CL D'Assas and DD Gabion commission. BC Lille is to be fitted with directors, causing a 1-month delay. Breakthroughs: Superheater, improved weight control. US commissions BC, CA. Design work begins on CL Cassard (Pascal with better machinery).
May 1913
BB Caiman finishes her reconstruction. Breakthroughs: Improved AP penetrator alloys, Improved signalling. CL Cassard laid down. AH commissions BB, BC. US lays down BC. Design work begins on DD Spahi (Lansquenet with better machinery). Rebuild of BB Charles Martel begins.
June 1913
CA Bruix finishes reconstruction. Our spies steal the latest plans for improved German 8" guns (quality 0). Breakthrough: Wet heater engine. The Japanese have stolen Explosive Shell technology from us, and under pressure from the press we send them a nasty note about it. 4 DD of Spahi class laid down. AH lays down 6 DD, 1 BC. Germany commissions BB, UK a CL. CL Isly begins reconstruction.
July 1913
BC Lille commissions, BB Devastation and BC Tourville finish reconstruction. Some Austro-Hungarian dignitaries get into trouble on one of our ships, which we use to embarrass them. Japan continues to spy on us, and we send them another note. AH lays down 4 DD, US 1 BB. We lay down 6 more Spahis, and two more KE minesweepers. BC Dunkerque begins refit.
August 1913
We find ourselves in a colonial crisis with the Americans. We advise a middle ground, strengthening the Navy but not unduly inflaming tensions with the Yankees. Germany commissions BB, AH lays down DD. 2 Cassard class CLs laid down. BB Brennus begins refit.
September 1913
BB Charles Martel and CL Isly finish reconstruction. We buy Small tube boilers II from the US. Breakthrough: Improved armor bracing. Germany and AH lay down CLs. CL Alger begins reconstruction.
October 1913
Private shipbuilding expands, increasing our docks by 1000 tons. Breakthroughs: Target designator, High capacity pumps I. Germany lays down BB, AH lays down DD. BC Duquesne begins reconstruction.
November 1913
BC Dunkerque finishes reconstruction. We discover and denounce an Italian spy. UK commissions a BC.
December 1913
Private shipbuilding expands, increasing our docks by 500 tons. BB Brennus finishes reconstruction. AH lays down 2 DD, UK 1 BC. Italy commissions 1 BB, Japan a BC. We begin to see the first scrappings of game start ships. CA Sully begins reconstruction.
January 1914
Private shipbuilding expands, increasing our docks by 500 tons again. CL Alger finishes reconstruction. We are offered a floatplane scout by the Liore et Oliver company, and decide to buy a few for trials. AH lays down 2 DD. US and Japan each commission 1 CL. Widespread scrappings of obsolete ships. We begin building an airship base at Stavanger, Norway.
February 1914
Oil is discovered in Hati. BC Duquesne finishes reconstruction. 2 DDs commission. Breakthrough: Internal torpedo stowage. Germany lays down BC, UK and US commission CLs. We initiate a competition for a flying boat, even though we don't currently have any operational patrol units.
March 1914
New docks completed. CA Sully finishes reconstruction. We steal improved 6" guns (+1) from Austria. Breakthrough: Hydrostatic pistols. Better 11" guns (0) researched. US lays down CL, UK commissions CL. B Solferino and all three Jeanne d'Arc class CAs begin reconstruction. The CAs are each to be equipped with one of the new floatplanes.
---
November 1914
Gentlemen,
We face many perils. The recent assassination of our Minister of Finance by Italian anarchists has plunged us into war again. But tensions with Germany remain very high, and our diplomacy must steer a careful path to avoid a war with both nations at once. We can easily crush the Italian fleet, as our advantage over them has only grown, but Germany is a much more formidable threat.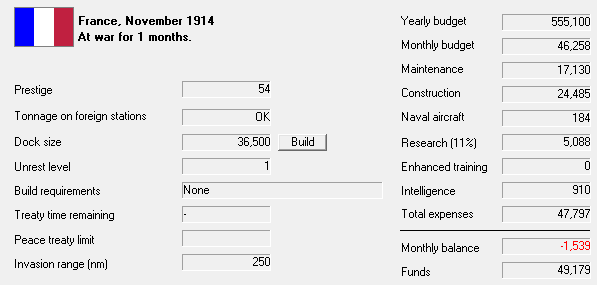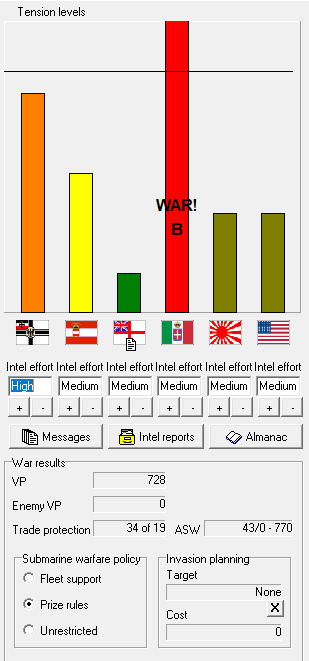 There are some bright spots, however. Our alliance with Britain holds firm, while we have recently laid down two new battlecruisers that are a revolutionary step past even the Rouens. Our aviation program shows great promise, and we should reconsider our research priorities in light of new fields that have recently opened up.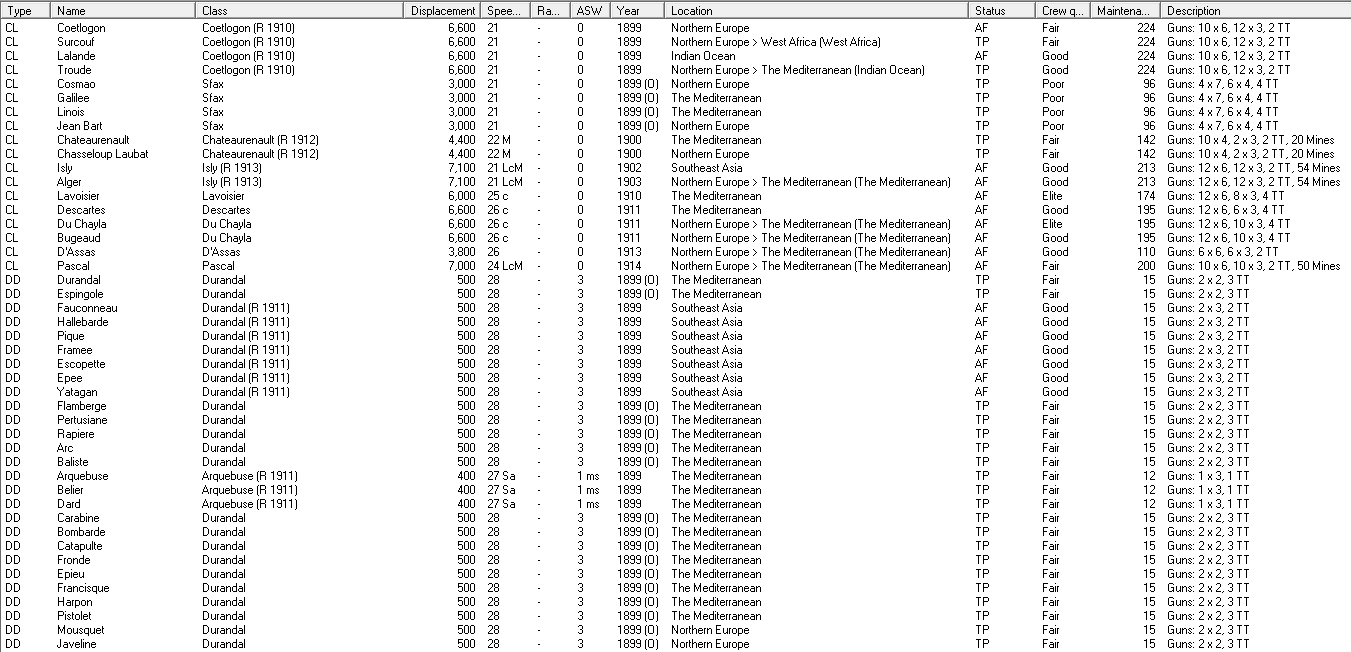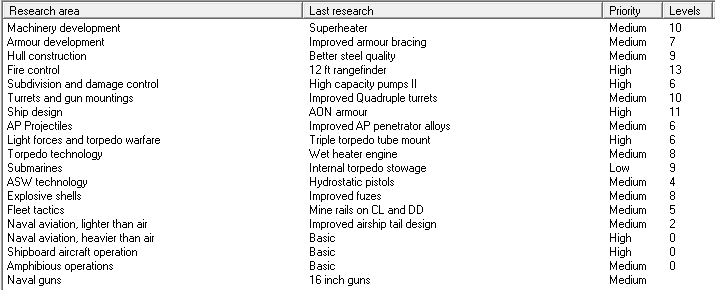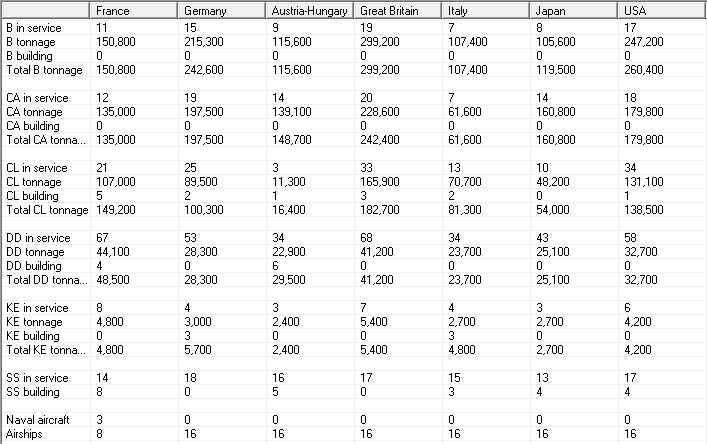 April 1914
1 KE commissions. We send a battleship to evacuate our nationals during an uprising in an African country. Breakthrough: All or Nothing armor. New research area discovered: Shipboard aircraft operations. UK lays down 2 CL. Japan commissions 2 CL.
May 1914

BC Nancy starts design. We complete our airship base in Norway. Our spies steal plans for Japanese BC Kongo. Breakthrough: Improved airship tail design. New research: Naval aviation, heavier than air. UK, Japan lay down BC.
June 1914
Private shipbuilding expands our docks by 1000 tons. CL Pascal commissions, but is found to have trouble making her design speed. 1 KE commissions. UK, US lay down BBs. AH commissions 4 DD. CL Friant begins rebuild, although due to a paperwork error, she ends up regunned instead of otherwise modernized.
July 1914
B Solferino and the Jeanne d'Arc class CAs finish their reconstruction. 2 DDs commission. The Panama Canal opens. We buy Fleet tactics - Destroyer screen from the British. Our new floatplane scout, the LeO.40, is ready for operational service. Italy lays down a CL, Japan and US BBs. AH commissions 5 DD.
August 1914
Improvements in productivity boost our industrial production. 4 DD commission. We join the steel industry in lobbying for a stronger navy. Breakthrough: 12 ft rangefinder. BCs Nancy and Nantes laid down. Italy lays down CL, US a BB. Germany commissions BC, AH a DD, Italy a CL.
September 1914
We still have budget after laying down the two Nancys, so 2 SSCs are started, and design work begins on DD Bouclier, a mild improvement to the Spahi, and CL Destrees, an improved Cassard. 4 DD commission. Breakthrough: Improved fuzes. Germany has apparently stolen technology from us in ship design, and we send a diplomatic note. We select the Dewoitine D.41 for our new flying boat. Germany and Italy lay down KEs, while Japan and the US lay down BBs. AH commissions DD.
October 1914
CL Destrees is laid down, along with 4 of the new Bouclier class DDs. We get offered a second Destrees at a 10% discount, and take the offer. Italian-backed anarchists assassinate an important official, and we issue an ultimatum. Breakthrough: Triple torpedo tube mount. Germany lays down 2 KE, Italy lays down 2 KE, 1 BC. Germany, AH, US and Japan commission CLs, UK a BC. War breaks out between France and Italy.
Convoy defense off Tunisia. A force of 2 BB, 3 B and 3 CA protects a convoy, although dusk conceals us from the eyes of the enemy. Marginal victory, 588 VP for us, 0 for them.