This is a continuation of our discussion of the elements necessary to build a modern navy, specifically what sort of naval aviation is required or desirable.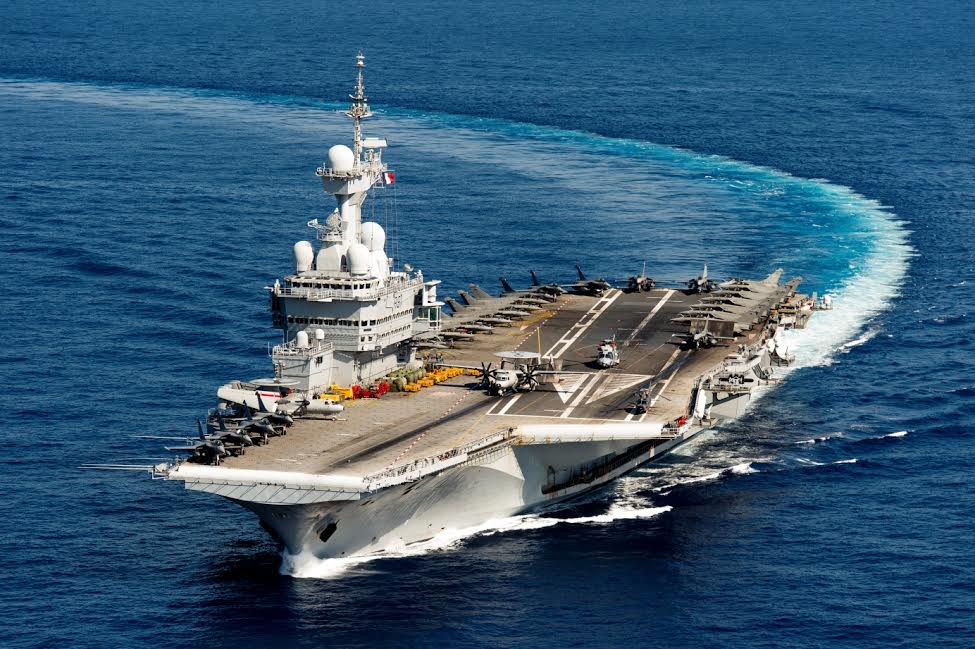 Davy Jones: It seems to me as if the decision between CATOBAR and STOBAR comes down to whether we want to be able to punch very hard in few places or punch decently in a lot of places. This comes down to a discussion of who our adversaries are likely to be, what we'll be fighting over, what forces they're likely to bring to the battle, and what losses would be acceptable to us.
Bean: Sort of. Keep in mind that even a STOBAR or STOVL carrier still needs combat systems, engines and escorts. While there's a reasonable extra cost for CATOBAR, it's not as much as you might think on a whole-fleet level. The bigger question is if we can afford CATOBAR.
Davy Jones: I assume that there's a performance price that has to be paid for the VTOL capability which means that 4th generation VTOL aircraft won't be as capable as 4th generation normal aircraft. Are there enough countries fielding 3rd generation aircraft that it's worth going this route? Or would this be as part of a joint attack?
Bean: For a given technology level, there is absolutely a performance penalty for going with VTOL/STOVL. But we're not planning on building a 4th-generation aircraft with 4th-generation technology. We're building a 4th-generation aircraft with 5th-generation technology. Most military aircraft are designed to be as advanced as possible, but that's not what we're doing. We're building an airplane designed to broadly match fighters originally designed 30-40 years ago, but with STOVL capability.
Davy Jones: Who would we sell our VTOL aircraft to? The US, Europe, China and Russia would all probably feed their own local military complexes rather than buy it from us. Will there still be enough countries around the world who'd be willing to pony up for VTOL aircraft rather than the Rafales or Super Hornets that you mentioned earlier?
Bean: Our first target market is anyone with a ship with a big, flat top on it who doesn't have a strong commitment to an existing fixed-wing aircraft to fly off of it. There are at least 15 of these ships in existence, and more under construction. The owners of several of these ships have been sniffing around the F-35B, but I suspect that most of them would be quite happy with a pitch running "We can get you a capable aircraft to fly off your ship for half the per-unit cost of the F-35, and a lot lower operating cost, too. Oh, and we aren't going to make you deal with the US procurement and sales system, either." Make no mistake, we're going head-to-head with the F-35B. We can't win in a fight on capability, but we can easily win on price.
Selling to the US is harder. The Marines want the F-35B, and nothing else. Anything like this is an existential threat to their ability to operate a fully modern strike fighter off of their amphibs. The Navy doesn't care. They don't operate off of the small carriers. It's not likely to be big or manly enough for the USAF. So, what service do we sell it to?
Dndnrsn: The Coast Guard?
Bean: I like the way you think, but no. We sell it to the Army. Not for them to use, because that violates various inter-service treaties. But to the Air Force on their behalf. Our campaign centers around the fact that the A-10 won't last forever, and that our plane can provide better CAS. We hammer on the vulnerability of the A-10 to ground fire, and the advantages of having a survivable platform that can operate from close to the front lines, and that has the capability of a modern strike aircraft. We offer to throw in a free 30mm gun pod, and some extra bits to make it ugly.
But, you say, they'll never buy it because the US defense establishment has a lot to do with jobs. Never fear. What we do is team up with a US manufacturer to build them under license in the US. Lockheed Martin isn't likely to be very happy with us, as we're going to be actively trying to kill one of its major products. So it's either Boeing or Northrop. Given the state of their respective order books, Boeing is likely to be a lot more interested, although if they win T-X, that might change. Or we could team up with a smaller US company, although I'd prefer to get someone with major political clout on our side. We also team up with them on providing upgrades to the platform. The airframe is easy, but we're going to need to push the avionics to make it viable in the long term, and a partner with lots of experience on that front would be valuable.
Longer-term, if the plane's good enough, we can sell it even to people who don't need its special capabilities. Look at the Hornet and Super Hornet. They've sold very well, even to countries which not only lack carriers, but lack navies entirely. We can also look at building a non-STOVL version to sell to people who want something 4th generation that has lots of life left in it. We might even be able to sell it to the Marines as a supplement to the F-35B down the road, as we can build a version with a back seat. That's helpful for some tasks, and it means they get a STOVL trainer.
John Schilling: The great danger in aircraft carriers, for any but the greatest of powers, is that they will turn out expensive enough that you can only afford to maintain one of them. For great prestige, no doubt, but with a great reluctance to actually risk it in battle. See, for example, the Veinticinco de Mayo's inaction during the Falklands war. And note that France's plans to maintain a two-carrier fleet have fallen apart on cost considerations. Are we richer than France? If not, it would be prudent to look for something smaller than the PA2 proposal that France wound up cancelling.
At the same time, the Harrier has been upgraded to the limit and is nonetheless obsolete. The F-35 is a Lockheed-Martin monopoly that will no doubt be priced so as to nearly break our budget, and LM may overestimate our budget. And while I would like to see the free world have a fourth-generation STOVL "expeditionary fighter" available, I fear that the market for such would be too small to recover the development costs. Note that the total number of Harrier airframes manufactured for customers other than the US and UK was I believe less than a hundred, spread over two generations, twenty years, and two manufacturers. With the US and UK locked in to the F-35, I don't think this works.
But if we look again to France, their Clemenceau-class aircraft carriers demonstrated the ability to operate high-performance aircraft of up to 15,000 kg takeoff weight, in a CATOBAR configuration, on a hull of perhaps 25,000 tons standard displacement (references vary a bit on that). And Saab has repeatedly proposed a carrier-capable version of its JAS-39 Gripen, a perfectly fine 4th-generation multirole combat aircraft within our weight limit. Presumably our aerospace industry could assist with the navalisation and assemble the resulting Sea Gripens locally. And if Saab gets too greedy or uncooperative, the HAL Tejas would also be suitable and is already designed for carrier operations, though in that case we'd want to work on upgrading the combat systems to modern western standards.
Possibly a more useful project for our aerospace industry would be to develop a carrier-based utility airframe comparable to the USN's S-3 Viking, though a bit smaller (18-20,000 kg MTOW) and probably a fast turboprop rather than a turbofan. Specifically designed to swap between maritime patrol, AEW, ESM/ECM, tanker, and transport roles. This would be a substantially less ambitious development than a new strike fighter, and would face little or no competition for what I think would be a substantial export market (roughly, everyone with a carrier smaller than a QE, plus the low end of the land-based maritime patrol/AEW market).
So, scaling from the Clemenceaus, I think 30,000 tons standard displacement would support an air wing of 24 JAS-39s, 8 multirole turboprops, and 8 helicopters, with reasonable endurance, logistics for sustained air operations and full combat systems including a modest self-defense capability. The air wing should be sufficient to ensure complete sea control out to ~400 nm against anyone who didn't bring an aircraft carrier of their own, and conduct planned strike missions out to ~800 nm.
And on the economic front, there are a number of nations that would clearly like to operate light aircraft carriers but don't have any affordable options - particularly if they aren't F-35 customers and can no longer pretend the Harrier is a viable combat aircraft. So we could probably make this a joint venture, maybe tell parliament that we want three but the Brazilians have offered to share development costs if they get the fourth. And then when it turns out we can't afford all three, well, we get two and Argentina will surely bid for a carrier to match Brazil's. Also consider Spain, Italy, Australia, Japan, South Korea, Taiwan, just off the top of my head.
Bean: That's a lot of ground to cover. Starting from the top, we may not be richer than France, but I think we can be reasonably sure that we won't mismanage the process the way they did last time they bought a carrier. PA2 looks to have fallen victim to the 2008 recession. But your point is taken about the need for numbers, and I'm very well aware of that.
Both France and Sweden have been able to develop indigenous fighters, and we're aiming to put as many off-the-shelf systems aboard as possible. If it's what we need, I don't think it would be financially ruinous. But before we commit to anything, I'll make sure we have a better idea of the market.
I have a couple of problems with your carrier proposals. First, airplanes. While the Gripen is a good fighter, Saab has never built a naval aircraft of any sort, so I don't really trust their navalization skills. I know they're close with Boeing these days, who do know how to build naval aircraft, but I'd still rather not. And a cynic might suggest that the Tejas program was set up to make US aircraft procurement look good. I'd much rather have Super Hornets, both because it's built from the ground up as a naval aircraft and because it lets us operate Growlers, too.
But what about your carrier estimates? I happen to remember that the British used to operate Buccaneers off the Hermes, a ship smaller than Clemenceau, and those are very close in size to the Super Hornet. They didn't operate a lot of them, but it is possible to fly a big airplane off a ship that small. I'm sure you'll object that a ship of that size can't carry very many, but you can't fit two Sea Gripens for every Super Hornet. Also, remember that steel is cheap and air is free. Going from 30,000 tons to 40,000 tons will cost a lot less than an extra third, and will get us a much more capable ship. I'd recommend going as big as we can reasonably get away with. The utility aircraft isn't a bad idea, but you do have to remember the lack of CATOBAR carriers currently in service.
And while I also do like the idea of recreating the light fleet carrier program, I don't think it will work. Brazil just bought HMS Ocean from the British to fill their flattop gap, so I'm not sure we can sell to them soon. Argentina is an even worse choice. They probably don't have the money, they might well capsize it, and I really don't want to have that conversation with the British Ambassador. And I don't see that many opportunities for selling other ships. Taiwan is hard to sell to without angering the Chinese, and selling to the others is really tricky. A lot of them have STOVL-capable carriers of fairly recent vintage, and something as high-profile as a carrier is hard to sell for export unless it's really cheap.
---