When World War I ended, the world looked poised on the verge of another naval arms race. The United States, which had aimed at parity with Britain under the 1916 Naval Program, was talking about an even larger fleet program, to firmly surpass the Royal Navy. In the Pacific, Japan was building the so-called 8-8 fleet, aiming to have 8 new battleships and 8 new battlecruisers. This would pose a major threat to British and American holdings in the Far East. Britain would traditionally have simply outbuilt these threats as they had with Germany a decade earlier, but the war had left them nearly bankrupt. So when American Secretary of State Charles Evans Hughes called a conference on naval armaments in November 1921, all three countries showed up, as did France and Italy.1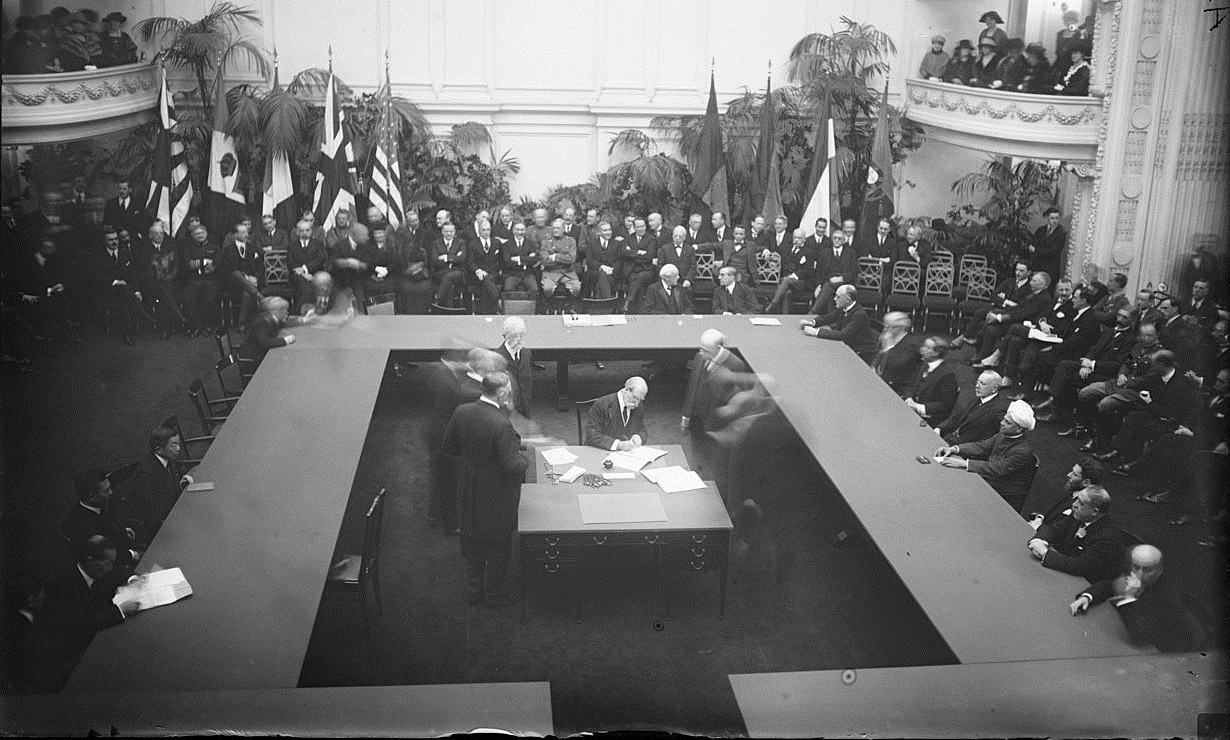 Hughes opened the conference with a dramatic series of proposals, calling for the immediate suspension of all capital ships currently under construction, no new construction for the next 10 years and rules on when older ships could be replaced. Older ships would be scrapped to bring capital ship tonnages in Britain, the US and Japan to 600,000, 500,000 and 300,000 respectively.2 All other categories of ship would be limited on similar lines.
The Americans obviously accepted these proposals, and the British were mostly in agreement, too. The Japanese, however, wanted major modifications. They had calculated that they needed 70% of the strength of either of the other powers to be able to win in the Western Pacific. Disputes over the tonnage ratio held up the conference for several months, but they eventually managed to trade acceptance of the American tonnage ratio for a clause banning the construction of new bases or fortifications in most of the Western Pacific.
The Japanese also raised issues with the proposed list of ships to be scrapped. Under Hughes' original proposal, each power would retain a single "post-Jutland" battleship. The British had Hood, the Americans Maryland, and the Japanese Nagato. But the Japanese delegation pointed out that Nagato's sister ship, Mutsu, had commissioned a few weeks before. In addition, she had been largely funded by donations from schoolchildren, and the blow to public morale from scrapping the completed ship would have been too much.
Eventually, all three delegations reached a compromise. In exchange for more scrappings among the older ships, the Japanese would get to keep Mutsu while the Americans completed Colorado and West Virginia, both sisters to Maryland and over 90% complete. The British, who had no battleships under construction, were to be allowed to build two new battleships subject to the treaty restrictions. This meant that the qualitative disadvantage of the British would be wiped out, and the final tonnage allowances were 525,000 for the US and UK, 315,000 for Japan and 175,000 for France and Italy.3
The drafters of the treaty didn't expect warships to last forever, and after the 10-year holiday expired, warships could be replaced when they reached 20 years of age. Any replacement battleships would have to be 35,000 tons or less, and couldn't mount guns larger than 16". There was also a provision allowing reconstruction of existing ships, but only to improve their resistance against air or submarine attack. 3,000 tons could be added to any existing ships in the form of bulges or improved deck armor.4 Any changes to side armor or the caliber, number, or mounting of main guns were prohibited.5
Another point of contention was the restriction on smaller ships, and there the original Hughes proposal failed. The British came in with an attempt to ban submarines, as memories of the U-boat offensive were still fresh. The French in particular opposed them, and the conference ended with no restrictions on submarines. The other British effort was more successful. They were unwilling to accept the proposed limits on cruisers, as they as they believed they needed 70 to police their far-flung Empire, far more than the US or Japan wanted. Eventually, the dispute grew so heated that any limitation on number of ships or aggregate tonnage for non-capital ships was scrapped, those being defined as ships of less than 10,000 tons and mounting weapons of 8" caliber or smaller. This limit was based on the British Hawkins class, and was soon adopted as the standard for the "treaty cruisers".
But it was obvious even at the time that aircraft carriers were not going to remain within these limits, and would have to be dealt with separately. The US and Britain each got 135,000 tons of carriers, while Japan received 81,000. Individual carriers were limited to 27,000 tons, and to prevent someone building a battleship with a flight deck and calling it a carrier, aircraft carriers were limited to no more than 10 8" guns. A clause was included allowing conversion of capital ships currently under construction to carriers, with a higher limit of 33,000 tons. The US converted Lexington and Saratoga,6 while the Japanese did the same with Akagi and Kaga.
But simply defining limits in tons was not enough. Tonnage is a complicated measurement, and some consistent standard would have to be agreed upon. The most obvious metric would be to measure with some fraction of fuel, water, ammunition, and provisions, one of full, two-thirds, or half. But the United States objected to this. The American delegates pointed out that, thanks to its Pacific obligations, their warships would need substantially longer range than those of other nations. Thus, an American warship of a given treaty tonnage under such a metric would be substantially weaker than one of, say, Italy, which would be built only for short-range deployments in the Mediterranean.
The resulting compromise was the creation of Standard or Treaty displacement, defined as displacement "complete, fully manned, engined, and equipped ready for sea, including all armament and ammunition, equipment, outfit, provisions and fresh water for crew, miscellaneous stores, and implements of every description that are intended to be carried in war, but without fuel or reserve boiler feed water on board." Obviously, no ship ever was in this condition, but it proved a useful compromise.7 The American ship would still be weaker than its Italian counterpart, all else equal, but it would be a much more even fight.
Finally, in February 1922, all powers were in agreement and the treaty was signed. Despite extensive cheating by the Japanese, which I will discuss at some point, the treaty proved successful in stopping the brewing arms race and cutting expenditure on warships. Despite complaints from all powers involved, in retrospect it was clearly a good thing for everyone. The Japanese were granted much more tonnage than their relative economic status would have allowed them in an all-out building race,8 as was graphically demonstrated during the 1940s. The US and Britain managed to gain political cover for their navies in the immediate post-war years, when economy was much on the minds of governments, and avoided destroying their relationship over the question of ruling the waves.9 The Washington Treaty was later superseded by the 1930 and 1936 London Naval Treaties, but they were essentially extensions of the foundations laid in the US, foundations which shaped the battleship to the end of its life.
---