Gideon Welles' program to reform the Navy and supply it with the vast numbers of new vessels it would need to support the Northern war effort (and deter possible European threats) was tremendously successful. But like all such programs, it took time, and Southern privateers had a narrow window of opportunity to operate before the superior power of the U.S. Navy could be brought to bear.
Southern privateers began hauling their prizes into New Orleans as early as May 1861. These early war privateers were typically smaller vessels, refitted for war, that operated close to the coastline and pounced upon unsuspecting Northern merchantmen. In confrontations with United States naval vessels, they were outmatched and typically captured or sunk. Nevertheless, they operated in great numbers and with some success for the first year of the war, until the blockade—which made returning prizes to port difficult—began to take effect, and would-be entrepreneurs turned to blockade-running.
A look at Confederate records (which admittedly may be less than complete) is illustrative here. Of the 25 recorded privateers, only nine ships actually succeeded in making any captures at all, but those nine seized between them 27 Northern ships. One ship, the Jefferson Davis out of Charleston, captured eight vessels by itself. New Orleans (ten ships) and Charleston, South Carolina (eight ships) were the most common ports of origin for these privateers, but ships out of North and South Carolina accounted for a majority (19 total) of the prizes, probably due to their proximity to Northern shipping lanes. While most privateers were registered and most prizes were taken in 1861, the schooner Retribution,1 operating out of Galveston, Texas, seized three vessels in 1863.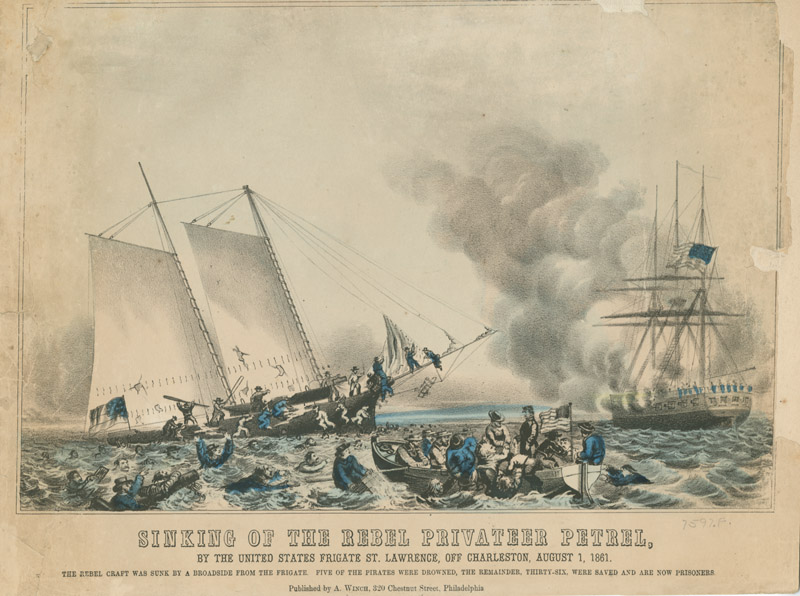 The specter of Southern privateers (or "pirates," as they were sometimes referred to in the Union) was alarming enough to the Union that they briefly determined to treat the privateer's crews as actual pirates instead of prisoners of war. However, nothing ultimately came of this threat, as Southern authorities vowed retaliation if any privateer crews were executed.
While the heyday of Southern privateers was brief and the losses they inflicted on Northern shipping modest, it should be viewed as a very successful endeavor when the situation of the Confederacy is remembered. They served as a stop-gap solution for the South until they could produce dedicated commerce raiders, and at essentially no cost to the Southern government,2 they were able to harass Northern shipping, oblige Union naval vessels to watch for privateers, and add to the South's small pool of ships by seizing enemy commerce.
Although the tightening of the blockade eventually smothered Southern privateering efforts, issuing letters of marque allowed the South to carry out aggressive operations at sea at a time when it had practically no Navy. They also served as a sort of early prototype for the South's dedicated commerce raiders, the first of which we will take a look at in our next installment.
---
1 With a name like that, I can't help but suspect a Hollywood-worthy story behind this vessel. ⇑
2 bean: It's worth pointing out that there was a cost to the people operating the privateers. In every case I'm aware of, privateering on net cost those who engaged in it more than they made from captured ships. That's not to say that a few people didn't get rich from it, but in general, privateering was a gamble, and one that rarely paid off. From the perspective of the government, though, it was a way of mobilizing resources that it otherwise would have been unable to use. ⇑