"Hypersonic" is the big buzzword in defense today. Russia, China and the US are all rushing to develop weapons in this new class, which travel above Mach 5, and pundits talk breathlessly about how they'll change everything. As usual, most of the discussion misses several basic facts. Hypersonic weapons have been around for the better part of a century, and while they have already played a major role in changing warfare, the weapons under discussion today are unlikely to live up to the hype they've been given.
The most basic of hypersonic weapons is of course the ballistic missile, dating back to the famous V-2. While this was an excellent weapon, at least from the perspective of the Allies, ballistic missiles didn't really come into their own until the development of small nuclear warheads, which could compensate for the inherent inaccuracy of the type. The combination of ballistic missile and nuclear warhead quickly came to dominate the strategic battle between the superpowers. Their high speed meant that warning times fell from hours to minutes, putting everyone on a hair trigger. They were also immune to conventional defenses, although the inherent difficulty of shooting them down is generally exaggerated.
But what makes modern hypersonic weapons different? The fundamental shift has been to lower-altitude operations, remaining within the atmosphere at all times in a bid to extend range, reduce detectability and not look like a ballistic missile in the hopes of not making people nervous that nuclear weapons are flying.1 At least for the American programs, a second major difference is the lack of nuclear warheads, although the Russians and Chinese are both reported to be fitting theirs for nuclear use.
The new hypersonic weapons can be broken down into two main types: gliders and cruise missiles. Gliders are taken to speed by a rocket booster and then left at the mercy of aerodynamics, while cruise missiles have some sort of air-breathing engine that keeps them at speed after launch. Both are under development, but the systems that are closest to operational are all gliders, which have the massive advantage of not needing to figure out how to make an engine work at Mach 5+.
Public discussion of hypersonic weapons is difficult because evaluating the claims made of them requires understanding a rather obscure corner of aerospace engineering, and there are precious few aerospace engineers in the public discourse. Fortunately, I am an aerospace engineer who has done a little bit of work in this area, and was able to notice the problems 5 years ago. The problem was that doing a full demonstration of this would require a lot of work, which I didn't particularly feel like doing. But coming to the rescue are David Wright and Cameron Tracy, who published a paper on the subject that makes the technical criticisms I was planning to, with a more sophisticated model than I could have put together. For those who don't want to wade through 36 pages of technical analysis, there's also a piece in Scientific American that captures their conclusion. With that as reference, I can lay out the simple case here.
The basic problem with hypersonic weapons is that air doesn't like it when you go fast, particularly faster than the speed of sound. Generating lift now requires producing a lot more drag, which in turn kills your fuel efficiency. This is why all existing airliners operate around Mach .85. Once you start to approach Mach 3, the air starts to get really annoyed, and you now have to deal with lots of heat in addition to the steadily-worsening efficiency issues.
This is where we have to bring in some actual aerospace engineering.2 The relevant value here is the lift-to-drag, usually written L/D. Lift is what keeps the missile from just falling out of the sky, and higher L/D means more efficient flight. Modern airliners typically have L/D values of 15-20, but once you're past the sound barrier, this gets much worse very quickly, and hypersonic bodies with wind tunnel data tend to have maximum L/Ds between 2 and 3.3 In practical terms, this means that a hypersonic glider is losing a lot of energy very fast. If it wants to maintain altitude and can constantly stay at its best L/D, then it's slowing down by a full Mach number every minute to minute and a half.
But things get much worse if it tries to maneuver. A glider will maneuver by increasing the amount of lift it generates and rolling to point the lift vector in the direction it wants to go.4 Even if we assume that L/D stays the same5 a 1-G turn will increase drag by about 40%. But how fast is a 1G turn? Well, if our hypersonic glider is flying at a constant Mach 5, the radius of the turn would be 230 km, and a 30° turn would take about 80 seconds, and cost the glider at least 1.2 Mach of speed if it stays at a constant altitude.6 Oh, and that's a best-case scenario, because turn radius increases with the square of speed. You can try to cut it down by pulling more Gs, but this rapidly piles up extra drag7 and is increasingly likely to tank L/D as well.
So it turns out that the options for a "maneuverable" hypersonic weapon are either losing a fair bit of energy in a gentle turn with a radius the size of a state (or a country, if you're in Europe) or losing enough energy to put yourself well within the envelope of more conventional air defenses.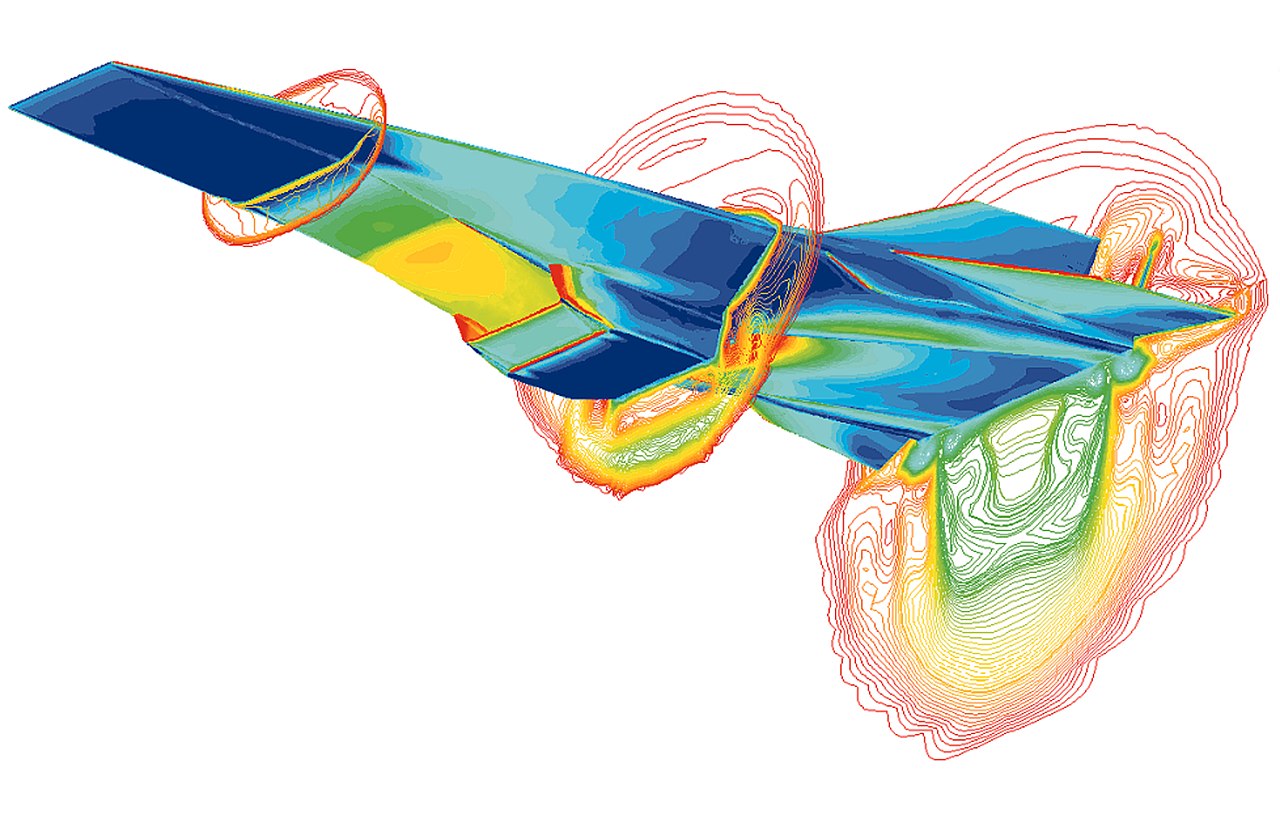 So if maneuverability is a bust, what about stealthiness? There's nothing inherently stealthy about a hypersonic weapon, and the demands of hypersonic aerodynamics are probably not that compatible with minimizing radar signatures. But the main claim about hypersonics is that their relatively low trajectories keep them below the radar horizon until they're quite close to the target. This is true as far as it goes, but at least for the US, radar isn't the only option. Since the 60s, the US has had a constellation of infrared satellites constantly watching the Earth to provide early warning of ballistic missile launches. Most of the energy lost to drag is going to turn into heat, which seems likely to pique the interest of the satellites. And there's little doubt that the satellites will be able to pick up most hypersonic missiles. The older Defense Support Program satellites showed themselves capable of picking up Soviet bombers in the 1980s reliably enough to make them an important component of the USN's air defense plan and the more recent satellites are considerably better. This isn't a system that can give targeting data directly, but it can definitely give a heads-up to ground defenses.
The basic conclusion of all of this is that hypersonics are, at the very least, grossly oversold. They're at the start of the defense media cycle that I described for the F-35, the panacea solution to all of our problems, even when the claims made about them don't make physical sense. On a broader level, they do offer potentially useful capabilities, particularly as intelligence and communication systems get better, opening up time-sensitive targets that may require very rapid responses. But at the same time, there's reason to be skeptical of the capabilities of these systems, given how many of the claims made about them contradict the laws of physics.
---