Over the past decade, a great deal of ink has been spilled about the F-35. It's often lambasted as overpriced and useless in the face of modern threats. We should cancel the whole thing and either buy improved versions of existing fighters or replace it with the drones which will soon dominate the sky.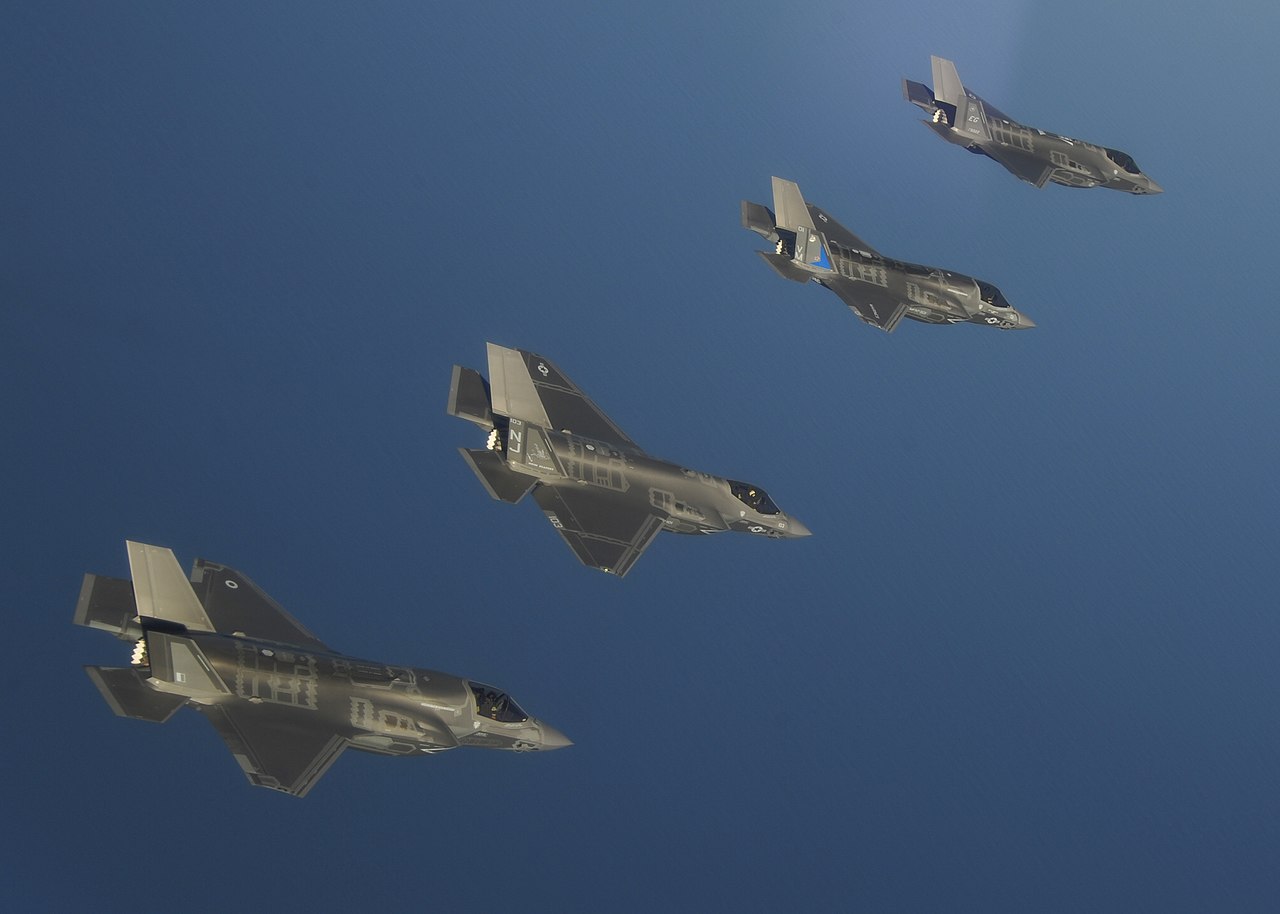 As you can probably guess from the title of this post, I don't think any of this is true. While I will certainly not defend the F-35 program as a paragon of good management, it has produced an aircraft that is already very capable, and will become more so with each passing year. It may not be exactly what I would have wanted if I was given a time machine and command of the Joint Strike Fighter (JSF) program in the early 90s, but the fighters being built today are fairly reasonably priced, and more effective than any other fighter in the world with the possible exception of the F-22 Raptor.
"But Bean," a hypothetical detractor asks, "how can you say that when the entire program will cost something like $1.5 trillion, and has produced an aircraft which can't dogfight and is generally less effective than existing aircraft?" I will start by dealing with the issue of cost. Yes, it may cost $1.5 trillion over the next 50 years, but that's the entire program cost, including R&D, procurement, operations, maintenance and sustainment. This is a number that is only really relevant before the program has begun, when you're using it to compare the cost of multiple ways of accomplishing the same goal. I've written about this stuff before. Because it's been about 25 years since we had a clean sheet of paper, it's worth noting that a lot of that $1.5 trillion has already been spent in developing the three types and building 840 or so aircraft. Even if we shut down the line immediately, we would probably want to make use of said aircraft going forward, which would mean both the marginal costs of flying them and the sustainment costs involved in keeping them combat-capable. Said sustainment costs are pretty flat with the number of airframes involved, and would make up a significant portion of the total budget.
But there's a second problem here, which is that while fighters are fun, they're expensive enough that military forces don't buy them for no reason, and it seems safe to assume that something else would have to be procured to fill the gap in capabilities left by the hundreds of F-35s that we just axed.2 Exactly how much that will cost is left as an exercise to the reader, although if you're proposing "we'll develop a new plane and do it better", then I will point out that the track record of those kind of programs saving enough to pay back their R&D cost is not good.
But why would we need to bother with a new airplane? Existing planes are much cheaper and perfectly adequate, right? Again, no. Aircraft costing is quite complicated, and tends to vary strongly with production volume. A lot of criticism uses older figures for the competitor aircraft, when production volumes were significantly higher than they are now, and the popular wisdom on this issue is also based on the period when F-35 production was still ramping up, and the aircraft were correspondingly more expensive. Today, you're going to get more F-35As for your money than any other fighter currently in production with the possible exception of the F-16, thanks to the fact that something like 2,000 are scheduled to be built over the next decade. For instance, the FY22 buy of 48 F-35As cost only $95 million each, with the B and C models coming in slightly more expensive due to lower volume and higher complexity. Costs of legacy fighters would come down if we turned up the volume again, but we'd want upgrades to keep them viable, which would eat up savings. Also, many of the numbers thrown about are not adjusted for inflation.
Ah. But that only covers procurement costs, and the F-35 is significantly more expensive to fly, isn't it? Well, yes. As of 2019, the cost per flight hour was about $44k, twice that for an F-16, but efforts are underway to bring this down, with the value having fallen by 18% over the next two years. The exact value they're shooting for is $25k in FY12 dollars, which is still higher than most other fighters, but entirely reasonable given the capability the F-35 brings to the table.
Because ultimately what we care about is not cost per se but how much we are getting for our money. After all, an F-16 costs a lot more per hour than a P-51, but nobody is suggesting that it was a bad decision to switch to jet fighters. The F-35 has two major advantages over previous fighters. First, it's designed to be stealthy. This doesn't mean it's impossible to detect, but it does mean that various sensors won't be able to pick it up until it is much closer. In particular, it's stealth is optimized against relatively short-wavelength radars, the kinds used for fire control. Longer-wavelength radars might well be able to pick it up, but for reasons of basic physics, they generally can't track precisely enough to provide targeting data. Stealth has often been oversold, but this is a useful capability as our enemies introduce more and more capable air defenses.
Second, it's designed to be able to integrate information from various sensors, both its own and offboard, in a way never before done by a tactical aircraft. Each F-35 has not only a very capable APG-81 AESA radar, which can serve not only as a targeting sensor but is also capable of electronic warfare and even high-bandwidth communications, but also an integrated Electro-Optical Targeting System, a very fancy IR camera that replaces more conventional targeting pods, and the Distributed Aperture System, a series of IR cameras that give a 360° view of the airspace around the aircraft. Imagery from the DAS is fed to the pilot's helmet-mounted display, allowing him to literally look through the airplane for other aircraft. Other F-35s can provide data using a special directional datalink which can be used without compromising stealth, while other platforms can contribute through the more conventional Link 16. The fighter's computers then integrate all of this, potentially overcoming enemy stealth in the process, to give the pilot an unmatched understanding of what's going on around him. Given that in Vietnam, 85% of aircraft shot down never saw their attacker, this gives the F-35 a huge advantage in air combat. More generally, this sort of sensor fusion is clearly the way of the future, but it's also extremely difficult, and problems with the relevant software have been a major contributor to the delays in the program.
More broadly, the F-35 is as much a software program as it is a hardware program and the software is still under development, which a lot of people don't seem to realize. A few years ago, it was common to hear criticism of the program on the grounds that it was only capable of carrying a few weapons. I actually work in weapons integration (not on the F-35) and you're looking at tens of millions of dollars and a couple of years to fit a new weapon onto a jet. You have to make sure that the fighter's computers can talk to the weapon successfully, that the weapon and structure can take the strain even if the fighter maneuvers heavily, and that there won't be weird aerodynamic effects, either while the weapon is on the plane or after it has left.3 This has largely cleared up as this process has been completed for more weapons, and as other capabilities have come online.
This also explains a lot of the fury around the F-35's dogfighting capabilities we saw back around 2015. First, it's worth pointing out that one major reasons to invest in things like sensor fusion is to avoid dogfighting in the first place. Add in modern short-range AAMs, which are capable of launching at targets that are 90° or more off the nose of the plane, and you start to question the need for dogfighting in general.4 But even if we don't accept this, there's still the fact that the reports weren't accurate. The aircraft in the famous 2015 case was one of the first prototypes, and lacked most of the fancy sensor and software systems, as well as the radar-absorbent coating fitted to operational aircraft. But the most important fact was that it was not capable of pulling the Gs that an operational F-35 can, a major handicap in air combat. More recent reports have the F-35 performing very well across the board.
There's also criticism from the opposite direction, that we should be buying drones instead. I've largely said my piece on that earlier this year, but the short version is that in the areas where they are useful, unmanned systems have already taken over. We call them things like "cruise missiles" and "AAMs". But in a world where bandwidth can't be guaranteed to be either plentiful or reliable, the case for sending more sophisticated drones in on their own is dubious at best. The more likely scenario is that drone fighters will be developed to accompany manned fighter aircraft, perhaps best illustrated by the Australian Loyal Wingman program. Moving the human controller close to the drone would greatly reduce the bandwidth headaches, while also reducing the number of manned fighters needed near the front lines. But a reduced number isn't the same as zero, and the F-35 is an ideal platform to serve as a controller for these new drones.
In a lot of ways, this post is a few years too late. Most prominent military procurement programs go through three phases, at least in the public discourse. Early on, they are miraculous, and will solve all problems. They're cheaper than what we have now, and far more capable. Then, as they come closer to entering service, problems show up, and the media turns on the program. It's now the worst thing ever, behind schedule, over budget, and useless compared to what it's supposed to replace if not actively dangerous to our brave troops. Lastly, these problems get resolved, and it becomes a perfectly normal, if imperfect, weapons system, eventually celebrated as a fine example of American engineering, and the benchmark against which the next system will be measured. The same process has taken place with the F-111, F-14, F-15, F-16, F-22 and V-22, and it will no doubt happen again. If I'd written this five years ago, when the F-35 was in the depths of step 2, it would have been prophetic. Instead, we're now seeing the transition into step 3, and it looks far less impressive. All I can say is that I was busy with other things, but I can point to archived internet discussions where I made many of these same points. In any case, while the F-35 isn't perfect, it's clearly the best solution available for the threats the US and its allies face today.
---