I've previously discussed the early development of the ammunition used in naval guns, but in the 1880s, developments in armor and fusing quickly left those early projectiles behind. Soon, improved versions of both shot (simple chunks of metal) and shell, with explosive fillings, were being put into service.
The cast-iron Palliser Shot had been effective enough against wrought iron, but it was easily shattered by better armor. The obvious choice was to switch to steel projectiles, but the chilled hardening process didn't work with cast steel.1 In fact, cast steel was not particularly suitable for Armor-Piercing (AP) shot or shells, and projectiles had to be forged instead.2 Steel was poured into a die in the rough shape of the shell, but somewhat larger. Once the shell blank solidified, it was moved to another furnace, and then steam hammers or a hydraulic press were used to work it against a die, producing a shape close to the final shell. It was then annealed by heating in a furnace for several days to relieve any undesirable stress concentrations, and machined down to the final shape. The shell was forged with the nose closed and the base open, and after the base cavity was bored to the desired size, the opening was threaded to accept the base plug.
At this point, the shell might be scored to hold the cap, which we will come to later, and then it would be subjected to the hardening process. This was quite similar to the processes used to harden armor, with specific operations, ranging from baths in molten lead to quenches in cold water, performed to heat-treat certain parts of the shell and increase their hardness, while other portions of the shell were left softer, but tough and strong. It was then machined again, to make sure it was precisely the right shape, and the driving band, which engaged the rifling, was fitted. The cap might be fitted at this point, and then the shell would be filled and the base plug fitted. Shells were subjected to rigorous tests, ranging from metallurgical analysis to the proof firing of a few randomly-selected shells from each batch against a specified armor plate to ensure that the projectile actually functioned as designed.3
Even a forged-steel shell would usually shatter on impact with face-hardened armor, although an accident during an 1878 shell trial showed how to deal with this.5 A plate of composite armor6 was installed the wrong way around, and the shell penetrated easily. When it was reversed, it was discovered that a thin plate of wrought iron over the steel allowed the shell to penetrate. An officer suggested using a soft cap of wrought iron on the shell to gain the same effect, but for some reason this was ignored until the Russians tried it in 1894. Over the next decade, most navies began to work on caps, and the resulting shells became known as APC, for Armor Piercing Capped.7 The early caps worked by essentially cushioning the shock of impact, keeping the shell's nose from being deflected or shattered by the face-hardened layer, giving approximately 15% improvement in penetration over uncapped shells, so long as obliquity was below about 15°. Above this, they would often be torn away before functioning. They were usually soldered on, using a low-temperature solder guaranteed to not change the heat treatment in the nose. A few navies had small pits in the nose which the cap was crimped into, used instead of or alongside solder. Krupp, which made most German shells, was unique in using a high-temperature solder which seems to have made its caps significantly harder to knock off during an oblique impact.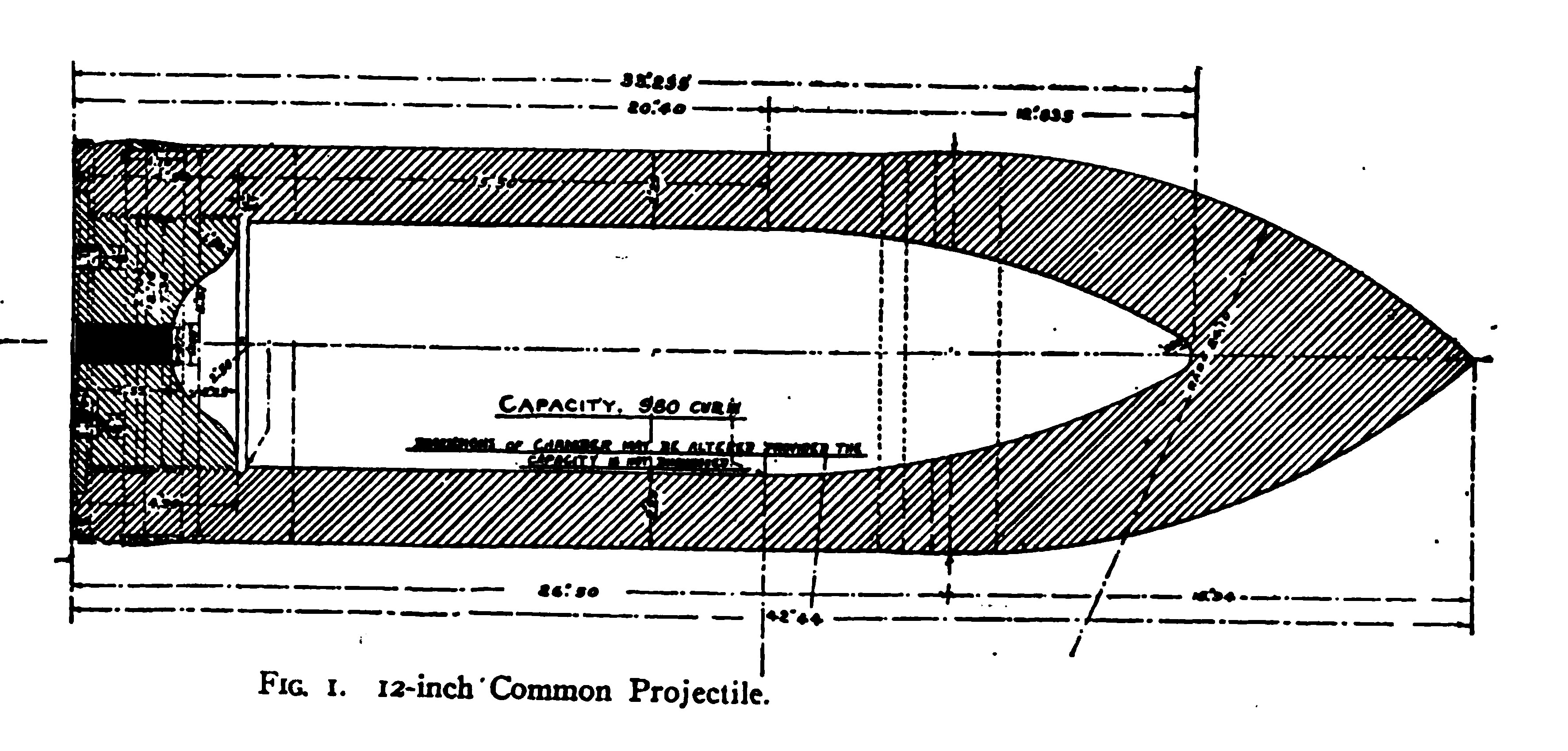 The first decade of the 20th century saw the final demise of shot, as explosives and fuzes8 were developed that could at least theoretically penetrate armor before detonating, and from then on, AP projectiles were universally shell, with a typical explosive filling of about 2%. Besides the old standby, black powder, guncotton and picric acid, known by the British as lyddite, became common in the early days. Lyddite was rather too sensitive to be truly effective, with a nasty tendency to go off while the shell was still going through the armor, which limited effectiveness.9 It tended to produce vast clouds of very small splinters, which were effective against personnel and could do great damage to unarmored portions of the ship, but were not as good at doing structural damage as the larger fragments of a powder-filled shell, which were also better at starting fires aboard the target. The British also claimed that lyddite produced fumes which could overwhelm the enemy crew, although this doesn't seem to have worked particularly well in action. They also changed their nomenclature, keeping Common as the designation for powder-filled shells, while the more powerful fillings were called HE (high-explosive). Both types of shells carried a filling of 12-15% of explosive, and were usually nose-fuzed to go off on impact. The problem was that even quite light armor was able to defeat these shells, and so some nations created Semi-Armor Piercing (SAP) shells. While an AP shell would be expected to penetrate a full caliber of armor, an SAP shell would usually pierce about half that, with 7.5-9% explosive by weight, and be set off with a base fuze, much like an APC shell.10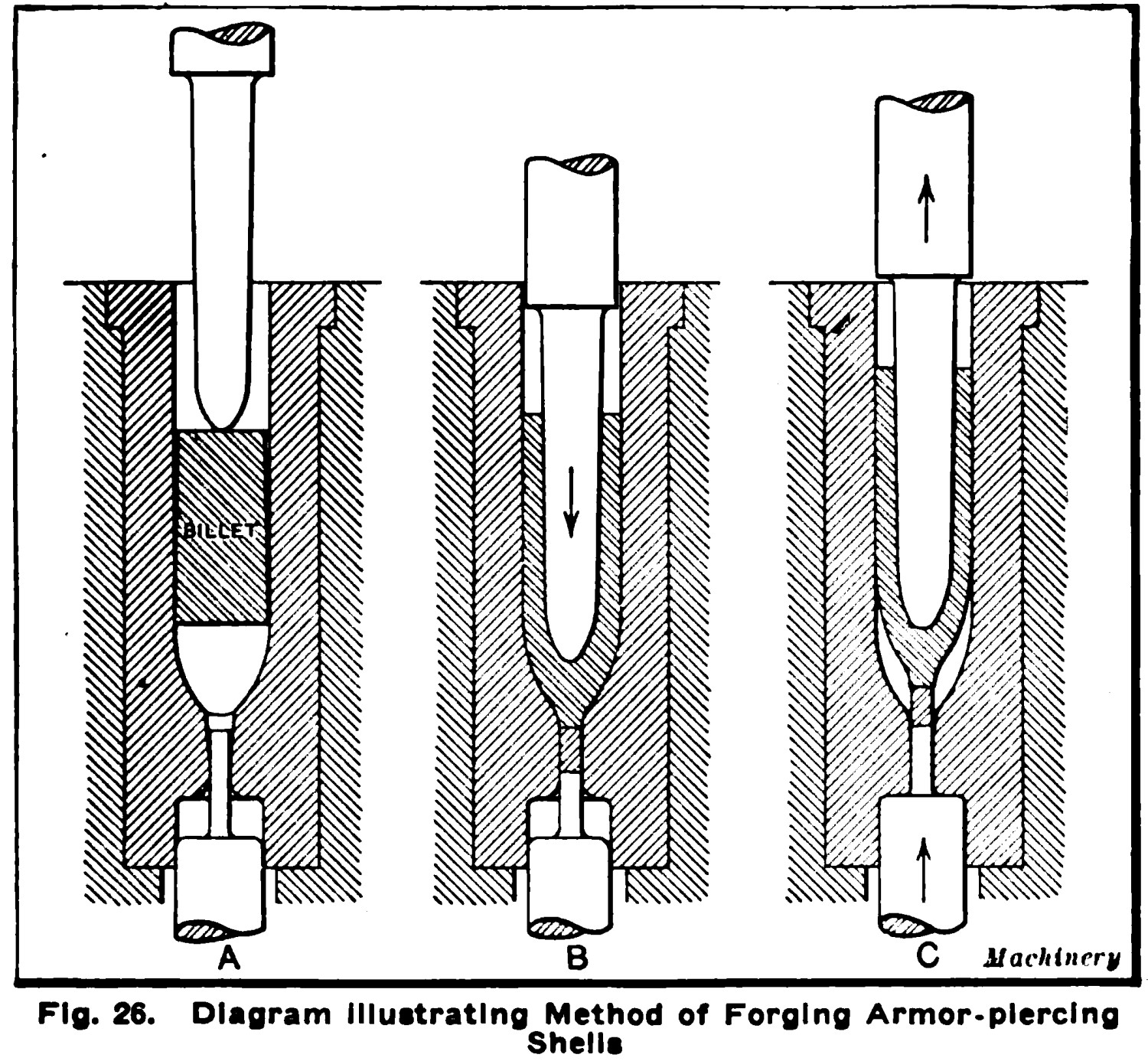 Around 1905, the capped shell looked set to revolutionize naval warfare. At the short ranges typical of the day, it could easily penetrate any belt armor a ship could practically carry. Armor was still useful against HE shells, but in practical terms, there probably wouldn't be a lot of difference between the 11" belt of Dreadnought and the 6" belt on the early battlecruisers. Over the next few years, improvements in fire control saw expected battle ranges rise quickly, to the point where even capped projectiles could be defended against, particularly due to the limitations of early caps in oblique impacts.
Another important innovation during this period was the ballistic cap, also known as the windscreen, which allowed shell designers to reconcile the demands of aerodynamics with the best shape for armor penetration. Sharply-pointed shells were not particularly effective at penetrating armor, probably because the long nose tended to break under the impact, but a blunt shell would have excessive drag. The ballistic cap was nothing more than a light steel windscreen to give the shell a better shape. On impact, it would simply be destroyed, leaving the regular cap and main body of the shell to penetrate the armor. Sometimes the presence of a ballistic cap is shown in shell designations as a BC, such as APCBC, but this is far more common for shells for land-based guns, as they were nearly universal for naval AP shells.
This was more or less where matters stood at the start of the First World War, although there was considerable national variation. The US fitted its battleships with only APC shells filled with dunnite, while the British planned to use a 50/50 mixture of lyddite-filled APC and powder-filled CPC, as well as some shrapnel shells for defense against torpedo craft.12 The Germans had been early pioneers in introducing TNT, which was more stable than lyddite and considerably less likely to detonate from the impact with the plate. However, it required a more complicated fuze incorporating a booster, as TNT can't bet set off by a simple detonator. This complication caused the British to stick with lyddite despite the safety hazards.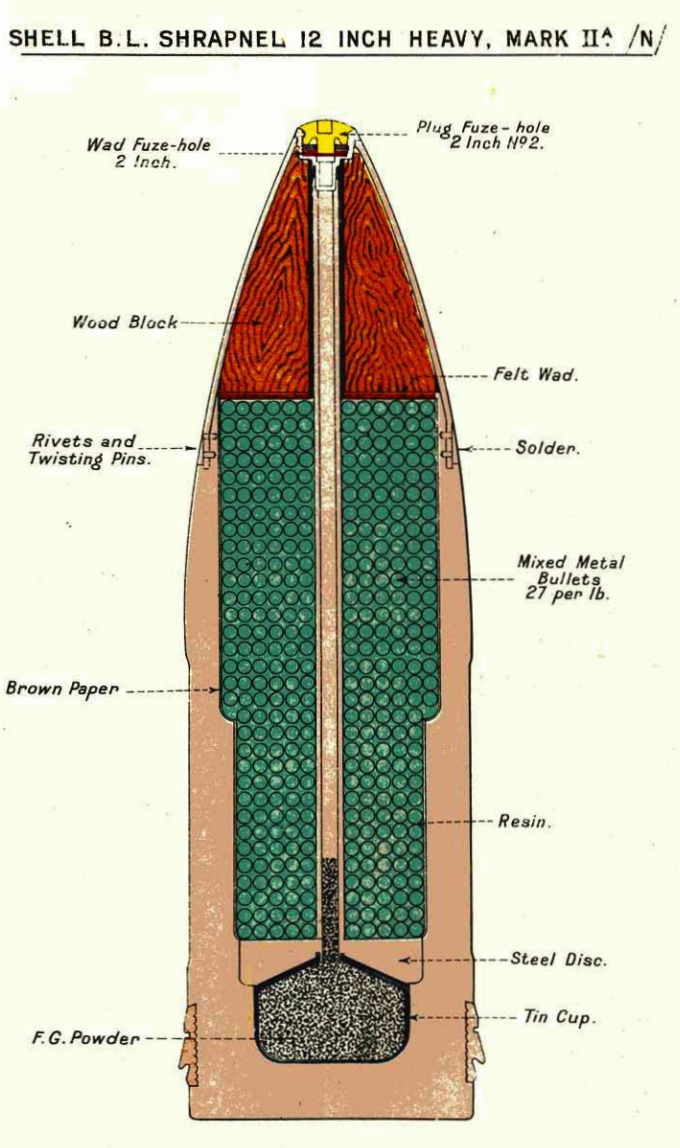 The First World War would put these shells to the test, and reveal that many had glaring deficiencies in combat effectiveness. How these problems were overcome, and the longer-term development of the heavy shell, will be our topic for next time.
---