While working on my section on Bismarck, I decided to look more deeply into the details of battleship range and the impact it had on designs. It's undoubtedly the most important obscure figure in battleship design, with many references not including it because the values available are so variable. Unfortunately, I quickly ran into a mess. A surprising number of ships I looked at, even in quite comprehensive sources, had only 2 or maybe 3 data points, spaced widely enough that it wasn't really possible to get a good sense of the shape of the curve involved.
In the end, I had only five reasonably good sources of data on the treaty battleships: data on Bismark spread across two books, Raven and Roberts with Howe and FTP 218 covering the American battleships, along with a report on trial results from Iowa and New Jersey.1 Only the last actually had speed, fuel consumption and power in the same place and without suspicion that there was significant rounding involved in the data I was seeing. And when plotted, the numbers for the American ships were reasonably consistent, both between the two sources and between different classes, although while they were all around 15,000 nm at 15 kts, Iowa had an advantage at higher speeds thanks to her longer hull. But the same was not true of the curves for the European ships, which were much shallower. Bismarck in particular went from having approximately half the endurance of the American ships at 15 kts to about the same endurance as the SoDak/North Carolina at 24 kts, and more above that.
There could be several factors behind this. It's possible that the different hull forms are optimized for different speeds, although a quick check of this suggests that it shouldn't look the way it does, as Bismarck has a significantly lower block coefficient than any of the other ships, while Howe has the highest of any of the ships involved. It's more likely that this is down to differences in machinery, although this is again confusing considering that Howe had the mildest steam conditions, then the American ships, then Bismarck. The only similarity between the two I can think of is the use of single reduction gears, which meant that while Bismarck's turbines were geared down about 10:1, the turbines of the Iowas had about twice that reduction.2 Turbines like to turn fast, and the low reduction on Bismarck could meant that her system was forced to operate at unfavorable speeds while going significantly faster than the American ships.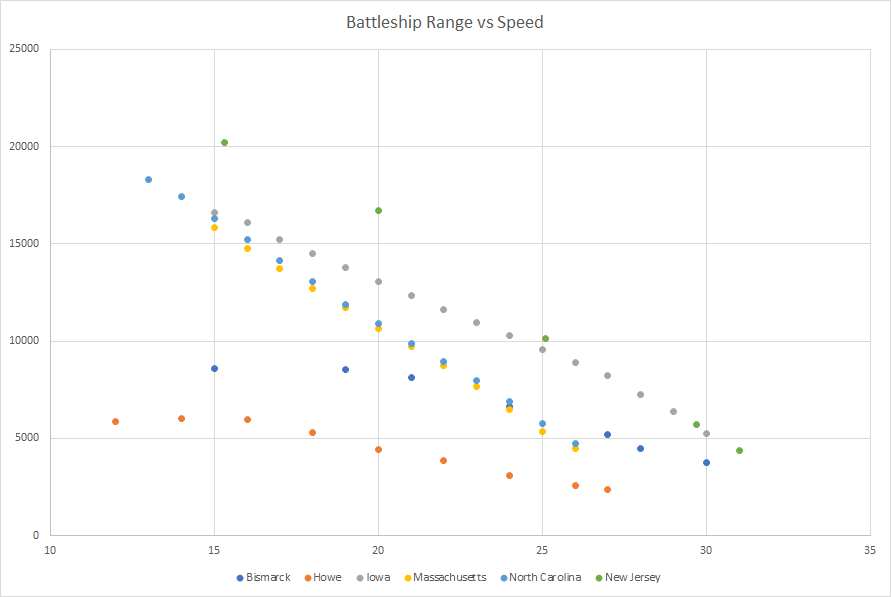 And all of this assumes that my numbers are being generated in a reasonably comparable manner, which probably isn't true. In particular, there's separation between the endurance values from the New Jersey trials data and the data from FTP 218 at low speed, while the two sets converge at high speed. This is probably because the data in FTP 218 was gathered in wartime, which is going to mean greater hotel loads (stuff like electrical power that is going to take steam from the boilers but not put out shaft horsepower) and keeping more of the boilers lit in case they need a lot of power quickly, which makes steam production less efficient.3 I have no clue how this played out for the other navies involved, or how their trials were run.
I started down this particular rabbit hole in the hopes of getting a better idea of how much range requirements impacted the rest of a battleship design after seeing an early sketch for what led to Bismarck that was quite weak for 35,000 tons, largely because it had a range of 16,000 nm at 19 kts. Initially I guessed this was about 60% greater than the American requirement (15,000 nm at 15 kts), but the much flatter curve makes this hard to compare directly. More broadly, I was hoping that there was some way to standardize all of the various range values in different references and get a consistent set of data for the book I'm working on. That doesn't seem possible, even leaving aside the issue that some ships have wildly different range values reported which probably reflects different use of emergency fuel tanks.
In the end, I wasn't really able to make anything of this, and I'm writing this up in case I come back to this in the future, or if anyone else has the same idea. And because I did the work and might as well get a blog post out of it.
---
1 Note that Iowa was using DFM instead of bunker oil in the 1985 trials, so range numbers aren't directly comparable. Note also that the naval architect who set up the 1985 trials had some doubts about the 1943 trials, but they should be good enough for our purposes. He also noted that the crew during the 1985 trial wasn't particularly experienced, which is important for getting the best out of a steam plant. As such, I've relied more on the 1943 numbers. ⇑
2 I checked around for information on the King George V, but wasn't able to find information on the gearing reduction in any of the obvious places, and didn't want to go through every obscure place it might be because that would take a long time. ⇑
3 It takes an hour or so to bring a boiler from cold to the point it can start producing power. In theory, an Iowa can cruise at 15 kts on a single boiler, but even in peacetime the lack of redundancy makes people nervous, and two is the usual setup for cruising, which also lets them get up to ~22 kts. Wartime will involve keeping at least four lit, with a top speed of 27 kts or so, and possibly all eight. ⇑