I recently ran across the following spread from a 1940 edition of Popular Mechanics. It's an interesting study in the way that outsiders get warship design very, very wrong.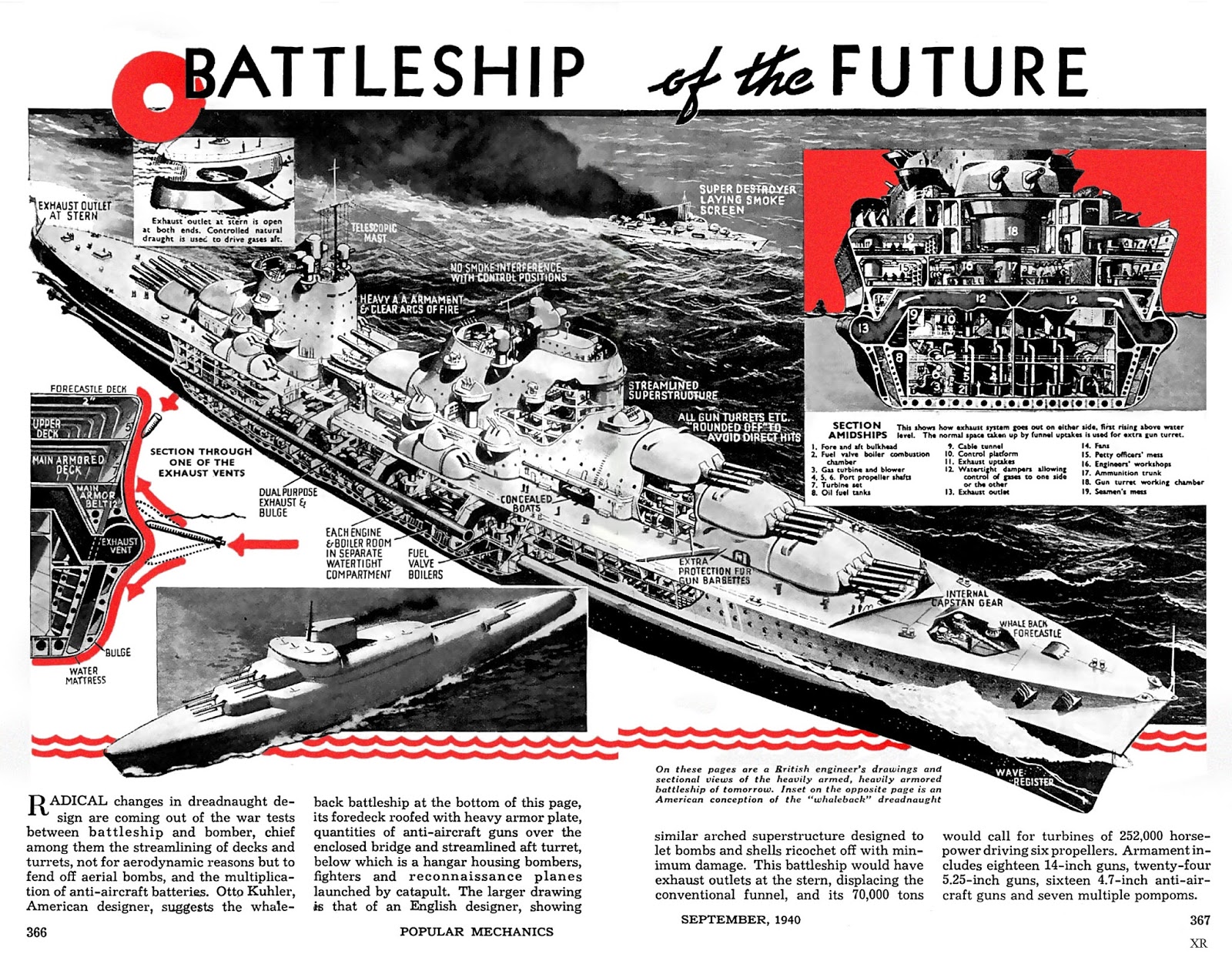 I can sort of see where the designer of the main ship was coming from. He was trying to solve a few real problems, but did so in bizarre ways. Smoke interference was a fairly big issue for most warships, and finding another way to dispose of it would be nice, and would simplify topside arrangement, possibly leaving space for more guns. But his solution was the sort of thing that only a lunatic would come up with. Similar exhaust ducting had been tried on HMS Argus, an early carrier, with poor results. Heat was a major problem, and Argus was slow and low-powered compared to this ship. I suspect that backpressure would have given issues, too. Worse, the duct literally could not have been placed for greater vulnerability to underwater damage. Whoever drew the picture of it deflecting torpedoes had no idea how torpedoes worked. It would have been utterly destroyed by the first hit, and at very best, that would merely have forced half the boilers to be shut down. More likely, it would have provided a ready flooding path deep into the ship. I honestly cannot fathom how anyone believed this would be a good solution.
The armament is almost as weird. Double-superfiring was never tried on battleships for reasons of topweight,1 and a twin-over-triple-over-quad arrangement is downright bizarre. This triples the design effort necessary for the turrets over the use of a single type of turret, not a small consideration at the time. The arrangement was probably inspired by the twin-over-quad used forward on the King George V, but that particular configuration was adopted due to the need for a higher armored deck under treaty limits, and the ships were originally designed with three quads. The use of 14" guns was also bizarre, as even the British had adopted the 16" for their future battleships by 1940. A ship of this size, sensibly designed, would likely have a pair of 16" triples at each end, much as the US Montana class did.
The curved armor is also novel, and not in a good way. While sloped armor increases the incidence of a hit, and thus reduces the chances of penetration, curved armor is significantly more difficult to make than flat plates, and the increase in protection from AP bombs would be fairly minimal.
The secondary armament is also odd. Even the British, who had serious problems procuring medium-caliber guns,2 were unlikely to fit two different calibers to the same ship. Likewise, 7 pom-poms would have been seen as a laughably inadequate armament by the end of the war,3 although in fairness it was similar to 1940 fits on British battleships.
The whaleback design in the lower left is even weirder. Based on the picture, it looks like the turrets can't even train, which I suspect is a drawing error. The text describes it as being heavily armored against air attack, a possibility, and carrying an extensive air group, launched by catapult, which of course raises the question of how they're recovered. There's no deck to land them on, which means you're using seaplanes. Given the less-than-illustrious history of such aircraft in WWII, I don't think this was a good idea. The concept of a battleship-carrier hybrid tempted many nations before they recognized it was a bad idea,4 but most of those designs could at least recover their own aircraft. Without that capability, this design is simply silly.
Both of these designs are good examples of the sort of monstrosities that result when people with only a very limited understanding of the actual at-sea problems attempt to design battleships. There are some interesting ideas, but mostly in the same way that a car wreck is interesting. But it's a valuable lesson that the number of factors which go into a battleship, or any really complex technical system, is beyond the ability to those outside the field to comprehend.
---